Chapter 9: Blazer's Michelin Guide to the World
 CHUCK STUFFED HIS FACE in the world's most expensive restaurants.
Football paid.
When, at the end of 2012, the new people at Concacaf sacked him, they forbade him to pay himself any more money. The money tap was being turned off. But they forgot to tell the bank in time.
Quickly, Chuck instructed the bank to pay him $1.4 million from football's cashbox. A few days later Chuck checked with his bank in Cayman.

Had the transfer gone through?
When he received a reply reporting that the money was safe in his account he responded, 'Yippee.'
See Charles Gordon Blazer once and you never forget him. Absorb the monstrosity. His arms and legs are no more than plump, his head is only slightly larger than average. Of recent years he has sprouted a dense bubbly white beard of the Santa Claus variety.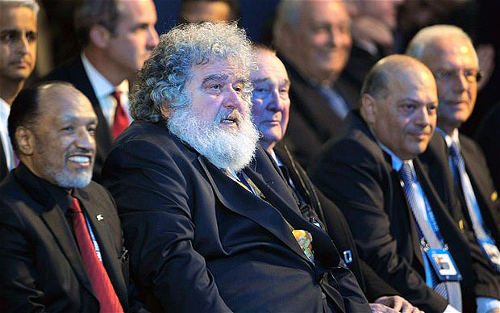 Look again.
It's The Belly that stops pedestrians in the street, casts long shadows at dusk, causes private jets to lurch down the runway. He cannot ride in cars; FIFA had to hire a van with wide sliding doors.
How many decades since sunlight caught a glimpse of his testicles?
How did The Belly get to be so huge, you wonder?
Why doesn't he stop eating so much?
Why does he blog non-stop,with photographs, about all the things ordinary people like you and I will never do?
Chuck is meeting prime ministers and presidents, beauty queens, billionaires and football stars.
Why the endless name dropping?
Why his need to tell us about him guzzling in the world's most expensive restaurants, lubricated with fine wines? Why does he desperately beg the world to take notice of him?
What is the secret of his neediness?
I've watched him for more than a decade, sensing early that he was corrupt, gradually picking up tips about his thieving and eventually discovering how he did it. One request to a trusted source in 2011 and I was given the evidence that he helped himself to at least $20 million from football, and probably a great deal more.
Now I think that I understand the reason for The Belly. Chuck Blazer always knew that one day the Internal Revenue Service and the FBI would corner him.
Every day was a potential last meal before the executioners came for him. So make it expensive, make it vast, make it the best the world's top kitchens could deliver.
And maybe, just maybe, if they put him on the scaffold his weight might snap the rope and he would escape. His parallel partner in crime, Jack Warner, was a permanent escape artist, why shouldn't Chuck get away with it?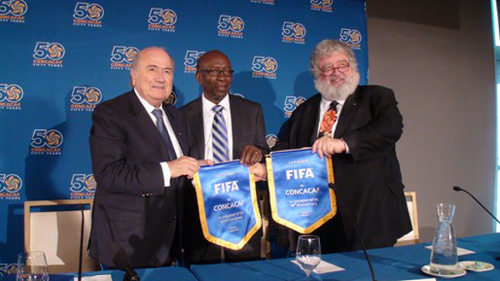 BY THE MID-1990s Concacaf had moved into offices on the 17th floor of Trump Tower on New York's Fifth Avenue. Chuck went with them, nesting higher up on the 49th floor. He had an office built into his luxury apartment. Who was paying was not discovered for many years.
'Everybody in the office was instructed by Chuck to keep instant messaging on permanently. That way he could issue orders to the worker bees without having to talk to them,' recalls Mel Brennan who took a job at Concacaf because he loved football.
Mel remembers the first time he was summoned upwards. He expected to find his boss wearing high quality tailored clothes as he did at the World Cup and other tournaments, at business meetings, and committee meetings.
'This morning Chuck stepped out of his office dressed only in boxers and an undershirt. He issued his orders and returned to the darkness of his office, sitting on his chair, his prodigious stomach seemingly sitting on him, legs splayed alongside his desk, his multicolored drawers illuminated by stark light from his computer screens.'
Mel Brennan discovered more.
'Oddly, the first thing this man told me about himself was that he wanted to write a book called '40 Years of Women with Cold Feet,' an exposé of four decades of female efforts to snuggle cold toes under the enticingly warm folds of his enormous gut.
Nine days into Mel's tenure as Head of Special Projects for Concacaf his boss invited him to dinner.
'Know where we're headed,' Chuck asked me conspiratorially.
'Scores. Could be a long night.'
Scores? The famous up-market strip club?
Mel grabbed his phone and called home.
'You need to check with your wife?' Chuck bellowed, bemused.
'I need to let her know it could be a long night, like you said,' Mel replied cautiously.
'Welcome back Mr Blazer,' announced the doorman. A special section of Scores was reserved that night for a group from Concacaf. They were served filet mignon and shoulder massages and there was a small TV in a corner, showing a football game.
When it was time to go Blazer paid. How he did this was another shock for Mel Brennan. Blazer's American Express Card was black! Mel had never seen one, few people have.
They are known as the AMEX Centurion Card; don't bother to apply. They are available by invitation only. The average Centurion cardholder has $16.3 million in assets and an annual income of $1.3 million.
Blazer had set up a chain of credit cards at Concacaf which all fed back into his Centurion card, accumulating massive Amex membership reward points for him. Between 2004 and 2011 Concacaf paid nearly $30 million to Blazer's card account.
Blazer claimed that only $3 million was his personal spending but external investigators could not agree because of the absence of documentary proof. And even this $3 million was paid by football through another of Blazer's clever devices.
CHUCK BLAZER SECRETLY diverted more than $20 million to his offshore back accounts in Cayman and the Bahamas between 1990 and his sacking in 2012. When Jack Warner became Concacaf president in 1990 he chose Blazer to be his General Secretary.
The first clue to the rip-offs they were planning came when, in defiance of all standards of good governance, Blazer was also appointed Treasurer. He reported to himself and no other official was allowed to know the truth about Concacaf's finances.
Blazer wrote a contract arranging for a private company he owned to supply him as General Secretary. The key points were a monthly fee and a quaintly named 10%  'override' commission fee on income from sale of sponsorships and TV rights.
Blazer's 'commissions' payments and 'monthly fees' were sent offshore to accounts at Barclays Bank, Grand Cayman, and the First Caribbean International Bank, Bahamas.
These accounts supposedly belonged to companies owed money by Concacaf. In fact they were shells that never provided any services to Concacaf. Their function was to launder money to Blazer and evade taxes in the USA.
Blazer's initial contract expired in 1998 and was never renewed. That suited Blazer because Warner didn't stop him paying colossal amounts to his offshore bank accounts.
It reduced the likelihood of American tax officials discovering that this American citizen running a business out of New York was secretly paying himself offshore.
Blazer also had an account with a Merrill Lynch bank branch in Cayman.
He used this one for banking his profits from illicit World Cup ticket sales.
With no other Concacaf official to scrutinise him, Blazer quietly expanded his 10% of sponsorships and TV rights to cover sale of match tickets, luxury suite rentals, parking, and venue concessions.
Eventually he was taking more than $2 million some years. But if you looked in Concacaf's accounts — and very few were allowed to see them — you would not find any mention of compensation to the General Secretary. Only a line for 'Commissions' — but no explanation of who got them.
Sometimes, to escape attention, Blazer would break down the sums he was taking. In October 2008 he cut up a $150,000 payment to one of his shell companies and paid three cheques each of $50,000 the same day. Another time he made two $500,000 payments on the same day to a shell.
Each year he built up his 'commissions payable' and 'fees payable' in Concacaf accounts and deducted payment for rent in Trump Tower and living and any other expenses. The large balances then went to his offshore shells. There is no evidence that he ever paid for anything out of his own pocket.
In recent years the monthly rent for Blazer's luxury apartment in Trump Tower was $18,000. One third was paid directly by Concacaf and the remaining two-thirds deducted from Blazer's 'fees-payable' account. He lived rent-free.
BLAZER saw a chance to copy Warner and steal a FIFA grant. In December 2005 FIFA's finance committee, deputy chairman Jack Warner, authorised a $3 million payment to Concacaf for the construction of a TV studio.
It was then approved and paid through FIFA's Marketing and TV company, controlled by Jérôme Valcke.
Later the payment was scrutinised and approved by Cayman Islands football boss Jeffrey Webb, a member of FIFA's Internal Audit committee.
Blazer scrutinised it for a moment and then skimmed 10% – $300,000 commission!
He got away with this – and you may wonder what other rackets he worked on his FIFA Expenses and per diems over his 17 years on the FIFA ExCo.
BLAZER AND WARNER nearly came unstuck in the spring of 2002 when they held their Concacaf conference in the Lowes Beach Hotel, Miami. I turned up but was denied admission.
Unlike all other regional and FIFA conferences, the press was barred. Accidentally, I found myself sharing a busy elevator with Warner and as we travelled slowly up several floors, I asked him in front of 20 American tourists to explain why he opposed freedom of the press.
He glowed with silent rage.
His big problem that weekend was a challenge from the Mexican Federation. They wanted to replace him with 1990 World Cup referee Edgardo Codesal.
And they wanted Blazer to explain some strange items in his financial report. A Mexican delegate stood up and read out seven questions. One asked for clarification about $1,195,000 in  'Commissions' listed under 'Marketing' expenses in the financial report.
Blazer replied that it 'corresponds to a decision of the Executive Committee taken in 1990 to provide compensation for the General Secretary through commissions on revenue and for marketing and sponsorship,' and that this and other expenditures were 'consistent with budgets approved by this Congress.'
His answer was expunged from the minutes of the meeting. All Concacaf meetings were recorded on audio tape. Investigators discovered the labelled cassette case from 2002. It was empty.
THE BELLY. Blazer cannot let you get away from it. He used it as a barricade, preventing victims escaping being photographed by his girlfriend Mary Lynn.
Worse still, he created a blog in 2006 to show off his trophies. It was headlined 'Travels with Chuck Blazer and his Friends' and featured Nelson Mandela trapped inside a small charter jet by The Belly and Mary Lynn's toothsome grin, both always pointed at the camera lens.
Even worse in December 2013, from the depths of his disgrace, The Belly cheapened Mandela's death by adding his own, tasteless tribute.
Hundreds more victims had to embrace Chuck or Mary Lynn, or both. The professionals — like Bill and Hillary Clinton — knew how to display their frozen 'I don't know who this person is but I'm so pleased to see them' face.
To show his importance Chuck scanned and uploaded a copy of his credentials for the Republican convention in Minneapolis in 2008 with the inscription 'McCain – Friends & Family Guest.'
Mary Lynn's camera must have overheated sometimes. Former footballer Bobby Charlton was caught twice by her. She was official photographer when Chuck forced himself into the clouded world of Muhammad Ali and misspelled his name on the blog.
The camera vultures swooped on Desmond Tutu, sitting in a low armchair, and nearly obliterated him with The Belly while Mary Lynn lit up the scene with her teeth. Chuck blogged him as a 'Bishop' unaware the great man had been an Archbishop since 1986.
Along with The Belly's grandson, they captured British Prime Minister Gordon Brown who clearly had no idea who was hijacking him.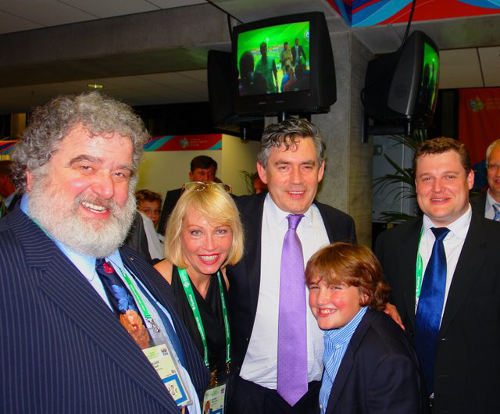 Age and infirmity was no barrier to the vultures. Fay Wray, the star of the 1933 King Kong movie scowls at the camera appearing to say, 'Who is this fat bastard looming over me – and who is this woman kneeling at my feet and clutching my hand so I cannot take it away?'
Chuck couldn't spell her name either.
Putin was more than a match for The Belly, manipulating him into changing the 'Friends' blog into a showcase for Putin's macho holiday snaps and advertising the joy of Aeroflot.
'I don't comment too much about airlines these days. There isn't much good to say about most of them. I learned a couple of years ago while commuting to Moscow in preparation for the FIFA Women's U20 World Championship, that the best food was surprisingly found on the Russian national airline,' enthused The Belly.
'I am happy to report that I wasn't disappointed and everything from the appetizers, the soup, the salad, the choices of main courses and dessert rivalled any of the better known airlines and surpassed most of them.'
When The Belly landed in Moscow,
'Mary Lynn and I snuck away to the Vogue Café, another one of Moscow's stylish posh places to be seen with an equally exquisite menu. Despite the distraction of the model types at the adjacent table, we really liked revisiting this discovery from 2006. GQ was also the chic club at late night and restaurant through the day and evening.'
The Pope was privileged to be photographed with Chuck at a late 2000 audience with the ExCo. Blazer bowed his head to Pope John Paul in exchange for a handshake. The Pontiff urged Blatter to use his 'immense power' to promote moral values and solidarity. Blatter solemnly nodded his head.
The good times always rolled for The Belly, however much the outside world suffered.
'I got a call from my friend and colleague Ricardo Teixeira in town with his wife Anna and daughters Antonia and Joanna. It was hard to tell on Spring Street in the midst of Soho that the US stock markets and the world banking economy were bought to their knees with losses of 20% in recent days,' blogged Chuck.
It got worse. 'Ricardo is the hardest working President of any National Association I have seen . . . He is tremendously dedicated to his Federation . . . he has a lot to be proud of and justifiably so.'
No need to buy the Michelin Guide to eating in New York. The Belly has tested and reported on all of them. Best for Porterhouse steaks is Wolfgang's. You get 'a great dinner at The Dutch, a hot New York Eatery at 131 Sullivan Street in Soho.'
'At Elaine's on 2nd Avenue between 88th & 89th Street there were some new appetizers like meatballs of veal and pistachio nuts. For me, a full Veal Chop was pounded and turned into a great veal chop parmigiana. Delicious.'
The Belly is a frequent glutton at Terrase and Scarlattis. 'Most every football official from Dr Havelange to George Weah has been with me to dinner at Campagnola's Restaurant on First Avenue between 73rd and 74th Street on New York's Upper East Side'.
Fancy a snack? The Belly's been there already.
'Barney Greengrass serves the best Nova, Eggs and Onions with Herring in Cream Sauce and Potato Pancakes. It was yummy.' Jack Warner's in town; 'a great dinner last night at BLT Market.' Russia's Bidding Committee for the World Cups 2018/2022 is in town to court The Belly.
'Their choice was outstanding, the top shelf restaurant L'Atelier de Joël Robuchon at the Four Season's Hotel. Simply superb.'
A visiting English delegation provides more football excuses to get fatter. Lord David Triesman and David Dein feed him at the Oak Room in the Plaza Hotel on Central Park South.
The Belly rolls on. 'A day after our Executive Committee meeting, as peace and tranquillity returned to New York City, the one remaining member Guillermo Canedo and his wife Adriana, joined us for a special meal at Eleven Madison Park.
'We had been trying to get a reservation there for weeks, but luckily we managed to swing one for their last seating at 9:45pm. What followed will be remembered for a long time as one of the best culinary experiences of a decade. It was great to establish a new relationship with a very special American restaurant to enlarge the choices of exceptional places to bring guests when visiting New York.'
The Belly doesn't wash his mountains of food down with water.
'Michel Platini knows that one of my favorite wines is Chateau Figeac, a rich St. Emilion from the Bordeaux region of France. He and I once sat in a lovely New York French bistro, Le Charlot (69th Street between Madison and Park Avenues), and uncorked a vintage bottle which I saved for special times.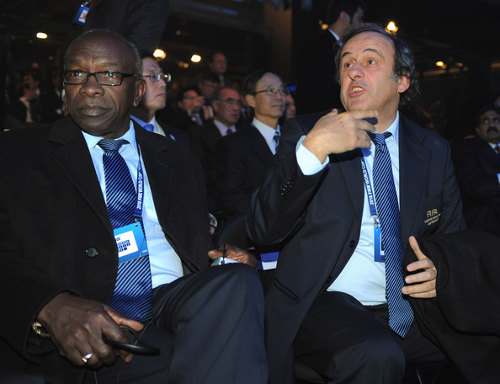 'On the other hand, there is my long time relationship with Tuscan wines from Italy and in particular Masseto Ornellaia. Between the Figeac and the Masseto I am truly torn to pick a favorite.'
The Belly gives us insights into the private lifestyle he shared with other members of the FIFA ExCo. At the 2006 World Cup,
'We were served a very nice dinner following the cocktails in the Bayerischer Hof in Munich. The dinner was in a lovely private dining room on the second floor with a very talented Harpist playing soothing dinner music. Having rung the bell for cocktails at 1900 hours, and with the honor of having Dr. João Havelange, the Honorary FIFA President and his wife Anna Maria for dinner, we recognized his 90th birthday by all singing the traditional Happy Birthday song.'
The Belly proceeded to eat Germany.
'The good restaurants around the city had been booked for weeks but we were lucky that they made a place for us in the Lorenz Adlon, an incredible French restaurant on the second floor of the Premier Kempinski hotel. The view from the window was a panoramic view of the Brandenberg Gate.
'I must admit that the food offerings exceeded the view. First were two tasting menus. The seasonal of five courses; the other with seven. If that didn't ring your bell there were two full pages of a la carte dishes. We didn't opt for the tasting menus but decided to do a traditional appetizer dish and a main entree. The wine choice was tough, since there were so many to choose from, but I managed to find one that everyone liked and we polished off three bottles while digesting a really great meal. Mary Lynn and I devoured chocolate soufflé.'
Then The Belly was off to Cologne.
'The dinner was extraordinary with a choice of fish in a delicate cream sauce or a veal on a ragout with a dark wine sauce.'
In Munich The Belly began with stretching exercises in a beerhall.
'There is something about drinking beer in Munich that makes it magical even for a non-beer drinker like me. Oh, the sausages were pretty good too… and soft pretzels… even a spiral cut white radish that you put a dash of salt on… hmmmmm… salty pretzels, salty radishes, salty sausages.'
Then it was off to 'a lovely country inn at Starnberg located at the side of a lake of the same name. The food was great. Bavarian, full of taste and calories. Really delicious. It should tell you something when appetizers we ordered are called 'forespeis,' which literally translates as foreplay.'
The Belly remembers fondly, 'the groans of satisfaction following the four dishes including Nürnberger Sausages and sauerkraut; a noodle dish I can describe as a cross between Fettucine Alfredo and Kraft macaroni & cheese; also a regional dish of the most delicious and enormous "ravioli" type pocket pasta.
'Finally some local fish served with potato pancakes didn't stop Norbert (The Belly's host) from returning to the menu to order main courses. I wasn't sure where it would fit… but as you can see, with the consultation of our waitress Norbert found a few more dishes to let us know that you can't eat Bavarian food every day…. well, at least I can't. But, it was great.
'Mary Lynn was too polite to refuse, so Norbert ordered her a delicious freshly cooked fish with almonds liberally sprinkled on top which came served with 3 large boiled potatoes garnished with cut chives and a side of steamed vegetables. Naturally, Mary Lynn who can still wear dresses that would fit a teenager, eats healthy food.
'Norbert, following my protests, said he would only order some little "sides" of Brotzeit. I should have been suspicious of the sparkle of glee in Norbert's eyes as a platter of cold cuts, cheeses and spreads landed on the table accompanied by slices of dark German bread.
'Finally, Norbert announces, "No German meal is complete without the desserts!!!" Mary Lynn raises her arm in protest, but to no avail as Norbert orders her a Bavarian Cream. Blazer knows that Norbert is right, so quickly says, 'I will have the plum strudle with vanilla sauce.
'I know Norbert ordered something for himself, but once my dessert came I was into some state of sugar shock and have no memory of what he ordered. The coffee, I thought would keep me awake on the way back to Munich, but alas, gluttony and satisfaction overtook my body as I slipped into a blissful rest until we pulled up at the Bayerischer Hof.'
FOOTBALL did not need to spend its money on luxury apartments on Paradise Island in the Bahamas. It did, because Chuck wanted a Caribbean holiday home plus the rental income from holidaymakers.
Nobody was checking what he did with Concacaf money. So Concacaf paid the $910,000 deposit on two apartments.
The paperwork gets tangled at this point but Blazer ended up owning three units on the third floor at the towering blocks of The Reef – one of the ugliest constructions in the Caribbean. Once they were acquired he transferred ownership to another of his shell companies, in turn owned by two other shell companies in Nassau.
A holiday home in the Bahamas wasn't enough. Blazer wanted more homes in the sun and more Concacaf funds were used to purchase two apartments at the Mondrian South Beach Hotel Residences in Miami.
The Mondrian is a waterfront luxury hotel and residence with a high-end restaurant. The apartments – a one-bedroom apartment and an adjoining studio – were purchased for $810,000.
It was a problem transporting The Belly around New York. Taxis were too small and it took time to rent vans. Blazer ordered a top of the range Hummer costing $48,554 and it cost a further $600 a month to garage the beast near Trump Tower.
The Belly and Mary Lynn were the insured drivers but it was rarely used and later driven down to Miami and again, parked most of the time.
THEN THERE WAS the country estate. The Belly wanted to show off his wealth. Mary Lynn's home state was North Carolina and her grandparents had left an elegant but deteriorating farmhouse on Route 64 out of the small city of Lenoir in the foothills of the Appalachian mountains.
Chuck was keen to fund renovation of the tumbling down building. It was to be a grand affair.
There would be a magnificent sprawling façade with double doors leading into rooms for dining, living, TV and movies, breakfast and a kitchen. Up the broad staircase were six bedrooms all with their own bathrooms.
On the deck at the back was an outdoor pool with a Jacuzzi. One neighbour, pleased to see Lone Oak Farm being restored, was astonished to discover that Chuck wanted a secret panic room and extensive security precautions.
Chuck purchased hiz'n'hers quadbikes and careered around the area being photographed with puzzled local farmers and foresters.
Chuck looked after his children. Jason, a physical therapist, was paid $7,000 a month as Director of the Concacaf Medical Department.
Daddy arranged important foreign trips for Jason representing Concacaf in Zurich at FIFA functions and presenting trophies in the Concacaf region and Latin America. Daughter Marci Blazer, a corporate lawyer, was nominated to sit on FIFA's legal committee.
Editor's Note: Wired868 has been authorised to publish excerpts from Omertà for readers. We urge you to purchase an online version of the book for just £8 at: http://www.transparencybooks.com/