Point Fortin Civic's eight match Pro League unbeaten streak came to an end at the Ato Boldon Stadium, Couva this evening as the newly promoted team lost 1-0 to defending champion Defence Force.
The result saw Civic concede ground at the top of the table as the team from deep south slipped three points behind joint second place clubs, Central FC and North East Stars, and eight shy of present leader DIRECTV W Connection.
For Defence Force coach Ross Russell, the triumph was the best possible going away present as the army/coast guard combination prepares to represent Trinidad and Tobago at the 2014 Caribbean Club Championship.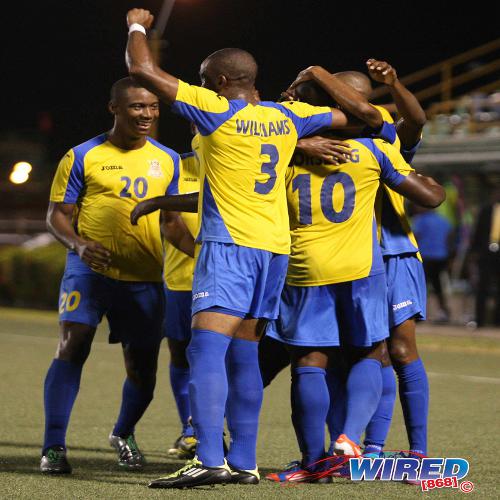 Defence Force opens it campaign in Group 3 on Friday against Guyana's Alpha United at Harbour View in Jamaica. Caledonia AIA, the Pro League's other representative, plays Haitian host Sportive de Mirebalais on Friday in Group 2.
But the "Tetetron Boys" rode their luck today. Thrice, Civic thumped shots off the upright while Defence Force was also forced to play the final 20 minutes with 10 players after defender Glynn Franklyn received a straight red card for a hack on substitute Kelvin "Supers" Modeste.
Somehow, Defence Force held on and seemed to even grow in stature as the final whistle drew close.
Russell's men are just three points behind fourth placed Civic now and with two games in hand. It would be an astounding feat if Defence Force finishes in the top two after the unforeseen and tragic circumstances that affected the team this season. And, if they manage it, the Teteron Boys would look back at this evening's game and smile.
Civic should have gone ahead in the seventh minute.
Midfielder Akeem Redhead slipped the ball into the path of Marcus Joseph and the league's leading marksman cannoned his effort off the base of the far post. The rebound fell to his capable strike partner, Andre Toussaint, but his effort took a slight deflection off an opponent and hit the other post.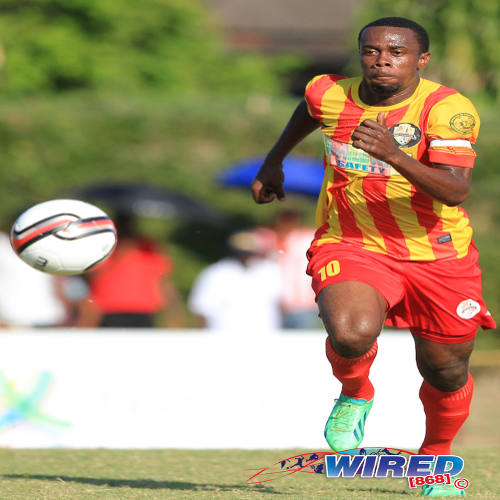 Goalkeeper Kevin Graham was not even in the vicinity of either effort.
Defence Force came roaring back and Josimar Belgrave showed he could thump the ball as well. His first effort from 25 yards just missed Civic custodian Marvin Phillip's top left hand corner in the 25th minute. Belgrave's second attempt, a minute later, almost split Phillip in two and the goalkeeper required treatment after absorbing the attacker's crashing drive into his midriff from six yards.
The lone goal was not as eye-catching. Kerry Joseph delivered an inswinging corner kick from the left flank in the 34th minute and Franklyn's header caught a Civic defender and ricocheted off Phillip before crossing the line.
Joseph had a decent penalty shout in the 56th minute as he was wrestled to the ground by Civic right back Steven Joseph but referee Michael London waved for play to continue. Redhead seized on the opportunity to again slip behind the opposing defence for Joseph.
Joseph went for the other corner this time. But the result was the same as his effort smashed against the inside of the Defence Force post.
A minute later, Joseph teed up Toussaint and his low effort just missed the far corner from the edge of the penalty area.
Belgrave had another peep at goal in the 71st minute but, this time, was denied by Phillip's legs as Civic stayed within striking distance.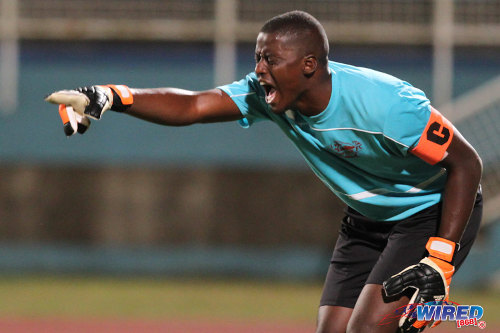 Then came the game's big decision as Franklyn lunged in at Modeste and clearly chopped down the player. It was a non-threatening part of the field and arguably no more than a mistimed tackle. But Franklyn is not a small man and London felt it was a reckless action.
He flashed the red card to Russell's disgust.
But Defence Force readjusted superbly. On went the more experienced Rodell Elcock, who was being rested with the CFU competition in mind, and Aklie Edwards, who is usually first choice at left back, went on to join him as the defending champion team finished the game in better shape than it started it.
Civic barely had a sniff at the opposing goal after that.
Do not count Defence Force out of the title race just yet.
(Teams)
Defence Force (4-2-3-11): 1.Kevin Graham (GK); 13.Marvin Jones, 2.Glynn Franklyn, 3.Keston Williams (captain), 17.Ross Russell Jr; 4.Dave Long, 8.Curtis Gonzales; 23.Kerry Joseph (21.Aklie Edwards 83), 10.Josimar Belgrave (6.Rodell Elcock 74), 12.Jemel Sebro; 9.Devorn Jorsling (26.Richard Roy 87).
Unused substitutes: 25.Sheldon Clarke (GK), 7.Balondemu Julius, 14.Cory Rivers, 18.Sean Narcis.
Coach: Ross Russell
Point Fortin Civic (4-1-3-2): 1.Marvin Phillip (GK); 8.Steven Joseph, 17.Glen Sutton, 4.Weslie John, 2.Garyl Doldron (29.Kevin Rouse 60), 7.Nickcolson Thomas (captain), 35.Kariym Balthazar (15.Sean Cooper 33), 19.Andrei Pacheco (6.Kelvin Modeste 60), 18.Akeem Redhead, 10.Marcus Joseph, 11.Andre Toussaint,
Unused substitutes: 26.Miguel Payne (GK), 27.Jarred Bennett, 21.Andre Alexis, 33.Jamille Boatswain.
Coach: Reynold Carrington
Referee: Michael London
Pro League result
(Sun Mar 16)
Defence Force 1 (Glynn Franklyn 34), Point Fortin Civic 0 at Couva
(Sat 15 Mar)
Police 4 (Wendell Joseph 5, 51 pen, Jameel Perry 12, Akiba Peters 83), St Ann's Rangers 0 at Larry Gomes
(Fri 14 Mar)
North East Stars 1 (Trevin Caesar 18), San Juan Jabloteh 0 at Couva
Central FC 3 (Marvin Oliver 19, Ataullah Guerra 20, Willis Plaza 29), W Connection 0 at Couva
*–RC Ataullah Guerra. Ref Rodphin Harris
Upcoming fixtures
(Tue Mar 18)
St Ann's Rangers vs Point Fortin Civic, 6 pm, Couva;
W Connection vs San Juan Jabloteh, 8 pm, Couva.
[standings league_id=2 template=extend logo=true]