Another clinical show from "Soca Warrior" Marcus Joseph pushed Point Fortin Civic back into second place last night as the south-based outfit whipped Police FC 3-0 while North East Stars maintained its dominance over Caledonia AIA with a 3-2 win in a Macoya double header at the Marvin Lee Stadium.
Once more, Stars striker Trevin Caesar showed his former employer what it was missing with a double while Kennedy Hinkson scored a late winner.
The result widened the gap between Stars and Caledonia, who are fourth and fifth respectively, to five points and ensured that coach Angus Eve completed the sweep over the "Eastern Stallions" with wins in all three league games this season. Stars managed five wins from six league outings against Caledonia since Eve took up the reigns in mid-2012.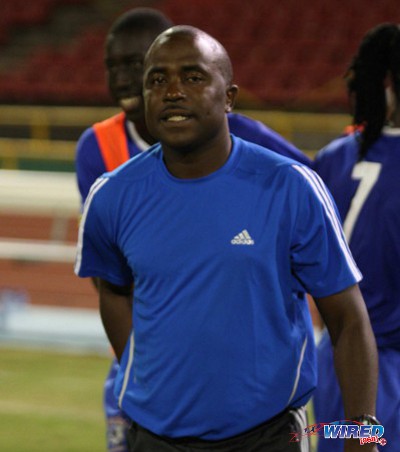 Veteran Caledonia midfielder Densill Theobald scored twice to give Caledonia hope of a share of the points. But it proved insufficient in a match that again featured some questionable officiating.
There were some unfamiliar faces in the middle yesterday as a mix-up over a fitness examination for top flight referees left the Pro League struggling to find match officials. As a result, referees Roger Smith and Ishmael Muhammad were promoted from the zonal leagues to fill the breach.

An inspired performance from Civic custodian Akini Adams and another stellar showing by Joseph ensured that Smith's job with the whistle was fairly straightforward.
Police should have gone ahead after just seven minutes as a defensive lapse saw Jameel Perry take possession inside the opposing area but his shot was too close to Adams, who was preferred to Civic number one and Trinidad and Tobago international goalkeeper Marvin Phillip.
It was Adams' first league start after the ex-T&TEC goalkeeper missed half the season to be at his ailing brother Akeem's side in Hungary before his death last December.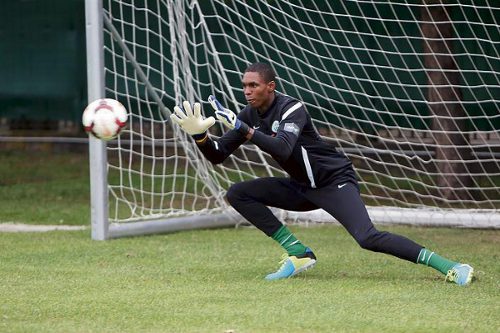 "Akini was working hard and doing well as back up," Civic coach Reynold Carrington told Wired868, "and we felt it was a chance to give him the game that he deserved with no disrespect to Police."
Joseph showed Perry how it is done in the 21st minute as he took advantage of space offered by Jasimar Ashers to drive past Police goalkeeper Adrian Foncette from just outside the penalty box.
Two minutes later, Foncette made a fine save to deny Joseph a double after a brilliant threaded pass from his strike partner, Andre Toussaint. But Civic got its insurance goal anyway in the 37th minute after a fluent attacking move from the visitors.
Promising teenaged midfielder Akeem Redhead released Joseph down the left flank and his accurate first time cross was knocked over the goalline by Toussaint.
It might have been 3-0 before the interval but Smith opted not to award a penalty after Ashers bundled over Redhead in the penalty area while Foncette and Adams produced some fine glove-work to keep out Joseph and Perry respectively.
A Joseph corner eventually led to the third item, which Police midfielder Elijah Roberts inadvertently headed into his own net while under pressure from Civic midfielder Kariym Balthazar.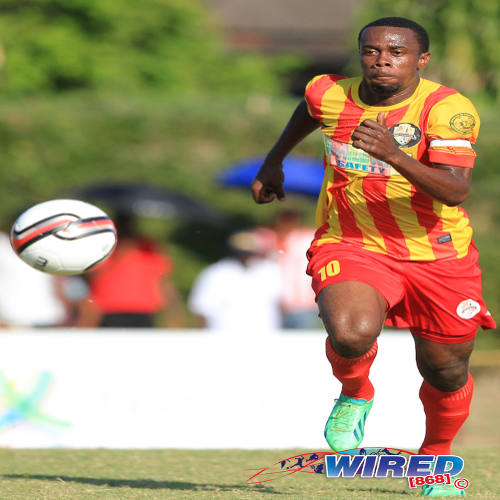 The second outing was much more competitive as Caledonia tried to reverse an abysmal run against Stars. It didn't help coach Jamaal Shabazz's cause that his key defender, Nuru Muhammad, decided to give the Sangre Grande team a head start after just seven minutes.
A long ball over the top seemed to be Muhammad's for the taking but, intimidated by Caesar's speed, he opted to drop off instead. Caesar did not need a second invitation as the diminutive striker ran at the backpedalling defender before arrowing his shot into the far corner.
Stars, as is their nature, dropped off instead of trying to build on the advantage and Caledonia deservedly pulled level before the interval. Goalkeeper and captain Cleon John saved smartly to deny Caledonia winger Tyrone Charles and Keyon Edwards rapped the opposing bar with a header before Theobald equalised with a powerful, low first time effort, off an Edwards backheel, that squirmed below John.
Up to that point, the match referee, Muhammad, had turned down a decent penalty shout from either team but managed to get to the interval without a major ruckus.
But there was no hiding place when, seven minutes into the second half, Caledonia left back Marcus Ambrose clearly diverted a Hinkson cross with his raised arm. Muhammad, who got no help from the well-placed referee's assistant, failed to make the call.
Caledonia could not make the most of the gift, though.
In the 61st minute, Shabazz's nemesis, Caesar, got on the end of a Chike Sullivan cross to restore Stars' lead from an improbably angle. It was Caesar's eighth league goal of the season and half of them were scored against Caledonia.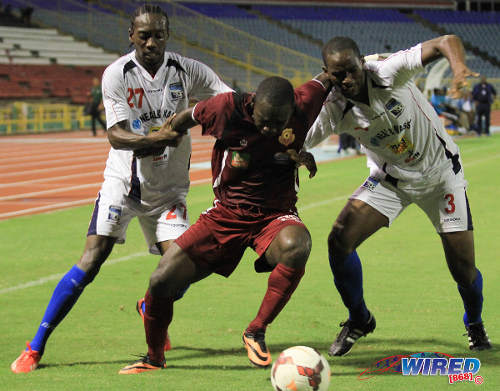 Caesar should have had a hattrick too but struck the far post in the 72nd minute after another darting run.
But Theobald gave Caledonia a lifeline in the 85th minute with his fifth league goal—almost certainly a personal best for the goal-shy playmaker—when his shot on the turn beat John after a notable deflection from Stars' makeshift defender Keithy Simpson.
Eve had omitted six players from yesterday's game, including defender Aquil Selby and midfielders Jayson Joseph and Keron Cummings, due to their absences from training over the Carnival weekend. But, even shorthanded, his team still found a way past Caledonia.
This time, Caledonia goalkeeper Shemel Louison was the villain. The Grenadian international got both hands to a Lemuel Lyons effort but then spilled the ball and Hinkson was on spot to bury the rebound in the 87th minute.
It might have gotten worse for Caledonia in stoppage time as captain Stephan David dragged Keryn Navarro down on a counter attack. David was the last Caledonia defender but escaped with just a yellow card as tempers flared between both sides.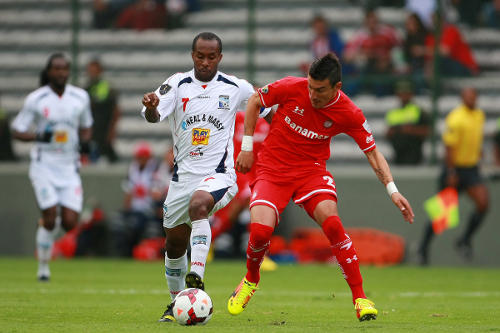 But, at the final whistle, Eve was celebrating again as Caledonia slipped further away from the top two places and a spot in the 2015 CONCACAF Champions League qualifying phase.
(Teams)
North East Stars (4-2-3-1): 22.Cleon John (GK) (captain); 7.Elijah Manners, 4.Keithy Simpson, 19.Glenton Wolfe, 25.Keryn Navarro; 6.Jeromie Williams, 18.Kaashif Thomas; 15.Chike Sullivan (21.Neveal Hackshaw 76), 9.Akiel Guevara (11.Lemuel Lyons 58), 23.Kennedy Hinkson; 20.Trevin Caesar (24.Jomoul Francois 90).
Unused substitutes: 1.Stefan Berkeley (GK), 3.Kevon Villaroel, 16.Franz Husbands.
Coach: Angus Eve
Caledonia AIA (4-1-3-1-1): 1.Shemel Louison (GK); 12.Kareem Joseph, 3.Nuru Muhammad, 20.Noel Williams, 6.Marcus Ambrose; 7.Stephan David (captain); 27.Nathan Lewis, 21.Densill Theobald, 16.Tyrone Charles (10.Ralph Lundy Jr 67); 11.Abdallah Phillips (22.Jameel Neptune 15); 9.Keyon Edwards (13.Julian Wade 82).
Unused substitutes: 34.Kevin Graham (GK), 8.Keron Bethelmy, 19.Nical Stephens, 30.Akil Stafford.
Coach: Jamaal Shabazz
Referee: Ishmael Muhammad
Pro League results
(Fri March 7)
Point Fortin Civic 3 (Marcus Joseph 21, Andre Toussaint 37, Elijah Roberts OG 90+), Police FC 0 at Macoya
North East Stars 3 (Trevin Caesar 7, 61, Kennedy Hinkson 87), Caledonia AIA 2 (Densill Theobald 31, 85) at Macoya
[standings league_id=2 template=extend logo=true]