The only sound in the Trinidad and Tobago national under-20 women team's dressing room last night was the sound of sobbing. Instead of toasts, there were tears.
The "Soca Princesses", who already set a new high for the women's program by qualifying for the CONCACAF semi-final round, came within five minutes of booking a historic spot at the Canada 2014 Under-20 Women's World Cup. It would have been the first time that a Caribbean women's team qualified for a FIFA tournament.
Instead, Costa Rica pulled off a barely plausible recovery at the Truman Bodden Sport Complex in George Town, Cayman Islands.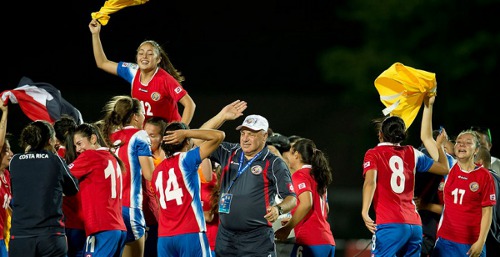 And, despite leading 3-1 at halftime, the Princesses conceded six unanswered goals to lose 7-3 to Costa Rica in the third place play off. As a result, Costa Rica advances to the Under-20 World Cup alongside CONCACAF champion team, the United States, and runner-up, Mexico.
The United States scored three second half goals last night to rout Mexico 4-0 and underline its status as CONCACAF's premier football nation and a global powerhouse in the women's game.

The Princesses are out of their depth in such company. The two island republic lost 3-0 to Mexico in the group stage and then 6-0 to the United States in the semifinal.
But Trinidad and Tobago's playoff contest against Costa Rica promised to be a much tighter proposition. At the final whistle, the Princesses struggled to come to grips with the result.
"It was very hard on the girls, especially knowing that they had it," Trinidad and Tobago technical director Anton Corneal told Wired868. "If they were blown away at the beginning, then okay. But knowing they had it in their hands… It was difficult to take."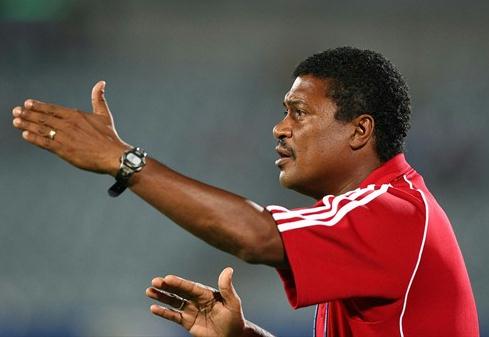 In a game that featured 10 goals, Corneal singled out one as the turning point.
In the 86th minute, a Costa Rica attacker headed a ball into the area towards her teammate, Michelle Montero. Trinidad and Tobago defender Otisha David was in her way; but only for a few seconds.
David collapsed in a tangle of legs and Montero ran clear to prod the equaliser past Trinidad and Tobago custodian Keri Myers. Corneal called foul.
"David was shielding the ball and the player clips her foot, she falls and a goal scores," said Corneal. "I don't want to say it is a refereeing error but you make your own call. Maybe (David) could have kicked it out. Maybe she was kicked accidentally. But she was tripped."
At 3-3, the game went into overtime; but the Princesses had nothing left in more ways than one.
First choice goalkeeper Tenesha Palmer and midfielder Shanisa Camejo were already missing through injury while the Princesses then lost Khadisha Debesette to a hamstring injury. There was not, according to Corneal, enough depth in the squad to compensate for those absences while the psychological blow of failing to protect their lead also weighed heavy.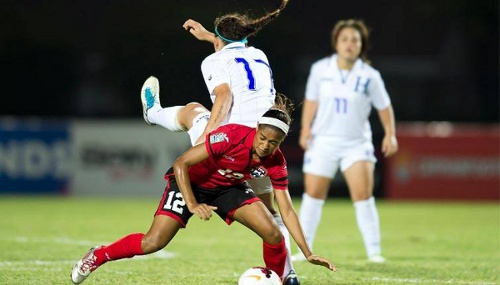 "We tried to pick them up but that goal broke our spirit completely," said Corneal. "When we went deeper into the game, we didn't have a lot of depth in the team and there were a lot of blunders in extra time.
"The momentum had switched completely in favour of Costa Rica."
Costa Rica took the lead for the first time in the 94th minute as substitute Nicole Araya drove home after David mistimed an attempted header in her own penalty area.
Araya then made it 5-3, two minutes later, with an audacious volley from a Yesmi Rodriguez corner kick that Myers somehow failed to keep out of her near post.
Katheryn Arroyo raced clear of the defence in the 115th minute to make it 6-3 before Mariana Benavidez administered the last rites in the closing seconds.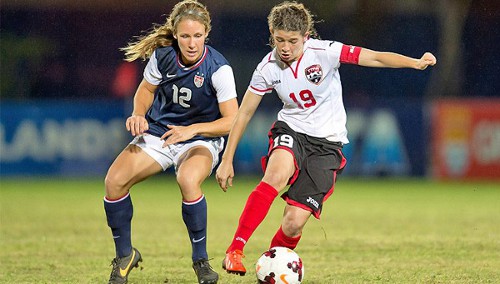 Trinidad and Tobago's final finish among the top four CONCACAF teams was unprecedented. But it might be a long time before the Princesses feel like celebrating.
"The dressing room was very sober after," said Corneal. "Some of them were crying, which was expected. I know they really wanted it. We saw a lot of passion and desire by some girls and it was a really sad aftermath.
"We cannot blame anyone. We had it to win it and we did not."
Trinidad and Tobago opened their World Cup campaign with a 2-0 win over Honduras, which was the Princesses' first win at CONCACAF level, and followed it up with a 4-0 demolition job of host nation, the Cayman Islands. But lopsided defeats to Mexico and the United States came next.
Before the semifinal fixture against the US, Corneal revealed that the technical staff, which is led by coach Izler Browne, had decided to sit deep and conserve energy with the third place play off in mind.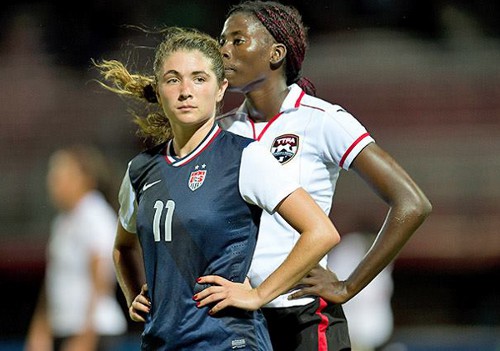 In the opening 45 minutes yesterday, it might have felt like mission accomplished.
The Princesses opened the scoring after just 16 minutes as Shanelle Henry neatly teed up captain Anique Walker inside the opposing area and the latter player stroked into the far corner with her left boot.
Walker doubled the lead in the 28th minute with a bullet header from a deep Jonelle Warrick free kick with a well-executed set piece that the US team would have been proud of.
Costa Rica halved the deficit with a slice of good fortune in the 34th minute. Daphne Herrera slipped behind the overworked Daniella Findley and rounded Myers to hit goalward but Warrick anticipated the danger and retreated to make the stop. Warrick's tame clearance undid her clever defensive work, though, and Herrera made no mistake with the rebound.
There seemed to have been little harm done when Khadisha Debesette brought the Trinidad and Tobago bench to its feet with a brilliant, dipping 25-yard volley, three minutes before the interval, which kissed the underside of the bar on its way to the back of the net.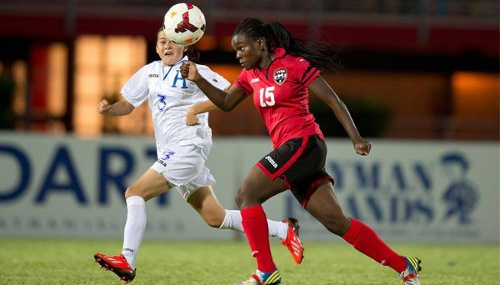 "We got the start we wanted," said Corneal. "We were waiting for this game and we went up three goals to one, which is pretty much how we would have liked it to go."
But the second half did not go as planned.
There were some nerves when Myers tipped a mishit cross from Viviana Chinchilla on to her own bar in the 57th minute. And, in the 70th minute, Costa Rica scored another soft goal.
Myers failed to get distance on her punched clearance and Rodriquez took aim, swung and scoffed her shot. Trinidad and Tobago substitute Akilah Sparks had already turned her back and the ball hit her and dribbled back into Rodriguez's path.
Like Herrera, Rodriguez made the most of her second opportunity.
Four minutes from time, Costa Rica again got the ball into the opposition's penalty area as a headed pass prompted a race between David and Montero. The two players appeared to get entangled, David fell and Montero stayed on her feet to apply the dagger to Trinidad and Tobago's World Cup dreams.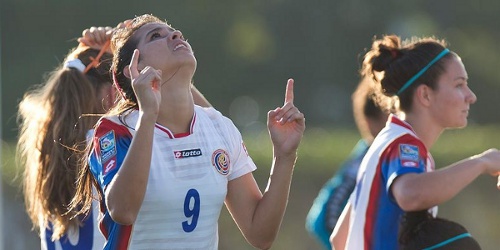 "How unlucky could we be?" asked Corneal, rhetorically. "That was a foul and we could be out of a World Cup because of a referee's blunder. It is really a bitter pill for us to have to swallow; but we just have to live with it. That is all we can do."
The Princesses took a stride forward in the Cayman Islands but it was still a step short of the ultimate prize. And the cruel number 19, which ambushed the "Strike Squad" and haunted the senior men's game for 16 years, was back to claim another victim.
(Team)
Trinidad and Tobago: 1.Keri Myers (GK); 18.Liana Hinds, 14.Otisha David, 17.Jonelle Warrick, 8.Daniella Findley; 6.Khadisha Debesette (7.Akilah Sparks 57), 11.Khadidra Debesette, 4.Brianna Ryce, 9.Patrice Campbell (15.Donika Murray 75); 19.Anique Walker (captain), 13.Shenelle Henry (10.Tsaianne Leander 112).
Unused substitutes: 20.Tenesha Palmer (GK), 2.Tkeyah Phillips, 3.Emma Abdul, 5.Adeka Spence, 12.Shanisa Camejo, 16.Summer Arjoon.
Coach: Izler Browne
CONCACAF U-20 Women's Tournament
Third Place Play Off
(Sun January 19)
Costa Rica 7 (Daphne Herrera 34, Yesmi Rodriguez 71, Michelle Montero 86, Nicole Araya 94, 96, Katheryn Arroyo 115, Mariana Benavidez 120), Trinidad and Tobago 3 (Anique Walker 16, 28, Khadisha Debesette 42) at George Town;
Final
United States 4 (Andi Sullivan 9, Savannah Jordan 59, Margaret Purce 68, Estefania Fuentes OG 90), Mexico 0 at George Town.