It is the Trinidad and Tobago women versus the señoritas of Venezuela on Tuesday evening, as the two neighbours go head to head for bronze medals in the Central American and Caribbean (CAC) Games women's football competition in Barranquilla, Colombia.
The Women Soca Warriors—who, improbably, made it to the semifinal round without a single win—lost 2-0 to Costa Rica tonight, while Venezuela were whipped 3-1 by Mexico.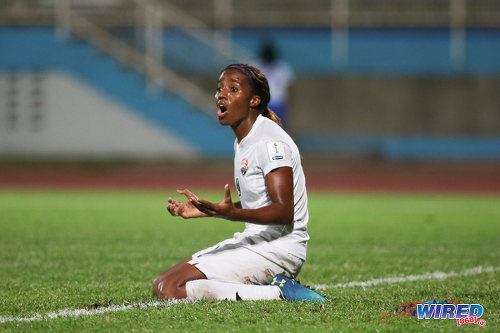 Mexico, the defending CAC champions in both sexes, will challenge Costa Rica for the women's crown on Tuesday night.
And yet the match-ups might easily have been different. In the 78th minute, Trinidad and Tobago midfielder Karyn "Baby" Forbes flicked a header into the path of team captain Tasha St Louis, on top of the opposing penalty area.
St Louis shrugged aside Costa Rica defender Carol Sánchez before gliding within eight yards of the opposing goal. Then, inexplicably, she hit wide, with replays suggesting that she kicked the turf before making contact with the ball.

[dfp-ad]
It was a cruel taste of fate for Trinidad and Tobago's best player on the night, who ghosted around tackles and superbly linked up with her runners. All around her were Warriors putting in commendable shifts, though.
Costa Rica defender Gabriela Guillen hit the bar with a header off a corner kick in the first half hour before Sánchez put the "Ticos" ahead from the penalty spot, after attacker Gloriana Villalobos stumbled over a challenge from T&T defender Jenelle Cunningham in the 32nd minute. The contact looked minimal but Cunningham did not protest as Mexican referee Francia Gonzales pointed to the spot.
Still, Trinidad and Tobago never stopped grinding away and threatened sporadically from set pieces while goalkeeper Kimika Forbes was scarcely bothered.
St Louis' miss was costly though. As the match entered stoppage time, the Costa Rican players tried desperately to kill time by flopping to the ground or screening the ball wastefully at the sides of the field.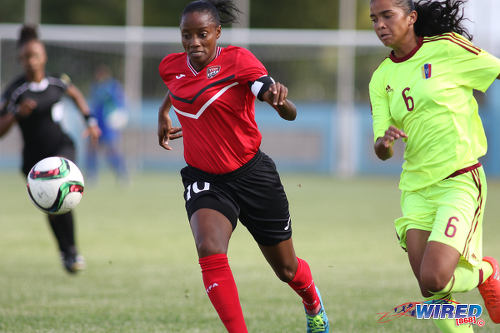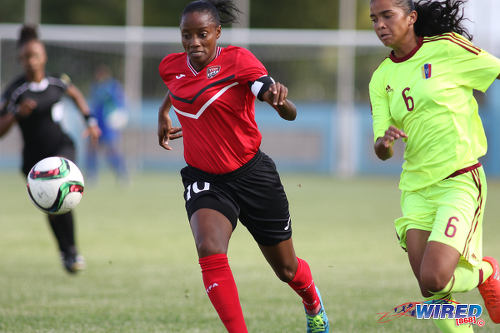 Then, in the fourth and final minute of added time, came the knock out blow, as the Trinidad and Tobago custodian, Kimika, sold full back Liana Hinds short with a pass under pressure. And Maria Porras intercepted, before strolling into the penalty area to convert.
The Women Warriors, who are yet to win at the 2018 CAC tournament, have a final chance to do so on Sunday, against a South American neighbour that has encroached on local territory in more ways than one.
If Trinidad and Tobago can keep out Venezuela next week, it will be worth bronze. And it would be the two island republic's first football medal at the CAC Games in 44 years.
(Teams)
Trinidad and Tobago (4-1-4-1): 1.Kimika Forbes (GK); 3.Jenelle Cunningham (7.Jonelle Cato 85), 4.Rhea Belgrave, 5.Arin King, 8.Patrice Superville (19.Aaliyah Prince 65); 2.Ayana Russell; 16.Liana Hinds, 18.Naomi Guerra (14.Karyn Forbes 53), 11.Janine Francois, 9.Mariah Shade; 10.Tasha St Louis (captain).
Unused substitutes: 20.Saundra Baron (GK), 6.Natasha St Louis, 12.Summer Arjoon, 13.Natisha John, 15.Kedie Johnson, 17.Afiyah Cornwall.
Coach: Jamaal Shabazz
2018 CAC Games results
(27 July)
Costa Rica 2 (Carol Sánchez 33, Maria Porras 90+4), Trinidad and Tobago 0;
Mexico 3, Venezuela 1.