In the last three matches that produced a winner between bitter Couva rivals DIRECTV W Connection and Central FC, the two teams were separated by just one goal. Last night, for the second time this season, that solitary strike came from the penalty spot.
And, at the death, W Connection was the team with the giant $50,000 showcase cheque as the "Savonetta Boys" edged Central 6-5 on penalties, after a 2-2 regulation time score, to clinch the 2013 Trinidad and Tobago Football Association (TTFA) FA Trophy title at the Ato Boldon Stadium in Couva. Payment, according to the TTFA, will be deferred until 31 January 2014.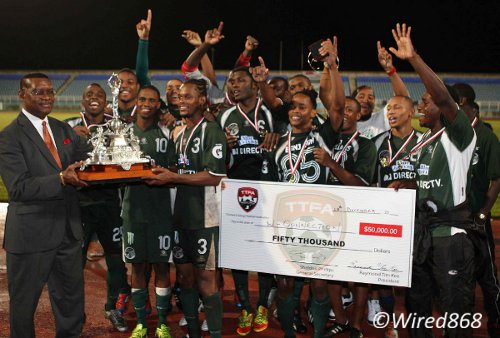 Connection also became the first team in the professional era to lift the FA trophy on four occasions, which bettered the three-time successes of Caledonia AIA and Joe Public. San Juan Jabloteh held the accolade on three occasions as well although its first triumph came during the time of the Semi-Professional Football League (SPFL).
Once more, Trinidad and Tobago's oldest football crown was a step too far for coach Terry Fenwick's men who lost to Caledonia AIA in the last FA final.
As Connection players erupted in spontaneous joy, Central substitute Darren Mitchell stood rooted to the penalty spot as he stared in the corner of the net where the ball should have been. Mitchell's effort was a few inches too high and clipped the top of the bar after 11 perfect kicks from either team.

Several Connection players paused their revelry to offer a word of condolence to Mitchell before Central captain Marvin Oliver finally got hold of the young midfielder and dragged him towards his teammates.
Such moments of respect and goodwill between the two teams have been rare. There were four red cards in their five previous meetings and incidents off the field too; not least when Central custodian Jan-Michael Williams, a former Connection captain, used a bolt cutter to gain access to Connection's goalpost in October.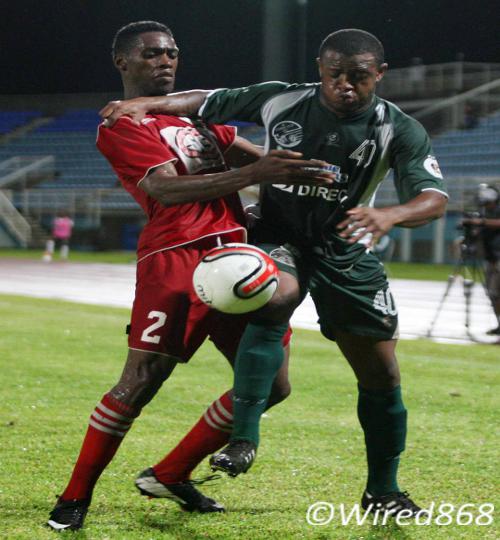 In truth, Connection coach Stuart Charles-Fevrier and Fenwick, the former Jabloteh boss, have more often brought out the best in each other over the years than the worst.
Last night was no different.
It was a contest of high tempo, tactical intrigue, desire and execution.
As Oliver and Fenwick helped limping fullback Elton John towards the dressing room, the captain suggested that officiating spoilt the game. It was a debatable opinion.
Referee Neal Brizan is arguably the first referee that comes to mind for local occasions of this magnitude and, once again, he kept the competitive edge between the teams at reasonable levels. If there were mistakes, they were borne from the need for split-second decisions in clashes that could have gone either way.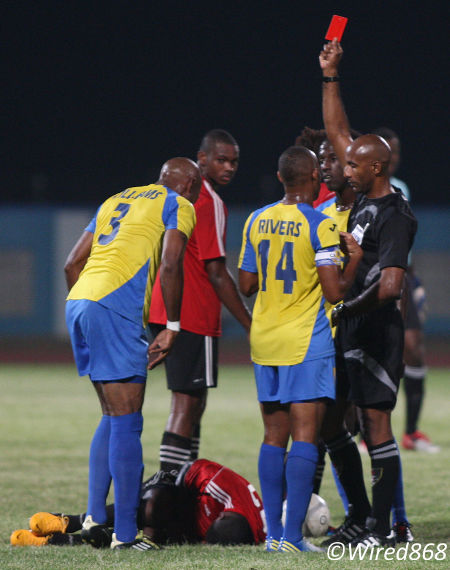 Brizan failed to whistle, for instance, when Connection left back Kurt Frederick lunged towards John to retrieve the ball in extra time and the latter player was not the same afterwards. Central's medical staff called for a change but Fenwick had already used his three substitutions; so John put back on his boots and hobbled around for another 17 minutes.
Central argued for an offside call that never came before Connection right back Alvin Jones crossed for Jomal Williams' opening goal in the 26th minute. Williams, who was one of three teenaged scorers yesterday, finished with a brilliant stooping header into the top corner.
But then, when Central took a 2-1 lead through an Oliver penalty, replays suggested that Christian Ocoro Viveros' foul on opposing striker Dwight Quintero actually occurred a fraction outside the penalty box.
Whatever the two clubs might think of each other, there was only respect and admiration from the stands for an absorbing cup final.
Central started brighter as the "Couva Sharks" pressed high up the field and did much of the early running. Oliver might have opened the scoring in the 20th minute but failed to keep down his header from a Jason Marcano corner kick.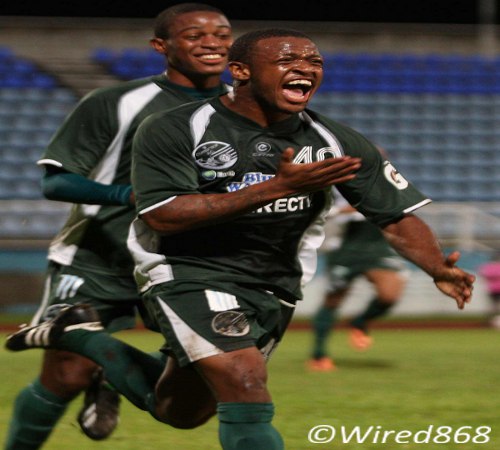 Six minutes later, Central was in trouble as Williams wheeled away to celebrate his emphatic headed item. Connection had not conceded a single goal to Central since March and, in 15 preceding games in all competitions this season, the Savonetta Boys kept a remarkable 13 clean sheets.
But Quintero restored parity within just three minutes as the opposing defence failed to clear and the teenager squeezed a snap shot from the edge of the box that flew past Connection goalkeeper Aquelius Sylvester with the aid of a deflection off Mekeil Williams.
Sylvester is Connection's second-string goalkeeper and much has been made of Fevrier's decision to use his reserves in this competition. But yesterday, for a variety of reasons including injuries, nine of the 14 Connection players fielded, including captain Gerard Williams, playmaker Joevin Jones and the strike trio of Hashim Arcia, Neil Benjamin and Stefano Rijssel, certainly would not qualify as squad members.
Striker Jem Gordon, who was replaced at halftime by Arcia, made little impact on the game. But Fevrier's decision to withdraw Tremain Paul after the opening 45 minutes probably had more to do with the trophy at stake than the development of a promising midfielder.
Quiet and unassuming, Fevrier lacks none of Fenwick's competitive desire.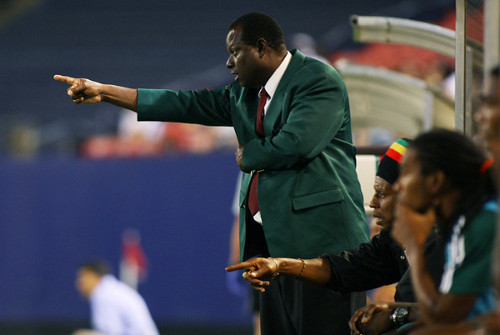 Arcia was excellent yesterday with his clever movement and passing. But, before he could make an impact, Connection conceded again.
On the break, Marcano played a superb, lofted pass into Quintero's run and the 19-year-old former national youth striker fell inside the area to win a penalty kick that Oliver, the oldest player on the field at 38, dispatched clinically in the 63rd minute.
Like Central in the first half, Connection responded swiftly. Just six minutes later, Benjamin, the final's eventual MVP, superbly clipped a raking Arcia cross over Williams (J-M) to pull the Pro League heavyweight level at two-each.
Perhaps the Guinness Book of Records should include an entry for a club that has the most unrelated players with the same surname. Connection owner David John Williams had three "Williamses" in his starting team yesterday, Mekeil, Jomal and Gerard, while the fourth, Central custodian Jan-Michael, was a former employee.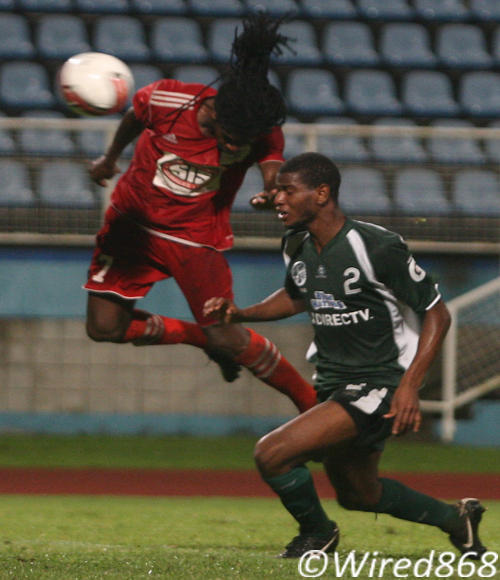 There was no further score during regulation or extra time, though, as Sylvester fended away a Marcano header at his near post while Jones (J) and Central substitute Keon Trim both wasted good opportunities. But Central looked exhausted as penalty kicks beckoned; John was hobbling, Quintero was repeatedly being helped to his feet and Oliver, with his bandaged fractured forearm, could barely break into a sprint.
Celio Da Silva, Arcia, Benjamin, Williams (G) and (M) and the Jones brothers converted Connection's first six efforts. Marcano, Oliver, Quintero, Akeem Benjamin and Jamal Jack were similarly flawless for the Sharks.
But then came Mitchell; and the haunting sound of the ball pinging off the wrong side of the bar.
It was a dramatic conclusion to a gripping final. But there always is more than a touch of drama when these two clubs meet.
(Teams)
W Connection (4-1-2-3): 22.Aquelius Sylvester (GK); 39.Alvin Jones, 25.Christian Ocoro Viveros, 15.Mekeil Williams, 2.Kurt Frederick; 3.Gerard Williams (captain), 6.Celio Da Silva; 11.Tremain Paul (26.Stefano Rijssel 46); 40.Jomal Williams (10.Joevin Jones 85), 29.Jem Gordon (14.Hashim Arcia 46), 65.Neil Benjamin Jr.
Unused substitutes: 18.Jelani Archibald (GK), 4.Daneil Cyrus, 7.Silvio Spann, 24.Joao Ananias.
Coach: Stuart Charles-Fevrier
Central FC (4-2-3-1): 21.Jan-Michael Williams (GK); 2.Elton John, 24.Akeem Benjamin, 19.Dwight Pope, 12.Jamal Jack; 10.Marvin Oliver (captain), 18.Kevon Goddard (6.Toric Robinson 67); 7.Jason Marcano, 13.Johan Peltier (22.Keon Trim 86), 17.Rundell Winchester (11.Darren Mitchell 91); 9.Dwight Quintero.
Unused substitutes: 25.Javon Sample (GK), 4.Omar Charles, 15.Kaydion Gabriel, 23.Hector Sam.
Coach: Terry Fenwick
Referee: Neal Brizan
TTFA FA Trophy final
(Wed Dec 18)
W Connection 2 (Jomal Williams 26, Neil Benjamin Jr 63), Central FC 2 (Dwight Quintero 29, Marvin Oliver 57 pen)
*–Connection won 6-5 on penalties.
FA Trophy final MVP: Neil Benjamin Jr (W Connection)
Editor's Note: The third place off between North East Stars and Malabar FC was called off due to concerns about pitch conditions. The TTFA is expected to split the $20,000 prize money at stake between the two clubs but has not yet made a formal decision.