Shifted goalposts, Facebook jabs and coveted captains were all part of an increasingly acrimonious build-up to tonight's Couva derby as DIRECTV W Connection and Central FC prepare for a hotly contested First Citizens Cup semi-final clash from 8 pm at the Ato Boldon Stadium.
Defence Force faces San Juan Jabloteh from 6 pm in the first semi-final at the same venue. But the contest between the defending Pro League champion team and the newly returned Pro League founding member is very much the undercard.
The busiest man in Couva this evening should be the fourth official of the second fixture as combustible English coach Terry Fenwick and his reserved but steely St Lucian counterpart Stuart Charles-Fevrier incite Central and Connection respectively to battle.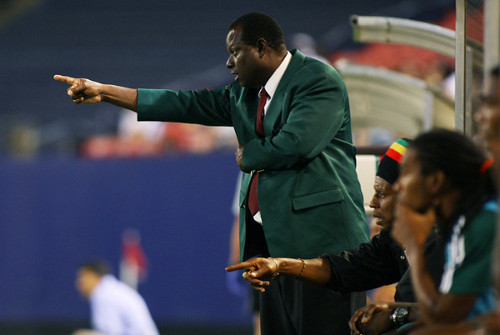 Not that the two clubs waited for the opening whistle.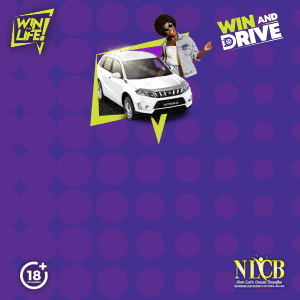 Arguably, Connection made the first move. Last week, as the "Savonetta Boys" headed to Houston for a CONCACAF Champions League fixture, they locked the mobile goalpost at the Ato Boldon Stadium, which is owned by Connection but used by both outfits as well as several national teams.
A Central FC employee broke the lock for the team to use the goalpost anyway. And the person behind the bolt cutter was none other than former Connection captain Jan-Michael Williams, who was MVP for the club's last league title in the 2011/12 season but then released earlier this year after a verbal altercation with Fevrier.
"I take full responsibility for that and I acted on my own," Williams told Wired868. "I thought it was extremely petty that they would lock the goalposts just because they had a game against Central coming up. In all my years at Connection, I have never known them to behave like that…
"It is not as if we are the only teams that even use the goalposts; the national women's and boys teams use it too."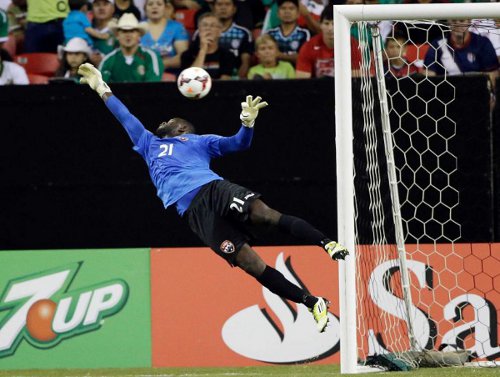 Connection chairman David John Williams angrily denied his former club captain's suggestion.
"It is since the beginning of the year that we started locking our goalposts because people are always using it and we end up having to repair it," the Connection chairman told Wired868. "Jan broke the lock long before the First Citizens Cup (semi-final draw) and he said he will break it again. So for him to suggest that we locked it because we are being petty is wrong…
"For instance, I built a wall to practise free kicks and everyone using it. They are a professional team just like us so why can't they get their own goalposts?"
Williams lodged a complaint about damage to his property with the stadium management although he said that he will not take further action unless it happened again.
Central managing director Brent Sancho apologised for the mishap.
"I didn't know the goalpost was (Connection's)," said Sancho. "I thought it belonged to the stadium. He said we broke the lock and, if that is the case, whoever broke it was wrong."
Sancho's efforts at diplomacy were akin to dousing a fire with a teacup of water.
On Facebook, Fenwick and Connection's marketing manager Renee John Williams traded playful but pointed jabs on a Wired868 post which confirmed that Connection captain Joevin Jones and vice-captain Daneil Cyrus were fined rather than axed for playing minor league football.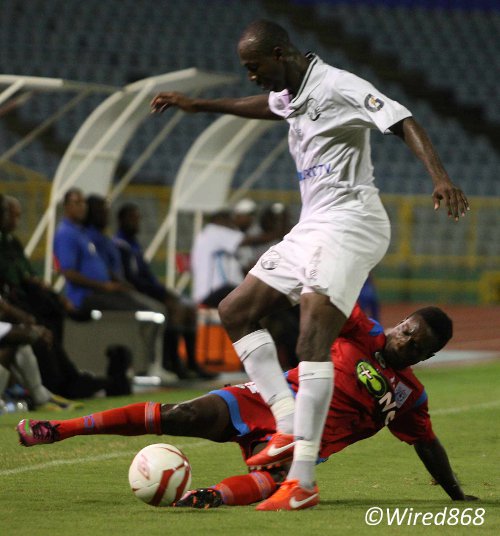 The length of the suspension meant that both players would be available to face Central this evening.
"Typical! Stuarty lost his respect on this backtrack!" charged Fenwick, on Facebook. "Jan-Michael shown the door but (Cyrus) could bring Williams (money)."
"But Terry haven't you back tracked?" Renee responded. "And at no point were the players released from their contracts at the organisation."
The public disagreement ended amicably with smiley icons and Fenwick closed with: "muchas gracias, tenga una noche encantadora" which translates to "thank you very much have a lovely evening."
The fact that the Englishman opted for a Spanish send-off may or may not be a cheeky reference to the large Latin American contingent in the Connection camp. At present, Connection has five Colombian and two Brazilian players registered for the 2013/14 season.
There was supposedly a feeling within the Connection camp that Fenwick was waiting to pounce if Cyrus or Jones became available; although surely he would not be the only interested coach.
Fenwick does have a longstanding fondness for Connection captains, though. Eight years ago, he lured Earl Jean to Jabloteh during the twilight of his years and made him a player/coach. Jean is now Fevrier's assistant coach.
And, of course, Williams, Trinidad and Tobago's number one goalkeeper at the 2013 CONCACAF Gold Cup, also ended up with Fenwick this pre-season after a bitter divorce from Connection.
Fenwick's Central has never defeated Connection. The Englishman joined the "Couva Sharks" on 4 January 2013 and faced Connection the following day. A Shahdon Winchester hattrick steered Connection to a 3-0 win while Central attacker Anthony Wolfe was sent off.
There was another Connection win in February and another Central red card as Jones scored the only goal while Sharks defender Keion Goodridge was ejected. Until, in March, Central finally got a result as the Sharks twice rallied from a goal down to earn a 2-2 draw. Jones was again among the scorers although there were no dismissals on that occasion.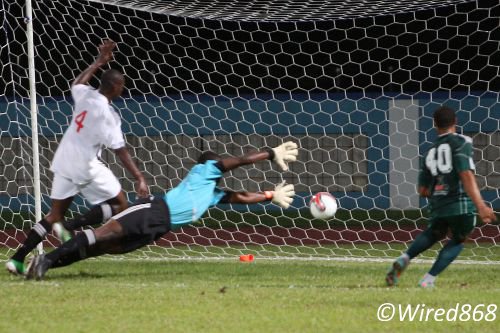 Central might feel better about its chances in the Couva derby this evening and both teams are undefeated in local competition this season.
"It is one of the bigger games Central has played in its existence," said Sancho. "Connection is one of the best teams on form this year and one of the top teams in the history of the Pro League."
Williams, who noted that Connection also played a derby-of-sorts against Point Fortin Civic last weekend, suggested today's semi-final was important only in that it takes the Savonetta Boys nearer to the First Citizens Cup crown.
"Connection has not been in the First Citizens Cup final since 2008 and this is a cup that is near and dear to us," said Williams. "We want to win the game (tonight) because that is the only way we can get to the final."
One suspects that Connection and Central would go at each other, hammers and tongs, even if first prize was a pack of chewing gum.