Trinidad and Tobago goalkeeper and former DIRECTV W Connection captain and MVP Jan-Michael Williams bit the hand that once fed him last night with a clean sheet and two penalty saves as he helped 10-man Central FC to a 3-2 shoot-out win over Connection after a goalless draw in the First Citizens Cup semifinal at the Ato Boldon Stadium in Couva.
Central will now face Defence Force in the First Citizens Cup final next Friday at the Hasely Crawford Stadium. The army/coast guard combination also needed penalties yesterday to get past San Juan Jabloteh in Couva.
Twice, Jabloteh led though veteran marksman Kerry Baptiste who converted a penalty kick in the 20th minute and then knocked in a left side Lekion Elie cross in the 41st minute. Defence Force responded with a tidy Kerry Joseph finish in the 28th minute before Devorn Jorsling came off the bench to score a stoppage time free kick.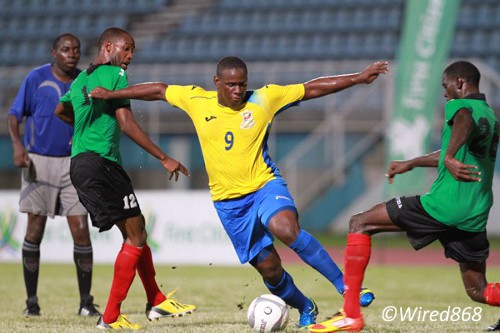 In the subsequent shootout, Jabloteh attacker Rennie Britto skied one effort and his teammate Jelani Felix hit the post with another as Defence Force prevailed. Captain Cory Rivers stroked home the winner for the "Teteron Boys" who marched into the first cup final of the 2013/14 Pro League season.
Defence Force will have its work cut out against a resurgent Central.

Last night was billed as a test of Central's title credentials and over 800 patrons showed up to see the "Couva Sharks" tackle Pro League heavyweights, W Connection.
But, in the end, both teams were upstaged by a referee with a history of controversial red cards.
Rodphin Harris is a soldier by profession. But, with the referee's whistle, he can be as squeamish as a nun. And, last night, his records brought his personal tally of dismissals to five in his last three big cup matches; and four of those red cards were flashed for what Harris deemed abusive language.
In the Digicel Pro Bowl semifinal last season, North East Stars' teenaged attacker Marcus Gomez appealed for a foul and voiced his displeasure when he did not get it.
"He said 'f**k man referee'," Harris told Wired868.
Harris showed Gomez a straight red card.
In the 2013 Lucozade Sport Goal Shield final, Connection winger Stefano Rijssel claimed that he had ordered his teammates: "lift your f**king game!"
Harris said the verbal blast was aimed at him and sent Rijssel off.
And, 13 minutes into last night's semifinal, Harris ordered Marcano off the field after warnings about his language were supposedly ignored.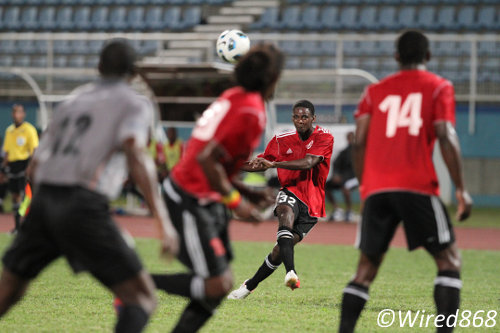 "I spoke to Marcano about his obscene language on the field of play earlier in the game," said Harris. "Then, during the run of play, there was a shoulder to shoulder challenge in the middle of the field. (Marcano) wanted a foul.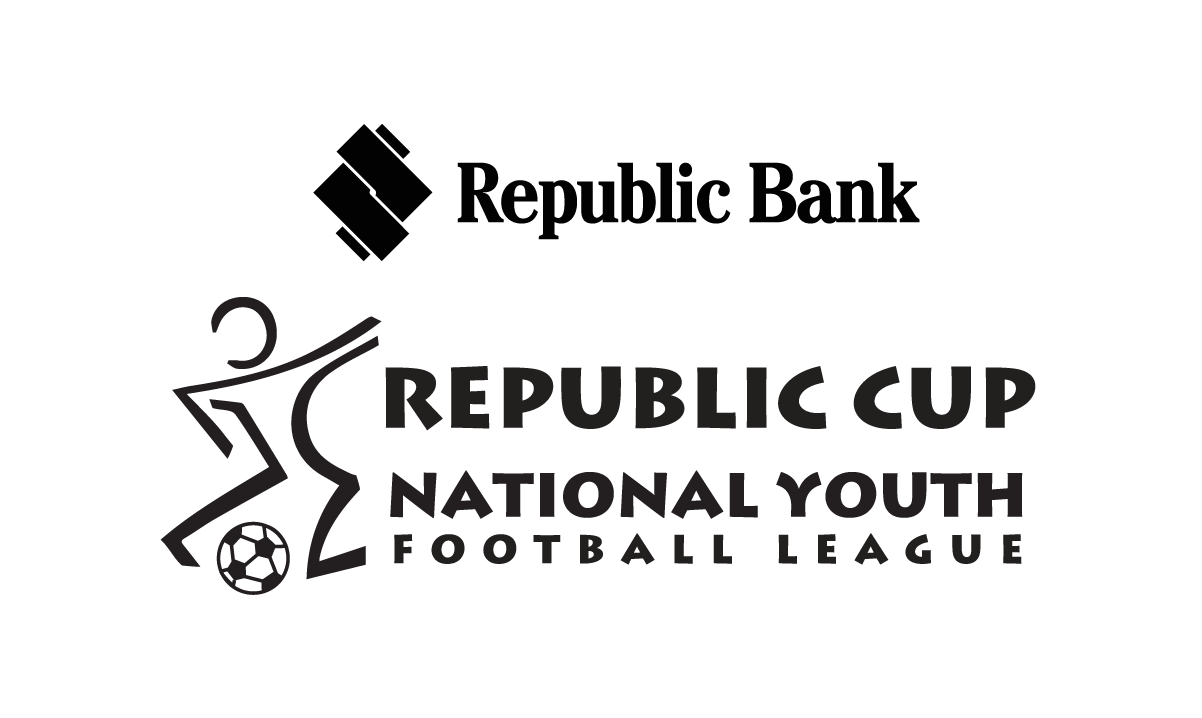 "I said 'play on' and he said 'oh f**k man, Harris'."
FIFA's rules on fouls and misconduct state that "dissent by word or action" is a cautionable offence. However, "offensive, insulting or abusive language and/or gestures" is punishable by a red card.
Had Marcano's statement crossed that line? Or was Harris being overly fussy and fragile in an industry used to industrial language?
"I warned the players before the game to behave themselves," said Harris. "I try to deafen my ear because I know emotions can run high. But Marcano said it directly to me.
"I am a fair man."
Williams was unimpressed.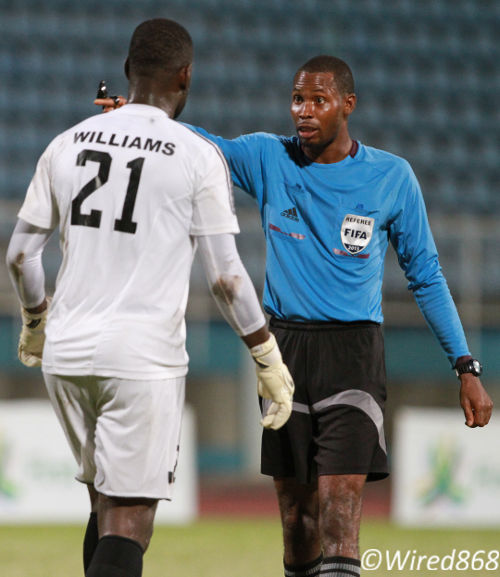 "I have never seen a man get a direct red card for dissent, especially in a big game like that," said Williams. "Why not give him a yellow first? The match should not have been about the referee; it should have been about the players."
Central coach Terry Fenwick was careful not to use obscene language to Harris. But he too saw red for a series of withering remarks.
"I told him on several occasions that I would be reporting him first thing in the morning," said Fenwick, "and that he had made a disgusting call."
Harris accused the Central coach of abusive language.
"He called me a fool and said the decision I made would haunt me," said Harris. "He also called me a 'puta'."
Fenwick denied the accusation.
"I don't even know what 'puta' means," said Fenwick.
The running battle between Fenwick and Harris seemed to reach farcical proportions in the second half when the Englishman went to the empty uncovered stand and tried to instruct his players through whistles, shouting and phone calls that were relayed to the bench by Marcano.
Harris temporarily stopped the game and alerted fourth official Neal Brizan. He explained he was trying to stop Fenwick from communicating with his bench so as to ensure that the ramifications of the dismissal were felt.
"What the f**k does that have to do with him?" asked a fuming Fenwick, who was arguably a spectator at that point.
Meanwhile, two teams were trying to win a tense affair.
Central's ten players stayed compact and rarely played wider than the length of their penalty area. Connection only registered one shot on target for the entire match.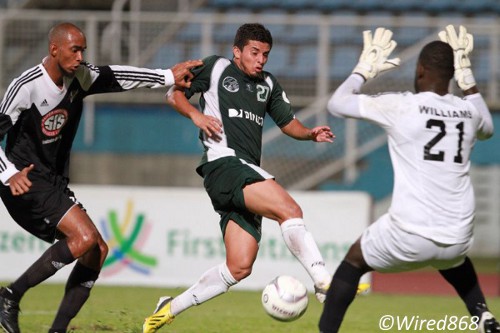 "A positive for me was the resilience and discipline shown (by the Central defence) throughout 90 minutes of football," said Fenwick. "We were like granite."
Fevrier saw positives too in Connection's domination of ball possession.
"I thought that we should have won the game in normal time," said the Connection coach. "The penalty shoot-out is a lottery and Central got the better of us… We are still working on integrating our players; the quality was there but in the offensive third we lacked that cutting edge.
"We lost the game but people who saw the football that we were trying to play will come (to see us) again."
Joevin Jones and Daneil Cyrus made low-key returns to club duty after two match bans for playing minor league football. Jones played for 30 minutes while Cyrus did not feature at all.
"They were late for the session the day before the game," said Fevrier, "so I left them out the starting team."
In their place, teenaged midfielder and former national under-20 player Jomal "Bebo" Williams was Connection's best player with an inventive, measured performance in front of the back four.
Another teenager, 19-year-old striker Rundell Winchester, was Central's best player as he impressed again with his movement and eye for goal from any angle.
But neither player was decisive from open play and Harris eventually signalled for penalties
"Jan knows the players well because they were his teammates for so long," said Fevrier. "And Jan has always been good at penalty shoot outs… I knew when we reached to penalties it would have been difficult."
The first two penalties from either team were successfully converted but Williams turned Jamal Clarence's effort around the upright and then denied Kurt Williams with his legs. Connection custodian Julani Archibald kept out Winchester's spot kick but the game was up when substitute Neil Benjamin blasted his attempt over bar.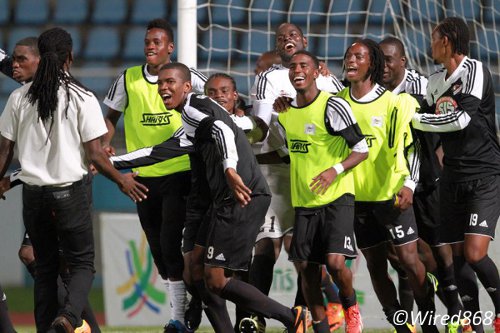 "I'm just looking forward to the final now and winning my first title with Central," said Williams. "Last night would count for nothing if we don't win the title."
Last season, referee Neal Brizan officiated at the TTFF FA Trophy, First Citizens Cup and Digicel Pro Bowl finals; and all three ended with 11 players from each team on the field.
The Pro League's stakeholders can only hope that the standard of officiating at the final is not the main topic of discussion at the Hasely Crawford Stadium next Friday.
(Teams)
Central FC (4-1-2-1-2): 21.Jan-Michael Williams (GK); 2.Elton John, 24.Akeem Benjamin, 12.Jamal Jack, 3.Keion Goodridge, 10.Marvin Oliver (second vice-captain; 7.Jason Marcano (captain), 11.Darren Mitchell (9.Dwight Quintero 87); 23.Hector Sam (6.Toric Robinson 57); 13.Johan Peltier (16.Akil De Freitas 75), 17.Rundell Winchester.
Unused substitutes: 25.Javon Sample (GK), 4.Omar Charles, 15.Kaydion Gabriel, 19.Dwight Pope.
Coach: Terry Fenwick
W Connection (4-1-2-3): 18.Jelani Archibald (GK); 24.Joao Ananias, 19.Joel Russell (captain) 25.Christian Ocoro Viveros, 2.Kurt Frederick; 28.Yhon Reyes, 40.Jomal Williams, 27.Yefer Lozano (17.Jamal Clarence 65); 14.Hashim Arcia (65.Neil Benjamin Jr 79), 31.Jerrel Britto, 26.Stefano Rijssel (10.Joevin Jones 59).
Unused substitutes: 22.Aquelius Sylvester (GK), 4.Daneil Cyrus, 13.Devaughn Elliott, 15.Mekeil Williams.
Coach: Stuart Charles-Fevrier
Referee: Rodphin Harris
First Citizens Cup Semi-finals
San Juan Jabloteh 2 (Kerry Baptiste 20, 41 pen), Defence Force 2 (Kerry Joseph 28, Devorn Jorsling 90+2) at Couva
*–Defence Force wins 4-3 on penalties
W Connection 0, Central FC 0 at Couva
*–Central wins 3-2 on penalties