A spirited performance from coach Jerry Moe's San Juan North Secondary ended with a deserved 4-3 victory over the reigning champions, St Benedict's College, in a nail-biting first round Secondary Schools Football League (SSFL) Premiership Division encounter at Bourg Mulatresse this afternoon.
St Benedict's College had just come off a seven-goal thriller on Saturday, when they defeated Fatima 4-3 in the season-opening NGC Super Cup. But they came out on the wrong side of the score summary today.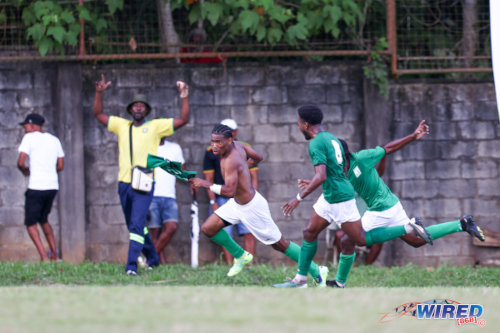 And amidst a load of Trinidad and Tobago National Under-17 talents on display, San Juan forward Lindell Sween shone brightest, as he sent shockwaves through the crowd with a rocket of a shot in the 75th minute that secured the win for the home team.
Attacking sensation Nathan Quashie, a recent transfer from QRC, orchestrated San Juan's opening goal in just the sixth minute, as he snuck past two defenders to play in another debutant, Jaheem Danclar, who composed himself before slotting home.
St Benedict's prize midfielder, Derrel "Zoom Zoom" Garcia, found a response though.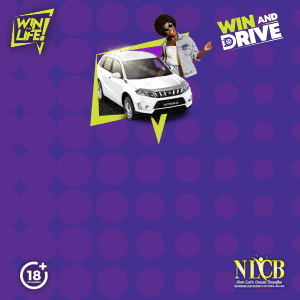 Coming off a hattrick in Saturday's Super Cup final, Garcia equalised in the 19th minute with a snapshot from outside the penalty area that flew past San Juan's hefty and popular custodian Stephon Langaigne for his first league goal this season.
St Benedict's then took a deserved lead in the 36th minute after Garcia dropped his shoulder and outpaced his opponent, Jaheshua Ferguson, before squaring from the left flank for Jaden Grant to slot home.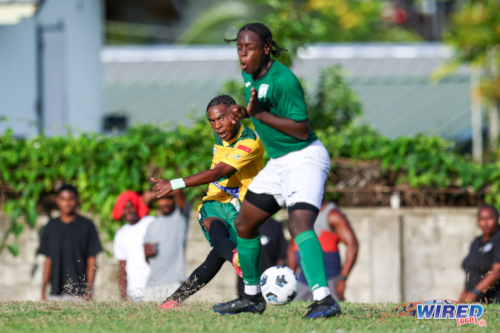 However, San Juan did not roll over and Quashie replied with a majestic counter-attacking goal in the 43rd minute, which he initiated and finished.
Quashie picked up a loose ball just outside San Juan's penalty area and passed to Sween near the halfline. Sween then took on a defender and, with acute spatial awareness, returned the ball to Quashie who sprinted past two St Benedict's defenders before lobbing hapless opposing goalkeeper Thane Devenish.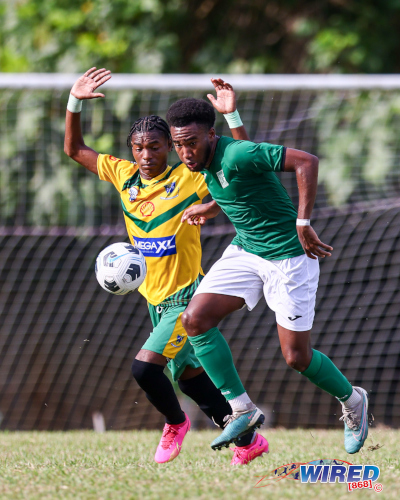 The goal, if not his pivotal contributions before and after, no doubt made Quashie an instant fan-favourite at his new school.
On another day, San Juan would have already been ahead by the interval, as Sween was denied a penalty after being clattered between two players almost directly in front of goal.
It was a move that deserved a finish too after another exchange of passes by Sween and Quashie—again showing signs of what could potentially be a significant goal-scoring partnership.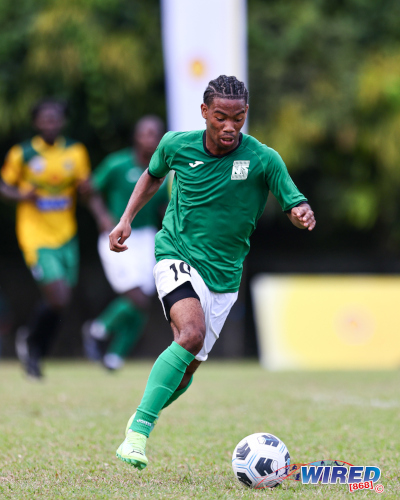 The La Romaine Lions entered the second half with intent. But the Bourg Mulatresse players were hungrier.
San Juan North took their second lead of the match off a Sween corner kick in the 66th minute, which was met by a solid header from Jadiel Joseph.
Sween then added insurance with a magnificent strike from outside the penalty box in the 75th minute, which put them ahead 4-2. San Juan could have added a few more by the time St Benedict's realised what hit them.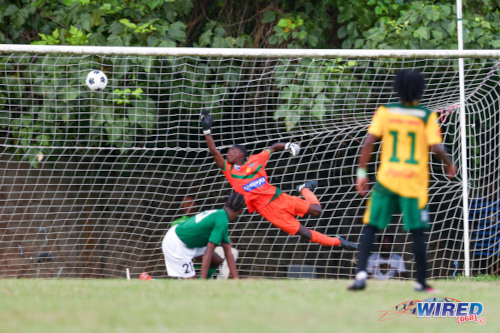 However, second half substitute Daniel Jones injected a glimmer of hope for the away team with an item in 82nd minute.
San Juan stood firm, though, and repelled a barrage of attacks to enjoy a perfect start to their 2023 season.
San Juan North head coach Jerry Moe said his first priority this season is to avoid relegation, as he claimed that his team only started "proper training" around the start of the school term.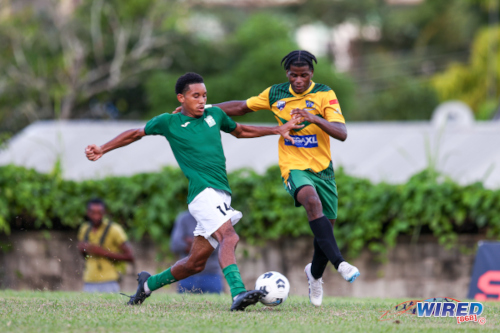 However, he said they have been hard at work ever since and their performance against the defending champions was no fluke.
"Preseason was a bit sketchy," said Moe. "We were inconsistent—but if we continue like this and build on the performance and keep focused, the sky's the limit."
Elsewhere in the SSFL, Naparima College drubbed Chaguanas North Secondary 10-0 with a hattrick from utility player Kanye Francis, while St Mary's College attacker Ryan Radellant and Fatima College forward Michael Chaves also got trebles in lopsided wins.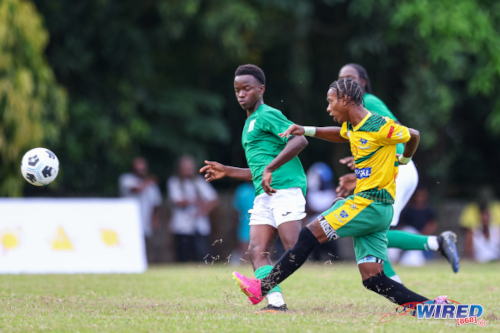 St Mary's, on their return to the top flight, mauled Pleasantville 7-0 on the road while Fatima ran out 7-0 winners over a 10-man St Anthony's College team.
Malick Secondary downed Queen's Royal College 3-1 on Serpentine Road while, in a Tobago derby, a Nkosi Quashie paced Speyside High to a 3-1 triumph over newly promoted Bishop's High School.
The third outfit to win promotion via the 2022 SSFL Big 5 competition, Arima North Secondary, settled for a point with a goalless draw against Presentation College (San Fernando) at the Arima Velodrome.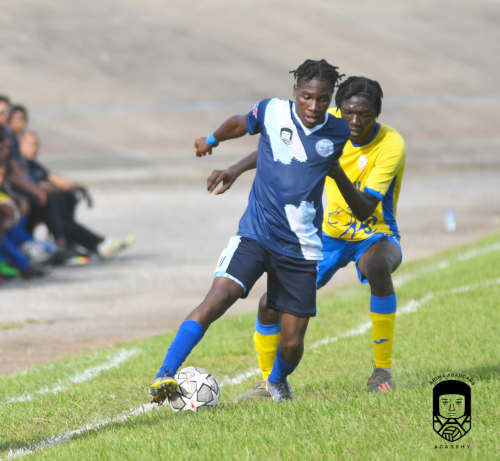 And, in the day's final match, East Mucurapo Secondary left Trincity with all three points after a Clint Latchman helped the northern outfit to a 2-1 win over Trinity College East.
SSFL Premier Division action continues on Saturday with eight more games across both islands.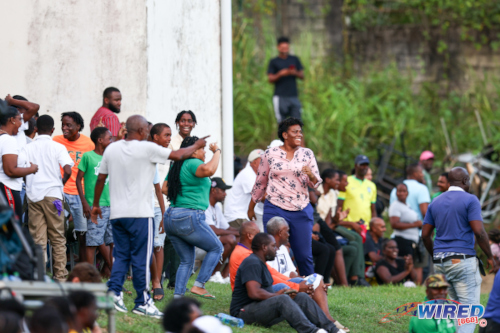 (Teams)
San Juan North Secondary (4-4-2): 30.Stephon Langaigne (GK); 15.Kent Guy, 2.Joshua Lewis (captain), 6.Jaheshua Ferguson, 14.Desailly Lewis; 20.David Lewis (7.Elizsha Rogers), 8.Nathan Quashie, 19.Daniel Lewis,  11.Jadiel Joseph; 21.Jaheem Danclar (17.Jahdel Chase-Charles), 10.Lindell Sween (23.Michel Baptiste).
Unused substitutes: 5.Hakeem Bartholomew, 16.Isaiah Audain, 18.Miguel Gonzales.
Coach: Jerry Moe
St Benedict's College (4-2-3-1): 22.Thane Devenish (GK); 3.Anthony Williams (2.Khaleel Lawrence), 5.Joshua Demas, 6.Nesean Alexander, 19.Lyshawn Morris; 10.Josiah Ochoa (captain), 26.Keanu Morean (15.Kaeden Robertson); 11.Jeremiah Niles, 8.Derrel Garcia, 7.Malachi Webb; 9.Jaden Grant (20.Daniel Jones).
Unused substitutes: 1.Samuel Glasgow (GK), 12.Camron Burke, 13.Gyasi Pinder, 18.Nathan George.
Coach: Randolph Boyce.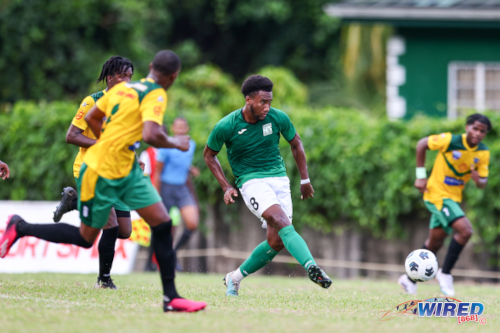 2023 Premier Division fixtures
Round One
(Wednesday 13 September)
San Juan North Secondary 4 (Jaheem Danclar 6, Nathan Quashie 43, Jadiel Joseph 66, Lindell Sween 75), St Benedict's College 3 (Derrel Garcia 19, Jaden Grant 36, Daniel Jones 82) at Bourg Mulatresse;
Malick Secondary 3 (Oba Samuel 36, Isaiah David 39, Jordan Ferdinand 83), QRC 1 (Micah Nelson 60) at Serpentine Road;
Pleasantville 0, St Mary's College 8 (Ryan Radellant [3], Kyle Phillip [2], Aadil Abdul Hakeem, Elijah Wong, Alejandro Harper) at Pleasantville;
Fatima College 7 (Michael Chaves [3], Jaden Williams, Kade Collier, Jonathan Mason, Aidan De Gannes), St Anthony's College 0 at Fatima Ground;
Arima North 0, Presentation (San F'do) 0 at Arima Velodrome;
Speyside High 3 (Nkosi Quashie [2], Shyon George), Bishop's High 1 (Damario Henry) at Speyside Recreation Ground;
Naparima College 10 (Kanye Francis [3], Jabari Forbes, Akiel Vesprey, Tevin Pantor, Josiah Cooper, Jkwon Bailey, Xarion France, Nathaniel O'Garro pen), Chaguanas North 0 at Lewis Street;
Trinity East 1, East Mucurapo 2 (Clint Latchman [2]) at Trincity.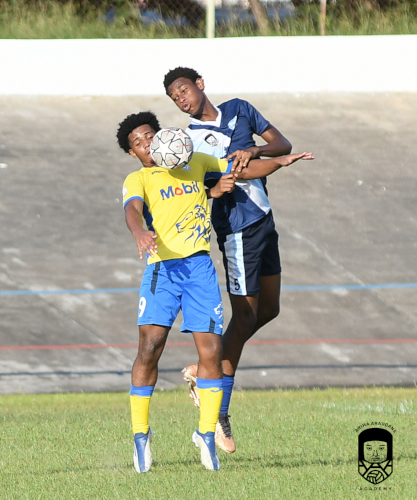 Upcoming fixtures
(Saturday 16 September)
QRC vs St Anthony's College, QRC, 3.30pm;
Arima North vs Trinity East, UTT Campus, O'meara, 5pm;
Bishop's High vs Chaguanas North, Plymouth Recreation Ground, 3.30pm;
Speyside High vs Fatima College, Speyside Recreation Ground, 3.30pm;
Presentation (San F'do) vs Malick Secondary, Manny Ramjohn Stadium, 3.30pm;
San Juan North vs Pleasantville Secondary, Bourg Mulatresse, 3.30pm;
St Mary's College vs Naparima College, Serpentine Road, 3.30pm;
St Benedict's College vs East Mucurapo, Mahaica Oval, 3.30pm.