Teenaged striker Nathaniel "Natty" James opened his senior international goal scoring account tonight as Trinidad and Tobago marked their return to the Concacaf Nations League A competition with a dramatic 1-0 win over Curaçao at the Hasely Crawford Stadium in Port of Spain.
The result gave embattled Men's National Senior Team head coach Angus Eve his first career win over an outfit ranked amongst the top 100 nations in Fifa.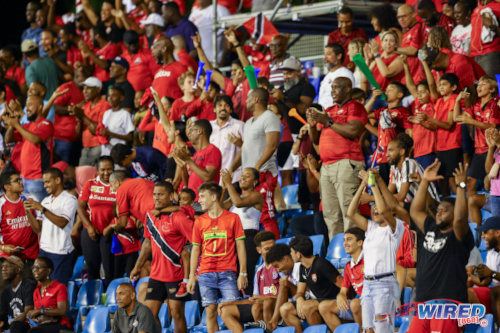 For the 5,000-odd supporters at the Hasely Crawford Stadium, there was a pep in their step at the final whistle. Time will tell if the bonhomie extends to Eve—and if winning becomes contagious.
If ever a football game felt like a Test match, that was the one. For much of the first half hour, Curaçao dominated with the ball. It was not exactly comfortable defending by the hosts either, as they were pinned back and unable to set traps to win possession.
Yet, they survived—thanks to a combination of loose passing by Curaçao in the final third and the masterful handling of the Trinidad and Tobago backline by new captain Aubrey David.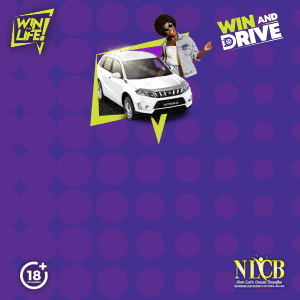 Against the run of play, the Soca Warriors might have gone ahead in the 42nd minute off a set piece as forward Malcolm Shaw met Justin "Shiggy" Garcia's head-on with a superb bicycle kick.
Jamaican referee Steffon Dewar blew for a foul, although it was not immediately evident why he did so.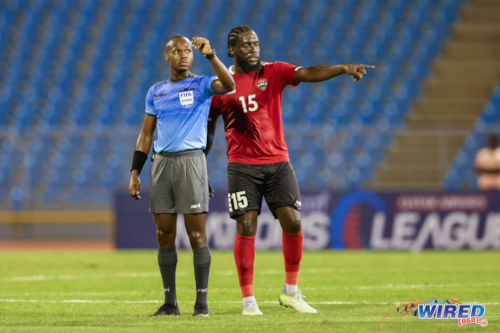 Eve started with a fairly balanced team by his standards. The workman-like midfield trio of Daniel Phillips, Neveal Hackshaw and Andre Rampersad did not offer much guile, but there were genuine attempts by full backs Shannon Gomez and Ross Russell Jr to get forward.
The problem was getting the ball off Curaçao.
The momentum shifted slightly after the break. With nothing to show after appearing to be in control for long periods in the first half, the visitors started to lose patience a bit—as evidenced by rushed or overhit passes.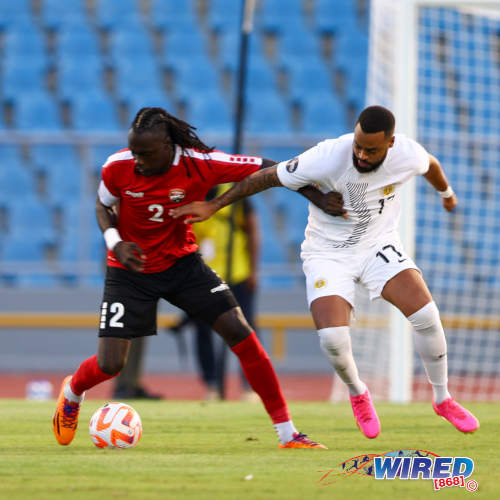 Were it a cricket match, you would say the openers had seen off the new ball. And now there was the time to switch gears.
Stocky, bustling midfielder Daniel Phillips was struggling to shake off a knock and, in the 55th minute, Eve opted to replace him with elegant ball handler Duane Muckette, rather than a more defensive-minded Kevon Goddard.
In the 68th minute, pacy Defence Force flanker Reon Moore came in for the tiring Shaw on top, with Eve seeing an opportunity on the break. It came within five minutes, as Telfer won the ball with a lowered shoulder into Curaçao defender Rolieny Bonevacia before releasing Moore in the opposing area.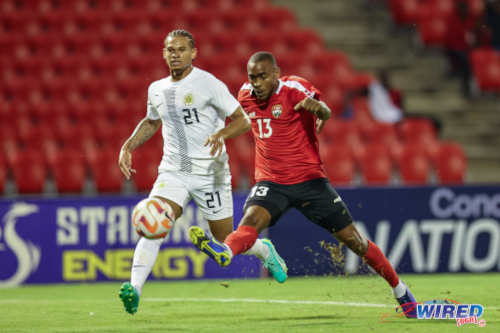 It was the best chance of the game so far but Moore spurned the chance, as he stabbed wide of the far post. Overlooked for the June Concacaf Gold Cup, the soldier missed the opportunity to remind Eve of his worth.
James was another story.
Auvray, who was largely anonymous, appeared to run out of gas in the 82nd minute and was quietly replaced by James. The stadium announcer did not notice and the substitution was not publicised.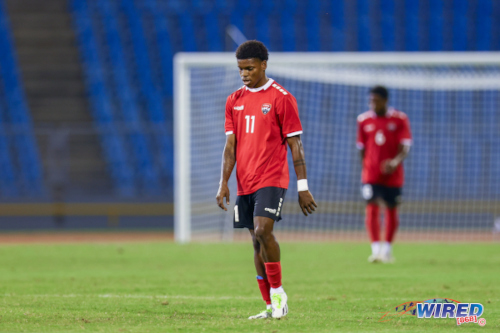 But James announced his own presence.
Full back Andre Raymond, who replaced Russell midway in the second half for his first competitive cap, got down the byline and crossed for Telfer who headed down under pressure. And there was James to rifle home.
The La Horquetta teenager had a tee-shirt under his uniform with a message for the moment, along with his trademark twist of his fingers to spell the letters "L-H".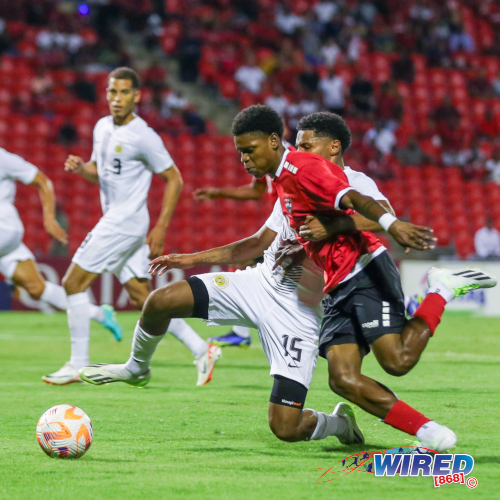 The top scorer in the inaugural Trinidad and Tobago Premier Football League (TTPFL), James exclusion from the Gold Cup was criticised by some local football fans and, in a Wired868 column, former national defender Radanfah Abu Bakr.
He got eight minutes to show what he could do tonight, and that turned out to be plenty.
Trinidad and Tobago's Nations League campaign is on the move now. And Eve—after a public vote of no confidence by his team captain Kevin Molino and a split with nearly half of his Gold Cup team—has some wind beneath his wings.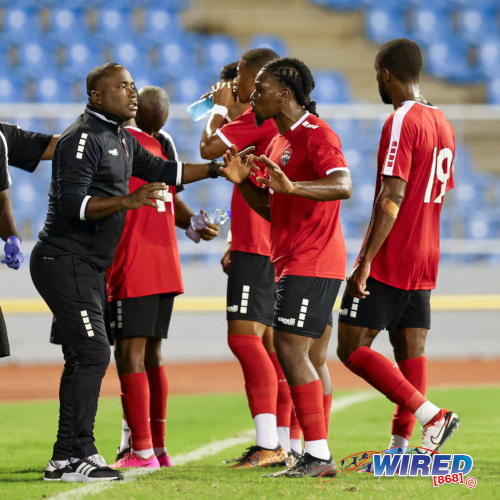 The Soca Warriors did not play particularly well. It did not matter tonight, but usually good performances led to good results.
In Test cricket, sometimes you just have to hang in there and wait for your moment though. Trinidad and Tobago did that tonight.
And so did Eve.
(Teams)
Trinidad and Tobago (4-2-3-1): 22.Denzil Smith (GK); 14.Shannon Gomez, 2.Aubrey David (captain), 17.Justin Garcia, 3.Ross Russell Jr (6.Andre Raymond 68); 15.Neveal Hackshaw,  8.Daniel Phillips (10.Duane Muckette 55); 7.Ryan Telfer, 18.Andre Rampersad (23.Kristian Lee Him 83), 20.Kaïlé Auvray (11.Nathaniel James 82); 19.Malcolm Shaw (13.Reon Moore 68).
Unused substitutes: 1.Christopher Biggette (GK), 21.Jabari St Hillaire (GK), 4.Jesse Williams, 5.Kevon Goddard, 9.Brent Sam, 12.Kareem Moses, 16.Michel-Poon Angeron.
Coach: Angus Eve
Curaçao (4-1-2-3): 23.Trevor Doornsbuch (GK); 15.Nathangelo Markelo, 3.Jurien Gaari, 10.Leandro Bacuna (captain), 5.Sherel Floranus; 8.Godfried Roemeratoe (4.Rolieny Bonevacia 70); 20.Kevin Felida, 7.Juninho Bacuna (21.Justin Ogenia 56); 18.Jearl Margaritha, 17.Brandley Kuwas (9.Jafar Arias 70), 14.Kenji Gorre.
Unused substitutes: 1.Nino Fancito (GK), 22.Tyrick Bodak (GK), 6.Nathan Holder, 12.Jaron Vicario, 16.Elson Hooi, 19.Giovanni Troupee.
Coach: Deon Gorré
Referee: Steffon Dewar (Jamaica)