St Mary's College ended their 2022 season with the penultimate Secondary Schools Football League (SSFL) boys under-20 trophy at stake but it was a hard-fought affair in the closing National Big 5 competition at the Arima Velodrome on Sunday evening.
At kickoff, the "Saints" had nine points from three matches with a goal difference of +8 while their opponents, Arima North Secondary, also had nine points and a +8 differential.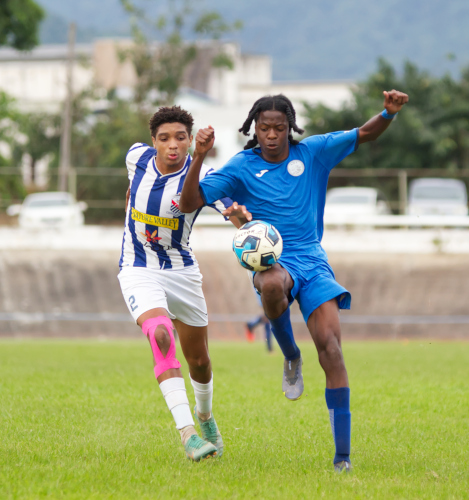 The North Zone champions scored 12 goals and conceded four in the Big 5, as compared to Arima North's eight goals with four clean sheets. And that slender margin told in the end as St Mary's College held Arima North goalless at the Velodrome.
"It was like a real kinda knockout final," St Mary's coach Michael Grayson told Wired868. "The team that made the least mistakes would more than likely win…"
In the end, neither team could land the knockout blow.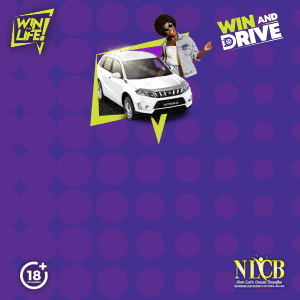 Arima North struck the post through full back Criston "CJ" Gomez while forward Darion Marfan was a constant threat from set pieces. And the Saints thought they snatched all three points against the run of play when flanker Josiah Connell hit past opposing goalkeeper Isaiah Diaz—only to be thwarted by the offside flag.
Arima North head coach Wayne Sheppard, who doubles up as technical director, said his troops' performance lacked only a goal.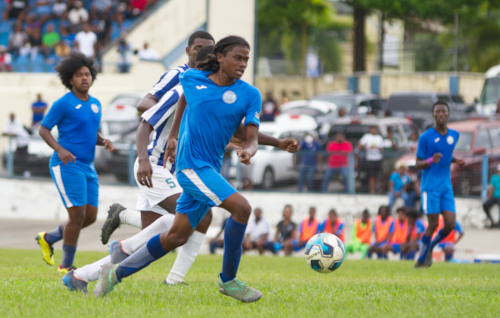 "I thought that we were never really troubled in the game—for the most part, we had control of the game," said Sheppard. "We didn't always stick to the plan that we worked on but we were able to press CIC high… and I thought we won the ball back successfully and often. It was just a matter of not finishing off the chances that we created.
"They came for a point and they got it. I have to congratulate Michael Grayson for what he has achieved with St Mary's this season."
Grayson conceded that Arima North were better on the ball. But he noted that the Saints' backline is not easily breached.
"We have been really strong on defence for the whole season, although we knew our keeper has made his mistakes," said Grayson, "and even then, I think our defenders make allowance for that and are ready to clear all rebounds.
"If Arima's shots didn't get on goal, especially in the second half, well I wouldn't say luck was with us—I would say it was down to the hard work and confidence shown by our defence.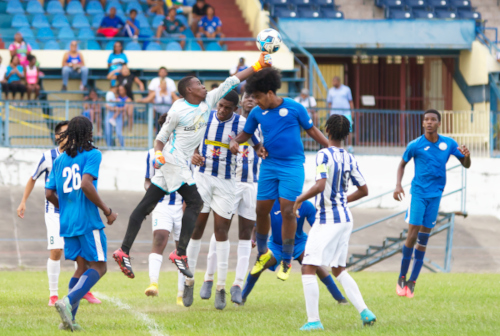 "Within the last five or six minutes, I looked at the faces of Marfan and some of the Arima boys and I could see they had basically given up.
"Arima had the better of the game for quite a bit. [But] Arima had to win and we didn't."
It is ironic that St Mary's and Arima closed their season in battle. Both teams began their programme the same way.
The Saints hired Grayson in mid-preseason and his first outing was a friendly against Arima at the former's Serpentine Road headquarters in St Clair. While, in the other camp, Lyndon Andrews' first game as head coach was against St Mary's in that same affair.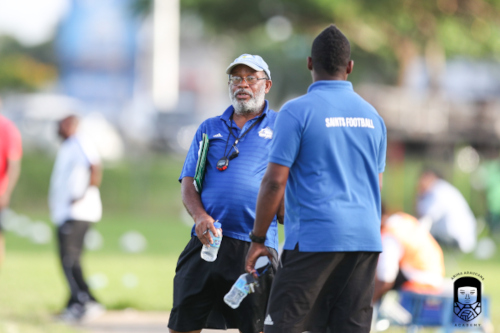 Arima North won 2-1 on the day.
Sheppard was in Taiwan at the time. He took up a two-year contract with second division team, Inter Taoyuan FC, during the Covid-19 pandemic and was still there when the Secondary Schools Football League (SSFL) finally agreed that it was safe to play again.
So, the Dial Dynamos entered the 2022 season with their technical director overseeing matters via Zoom and WhatsApp.
(Arima North avoided relegation from the East Zone Championship Division on goal difference in 2018 but won the zonal title in both years of the Sheppard era in 2019 and 2022.)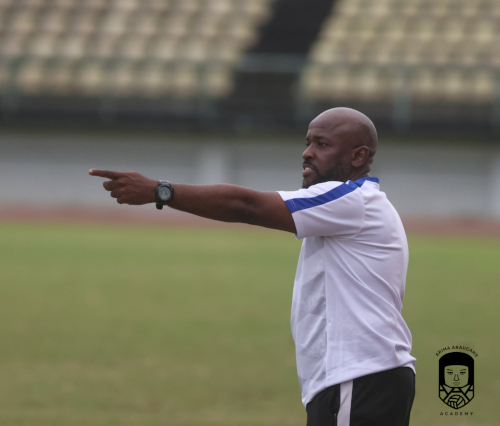 "This season cannot be described as anything else but extremely successful," said Sheppard, "especially if you were a person who was there from the beginning and understand the struggles we went through—in not just getting the players coming out but the staff buying into what we wanted to do and needed from the players.
"I was away working and this was a first for me in trying to prepare a team while not being there physically. I had to rely on the eyes and ears of the staff, which included [manager Lasana Liburd], Lyndon Andrews and Lyndon Emmons, to try and implement the vision I had for how the team should play and function.
"As expected, some things were lost in translation but the basic structure was there, which helped us to win games in the early stages partly because other teams were not as organized."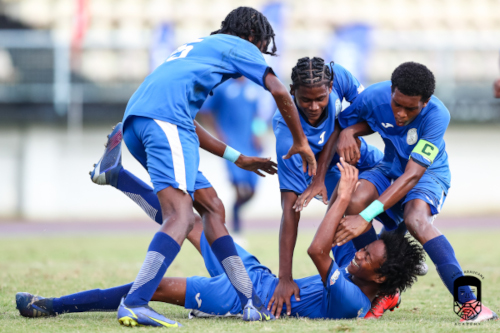 Sheppard noted that a rejig of the technical staff in mid-preseason—Brian Bain resigned due to conflicting personal schedules and was replaced by Andrews at the helm—contributed to inadequate fitness levels at the start of the season.
"Anybody who watched us at the start of the season saw us sit back and play on the counter," said Sheppard, "because we didn't have the fitness to press opposing teams. It was totally different by the time we got to the Big 5.
"[…] In the end I'd say this was a fulfilling season for all of the technical staff, especially Lyndon Andrews—who was in his first real season as a head coach at this level of competition. I think he acquitted himself fairly well."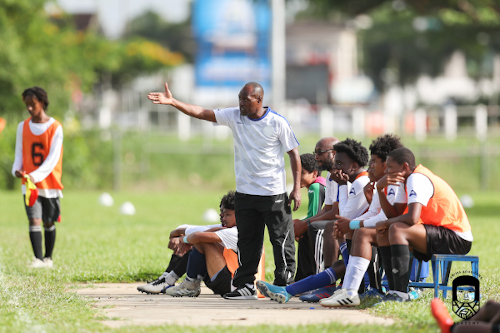 St Mary's had their trials and tribulations as well.
"The week before our first game against Diego Martin Central, our main striker, Rahim Henry, got injured in an exhibition game and was out for the entire season," said Grayson. "We had to put Kyle Phillip, who was a starting midfielder on top, and he ended up being our top scorer."
It was anything but a lone setback.
"Our starting keeper, Jabali Doyle, also got injured the week before the season started," he said. "Then [midfielder] Christopher Brooks got injured—he only started training the week before the season…"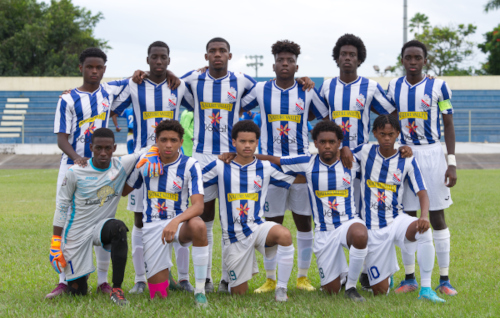 The Saints, with the wily veteran coach pulling the strings, proved resourceful though.
"Daylon Riley was injured during the Tiger Tanks competition and didn't come in [to our team] until mid-October," said Grayson. "So the team kept getting stronger as we went along."
Trinity College (Moka) were expected to be the spoilers in the North Zone, after the Terminix La Horquetta Rangers duo of director Richard Ferguson and head coach Dave "Hoghead" Quamina effectively took over their football programme.
However, the Saints rolled through the North Zone Championship Division without a single defeat. Their only loss of the season came in the North Zone Intercol quarterfinals when they lost 3-1 to Premier Division outfit, Malick Secondary.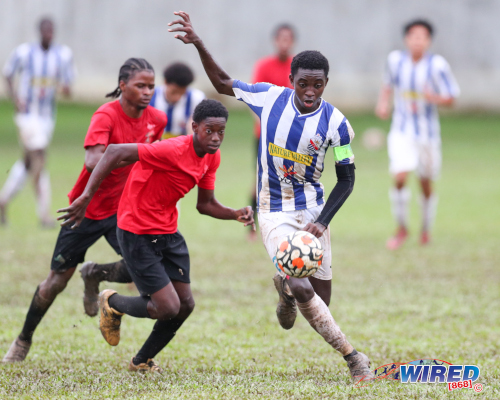 "Unfortunately the Malick game came in a period where he had three games in six days," said Grayson. "I am pretty sure if we had gotten an extra day's rest we would have gotten past Malick and met Fatima College in the final."
Sheppard saw Arima North's own Intercol exit to be a blessing of sorts. Drawn against giants San Juan North Secondary, the Dial Dynamos twice came from behind to hold them at 2-2 before going on to lose 7-6 via kicks from the penalty mark.
Because Fifa deems the penalty shootout to be no more than a tie-breaker, Arima North still retained an unbeaten run that dates back to 2019 and now stretches to 18 games. The Dial Dynamos' last defeat was a 3-0 loss away to Fatima College on 9 November 2019.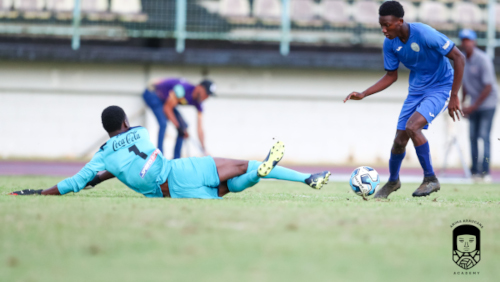 "San Juan North are arguably the third best school football team in the country and I don't think [our Intercol semifinal clash] was one of our best performances technically, in terms of keeping the ball and that sort of thing," said Sheppard, who returned from Taiwan that morning and spoke to the Arima players at halftime. "But from a tactical standpoint, that game showed our boys that we can match up with the big boys if we acquit ourselves properly.
"I think our season went up to another level after that game because the boys had even more belief in what we are doing. That was my first time seeing the team play live and I started working with the team after that.
"So that game gave me a clearer idea of what what we could do."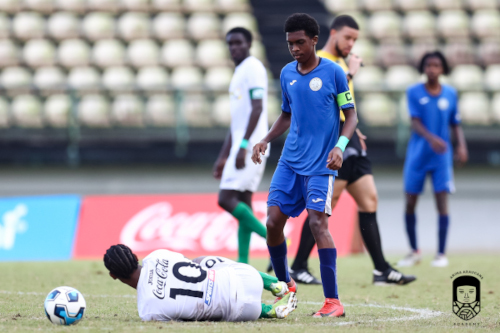 Despite interruptions due to poor weather and, in Arima's case, a dodgy Siparia ground, both teams progressed steadily past the pack in the Big 5.
St Mary's ran up an early lead in the standings with wins over Miracle Ministries Pentecostal High School (5-1) and Bishop's High School (2-1) plus a 5-2 triumph on the road against Siparia West Secondary.
Arima North had played just once at the time—they registered a 4-0 home win over Miracle Ministries on 24 November.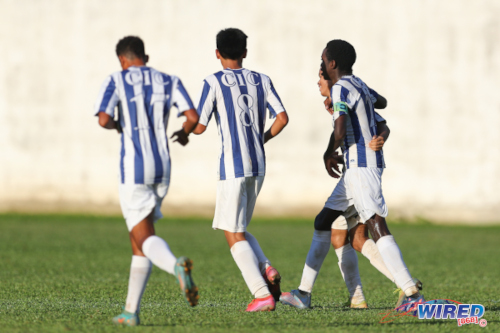 Postponements meant the East Zone champions had to play their remaining three games in an eight-day stretch. But they reeled off a 3-0 win over Bishop's at the Dwight Yorke Stadium in Bacolet and then held off Siparia 1-0 at the Mannie Ramjohn Stadium in Marabella.
Belatedly, their final clash with St Mary's was shifted to the Arima Velodrome—a venue that saw Grayson's rise to prominence as a youth coach, during a successful spell with Arima Comprehensive that ran from the late 1980s to the 1990s.
"The Velodrome still remains a good football ground, you just have to know how to play it," said Grayson. "It is a ground that Arima people like to come to—I don't know if it is because of the bar next door and the food places nearby.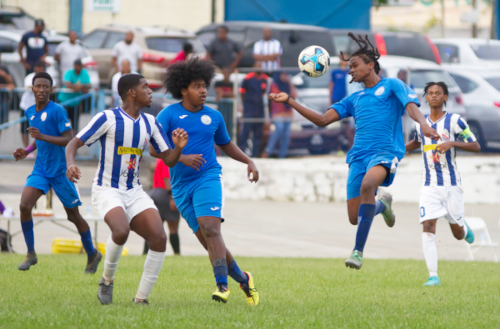 "For me, it is a more popular venue than the Larry Gomes Stadium [in nearby Malabar]."
Grayson hoped to win the toss to take advantage of the sloping ground and crosswinds in the second half. But Jadon Durity got a jump on opposing captain, Harrison Parks.
"With my knowledge of the ground, we were basically hoping we could kick down the second half," said Grayson, "but it didn't work and Arima adjusted better than we did. The referees didn't help things although they affected both teams really. We could have done with better officiating."
Arima North played all their home games at their school ground on the Arima Old Road while Andrews ran the bench. However, due to the impact of the November rains, the Dynamos hosted Miracle Ministries in Malabar before they moved to the Velodrome on the weekend.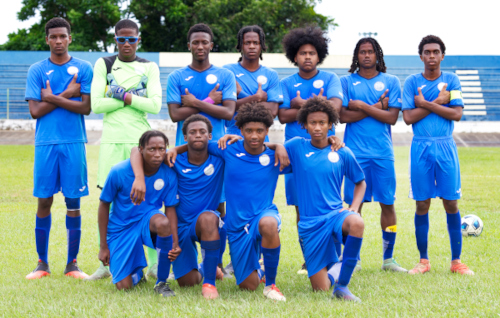 "It was a nice experience to be back playing on what has always been such an iconic venue for Arima, even for me although I am not an Arimian," said Sheppard. "The boys really enjoyed playing there. I was actually surprised at the atmosphere that was created.
"Clearly, the Arima public has been waiting for us to get back to the big times and they gave us a taste of what I hope is waiting for us next year."
Sheppard hopes to give Arima plenty to cheer about in 2023.
"The entire [Arima North football] programme has been a success this year, not just the Under-20 team—because our Under-14 Team were East Zone finalists too," he said. "We played for three trophies but unfortunately we only won one. Still, I think there is bigger and better to come from Arima going down the road."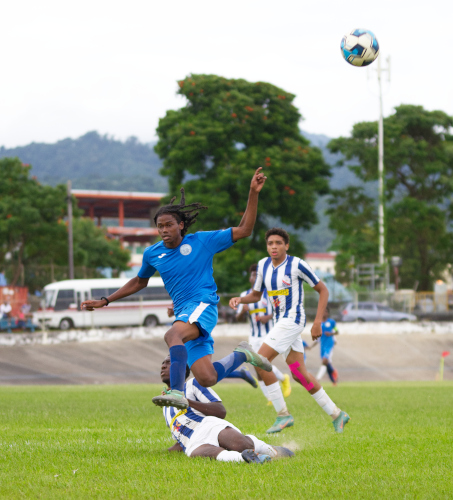 The St Mary's College players and supporters had the broadest smiles at the final whistle though, as they did their "Razz" and directed a war chant to their opponents at the Velodrome.
Grayson said he was "too far away to see" if Connell was hard-done by the assistant referee's flag when he thought he scored St Mary's winner. However, the fact that Connell was still on the field at the final whistle spoke volumes.
"Connell was in camp with the National Under-17 Team last week, so he trained twice the day before [we played Arima]," said Grayson. "You would think he would be tired, but he said he is not coming off the field. This is the kind of character we have in our team!"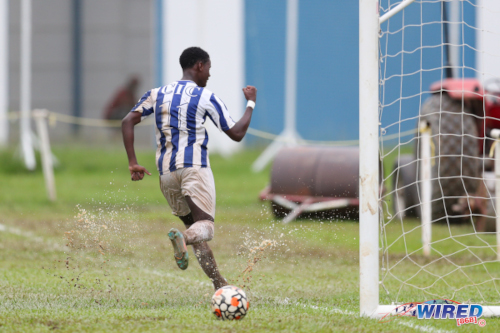 In the end, St Mary's steeliness ensured the capped 2022 with their second major title. No doubt, the two Premier Division-bound teams would see more of each other in the future.
(Teams)
Arima North Secondary (4-1-4-1): 1.Isaiah Diaz (GK); 3.Criston Gomez, 21.Ezekiel Ramdialsingh, 6.Jeremy Joseph, 12.Ricardo Jones (20.Ezekiel Jacob-Mata 75); 14.Agyei Des Vignes (7.Tyler Ayers 88); 25.Mark Thomas, 8.Jadon Durity (captain), 26.Jemaul Ashing, 11.Devin Seales (24.Malachi Noreiga 85); 10.Darion Marfan.
Unused substitutes: 31.Kwesi McKell (GK), 9.Aaron Bartholomew, 16.Josiah Goodridge, 19.Nicholas Torres.
Coach: Wayne Sheppard
St Mary's College (4-3-3): 1.Tyrese Henry (GK); 2.Nikolai Manswell (17.Che Bartolo 69), 4.Marley Callendar, 5.Mekhi Pascal, 18.Romario Nelson; 19.Jamal Thomas (6.Raul Nunes 78), 21.Harrison Parks (captain) (14.Elijah Wong 56), 13.Daylon Riley; 7.Ryan Radellant (8.Nathan Young 72), 10.Kyle Phillip, 15.Josiah Connell.
Unused substitutes: 24.Jabali Doyle (GK), 16.Amare Phillip, 20.Dusan Cooper.
Coach: Michael Grayson
Referee: CJ O'Brien
SSFL Man of the Match: Criston Gomez (Arima North)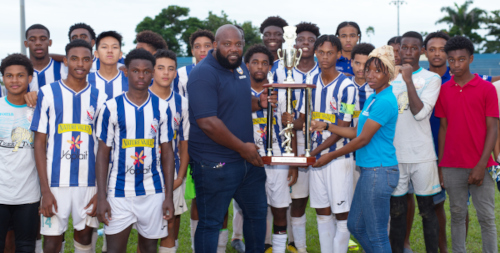 National Big 5 result
(Sun 11 Dec)
Arima North Secondary 0, St Mary's College 0 at Arima Old Road.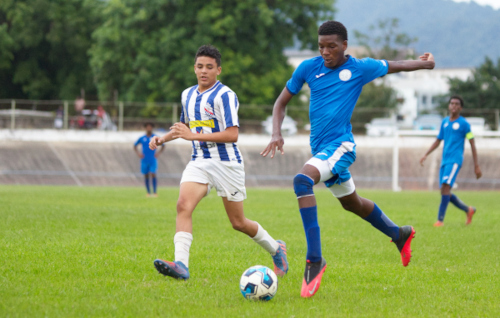 National Big 5 Standings
(Tabulated as Played-Won-Drawn-Lost-Goals For-Goals Against-Points)
St Mary's College 4-3-1-0-12-4-10
Arima North         4-3-1-0-8-0-10
Bishop's High      4-2-0-2-6-7-6
Siparia West         4-1-0-3-9-11-3
Miracle Ministries 4-0-0-4-3–17-0