East Mucurapo Secondary avoided relegation from the Secondary Schools Football League's (SSFL) Premier Division yesterday as they pulled off a 3-2 comeback win over St Augustine Secondary at St Mary's College Grounds in St Clair.
The "Green Machine" of St Augustine, who finished their Premier Division campaign with no wins on the field of play, led East Mucurapo by a 2-1 margin at one stage—after midfielder Elijah Gravesande neatly tucked away a 64th minute penalty.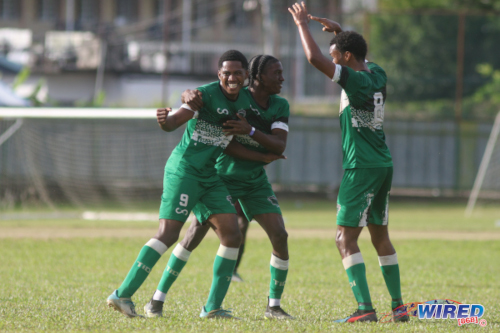 St Augustine's fortunes changed drastically thereafter though, as they conceded two goals in the space of three minutes to see their 2022 season go up in smoke as their relegation to the Championship Division was sealed.
St Augustine coach Tacuma Jones, who is a mathematics and physics teacher at the East Zone school, said that yesterday's game epitomised his team's season—as they found a way to lose once again after being in a favorable position.
"I think this game sums up our season," Jones told Wired868. "We were up and it was basically for the guys to show discipline to maintain and hold a lead."
After Gravesande's low and hard penalty left Mucurapo goalkeeper Nigel Latchman a mere bystander between the uprights, St Augustine seemed to lose their composure while opposing coach Dale Saunders made a telling substitution.
"After we scored our second goal, basically everybody started to play in a laissez-faire manner," Jones said. "Meanwhile, Mucurapo saw their season flash before their eyes and they stepped up their game. We had to step up our game at the same time but that didn't happen."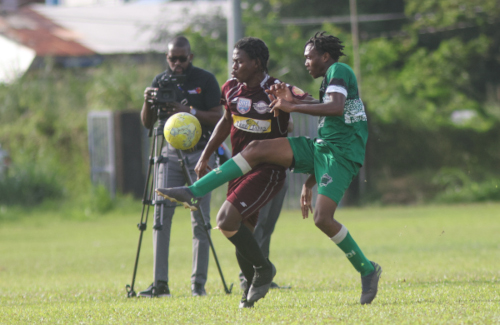 Mucurapo got more direct in their approach, as central defenders Shuron Hendrickson and Michael Luke drilled long balls into St Augustine's penalty area, while the midfield pair of Kadeem Browne and Jemon Gulston added much gusto and hustle in the attacking third from off the bench.
Much like their opponents, the St Augustine rear guard never looked comfortable with lofted punts into their area. Goalkeeper Tyrese Sealey fumbled a couple of crosses, while he also clattered into his captain and central defender Shaquille Britto during a sequence in the first half.
Down 2-1 and with their Premier Division status on the line, Mucurapo spotted a chink in the Green Machine armor and were hell-bent on exploiting it.
"We always believed in the players and we have a young bunch too," Saunders told Wired868. "They are mostly under-16 players, so we have seen the improvement throughout the season. They need a little time.
"[Yesterday], they were magical because at the end of the day they knew they had to get this job done. They never panicked. We went down 2-1 but they kept their heads down and got the job done."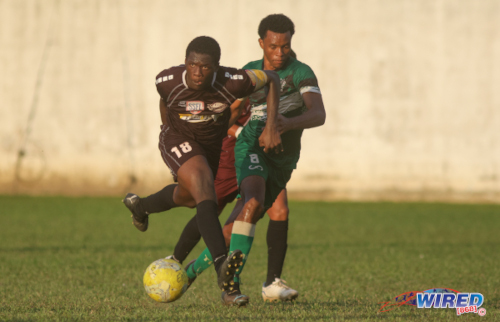 In the 76th minute, Mucurapo nailed down the first part of their comeback act, as their ever-willing forward Maalik Jarvis buried home from close range after the St Augustine defence failed to deal with a long ball.
It was Jarvis' second item of the match and almost as facile as his first, which he headed home unattended at the back stick in the 39th minute after a sweet cross from the right by midfielder Omari Rivers.
For the second part of Mucurapo's comeback act, one of Saunders' second half subs prodded home from close range after Sealey offered up an early Christmas gift at the Serpentine Road venue.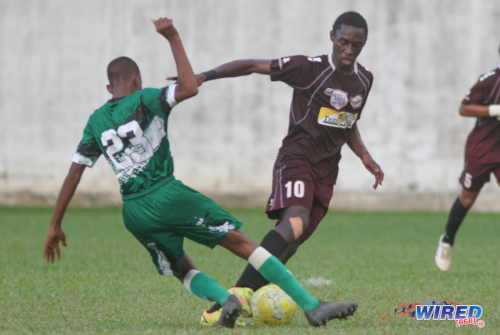 "We changed up the formation a bit when [St Augustine] went up 2-1," Saunders said. "We took out one of the defensive midfielders and put on a more attacking player in Jemon Gulston. And as you could see, we got the job done."
Just three minutes after Jarvis' equalizer, Mucurapo won a free kick near half line in what looked to be a harmless position. As Mucurapo captain Atiba Khidr lined up the free kick, he gestured to his teammates about the type of delivery that was incoming.
Gulston got the memo and was jolly on the spot to tap home from the six-yard box after Sealey spilled a straightforward catch.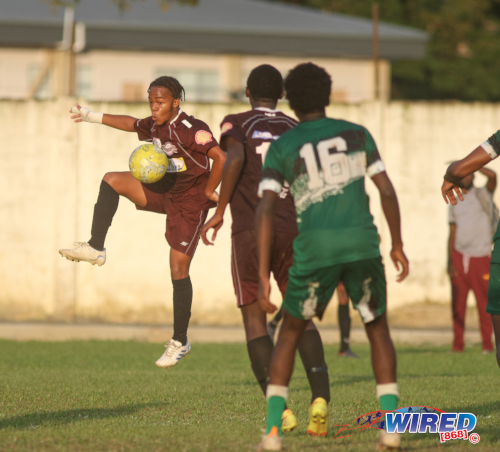 St Augustine never regained any momentum in the latter stages of the contest, with their first half goal scorer Jamell Cooper becoming increasingly isolated up top. And the surging Mucurapo team looked more likely to double their lead.
"There were a lot of games that we could have won and we let them slip away," Jones said, as he reflected on a disappointing campaign for St Augustine.
The Green Machine last lifted silverware in the 2015 season when they won the East Zone Intercol title. After 10 games in league and knockout competition this year, Jones' only win was a 6-3 triumph over second tier school, Valencia Secondary, in the East Zone Intercol quarterfinal round.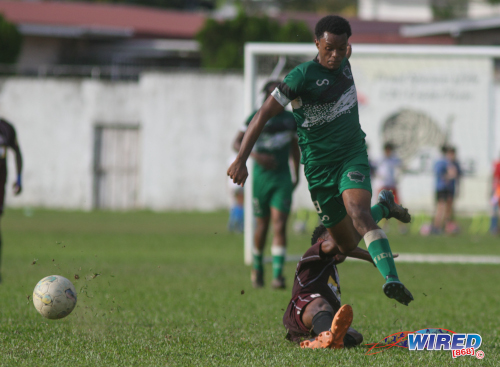 They never managed even a point against a fellow Premier Division outfit.
"These teams here, some of them are not better than us—but it comes down to who wants it on the day," said Jones. "Football is played on the day."
As St Augustine struggled to get the ball out of their half in second half stoppage time, Mucurapo attacker Zion Harley nearly brought the house down with a curling left-footed shot that kissed the outside of the post, after he checked inside his marker down the right flank.
It was almost the icing on the cake but three goals were just about enough for Mucurapo in the end.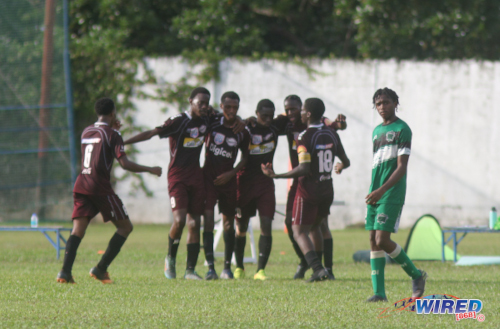 In the 2019 season, Mucurapo finished third behind Naparima College and Presentation College (San Fernando), after accumulating 30 points in 14 Premier Division games. However, like many other schools this season, they found it difficult to regain their groove after the lengthy Covid-19-enforced break.
In the truncated 2022 Premier Division season, Mucurapo finished seventh from eight teams in Group B with just two wins in their seven matches, which forced them into yesterday's relegation playoff battle with St Augustine.
Saunders vowed they will be back to their best in 2023.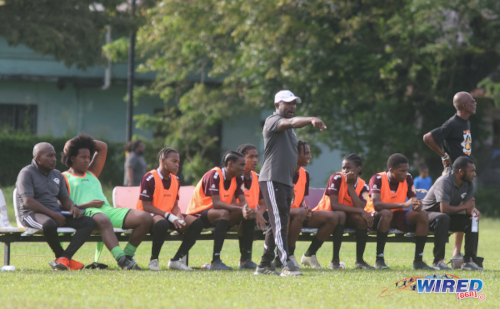 "We have a young team who never played football in the Premier Division before—we didn't get back any of the players we had before the pandemic," said Saunders. "It was a new bunch so we are happy about their improvement. With the continued game time, we expect them to get better and better as we go along.
"We are grateful for this win which keeps us in the Premier Division. We are looking forward to next season and we will plan better and come out different."
On the other side of the spectrum, St Augustine, who were cheered on by former coach Trevor Spicer yesterday, might have been relegated already. However, their successful protest against Carapichaima East Secondary's use of ineligible goalkeeper Nicholai Rivers saw them finish second from bottom.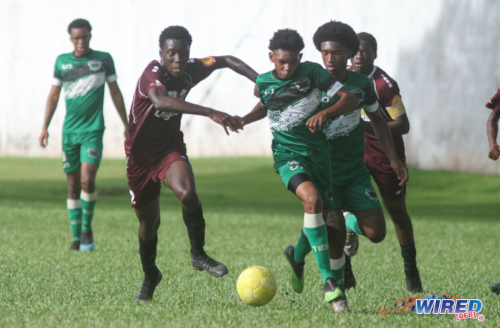 That green light turned to yellow, then red, at Serpentine Road though, as the Green Machine's hopes were dashed by Gulston and Jarvis.
"The three-week hiatus we had after the League concluded didn't really help us—we just found out we were in a relegation game," Jones explained. "To get the players back active was a bit of a challenge. We only had two or three days of training.
"I lost some of the players to national training as they were in camp this weekend. It was just to bring back out the guys and get them up to speed. They gave a good effort I must say but it's unfortunate.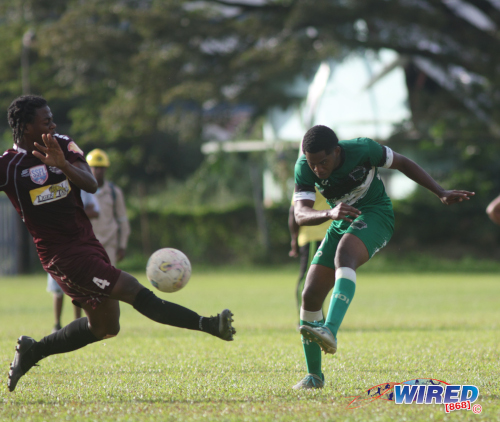 "[…] It was a disappointing campaign because I was at least expecting to stay up this season—that was our primary aim. I was targeting at least six points for the season to actually stay up. Unfortunately, we didn't get those points."
With the East Zone Championship winners Arima North Secondary now Premier Division-bound, Jones hopes St Augustine can navigate their way back out of the second division in a single season.
"It's a young team—the majority of them are in Lower 6 or Form 4," Jones said. "Hopefully, we could come back up from the Championship Division immediately. It's now a rebuilding phase."
The mighty St Augustine have fallen. But, hopefully, it will be just momentarily.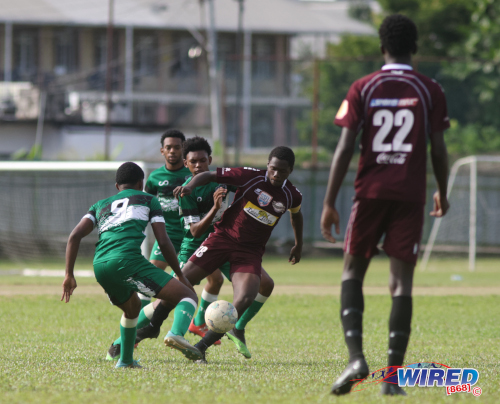 (Teams)
St Augustine Secondary (4-2-3-1): 1.Tyrese Sealey (GK); 2.Jurbrili Williams (19.Marcel Valentine 85), 3.Shermarki Wills, 4.Shaquille Britto (captain), 12.Jaylon Assalam (13.Theron O'Brien 32); 5.Jeremiah Jagroop (21.Rahim Romain 85), 8.Alex Piper; 18.Jordan Ferdinand (7.Nkosi Fuentes 72), 11.Giovanni Hospedales, 16.Elijah Gravesande (23.Carlus Charles 88); 9.Jamell Cooper.
Unused substitutes: 24.Madison Lewis (GK), 10.Adriano Telesford.
Coach: Tacuma Jones
East Mucurapo Secondary (4-3-3): 35.Nigel Latchman (GK); 22.Omari King (20.Clint Latchman 38), 4.Michael Luke, 3.Shuron Hendrickson, 17.Al-Kalipha Henry; 18.Atiba Khidr (captain), 6.Jadon Pierre, 16.Omari Rivers (5.Jemon Gulston 66); 9.Nieem Taylor (19.Kadeem Browne 51), 10.Maalik Jarvis, 7.Zion Harley.
Unused substitutes: 8.Jelani Cox, 14.Kamali Henry, 15.Dahvid Lawrence.
Coach: Dale Saunders
Referee: Timothy Derry
Wired868 Man of the Match: Maalik Jarvis (East Mucurapo Secondary)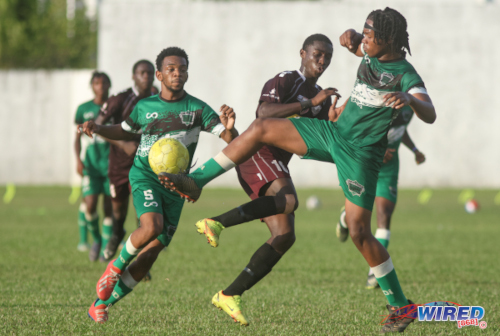 Premier Division relegation play-off
(12 December 2022)
St Augustine Secondary 2 (Jamell Cooper 34, Elijah Gravesande 64 pen), East Mucurapo Secondary 3 (Maalik Jarvis 39, 76, Jemon Gulston 79) at St Mary's Grounds.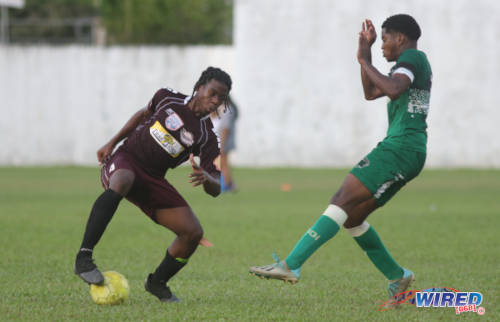 2023 Premier Division teams (in alphabetical order):
Arima North Secondary, Bishop's High School, Chaguanas North Secondary, East Mucurapo Secondary, Fatima College, Malick Secondary, Naparima College, Pleasantville Secondary, Presentation College (San Fernando), Queen's Royal College, San Juan North Secondary, Speyside High School, St Anthony's College, St Benedict's College, St Mary's College, and Trinity College East.
Relegated:
Carapichaima East Secondary, Moruga Secondary, St Augustine Secondary.