Naparima College thumped Speyside High School 7-0 at Lewis Street in San Fernando today while Fatima College and St Benedict's College also registered lopsided wins in Group A of the Secondary Schools Football League (SSFL) Premier Division.
And, at roughly halfway through the group stage, a pattern is beginning to emerge with a "big three" contesting two available spots for the knockout stage of the competition.
Fatima College, who spanked Pleasantville Secondary 5-0 at the Manny Ramjohn Stadium training field today, top the group with 10 points and a +16 goal difference. St Benedict's College, who whipped St Anthony's College 3-0, also have 10 points but boast of a +14 goal difference.
And "Naps", the defending champions, have six points plus a game in hand against Pleasantville and a goal differential of +14.
Outside those three are the "have nots". Speyside, who topped Group A after the first two match days, fell to the earth with a thud at Lewis Street—although manager Kerry Lynch suggested that this had something to do with their inadequate footwear.

With heavy conditions underfoot, Speyside were no match for the champions. And it did not help that the Tobago school lost captain and central defender Gabriel Parisienne and winger Jaheim Trim to injury to first half injuries.
"We had to make four changes due to injuries—three in the first half alone," said Lynch. "We were not prepared for that field in terms of having proper footwear. It was a hard day."
Speyside lost 3-0 to St Benedict's last week. Next up is Fatima College. It might easily get worse before it gets better for Tobago's "Country Boys", who are now fifth in the standings—trailing Naparima and St Anthony's by goal difference.
Naps still hope to retain their title, though.
"We lost to a last second goal to Fatima," said Naparima team manager Percy Samlalsingh. "We know the season is not over for us, we have to win all our remaining games to qualify for the playoffs."
Led by new head coach Travis Mulraine, Naparima showed they have not lost their appetite with a resounding win today. The final match summary read 33 shots at goal with 18 on target, compared to six and two respectively by Speyside.
In the end, Nathaniel O'Garro and Kanye Francis both notched doubles for the southern bigwigs while Omari Campbell, Jabari Forbes, and Israel Joseph contributed one goal apiece.
Naparima face Pleasantville Secondary later this week in a rescheduled fixture before they tackle St Benedict's in the second game of a double header at the Ato Boldon Stadium on Wednesday 5 October.
Anything but three points would make it very difficult for Naps to catch the front two, although Samlalsingh suggested that the rest of the pack are improving thanks to an injection of fifth form repeaters and sixth form students.
"I don't think you can take anybody for granted because teams are strengthening up," he said. "So it is one game at a time—one final at a time."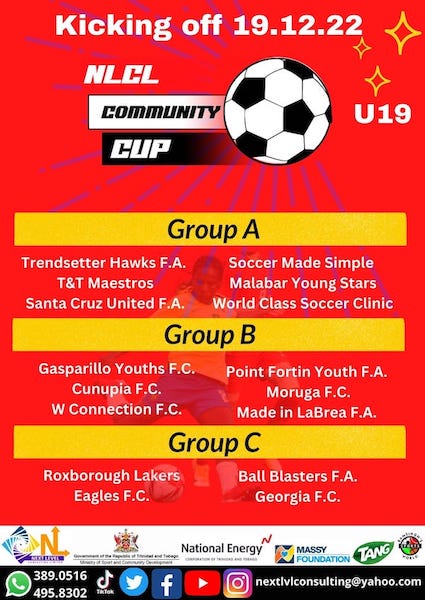 Today's SSFL Premier Division results
(Group A)
Naparima College 7 (Nathaniel O'Garro [2], Kanye Francis [2], Omari Campbell, Jabari Forbes, Israel Joseph), Speyside High 0 at Lewis Street;
Carapichaima East 5 (Ethan Trotman [2], Kirziah Mayers, Josiah Hypolite [pen], Tyrese David), St Augustine Secondary 2 (Isaiah Nicholas, Alex Piper) at Ato Boldon Stadium;
Pleasantville Secondary 0, Fatima College 5 (Chaim Williams, Joshua Mason, Christian Bailey, Michael Chaves, Alijah Nunes) at Manny Ramjohn training ground;
St Anthony's College 0, St Benedict's College 3 (Tarik Lee 18, 24, Nesean Alexander 63 pen) at Westmoorings.
Upcoming fixtures
Group B
(Wednesday 28 September)
Trinity College East vs San Juan North, 4pm, Trincity;
Chaguanas North vs East Mucurapo, 4pm, African Grounds, Enterprise;
Malick Secondary vs QRC, 4pm, Serpentine Road;
Presentation (San F'do) vs Moruga Secondary, 4pm, Union Hall.
Group A
(Wednesday 5 October)
Speyside High vs Pleasantville Secondary, 3.30pm, Speyside;
Carapichaima East vs St Anthony's College, 2pm, Ato Boldon Stadium;
St Benedict's College vs Naparima College, 4pm, Ato Boldon Stadium;
St Augustine Secondary vs Fatima College, 4pm, St Augustine.