Malick Secondary head coach Anthony Bartholomew said the school has appealed a Secondary Schools Football League (SSFL) decision to overturn their opening win over Chaguanas North Secondary, due to their late registration of players.
On Wednesday 14 September, Malick travelled to African Grounds in Enterprise and thumped Chaguanas North 4-1 with goals from captain Lendelle Baptiste and his teammates J'lon Matthews, Jabarie Brumble, and Antonio Joseph. Arron Raymond scored a consolation item for the newly promoted team.
However, the SSFL since ruled that Malick registered their players "on Tuesday 13th September 2022 by email at 10.23am." 
Article 16 of the SSFL Constitution declares that: "the registration of a player with the League must be made in writing at least 72 hours before the start of the match in which that player is to take part. This registration must be made with the general secretary or zone secretary.
Penalty for breach of that rule, according to the SSFL, is: "loss of game by the offending team—if both teams offend, the game shall be null and void."
Bartholomew accepts that Malick did not follow the rules. However, he insisted that the penalty is too harsh.
"I don't believe we were the only team to register late, and I don't believe that, coming out of a pandemic and scraping to make this season happen, this [penalty] is fair," Bartholomew told Wired868. "A fine would be much better… All the teams were scraping together to make the league a success. It is not about us, it is about the children playing the league who you want to keep on the right track. 
"Our principal was on holidays and the acting principal did not know what had to be done. All of those things they heard [from us] and they still did this. I think it is unfair… We will be appealing the decision because that could never be right."
SSFL executive committee members declined the opportunity to respond to Malick's concerns, since the matter is being appealed. However, one school football official noted that the body merely followed the rules as laid out in its Constitution.
There is no proof, to date, that any other team violated the rules regarding late registration.
"You made the game play—so if a team comes out victorious, you shouldn't take away the points," Bartholomew said. "If you knew we were late, you should never play the game. You should disallow the game and give the team the three points. 
"You let us play and fight and win the game and then take away the three points. I don't think that was a fair decision."
The SSFL has not responded to Malick's complaint.
At present, Malick are seventh from eight teams in Group B of the SSFL's Premier Division. Chaguanas North are fourth.
At the end of the season, the bottom school in each of the two top flight groups will be automatically demoted to the Championship Division while the seventh placed teams will face each other in a playoffs to determine the third relegated outfit.
If Malick's on-field result is allowed to stand, the North Zone team would climb all the way to third place while Chaguanas North would drop to seventh, with just a solitary point from three games.
Group B action resumes on Monday when Malick play Queen's Royal College at the St Mary's College grounds on Serpentine Road while Chaguanas North host East Mucurapo Secondary in Enterprise.
Bartholomew said his ambition this season is survival and a chase for glory in the knockout competition.
"Two weeks before the season started, we had 12 players training and when school opened everybody else came out, whereas most of the colleges were training since April," said the Malick head coach. "We don't have a sixth form, so it is harder for us to form a team. So we are looking to stay up in the league and go for the Intercol. 
"By [the time the Intercol starts], we should have a better feel and understanding of each other—because the teams on top are not so hard that you can't tussle with and football is played on the day."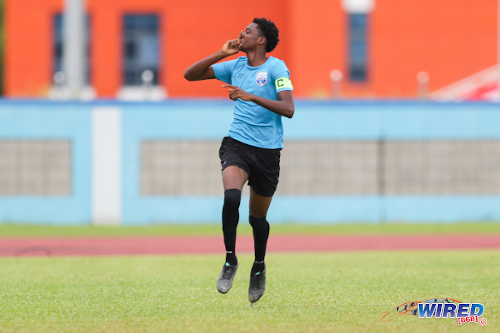 Upcoming SSFL Premier Division fixtures
(Monday 26 September)
Group A
Naparima College vs Speyside High, 4pm, Lewis Street;
Carapichaima East vs St Augustine Secondary, 4pm, Ato Boldon Stadium;
Pleasantville Secondary vs Fatima College, 4pm, Manny Ramjohn training ground;
St Anthony's College vs St Benedict's College, 4pm, Westmoorings.
(Wednesday 28 September)
Group B
Trinity College East vs San Juan North, 4pm, Trincity;
Chaguanas North vs East Mucurapo, 4pm, African Grounds, Enterprise;
Malick Secondary vs QRC, 4pm, Serpentine Road;
Presentation (San F'do) vs Moruga Secondary, 4pm, Union Hall.