The Guyana Harpy Eagles' West Indies Championship title challenge faded today, their bowlers again finding it difficult to  prise out the Jamaica Scorpions on the placid Diego Martin Sporting Complex pitch.
In the end, the teams settled for a draw. When they called time, Jamaica led by just 80 runs, on 271 for 6. But there was not enough time to force a result.
Guyana captain Leon Johnson said the South America-based team were a seamer short, Denis Smith having suffered a late injury. They did the best they could in the conditions, he said, but they did not leave Diego Martin with the points they wanted.
"I thought it was a very good performance from us, especially with the bat," Johnson told Wired868. "I think we made full use of the conditions presented to us—a pretty good batting strip and a fast outfield. 
"[…] It wasn't an easy pitch to bowl on and the bowlers did well so I can't fault them."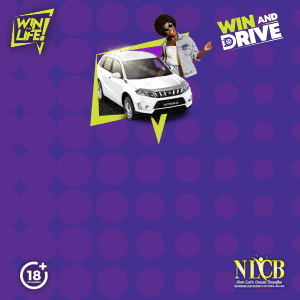 Defending champions Barbados Pride still lead the regional standings with 67 points and they complete the season against bottom-placed Windward Islands Volcanoes next week in Diego Martin.
This morning, the Leeward Islands Hurricanes completed an almost routine 228-run triumph over the Volcanoes to go second with 65.4 points.
Hurricanes captain and spinner Rahkeem Cornwall was in imperious form with successive innings hauls of 5/61 and 6/45, which took him to the top of the regional bowling list with 21 wickets.
Eight of Cornwall's 11 Round Four scalps were single-handed dismissals, four bowled and as many LBW.
The Leewards end their campaign against Jamaica at the Brian Lara Cricket Academy in Tarouba. A win over the Scorpions would give them their first Four-day Championship title in 24 years if they earn enough bonus points and/or the Windward Islands upset Barbados.
Guyana and Trinidad and Tobago are third and fourth respectively with 51.2 points and 47.2 points. And come Monday morning, a few players might be shopping for a rabbit's foot.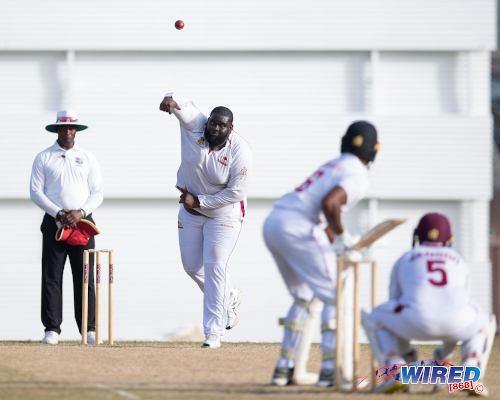 "We will see if results go our way," said the 34-year-old Johnson. "If Barbados slip up and we beat Trinidad, you never know. All we can do is do our best."
Yesterday, Trinidad and Tobago Red Force coach David Furlonge identified the Guyana batting line-up, and in particular opener Tagenarine Chanderpaul, as his team's opponents' main weapon.
Johnson was not about to quibble over that assessment, although he commended his bowlers for helping Guyana to win two matches on 'batting-friendly' pitches in Trinidad.
The 25-year-old Chanderpaul, who has hit two centuries and a match-winning, unbeaten 23 in his last three innings, is a key contributor to their success.
"He is someone who, once he gets in, is very hard to get out and occupies the crease, so the other guys who score more freely bat around him," said Johnson. "He makes it easy for the other guys once he takes the sheen off the ball."
It has not escaped Johnson's attention that the Red Force do not have an opener to match and have been exposed recently out in the middle. The Harpy Eagles hope to take full advantage.
"I think a big first innings total is very important for us," he said. "Trinidad seem to be struggling a bit recently batting-wise. Hopefully we can exploit any weakness they have there. We will look at some videos and plan for them."
Trinidad and Tobago and Guyana have a pretty tasty rivalry that crosses from sport to politics and most everything in between. However, as diplomatically as he could, Johnson suggested that their clashes have been somewhat one-sided in the Four-day arena.
While Guyana have won five regional titles since 2015, Trinidad and Tobago's last triumph was in 2006.
"We are very similar culturally [and] we have a lot of battles, especially in the limited-overs version of the game," said Johnson, "but I think we have had the better of Trinidad for the last decade in four-day cricket.
"[…] There is a decent Guyanese contingent in Trinidad so hopefully they will come out and support us as we try to finish strong—and hopefully results will go our way and we can finish on top."
For both sets of supporters, it should be a spicy farewell to the 2022 edition.
Round Four Match Summaries
(At Diego Martin Sporting Complex, Diego Martin)
Jamaica Scorpions: 393 all out (109.3 overs) (Jermaine Blackwood 114, Aldane Thomas 100, Alwyn Williams 51; Veerasammy Permaul 3/96, Kevin Sinclair 2/74, Gudakesh Motie 2/39, Demetri Cameron 2/103) & 271 for 6 (80 overs) (John Campbell 98, Leroy Lugg 67; Veerasammy Permaul 3/61, Gudakesh Motie 2/73)
Guyana Harpy Eagles: 584 for 7 dec. (157 overs) (Tagenarine Chanderpaul 184, Vishaul Singh 100*, Tevin Imlach 79, Chandrapaul Hemraj 78; Nicholson Gordon 4/122)
Match drawn.
(At Queen's Park Oval, Port-of-Spain)
Leeward Islands Hurricanes: 333 all out (95.5 overs) (Colin Archibald 106*, Jahmar Hamilton 52, Daniel Doram 43; Preston McSween 5/92, Kenneth Dember 2/77) & 252 for 8 dec. (60.5 overs) (Devon Thomas 51, Ross Powell 40, Rahkeem Cornwall 38; Kenneth Dember 3/62, Darius Martin 3/94)
Windward Islands Volcanoes: 173 all out (55 overs) (Keron Cottoy 73*, Devon Smith 35; Rahkeem Cornwall 5/61, Jeremiah Louis 3/26) & 184 all out (69.3 overs) (Kimani Melius 51, Kavem Hodge 43; Rahkeem Cornwall 6/45, Daniel Doram 3/13)
Leewards Islands won by 228 runs.
(At Brian Lara Cricket Academy, Tarouba)
Trinidad and Tobago Red Force: 133 all out (54.2 overs) (Imran Khan 29, Terrance Hinds 25; Jomel Warrican 3/21) & 134 all out (50.4 overs) (Yannic Cariah 33*, Keagan Simmons 31; Akeem Jordan 3/26, Roston Chase 3/26, Justin Greaves 3/27)
Barbados Pride: 294 all out (91.3 overs) (Raymon Reifer 79, Justin Greaves 50, Jonathan Carter 41; Terrance Hinds 5/32, Imran Khan 2/60)
Barbados won by an innings and 22 runs.