Derek Walcott, Nobel Prize winner, once lamented: "Colonials, we began with this malarial enervation: that nothing could ever be built among these rotting shacks, barefooted backyards and moulting shingles; that being poor, we already had the theatre of our lives." 
Yet, he is at one with Chinua Achebe, the towering Nigerian writer of Things Fall Apart, who asserted: "the writer cannot be excused from the task of re-education and regeneration that must be done."
Near the end of his life, Walcott, with great humility, said true literary history in the Caribbean was only beginning. On the other hand, VS Naipaul caustically stated in 1962, "History is built around achievement and creation, and nothing was created in the West Indies." 
Naipaul moved from the magisterial work, A House for Mr Biswas, to a place of cultural self-loathing. This devolution led Walcott to savagely attack him at the 2008 Calabash Festival in Jamaica. 
Walcott called Naipaul a mongoose; he accused him of taking his orders from 'the Raj'.
This spat exemplifies the struggles of and value brought by our writers. They do not have the luxury of withdrawing into a cocoon and writing creatively for creativity's sake. They have (or should have) the role of shaping our society.  
The recent events in our country can lead some to despair—'nothing could ever be built among (us)'—but this year, we have been blessed with three Trinidadian authors who should cause us to acknowledge the greatness of some of our children. This acknowledgement seeks not to discard the blunt truth of our child abuse stories but allows us to recognise that all is not lost in our society.
We may struggle but we should never give up. We have to chart our course patiently.
This unparalleled burst of writing energy stands on the shoulders of Anu Lakhan and Kevin Jared Hosein. Anu has long been toiling with words ladled out in small but rich, delightful scoops. Anything written by Anu is worth the time! 
Kevin is the 2015 Caribbean regional winner of the Commonwealth Short Story Prize for his entry, The King of Settlement 4. His poem, The Wait is So, So Long, was adapted into a prize-winning short film. 
We could add Monique Roffey or Shivanne Ramlochan. Or Andre Bagoo. 
Ayanna Lloyd Banwo now bursts onto the literary scene with her debut novel, When We Were Birds. Named as one of the best debut novels of 2022, it was proclaimed by The Observer as 'an important new voice in fiction… grounded and mythic in its scope and carried by an incantatory prose style that recalls Arundhati Roy's hugely impactful debut, The God of Small Things (1997). 
Wow! The ultimate compliment 'recalls Roy'! Ayanna challenges our interpretation of our history.
What about Lisa Allen-Agostini's The Bread the Devil Knead? It has been shortlisted for the Women's Prize for Fiction (2022). Set in Trinidad, it deals compellingly with a woman's (Alethea) journey out of gender violence and racism. She critically analyses our present in a penetrating manner. 
Her book is not only sold in our treasured Paper Based Bookshop at the Normandie but also in Leicester Square, London! Her book is a massive shout-out to all our women and encourages them to acquire agency. Big up, Lisa!
Have you seen the delightful six-year-old Coryn Clarke, who writes prolifically for her peers? Did we see her skilfully manage her interview on TVJ, a Jamaican channel? 
If you did, your heart should be overflowing with pride.
This week, Alake Pilgrim will launch her debut children's book, Zo and the Forest of Secrets, described as an evocative, atmospheric, and layered fantasy adventure set in Trinidad. 
Alake is an accomplished writer, having twice won the regional prize for the Americas in the Commonwealth Short Story Competition. She says: "Every child deserves to be the hero of their own stories… see something of yourself in these pages and root for, learn and laugh along with these characters." 
The future looks promising. Coryn and Alake will be mentors to our children. 
Two decades ago, I worked with a small group of men and women who tried to help the boys at St Michael's Home. The effort disintegrated partially because the men flaked out. This prompted one of the women to comment dryly: "Black men do not like black boys!" 
Today, young men in Laventille supportively guide other youths away from a life of crime. Hope springs in surprising places. These young men have finished secondary school and have progressed to tertiary and other institutions but seek to help those following. They like their little black brothers!
What about Joshua Faltine, the Chow King, who burst into our consciousness last weekend? How refreshing is his honesty! How determined he is to succeed and not resort to crime! 
What do you feel when you see that drive to bring along others? Witness the outpouring of support on Twitter for him—no 'crab in the barrel' behaviour! The young people are not only about feteing. 
Our challenges are grave and many. There are structural barriers and uncaring folk at the top. In his book, The Dragon Can't Dance, Earl Lovelace describes the reality of many young women through the life of the protagonist, Sylvia. 
'[…] For she knew then, already, with that instinctive knowing by seventeen years on this hill, that between this man, the rent collector, and her mother, a woman with seven children and no man either, she was the gift arranged even before she knew it, even without the encouragement or connivance of her mother. She was the sacrifice…'
Both men and women suffer trauma in many of our communities, right in their homes. This pipeline to anger, fear and depression leads some of our leaders to tap perversely into the pain. 
Our leaders do not seek to direct the anger away but push the unsuspecting young men into a place of criminal behaviour enhanced by risk-taking. They depress rather than build up the social and moral values and, in effect, cause the creation of a heartless, soulless creature that wreaks havoc. 
Watson Duke's incitement to steal from the public purse ostensibly to share among the disadvantaged taps into our sordid, long heritage of political corruption. He, the hypermasculine, puts down the material markers for success for our marginalised youth in the viral video: a 'red' woman and a big gold chain. 
He subtly signals to the marginalised Morvant/Laventille young men that they should acquire and display evidence of conspicuous consumption. He taps into the desire for self-worth, dangling the accoutrements beyond their reach.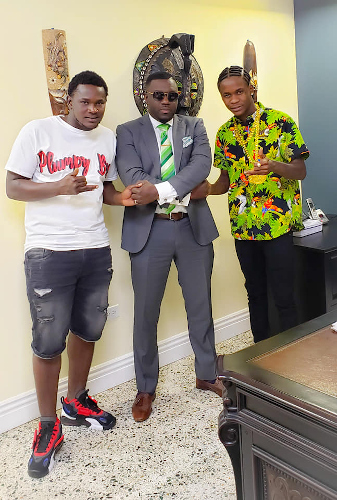 From the Hyatt to the Morvant streets, he leverages the pain and dangles a solution. He does not challenge the system but seeks to be the new Massa through populism. He needs to read. 
But in 2007, Bunji Garlin warned in 'Fire Fi Dem' that some people are like vampires, waiting to ride you like a bike. So whether it is the TT$60 million NEC theft—do we recall that video footage in the bank hall existed and never was shared publicly?—or the TT$400 million attempted EMBD theft, these same Morvant youths, at best, will receive only dregs. 
"So I seh, fire fi dem, fire fi dem."
What do we wish to give life to? The authors and Bunji who provide wise counsel or the charlatans with their bling?
We have to choose! What will we build?