The England Premier League table's top four clubs at the end of match day six were Liverpool, Manchester City, Chelsea, and Manchester United. You may quibble about the order of the quartet—justifiably! (cough cough)—but things look to be settling down.
For Wired868 Lime Kickers fantasy players, the devil was in the details as there were some surprising heroes and villains, on a weekend in which Bruno Fernandes' wild penalty kick might have caused St Vincent and the Grenadines Prime Minister Ralph Gonzales some awkward flashbacks.
Kapil Ramcharan's 'A Kevin 3Pointer' held on to first place with 472 points—just seven more than Dia Hunte's 'KingPool'—despite managing just 49 points this game week. 
Manchester United ace Cristiano Ronaldo did not help Ramcharan much, as he contributed all of four points as team captain. Thanks for nothing CR7.
But it ensured that Ramcharan was in the driver's seat on the last match day of the month, and that means 'A Kevin 3Pointer' has won a KFC bucket meal special!

Hunte's 'KingPool' has a total of 465 points while Rhys Manning's 'Geranium FFC' is third on 464.
The second KFC prize goes to the highest scorer in September, which is none other than Mattheus Schmidhammer's 'Smaws'. Smaws tallied 70 points on the weekend and 232 in September and would be pleased to have kept faith in West Ham United forward Michael Antonio, who rewarded him with 16 points.
Hunte's 'KingPool' and Adrian Lewis' 'Bag Em Blues FC' were second and third respectively for September.
The big mover this weekend was Soca Warriors fans website co-founder Flex Mohammed whose 'Real Zaboca FC' tallied 79 points with Aston Villa custodian Emiliano Martinez offering nine points, after Bruno Fernandes' late penalty miss for Manchester United.
Nine points for not touching the ball and wining on the touchline? Good grief!
Real Zaboca is 193rd overall among the Lime Kickers but 30th for the month of September.
However, for mastering a crucial match window, Flex has won himself a free haircut at celebrity barber shop, Cuts R Us. Now Flex resides in the United States and Mr Live Wire does not think barber Rudd Gonzales has quite mastered 'virtual haircuts' yet… but we will have a word.
A bad weekend for Ronaldo and Manchester United's 'Red Devils' meant Live Wire was as foul-tempered as Nicki Minaj's cousin's fren of late. 'Birdie Wick 868' got just 30 points in match day six, which saw them slump to 199th in the standings with 372 points.
That's below Wired868 Volley group member Ancil Santana's 'Redeemed FC' and ex-Trinidad Guardian journalist David Nanton's 'Just For Kicks', who both have 390 points.
'Just For Kicks', David? In this serious competition?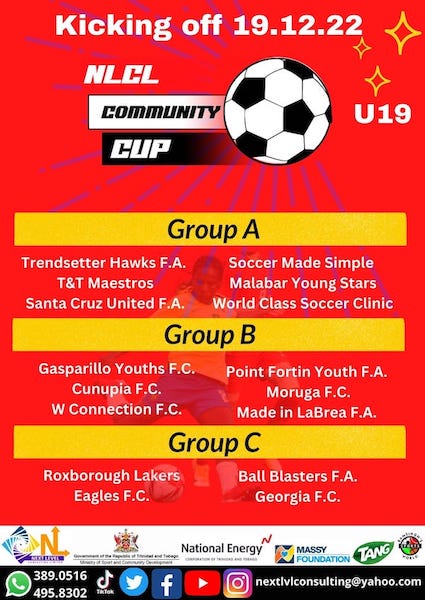 Live Wire did just manage to keep some daylight space from SSFL East Zone secretary Kurt Harry, whose 'Trini Harry' team are 234th with 363 points. Thank God for Arsenal fans!
Week Six Winners:
472 points (total score): Kapil Ramcharan's 'A Kevin 3Pointer'.
232 points (month score): Mattheus Schmidhammer's 'Smaws'.
79 points (round score): Flex Mohammed's 'Real Zaboca FC'.
Editor's Note: All winners must contact Wired868 at editor@wired868.com by 7 October to claim your prize. Click HERE to join the Wired868 Lime Kickers Fantasy League.