Bol, the kit supplier for the Trinidad and Tobago Football Association (TTFA), revealed 'fresh kit designs for the Trinidad and Tobago Women's National team' today. 
Women Soca Warriors midfielder Victoria Swift, who plays professionally for León in Mexico, helped model the new gear which had just one noticeable change from the outfit worn by the Men's Team during their unsuccessful Qatar 2022 World Cup qualifying campaign. Bol replaced the male 'Indian' figure at the front of the away kit with a woman.
"The female celebratory figure portrayed on the new away jersey represents the twin island's world renowned carnival," stated the Bol release, "and how the team unites the country and its people abroad as a tribe: The Steel Tribe."
The Miami-based apparel company, which was formed in 2020 and landed a two-year deal with the TTFA, credits its jerseys for 'featuring the unique steelpan and tribal artwork that represents the beauty, strength and resilience that is the team's heritage'.
However, Concacaf blocked the Trinidad and Tobago Men's Team from using the white kit at the 2021 Gold Cup since it violated Fifa's rules governing appropriate designs. As such, the Soca Warriors were only able to use the outfit for training.

The Women Soca Warriors' ability to use the away kit with 'the female celebratory figure' on the front depends on the leniency of match commissioners for the Concacaf W Championship qualifying matches. They cannot wear the outfit in official Concacaf or Fifa tournaments.
The Bol jerseys cost US$90 or TT$612.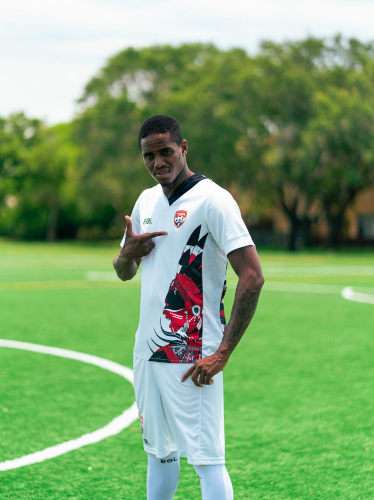 "For Bol, there is only one football, regardless of gender," said BOL co-founder Tiago Pinto, in a media statement. "Any game requires 90 minutes of commitment, team effort and offers tremendous satisfaction when you know you have left it all on the pitch. We thrive on creating equal performance products and incentives for all the players of the teams we partner with, both men and women.
"As a brand, we are inspired to tell their stories through the designs of the jerseys they will wear to play their best, and represent their people."