Future 'Reggae Boyz' forward Michail Antonio not only toted West Ham United on his back this month. 'Grandmaster Bubbles' also put at least one giant meal on the tables of Daniel Geelalsingh, Nigel Seerattan and Andre Roberts as well, as the trio ended at the Wired868 Lime Kickers leaderboard for the month of August.
All three fantasy football players have identical XIs and each selected Antonio as captain on the weekend, when the burly forward grabbed a goal and an assist in a 2-2 draw with Crystal Palace.
It ensured that Geelalsingh's 'Geeze and Ages', Roberts' 'A Wick 5_Amco' and Seerattan's 'No Europe FC' retained pole position for the second successive week and copped the first monthly prize of two KFC bucket meal deals apiece. 
You're pretty lucky, gentlemen. Another sponsor might have made you all split the damn thing!
The trio were just three points clear of fourth-placed Sekou Mark's 'Saka n Bake', who also got 71 points in this game week for an August total of 270. 

But for a clumsily conceded penalty by Leicester City defender Caglar Soyuncu—and despatched by Norwich forward Teemu Pukki—Mark might have been enjoying something far spicier than bake this weekend. But Leicester's failure to keep a clean sheet meant defender Daniel Amartey could not give 'Saka n Bake' the necessary points to leapfrog the 'three amigos'.
Not to fear Mark, you can still get the mark of a lifetime. Wired868 Lime Kickers' second 'winner' this month gets a premium haircut from celebrity barber Rudd Gonzales.
So, ahmm, get it while Covid-19 protocols oblige!
All four players can contact Wired868 at editor@wired868.com to prove their bonafides and collect their August prizes.
The biggest move in this match week came from Chris James' 'La Masia' though, as he used a wildcard en route to amassing 88 points. 
Tottenham Hotspur attacker Son Heung-Min contributed 20 points as captain for 'La Masia', courtesy of his decisive goal in a 1-0 triumph over Watford FC. And debutant Manchester United defender Raphael Varane (12), Leicester forward Jamie Vardy (12), Antonio (11) and Liverpool ace Mo Salah (10) all chipped in with double figures.
James has a total of 208 points for August which is only good enough for joint 200th place. Yep, tough crowd!
And how is Wired868 editor Lasana Liburd faring with 'Birdie Wick 868'? He's at 147th place with 219 points—17 of which came in this match week. It could be worse. He could be Mikel Arteta!
CNC3 investigative journalist Mark Bassant leads the media fraternity with 243 points, which puts him joint 43nd—alongside Jerome Boynes' 'HereWeGo! FC'. Cheups. Show offs!
Mr Live Wire also has targets set on the likes of Volley group contributor Brian Springer's 'TriniTuchelFC' (239), Burdie and Barney podcast producer Corie Sheppard's 'Winners' (234), and 'Parkites' Scott Rodriguez's 'Azzuri' (229).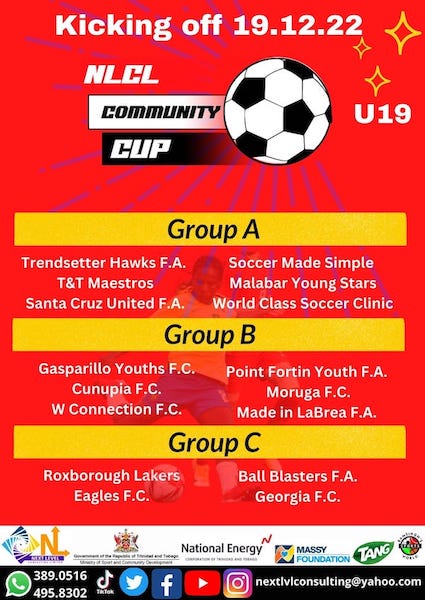 For September, there are guaranteed prizes for the person atop the leaderboard, as well as the player with the best total score for the month.
The ting now start fellahs!
Week Three in numbers
273 points (total score): Daniel Geelalsingh's 'Geeze and Ages', Andre Roberts' 'A Wick 5_Amco' and Nigel Seerattan's 'No Europe FC.
88 points (round score): Chris James' 'La Masia'.
August Prizes
KFC winners: Daniel Geelalsingh, Andre Roberts, Nigel Seerattan.
Cuts R Us winner: Sekou Mark.
Editor's Note: Click HERE to join the Wired868 Lime Kickers Fantasy League.