"[…] Diego was larger than life and he couldn't go anywhere and relax. I'm sure it must be like that with Cristiano [Ronaldo] and Messi and Pelé. They have no lives.
"You have to see it to believe it… It was unbelievable to think someone has to live like this, has to go through life like this…"
HFX Wanderers head coach Stephen Hart, a former Trinidad and Tobago and Canada national team head coach, talks to Wired868 about his meeting with iconic late Argentina football star, Diego Maradona:
Wired868: You might be one of a handful of Trinbagonians who saw Diego Maradona play live. Tell us about that.
Stephen Hart: It was World Cup 1994. Argentina was playing Nigeria. You sort of held your breath in anticipation because he was making a return to football… It was a special occasion for everybody because he was making his comeback and he was larger than life.

Wired868: What do you remember of him on the field that day?
Hart: He just had an awareness of everything around him; a complete sort of awareness of teammates, [opposing] players. He was an 'in command' type of individual, in the sense of always wanting to be on the ball in every part of the field. He was a maestro. Just the way he carried himself, he had something about him. Even when he began coaching, he would always walk with his head high.
You would never see Diego with his head down; he would have his head held high, chest out. His body language was always that of a competitor, that of a leader, that of a winner. That day [at the USA World Cup], you could sense that even with teammates around him who were stars in their own right, like [Gabriel] Batistuta, etc, you could tell that he was the man. There was just no question.
Wired868: Long after, you saw Lionel Messi up close when Trinidad and Tobago played Argentina. How do you compare the two, in terms of their mannerisms and approach to the game?
Hart: I don't think you can compare the two in terms of mannerisms. Messi is just pure football. He just looks like someone who wants to play, enjoy his football and leave. Whereas Diego, he was just different. It is hard to explain. Messi is… I don't want to say unassuming because he is also larger than life from a footballing context; but Diego was the ultimate competitor. You got the feeling that he was fighting for an entire nation.
Wired868: Was there anything about Maradona and his technique that stood out against Nigeria?
Hart: Everything! (Laughs) He could use the inside of his foot, the outside, the heel, everything. Everything! For me, he was beyond technique. All the greats are beyond technique; it is more about their vision and their intellect—how they use their technique in game situations—that stand out.
Wired868: Was there any internal conflict for you as a Brazil supporter on that day?
Hart: No, no, no. (Laughs). I can admire a footballer. You grow up with Brazil and the love for that jersey; but Maradona? (Widens his eyes) You appreciate footballers regardless of where they come from. I was a big admirer of Philippe Vorbe from Haiti and yet we had that constant battle with them [in the 1970s]. Nah, no conflict.
Wired868: That Nigeria match was Maradona's last competitive game for Argentina. How did you feel when you found out after that he failed a drug test [after the match]?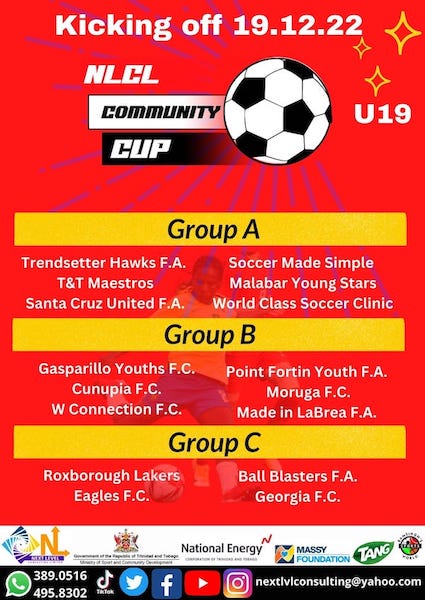 Hart: I just remember feeling a sense of disappointment. When I heard it was a diet drug… I know there are rules and regulations that you have to respect, but I felt like: really?! That's how he is going to go out?!
It was almost a feeling of being betrayed [when you're looking forward to] seeing one of the great players in the game return. I sort of sympathised with him to be honest.
Wired868: And there was another time you saw him play?
Hart: He had returned to Boca and I went to see him play in Buenos Aires. But he was not the same. He was carrying on his rebellion, but he was not the same.
Wired868: And then you met him as a coach…
Hart: As Canada coach, I took the team to play Argentina in Buenos Aires in 2010. After the game, I went to tell him good luck in the Copa [del Mundo], and through a translator he said: 'come, come in the dressing room away from the vultures'. (Laughs) He was funny. He had a real hate relationship with the media, even though he appeared to love the limelight.
So he took me into the Argentina dressing room and he insisted that all his players come and shake my hand and show the head coach of a country the respect he felt was deserved [even though they just beat us 5-0]. That was rewarding. I seldom ask footballers or coaches for a photo. But Diego and Pelé, yes; and George Weah because he complimented me! (Laughs)
Carlos Bilardo was in the dressing room as well at the time. He was his advisor and obviously he was the [Argentina] coach in 86. I told Bilardo I was an admirer of his team from 1986 and he said thank you for that; but he was very much to the side, because Diego was the centre of everything. It was quite a zoo, quite a mess. I remember looking at him and saying I don't ever want that to be my life.
I remember Diego asked me what I thought of his team and I told him I liked how his team was playing, and it was true. They were fluid. In fact, they were absolutely flying. He just allowed them to play. There were no big set of tactics really.
I said we didn't take the best Canada team there because it was not a Fifa date, so it was difficult [to get the players]. And he said thank you for not injuring any of the players. (Laughs) I told him the guys looked like they are playing for you and they look very, very comfortable, and as though they understood fully what they had to do.
I remember Messi did not play. They said he hurt himself before the game in the dressing room. But they had [Carlos] Tevez and [Gonzalo] Higuain and [Angel] Di Maria. I remember [Gabriel] Heinz was in an interesting battle with Dwayne De Rosario and he gave no quarter; and Maxi Rodriguez was controlling things. But it was really the movement of Tevez that was causing us no end of difficulty.
And then they called a sub and who else but [Sergio] Aguero comes on. By that time we had tired of chasing the ball, and [Aguero] twists the defence inside out and scored with one of his trademark chop to the left and bang…
We started off well and we had our moments but they wear you down. They were patient. And I remember when they scored a couple goals the crowd started to sing—but not for the players. They were chanting: Diegooo, Diegoooo…
You can image what the Estadio Monumental is like when it is packed and everybody is carrying on. You are aware of what it is like to be in a real lion's den.
Wired868: You said it was like a zoo. What do you mean?
Hart: You would not believe what it was like outside the dressing room. If I say there were 200 reporters, I'm probably under the number of media that was waiting there. Diego was larger than life and he couldn't go anywhere and relax. I'm sure it must be like that with Cristiano [Ronaldo] and Messi and Pelé. They have no lives.
You have to see it to believe it… It was unbelievable to think someone has to live like this, has to go through life like this. Everywhere they went and in any country, there is no escaping it. But in an Argentina [the sight of Diego] was like blood in the water for sharks.
Wired868: What stands out for you about Diego?
Hart: Diego was like a Shakespeare play for me. I am not going to judge him for his lifestyle. I purely admire him for what he brought to football. I think being left footed made a difference. I remember when I saw Mario Kempes and that style of very direct, penetrative dribbling—it was very different from anything I had seen before. And then Diego came along and he was very similar but he could also drop deep and be creative, very much like how Messi is.
[…] And of course for Diego it was the time of man marking. But Diego's power! Even though he was maybe five foot five, he was an absolute physical specimen. He would just run through tackles. You couldn't knock him off the ball; he would stay on his feet if he felt it was to his advantage.
I was shocked at how powerful he was. He was elegant, yes, graceful, maybe. But power—a lot of power.
Wired868: Was it difficult as a coach when you're telling players about the importance of being two-footed and they could say: but look at Diego…
Hart: Very few of the great left footers are two footed. It is very rare that you see that. [Ferenc] Puskas? No. Kempes? No. Diego? No. Messi? Messi could use his right foot but he is always much more left footed.
You try to encourage a young player and tell him you don't have to be two footed, but when the ball comes on your weaker foot it shouldn't let you down. You should be confident enough to make the play and confident enough to take the shot [with your weaker foot].
But I remember a quote from Puskas and he said if I had taken the advice to make my right foot better, my left foot may not have been that good. And that probably sums it up the best.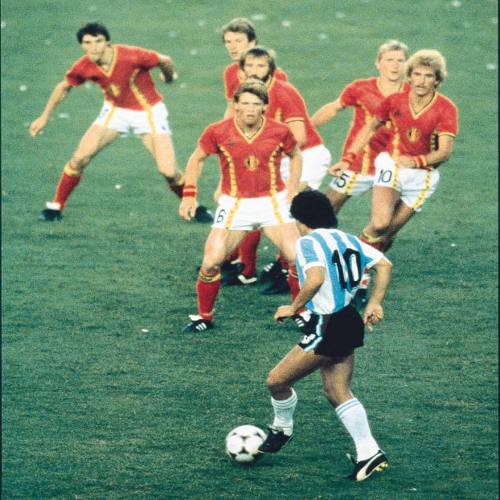 Wired868: How would you rank Maradona among the greatest to play the game?
Hart: He was certainly the greatest of his generation, and one of the greatest of all time. But I do not like to compare people from different generations.
Wired868: Would you like to say anything in closing?
Hart: No, I think that's everything… Actually, did you see the documentary of Maradona coaching in Mexico? There is a line in that when he was asked: 'do you have any regrets in your life in football?' And Diego said: 'sometimes I wonder how good I could have been if I didn't do drugs'.
That for me is heartbreaking. But it is the story of so many great artists, unfortunately.