The Ascension Tournament has been postponed, following advice from Commissioner of Police Gary Griffith, until the tournament protocols are reviewed by Chief Medical Officer Dr Roshan Parasram.
Griffith met with Ascension organisers yesterday and urged them to liaise with the Ministry of Health before proceeding, so as to avoid a repeat of the Central T10 cricket tournament fiasco.
Last week, the Trinidad and Tobago Police Service (TTPS), on Griffith's person orders, shut down the cricket competition in Charlieville for breaching the Public Health (2019 Novel Coronavirus (2019-nCOV) Regulations. A probe was also initiated into the conduct of police officers who were not only present at the event but participating as well.
The cricket contest attracted a large crowd that, according to a TTPS statement, caused 'a traffic nightmare' along Pierre Road.
"I recommended that [the Ascension Tournament organisers] seek guidance from the Ministry of Health to ensure that they comply to the restrictions," Griffith told Wired868, "hence avoiding possible police intervention and being shut down, as we were forced to do in the T10 Cricket Tournament last week—which the Police team would have won, by the way."

Ascension director Richard Ferguson confirmed that the competition is now on hold 'pending approval from the CMO'. Ferguson dispatched the tournament protocols by email this morning.
The Ascension Tournament, which involves two tiers of 10 clubs each plus the respective zonal divisions, was due to kick off on Friday with a Division One double header at La Horquetta Recreation Ground in Phase II featuring Central FC versus San Fernando Giants from 6pm and Defence Force against Terminix La Horquetta Rangers from 8pm.
The Friday night games will be broadcast live on SportsMax and streamed on the tournament website while TV6 is expected to air the second match of the double header.
Griffith stressed though that the TTPS cannot stop a sport event before time, as it is not illegal to play—even during the pandemic. The potential issue lies in the congregation of supporters.
However, the Ascension Tournament has already outlawed supporters from matches, which will be played at closed stadia. Among other safety protocols are:
All technical staff members must wear masks and observe physical distancing;
Temperature checks are mandatory before games;
Teams will be asked to remain on the field at half-time (weather permitting).
"There is nothing that can stop [the Ascension Tournament] from going on," said Griffith. "But I strongly recommended that they contact the Ministry of Health to assure them that everything is within the guidelines set out by the CMO.
"I think that is important for the event to be a success."
Griffith and Parasram were at loggerheads over the former's plans to hold the Commissioner's Cup, which is a nationwide football youth tournament. In the end, despite the CMO's concerns, Prime Minister Dr Keith Rowley said it was fine to play so long as spectators were reduced to groups of 10.
In the end, Griffith opted to postpone the TTPS competition until 2021.
Ascension Tournament teams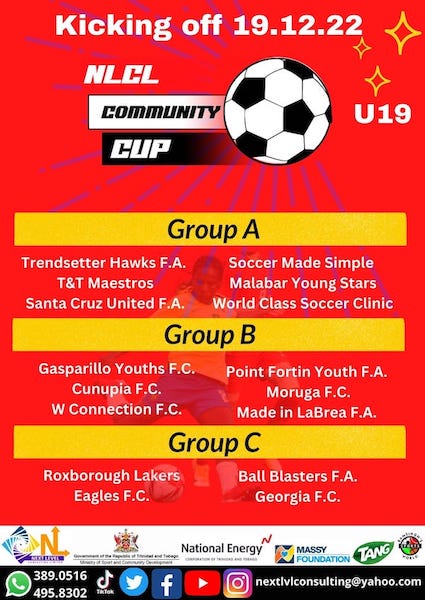 Division One:
AC Port of Spain, Central FC, Cunupia FC, Defence Force, Deportivo PF, Police FC, Real West Fort, San Fernando Giants, Terminix La Horquetta Rangers, Tobago 1976 FC Phoenix.
Division Two:
Bethel United, Central Soccer World, Malabar FC, Miscellaneous Laventille, Moruga FC, Petit Valley Diego Martin United, Police FC (S/L), RSSR FC, UTT FC, Valencia Lions FC.