In the city of Brasilia, fireworks went off, residents jumped up and down at malls and drivers honked their car horns. And the Brazil team had not even stepped on to the field yet!
The Germans call it schadenfreude, which roughly translates to the enjoyment of another's misfortune. And not since Eric Cartman tasted the tears of ninth grader Scott Tenorman in South Park has a tragedy brought such unbridled bliss.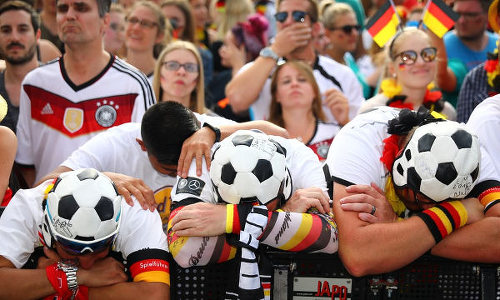 In the end, it was double delight for the Samba Boys as they responded to Germany's shock 2-0 loss to Korea Republic with their best performance of the Russia 2018 World Cup so far.
A 15-minute second half spell apart, Brazil were imperious in Moscow, as they cruised to a 2-0 win over a Serbia team that had enough in their arsenal to create problems. The result ensured that Switzerland advanced as runners up despite a 2-2 tie with table proppers Costa Rica in the other contest.
The serenity in Group E was in stark contrast to the goings-on in Group F, which virtually exploded this morning.

Spare a thought for Mexican fans who endured a traumatic afternoon in Ekaterinburg. Mexico only needed a draw to progress and, after wins against Germany and Korea, their players openly allowed their minds to drift to fanciful notions of lifting the World Cup trophy on 15 July.
At roughly 11:45am (TT time), they were shell-shocked and staring elimination in the face instead, as Sweden led 3-0. Then news filtered through that Korea had scored against Germany in Kazan, and loud cheers erupted in the stands from supporters whose team was being thrashed below.
But wait. No. Fake news. The goal was disallowed. Offside.
Hang on. The referee is checking VAR…
It's a goal! It's a goal!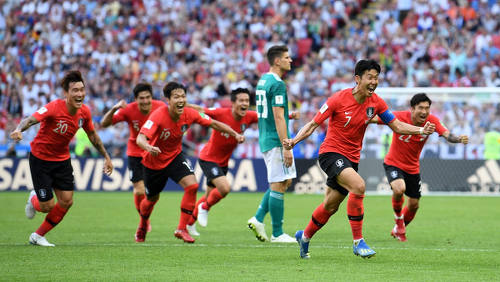 In the time before VAR, supporters went berserk once the ball crossed the goal line. Now, the referee is the main attraction for the most magical period of the match, as players, technical staff, members, patrons and television viewers look hopefully at the guy in black and try to guess what he is hearing over his headset.
How long before referees, sufficiently warmed to the current theme, react to the newfound attention with personalised goal celebrations themselves?
That goal, by the way, was the stoppage time strike by Korea defender Young-gwon Kim, which gave the Asian outfit an improbable lead over the world champions.
Germany were moving the ball as slowly as an over-45 fete match team that consumed their drinks before kick off rather than after the game. Yet, even then, the three points at stake was theirs for the taking as the Korean outfield players constantly squandered possession and offered about as much protection to goalkeeper Hyeon-woo Jo as an umbrella in a hurricane.
Unfortunately for "Die Mannschaft", most of their chances fell to defender Mats Hummels whose attempt to copy the heroics of Argentina's Marcos Rojo only left his country feeling blue.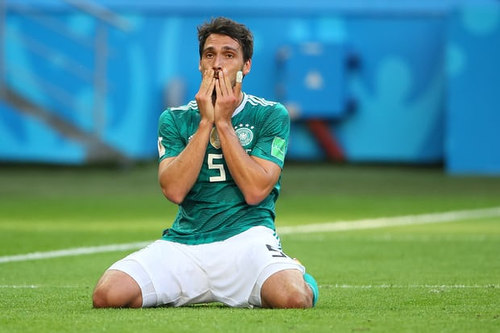 In the 87th minute, German playmaker and scapegoat-in-chief, Mesut Ozil, delivered a delicious cross that found Hummels unmarked and barely six yards from goal. Hummels made such a mess of his attempted header that the ball came off his shoulder.
Had that been a schoolboy training session, the head coach would probably have stopped the session there and then and sent Hummels to run a half dozen laps.
Was this really FIFA's number one ranked team?
It was almost fitting that when Korea did open their scoring, it came from more shambolic German play, as midfielder Toni Kroos—Mr Dependable himself!—poked the ball into Kim's path as the Europeans looked all at sea from a simple corner kick.
A German team that cannot defend set pieces? It seemed as implausible as a roofer who was afraid of heights.
Korea's second goal came after German goalkeeper and team captain Manuel Neuer was caught trying to dribble up the flank and, once stripped, the ball was quickly relayed to Heung-min Son, who tapped into an unprotected net.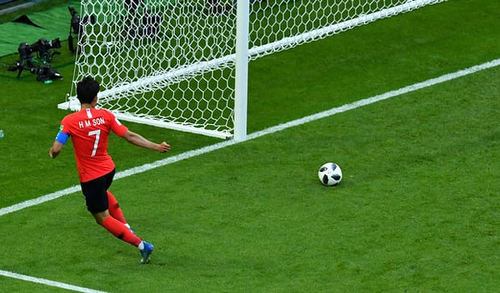 In decades past, such desertion by a trusted soldier would provoke a much more painful response than social media trolling.
By this stage, Mr Live Wire can only hope that anyone watching the match with children present had already turned off the television set.
In Brasilia, supporters revelled in the humiliation of their foes, who are now the fourth defending champions to be eliminated in the group stage since France crashed out of the 2002 World Cup. And the day got better still for Brazil football fans.
There was an odd smirk on Neymar's face as Brazil's national anthem was blared over the loudspeaker before kick off. It was the look of a boy who knew he was getting just what he wanted for his birthday.
Serbia coach Mladen Krstajic anticipated Neymar's threat down Brazil's left flank and replaced veteran right back Branislav Ivanovic with the younger and faster Antonio Rukavina. In truth, he could have played them both.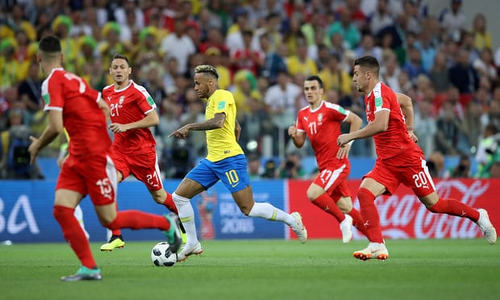 When Neymar is focused on his team's success rather than his own highlight reel, he is almost unstoppable and, today, Russia finally saw glimpses of the electric player who can take the baton from Argentina's Lionel Messi and Portugal's Cristiano Ronaldo.
Neymar did not score. But that was probably because he did not have to. Paulinho put Brazil ahead from close range in the 35th minute, after his clever run prompted an assist to match from playmaker Philippe Coutinho. And defender Thiago Silva provided the insurance item with a header in the 67th minute, off a Neymar corner kick, that flattened Serbia's resolve.
Serbia barely got a look in after that as the Brazil players turned the remaining 20 minutes into a passing exhibition.
Germany are out and Samba is back. For Brazil fans, it must be like winning the lotto on the same day that your bitter ex is laid off.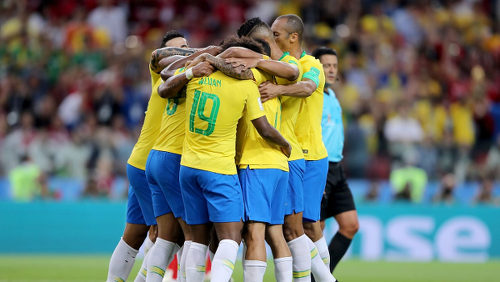 World Cup 2018
Today's fixtures
(Wednesday 27 June)
Korea Rep 2 (Young-gwon Kim 90+2, Heung-min Son 90+7), Germany 0, Group F, Kazan;
Mexico 0, Sweden 3 (Ludwig Augustinsson 50, Andreas Granqvist  62, Edson Alvarez OG 76), Group F, Ekaterinburg;
Serbia 0, Brazil 2 (Paulinho 35, Thiago Silva 67), Group E, Moscow;
Switzerland 2 (Blerim Dzemaili 31, Josip Drmic 88), Costa Rica 2 (Kendall Waston 56, Yann Sommer OG 90+3), Group E, Nizhny Nivgorod.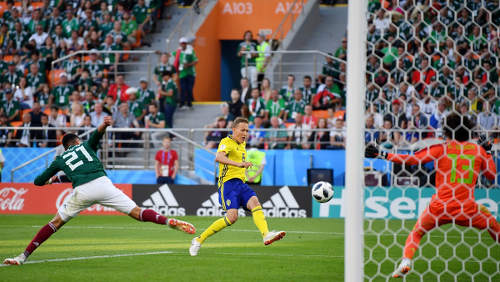 Tomorrow's fixtures
(Thursday 28 June)
Japan v Poland, 10am, Group H, Volgograd;
Senegal v Colombia, 10am, Group H, Samara;
Panama v Tunisia, 2pm, Group G, Saransk;
England v Belgium, 2pm, Group G, Kaliningrad.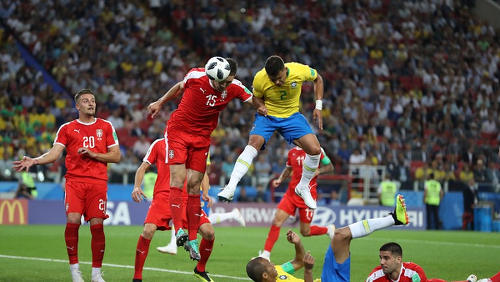 Knock out match-ups, as they stand today
(Bracket One)
France (C1)/Argentina (D2) vs Uruguay (A1)/Portugal (B2);
(Versus)
Brazil (E1)/Mexico (F2) vs Belgium (G1)/Japan (H2);
(Bracket Two)
Spain (B1)/Russia (A2) vs Croatia (D1)/Denmark (C2);
(Versus)
Sweden (F1)/Switzerland (E2) vs Senegal (H1)/England (G2).