Sometimes she just can't help herself. She looks at him and her mind just drifts back to the first time, the very beginning of everything that would eventually become them. She would laugh to herself and at herself because, honestly, if someone had told her years ago that he would become her world, the keeper of her heart and soul, she would have pointed an accusing finger at that someone and laughed out loud, hoping all the while that insanity was not contagious.
Sometimes she would think of their first moments and wonder how something so simple could become the start of the most delicate, intimate thing in her life.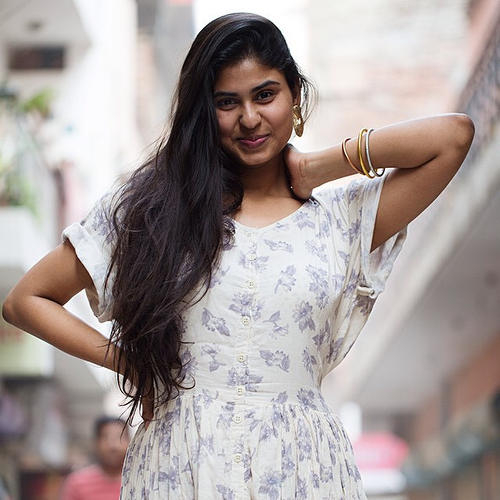 People still deny love at first sight because they seem to forget that love has a conception; it is not viviparous, born fully formed like a kitten or a calf but it is oviparous, needing the nurturing warmth of a compassionate body while it grows and spreads, taking final shape only after the first moment, the first look, the first word, the first touch…
Sometimes she thinks back to their first date. Who says you never have a second chance to make a first impression? Her wardrobe would strongly disagree; all her clothes that did not quite make the cut, all her shoes that just would not fit the bill, all her accessories that were not perfect and every lock of her hair that rebelled as she tried for the ideal look would tell you that every meeting is a chance to make a new impression.
Years later, when her second thought after getting dressed is still 'Will he like this?', she can concur.
Sometimes she remembers their first kiss and all that led up to that blissful moment. She wonders if he was as nervous as she was and just better at faking it. Too wet? Too hard? Too much tongue? Not enough? …Yet somehow still perfect. The touch of his lips, soft, yet firm, caressing, nipping, tasting, teasing, inviting, nourishing. Habit-forming, addictive. Hers to savour and savour she still does.
Sometimes she thinks of their first fight. Of course, she was as usual right but that adorable, pig-headed pain-in-the-neck would not admit it. At first. Eventually, he did and apologised. She was free to return to his arms where she belongs and with no loss of face because he had caved in before she did. And all was right with the world again. The gripping, nagging, paralysing fear released her and she could breathe again.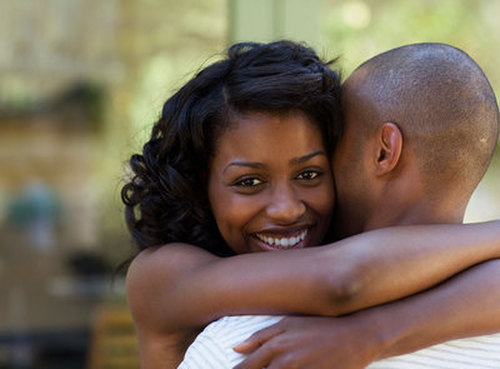 But the memory of that fear that somehow this disagreement might put an irreparable hole in the very fabric of everything that makes them them endured. And it is that fear that ensures that there will be no repeat, that that first fight was in fact two fights, their first and their last. Never again. Never! But there is no reason for him to ever find out about that fear now, is there?
Sometimes she thinks about the question and the answer. The decision that their hearts made but their lips sealed. Will you? I will. It probably should have been a scary step, to decide that they were going to become one forever with vows and rings and witnesses. It was not.
At least not until that day that took forever to dawn and yet came much too soon, that day when she admitted, mostly to herself, that she was terrified. Terrified she was that he might change his mind or realise that he had made a mistake or figured out that there were other fish in the sea—maybe some species who would let him be right when they argue—one who could fill out the gorgeous gown he had bought her far better than she could. And that fear was only replaced by the sight of him, looking amazing, surrounded by their loved ones, waiting for her. The terror was wiped out by the feel of him, so real, so solid, looking at her as if she was the breath-taking one.
Sometimes she remembers the moving parts. Figuring out how her things fit between his things. Figuring out which pieces she could live without. Which he would have to live without because…hell, no! Figuring out how many tries it took before they all seamlessly became their things. Like that pillow that he claims is his but she knows is hers and for ownership of which she should not have to fight with him every single night! Or that picture that should be above the television but which he keeps moving off to the side no matter how many times she tells him not to touch it.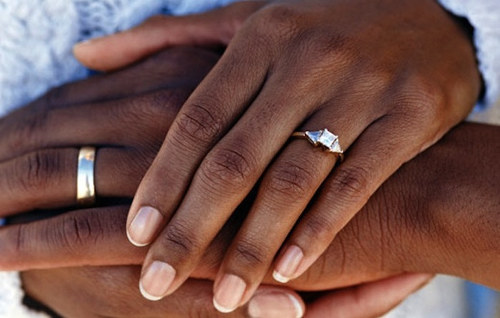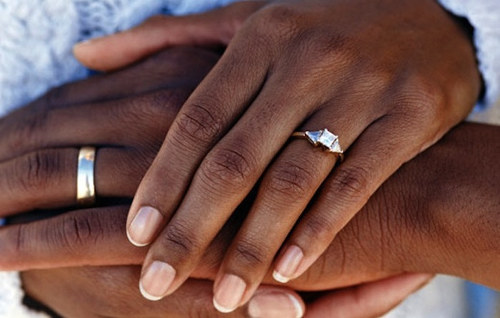 Sometimes she thinks of breakfast in bed. He almost always remembers to take out the tea bag and she adds both cream and sugar to his coffee. She likes a lot of butter, he does not like any salt. He thanks her for lunch with every barely audible moan of enjoyment, every emptied dish, every request for seconds. The silence of workday mealtime is filled with the muted sounds of acceptance. He knows she has had a long day; she knows he is tired. A genuine smile, a simple touch, a slight caress of fingertips is thanks enough. The elaborate meals are no less sweet. Weekends and special occasions. Birthday? Anniversary? Valentine's? New Year's? She knows what his favourites are, he is ever mindful of how much time each dish requires to prepare. He says it tastes better when she serves it, she insists everything tastes better when they share one fork.
Sometimes it is overwhelming, knowing that someone else has that much power, that much influence. At other times, it is so liberating, knowing that someone else knows what you need almost before you do and cares almost more than you do. Like when he hands her the remote before she realises it's time for her show. At times like that, she does not think she could possibly be happier.
And sometimes, like now, he sees her staring into space. Holding her close, he kisses her gently and asks softly, almost inaudibly, "What's up, Petal? You've been standing there for almost ten minutes…"
At times like that, she knows that she is wrong to worry, she knows that there is more in their future, more happiness, more memories, more everything. Slowly, she draws a deep breath, breathing him in.
"Ten minutes?" she says dreamily, "It felt like a lifetime."
And she—and he—is okay with that.