The 2015/16 Super League champions Defence Force yesterday sent out an early warning for the new Trinidad and Tobago Super League (TTSL) pack, as they whipped ten-man Siparia Spurs 3-1 at the Hasely Crawford Stadium training field.
Last season, Spurs and Defence Force were the Super League's highest scorers as they combined for a whopping 120 goals in Premiership play. Andy London (26) and Josimar Belgrave (23) led Siparia and Defence Force respectively and were the league's top two goal-getters.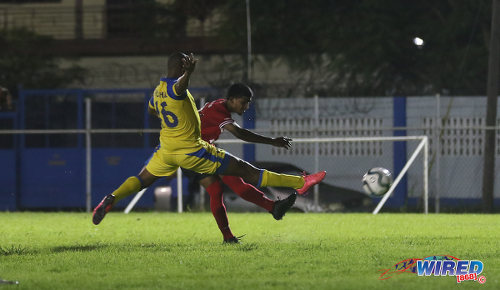 Unspecified "technical concerns" delayed the scheduled kickoff by an hour but spectators must have felt the wait was no in vain as the two high scoring teams prepared to slug it out.
The Army/Coast Guard combination failed to get the better of Siparia in any of their duels last season so coach Kelshall Alexander was keen to have his charges sharpen their artillery before a ball was kicked in this campaign.
"Siparia is a team that we didn't beat last season at all," Alexander told Wired868. "They had some kind of thing where they would come and stop us. But the game plan we worked on for the last week emphasized on us scoring plenty goals with constant movement from the midfield."

It showed. The hosts' midfield was indeed working like a finely tuned engine in the early stages of the encounter and the likes of Maurice Edwards, Tirek George and Belgrave were working some snappy passes in and around the Siparia penalty area.
Decent opportunities fell to both George and defender Dexter Thornhill within the first ten minutes but the best chance in the first quarter of an hour came the way of Siparia's Darius Peters. Fed on a platter from the left flank by the lively Ken Bhola, he somehow managed to screw his shot wide with Army custodian Kevin Graham suddenly MIA.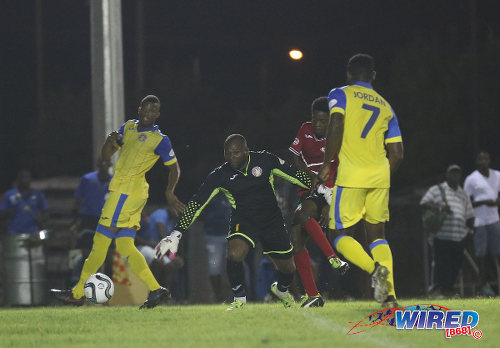 This Siparia team usually scores goals in their sleep so poor Peters must have felt he was in the middle of a nightmare.
"My heart skip about a million beats there," a Defence Force official near the sideline joked.
Just as Siparia appeared, on the back of Marlon Phillip's nifty midfield play, to be giving themselves a decent footing in the game, the hosts found a way to put their supporters' hearts at ease. Wide player Jamaal Goodridge opened the scoring in the 24th minute, latching on to a through ball from George, rounding goalkeeper Ishmael Salam and slotting home.
Five minutes later, Defence Force's task was made a bit simpler as Siparia's burly left-back Akiba Peters was shown a straight red for a horrible, lunging tackle on Thornhill.
A bone-jarring sound filled the air as Peters landed his tackle and spectators within earshot were probably surprised but certainly pleased to see Thornhill walking away from the clash without serious bodily harm.
There was another memorable tackle four minutes later but this one was a brilliant, last-ditch effort by defender Stefon Brereton which prevented the Army/Coast Guard combination from going two goals up.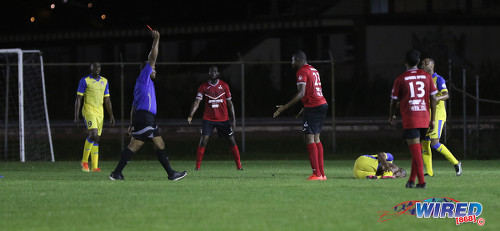 However, in the 38th minute, Brereton proved powerless as George, left momentarily free inside the penalty area, beat Salam with a tame right-footed shot to double the home team's tally. Salam fell to his knees in the penalty area after conceding—perhaps both an admission that George's shot should not have beaten him and a prayer to the Almighty not to incur the wrath of his teammates.
But Salam's woes were not yet over as he was made to pick the ball out of his net once more in the 40th minute.  George, ghosting in on the back post, contrived without any difficulty to tap in a right-side cross from Goodridge. Easy like Sunday evening.
Maybe their coach reminded the visitors at the interval that they had not come halfway across the island to be bullied around the field by members of the Defence Force; they put on a very gritty display in the second half.
Just short of the 10th minute of the half, danger man London headed over the bar from a corner while three minutes later substitute Dwayne Edwards fizzed a right-footed shot across the face of goal.
London, often with arms flailing in frustration as he made off-the-ball runs in vain, gave the travelling posse something to cheer about in the 66th minute, rounding off a counter-attack with a neat finish past Graham.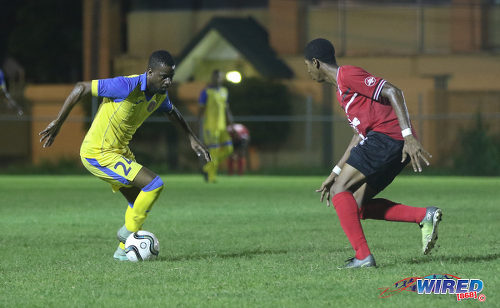 For the remainder of the half, Alexander urged his team to use their personnel advantage by retaining the ball better and forcing their opponents to chase shadows. The tactic kept the willing Siparia team at bay for the most part and the Army/Coast Guard combination almost signed off their duties on a high note when substitute Stephen Antoine shook the frame of the goal with a powerful effort in the 77th minute.
No more goals came and so Alexander had nothing to worry about.  His battalion have got three points in the bag and they will now look to ready their firepower for a road trip to the St James Barracks on 18 June.
"It's a step in the right direction," Alexander told Wired868 after the game. "It's the first time in probably the last two years that we won our first game of the season. Most times we either drew or lost the first game and had to come from behind and start catching up."
"The aim this season is to win the league again," he continued. "We thought that we let it slip in the end last season. We want to go all the way because we think the calibre of players that we have is high enough."
Lofty ambitions for the new Super League season. So next week, when Alexander and company are up against their Police counterparts, spectators will expect to find out who the real big guns are.
(Teams)
Defence Force (4-2-3-1): 1.Kevin Graham (GK); 16.Dexter Thornhill, 7.Devin Jordan, 14.Dwight Scott, 25.Jabari Andell; 3.Keston Williams, 8.Cory Rivers (captain); 22.Jamaal Goodridge (24.Stephen Antoine 63), 10.Josimar Belgrave, 28.Tirek George (27.Judah St Louis 79); 9.Michael Edwards (26.Dwayne Calliste 69).
Unused Substitutes: 29.Sherlon Wheeler (GK), 6.Kevon Blackman, 11.Seon Jack, 19.Dexter Pacheco.
Coach: Kelshall Alexander
Siparia Spurs (4-2-3-1): 1.Ishmael Salam (GK); 80.Stefon Brereton (70.Dwayne Edwards 46), 32.Akiel Phillip, 5.Kevon Bascombe (captain), 23.Akiba Peters [red card 29]; 11.Sean Leoung Tat (20.Tyrese Reefer 85), 19.Marlon Phillip; 21.Atiba Charles (8.Tevin De Boulet 46), 9.Andy London, 13.Ken Bhola; 17.Darius Peters.
Unused Substitutes: 88.Michael Myers (GK), 2.Jezneel Duntin, 3.Marcus Kelly, 77.Arvid Applewhite.
Coach: Anthony Jones
Referee: Rashby McPhie
Wired868 Man of the Match: Tirek George (Defence Force)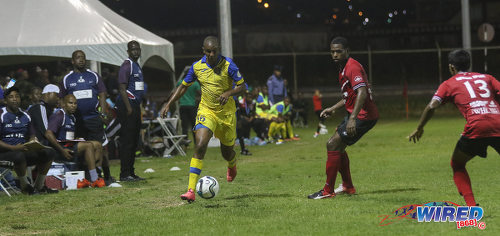 TT Super League Results
(Sunday 11 June)
Guaya United 3 (Carlon Hughes 64, Glenton Wolfe 77 [pen], 89 [pen]), Club Sando Moruga 1 (Morgan 27) at Guayaguayare Recreation Ground;
Bethel United 1 (Densyl James 29), QPCC 0 at Mt Gomery Recreation Ground;
Defence Force 3 (Jamaal Goodridge 24, Tirek George 38, 40), Siparia Spurs 1 (Andy London 66) at Hasely Crawford Stadium training field;
Cunupia FC 1 (Gorean Highley 83), Santa Rosa FC 2 (Keron Clarke 5, Nathan Julien 83) at Larry Gomes Stadium;
1976 Phoenix FC 1 (Che Richards 73) Police FC 1 (Real Didier 76) at Canaan and Bon Accord Recreation Ground, Tobago;
UTT 2 (Kevaughn Connell 13, 31), WASA FC 1 (Kylon Gay 21) at UTT, O'Meara;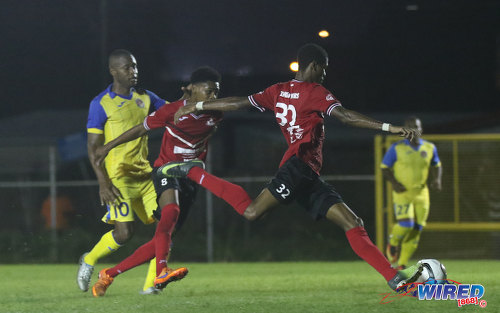 Upcoming TTSL Fixtures
(Sunday 18 June)
QPCC vs Club Sando Moruga, QRC Grounds, 4pm;
Siparia Spurs vs Guaya United, Fyzabad Petrotrin Sports Club Ground, 4pm;
FC Santa Rosa vs Bethel United, Arima Velodrome, 4pm;
Police vs Defence Force, St James Barracks (Inside field), 4pm;
WASA FC vs Cunupia FC, WASA, St Joseph, 5pm;
UTT vs 1976 Phoenix FC, UTT, O'Meara, 6pm;