The Trinidad and Tobago National Under-20 Team managed their first win of the 2017 CONCACAF Championships today with a 2-1 triumph over El Salvador at the Estadio Nacional in San Jose.
But it was not enough to stave off elimination from the Korea Republic 2017 Under-20 World Cup qualifying series, as hosts Costa Rica advanced at their expense with a 2-1 win over Bermuda in the later outing.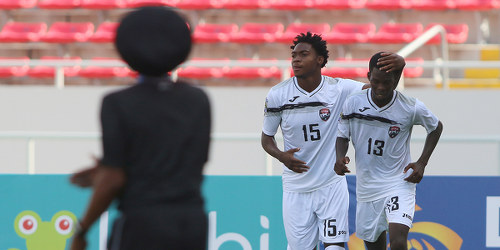 El Salvador, who qualified on Wednesday after successive wins over Costa Rica and Bermuda, are the other nation that goes through from Group C.
The result means that, with just six teams eliminated from the CONCACAF group stage, all five Caribbean nations—Haiti, Antigua and Barbuda, St Kitts and Nevis, Bermuda and the two island republic—were sent home. North American outfit, Canada, join them in the departure lounge.
An opening draw against Bermuda put coach Brian Williams' troops in trouble from day one and they were as good as gone after a 1-0 loss to Costa Rica in midweek.
Today, Trinidad and Tobago needed to beat group leaders El Salvador and hope that table proppers, Bermuda, managed an unlikely upset over the host nation.
El Salvador coach Eduardo Lara made things a bit easier for the boys in red, white and black strip as he made six changes to his squad in an effort to preserve legs for the second round.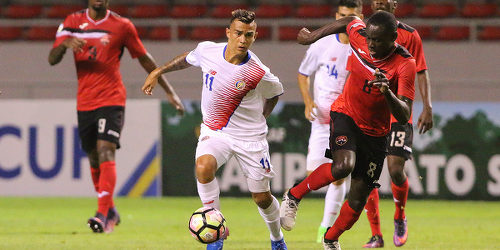 Despite their weakened team, El Salvador created the better chances for much of the first half as attacker Jose Contreras rapped the bar with a wicked 30 yard free kick in the 28th minute. And Trinidad and Tobago defender Shane Sandy showed his alertness to keep out a goal bound stab from opposing captain Roberto Dominguez, after goalkeeper Montel Joseph dropped an El Salvador corner kick.
El Salvador had another decent scoring chance in the 35th minute, as central Taryk Sampson allowed Contreras to slip away from him, only for recovering Trinidad and Tobago right back Isaiah Garcia to pressure the attacker into a wayward header.
The Caribbean team got their first clear sight of goal in the 40th minute and, from inside the opposing six yard box, captain Jabari Mitchell opted to pass off responsibility to striker Nicholas Dillon who was quickly closed down.
Mitchell atoned in fine style though, just two minutes into the second half, as he glided past El Salvador defender Oscar Menjivar with a feint before driving a sweet left footer into the far corner to put the young Soca Warriors ahead.
The lead lasted just three minutes before the ever-dangerous Contreras—in his first start of the competition—equalised as he ran clear through the centre, with the opposing defence in disarray, to prod home.
Williams had a trick up his sleeve, though, as he introduced wingers Noel Powder and Kathon St Hillaire off the bench after both started in the two earlier group matches.
And, within 30 seconds of his introduction, St Hillaire was beating his chest as he ran on to a threaded pass from Micah Lansiquot and buried past opposing goalkeeper Alan Carrillo. It was his second goal of the tournament and Trinidad and Tobago's third.
It might have gotten better still if Powder was able to get on the end of squared passes from St Hillaire or Dillon in the final 10 minutes. But the young Warriors held on for a 2-1 result.
In the end, it was no more than a consolation for Trinidad and Tobago though, as Costa Rica eliminated two Caribbean nations with one result as they came from behind to edge Bermuda 2-1.
(Teams)
Trinidad and Tobago (4-2-3-1): 20.Montel Joseph (GK); 2.Isaiah Garcia, 5.Taryk Sampson, 4.Shane Sandy, 3.Kori Cupid; 8.Kierron Mason (11.Noah Powder 68), 13.Micah Lansiquot; 16.Rushawn Murphy (7.Morgan Bruce De Rouche 79), 10.Jabari Mitchell (captain), 14.Josh Toussaint (15.Kathon St Hillaire 71); 9.Nicholas Dillon.
Unused substitutes: 1.Denzil Smith (GK), 6.Simeon Bailey, 12.Joshua Sitney, 17.Stephon Marcano, 18.Joshua Leach, 19.Taofik Lucas Walker.
Coach: Brian Williams
El Salvador (3-4-3): 18.Alan Carrillo (GK); 2.Oscar Menjivar (19.Josue Rivera 73), 3.Roberto Dominguez (captain), 4.Ronald Gomez; 16.Diego Chavez, 6.Diego Cartagena, 17.Walter Ayala, 20.Amilcar Bermudez; 11.Jonathan Aguilar (14.Marcos Rodriguez 14 [8.Hector Quinteros 62]), 10.Marvin Marquez, 12.Jose Contreras.
Unused substitutes: 1.Mario Gonzales (GK), 5.Josue Santos, 7.Kevin Reyes, 9.Brayan Paz, 13.Fernando Castillo, 15.Denilson Vidal.
Coach: Eduardo Lara
2017 Under-20 World Cup qualifiers
Group C results
(Saturday 25 February)
Trinidad and Tobago 2 (Jabari Mitchell 46, Kathon St Hillaire 71), El Salvador 1 (Jose Contreras 49) at the Estadio Nacional, Costa Rica;
Costa Rica 2 (Tehvan Tyrell 43 OG, Randall Leal 50), Bermuda 1 (Oneko Lowe 26) at the Estadio Nacional, Costa Rica.
(Wednesday 22 February)
El Salvador 3 (Roberto Dominguez 21, Fernando Castillo 65, Josue Rivera 67), Bermuda 1 (Mazhye Burchall 75) at the Estadio Nacional, Costa Rica;
Costa Rica 1 (Randall Leal 53), Trinidad and Tobago 0 at the Estadio Nacional, Costa Rica;
(Sunday 19 February)
Trinidad and Tobago 1 (Kathon St Hillaire 23), Bermuda 1 (Oneko Lowe 69) at the Estadio Ricardo Saprissa, Costa Rica;
Costa Rica 0, El Salvador 1 (Roberto Dominguez 65) at the Estadio Ricardo Saprissa, Costa Rica.