Does one glass of Bailey's on New Year's Day constitute excessive drinking for a professional athlete?
Phyllis Andrews, the "aunt" of 26-year-old Trinidad and Tobago National Senior Team defender Daneil Cyrus, insisted that national head coach Tom Saintfiet has defamed the Soca Warriors player. And she is urging Saintfiet or the Trinidad and Tobago Football Association (TTFA) to clear Cyrus' name.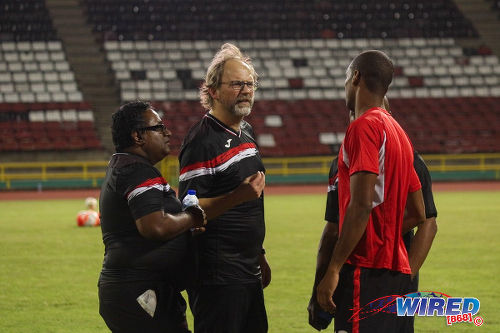 Saintfiet dropped Cyrus and 22-year-old national midfielder Jomal Williams and told the media that the players missed their noon check-in at the Cara Suites hotel on New Year's Day and smelt of alcohol.
"Two of the players came one and a half hours too late in camp and had still decent smell of alcohol around him (sic)," said Saintfiet. "That was Daneil Cyrus and Jomal Williams. Both were immediately sent home, back to party—but are replaced in the squad."
Aunt Phyllis admitted Cyrus was late for their residential camp in Claxton Bay. However, she is offended by the insinuation that the versatile W Connection player turned up for national duty reeking of alcohol.

"If [Saintfiet] says the other fella was drinking, he has to prove that too but that is their business," said aunt Phyllis. "You can drop [Cyrus] for any other reason but don't say he was stink of alcohol. That boy never came in my house stink of alcohol. And I open the door most of the time for him because he always loses his keys…
"So I want them to clear that up."
Cyrus did, she admitted, have a glass of Bailey's. The national defender told Wired868 yesterday he did not touch alcohol that morning. However, he confirmed that he had one drink.
She insisted there was a social context that should not be overlooked, though. It was New Year's Day and just one glass of "weak" alcohol. Don't players in England, Belgium and other European countries, she asked, have a drink to celebrate too—once they do not end up drunk?
"He slept by me that night and he left from my house to go to camp," she told Wired868. "We had a family lime and my children don't get to have much time with him anymore, so they are always happy when he is around.
"He had just one drink and they were laughing at him and saying 'Bailey's boy?!' I have all the alcohol in the world in house and he would hardly drink. All he would say is 'Ms Andrews, I am taking a shandy'.
"So I really, really take offence to this. This is tarnishing the boy's name."
Aunt Phyllis first opened her Santa Rosa Heights home to Cyrus a decade ago when the Plymouth-based teenager needed a place to stay in Trinidad to train with the National Under-17 Team.
She was friends with the mother of National Under-17 forward Stephen Knox. One day, Knox's mother introduced her to then National Team manager Chris De Silva who asked whether she would give a place to stay to a teenaged boy she had never met.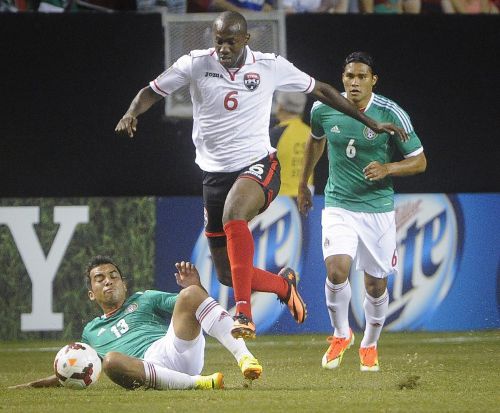 "[Knox's mother] asked me if I could take him and then Mr De Silva and Daneil's mother came and met me," said aunt Phyllis. "Daneil was 15 and he has been with me ever since. I have two younger children and everyone welcomed him with open arms, so we are all like family.
"If anything, my children felt I spoiled him. But they are like brothers and sisters."
Cyrus went on to play in two World Youth Cups for Trinidad and Tobago—the Korea Republic 2007 Under-17 and Egypt 2009 Under-20 World Cups—and cement his place in the National Senior Team.
Aunt Phyllis gave her account of what happened on New Year's Day, as Cyrus set off for his noon check-in time with his national teammates in Claxton Bay.
"He left [Santa Rosa Heights] about 11am and, when he was in the back of St Helena, he got a flat," she said. "So he had to call another partner [to come and help him since he did not have a jack]. He called and spoke to the manager [Azaad Khan] and the manager said: 'Okay come… The coach is really upset but still come'.
"[Cyrus] wasn't sure of the time [he spoke to Khan] but he thinks it was before 12… I know he left by me a little late and he could have been earlier. But he would have been on time, if not for the flat he had."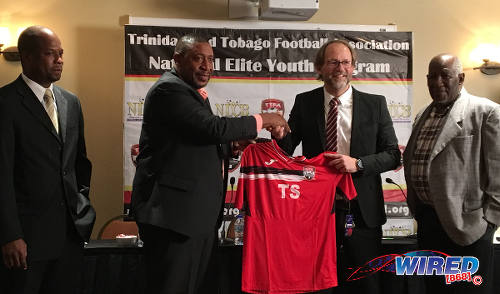 Aunt Phyllis said she called W Connection co-founder and TTFA president David John-Williams to complain today.
"I called John-Williams and he said he is not charge of the team and that is the [coach's responsibility]," she told Wired868. "But he said that could be fixed. He said: 'you know he has a reputation of being late for Connection practice'. But what does that have to do with this? I am dealing with the defamation of character with the [coach claiming the] boy was smelling of alcohol.
"I don't have a problem with him being dropped for being late. But not for alcohol."'
Wired868 asked John-Williams to confirm if he said said Cyrus' issue could "be fixed" and what he would have meant by that. But, although he read the message, he did not respond up to the time of publication.
The website was unable to get further comment from Saintfiet, Jomal Williams or national team manager Azaad Khan.
The Soca Warriors face Suriname from 7pm at the Ato Boldon Stadium on Wednesday in the first game of a round-robin series, which also includes Haiti. One of the three nations will advance to the next Gold Cup playoff round against Central American opposition.