Javelin thrower Keshorn Walcott, writes Kwame Lawrence in the Trinidad Express of Monday August 22, "is threatening to become an all-time great in the event."
So whether or not you think it is a celebration of "mediocrity," no one can reasonably find fault with the Ministry of Sport and Youth Affairs' full-page advertisement on Page 55 of the following day's Express celebrating the 23-year-old Toco-born Walcott's bronze medal achievement.
"Congratulations Keshorn," it blares.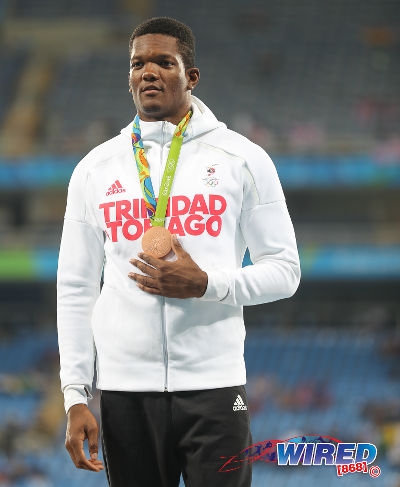 But don't we owe it to ourselves to ensure that our public tributes are not marred by silly mistakes?
As we see in "Friends, Romans, countrymen, lend me your ears," a vocative comma should separate what is said from the person(s) to whom it is said. Was Sport Minister Darryl Smith absent on each of the days when that particular use of the comma was taught in primary school, in secondary school and in university?
Okay, sorry. I understand; I'm being unfair. It is not the responsibility of sport ministers to vet advertisements written by and/or on behalf of their ministries.
The lower portion of the ad features a photo of Minister Smith in the left-hand corner. On the right of the photo is a quotation, a part of which I reproduce here:
INSPIRING A NATION, REPRESENTING US ALL
"The young hero from Toco has once again brought joyous acclaim to his country. Keshorn has been training quietly at home at the Hasely Crawford Stadium, with his coach Ismael Lopez Mastrapa. His focus, dedication and discipline in the lead-up to the greatest sporting event in the world, ensured he arrived in South America, ready to compete and challenge to be on the podium."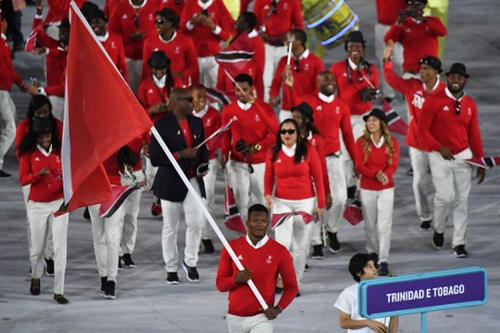 His focus, dedication and discipline (…) in the world, ensured (…)? What is that comma doing between the subject and the verb? Does John 11:35, the Bible's shortest verse, need a comma between "Jesus" and "wept"?  
Clearly it wasn't just the vocative comma lesson that the Minister missed!
To those who repeat the defence that it is not the Minister's responsibility to vet ad copy, I point out that the quotation was taken from the Minister's message of congratulation to Walcott. And I add that surely it is the Minister's responsibility to select competent people to ensure that he does not have to do everything himself.
Which raises awkward questions about the current Prime Minister, there being several members of his Cabinet apparently far more comfortable under the electorate's radar than on it.
And there are questions too about the former prime minister. In an oblique but transparent attempt to claim the double Olympic Men's Javelin medal winner's successes in London and Rio as UNC achievements, Legal Education Certificate holder Kamla Persad-Bissessar, S.C., B.A. (Hons.), Dip. Ed., LL.B (Hons.), EMBA, XPM, also issued a media release congratulating the country's only medal winner at the Games of the 31st Olympiad on his accomplishment. Not once but twice, she managed to colour her verbs green.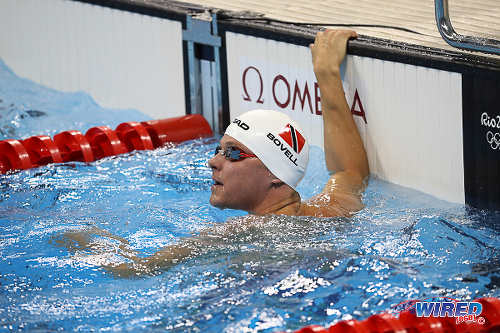 "I wish to congratulate Keshorn Walcott on his award-winning performance at the Rio Olympics," the release begins. "He has done Trinidad and Tobago proud, as has all his fellow athletes who competed in these games."
"I urge all of us to follow their example of courage and their conviction," it ends, "and for demonstrating that nothing is impossible when one follows one's dreams and have no fear of failure."
It might be that the former university lecturer who once had the honour to lead this two-island naytion really hasn't quite mastered the English language just yet. That's not inconceivable in a naytion whose National Anthem contains a clear grammatical error ("find an equal place") and where two ministers of education have earned notoriety with memorable lapses ("paradigim" and "breakfasses.")
But who wants to believe that?
Politics having a morality of its own, it must be that the green colour of her verbs are a signal to erstwhile-enemy-become-former-friend-reverted-to-firm-foe Jack Warner, the de facto ILP leader, that she's ready for a reconciliation.
(And if you didn't notice that "are" in that last sentence is also a green verb, perhaps you will now be more sympathetic to those who sometimes appear somewhat colour-blind as far as verbs go.)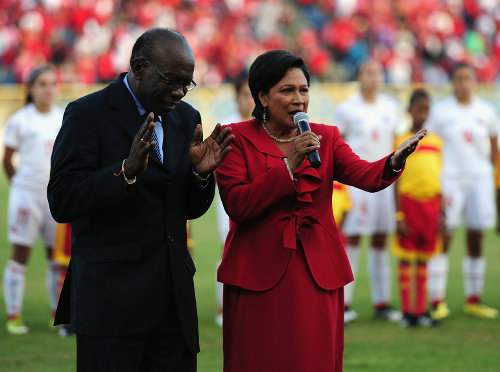 And so, back to Rio. Saturday's back page lead story in the Trinidad Guardian refers to Walcott's "memorable and shocking victory in London." And the Express' report on the same day mentioned the Rio bronze medallist's "shocking victory in London."
The English dictionary seems to suggest something disapproving in the use of the adjective 'shocking' and so my own tastes favour "shock victory."
It is a distinction which calls to mind a relevant juicy story about the lexicographer Noah Webster.
The famous dictionary compiler, runs the Internet tale, had a secret libertine inclination. One day his wife returned home and was shocked to discover him caressing and osculating the chambermaid.
"Noah!" The wife cried out, "I am surprised!" 
Stunned, the man immediately engaged his reflexive thought patterns. 
"My dear, you must study our beautiful language more closely," he replied, "It is I who am surprised, you are astonished."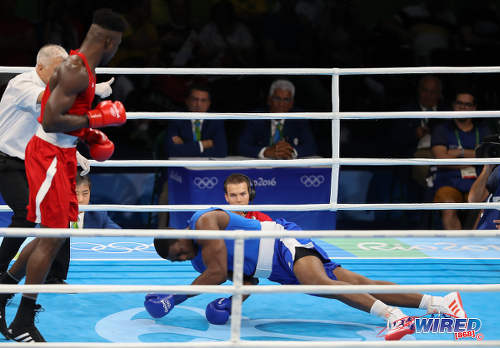 Such subtleties of language, Raucous in Rio has already remarked, did not seem to be within the capabilities of Grace Jackson and Felix Sanchez, the pair of Caribbean ex-athletes hired by ESPN to provide colour commentary and conduct post-race interviews respectively. But RiR omits to mention that most people in his circle would take Sanchez's dry-as-dust dullness over the sublime silliness of the soprano with the predilection for polysyllabic vocables whom TV6 chose to conduct its live interviews in London 2012.
RiR has also so far largely steered clear of the controversy spawned by the protracted presence on the ESPN set of Dr Ian Hypolite, the extremely knowledgeable chef de mission of the T&T contingent.
For me, like the mutterings about the Trinidad and Tobago Olympic Committee's "10 golds by 2024" initiative, that issue is a storm in a teacup. Had Walcott repeated in Rio or Machel Cedenio produced a "shocking victory" in the 400m or Michelle-Lee Ahye in the 100 or 200m or one of the relay teams in the 4 x 100m or the 4 x 400m, we should have heard nary a negative word about Dr Hypolite or about TTOC President Brian Lewis' unrealistic optimism.
But even in the absence of the hoped for successes, can the criticisms be justified? I think not. According to Andre Baptist (sic) quoting Dr Hypolite in the Guardian of Sunday August 21, the erstwhile athletics coach "was interviewed for the position at ESPN before accepting the role as chef de mission" and "Lewis, president of the TTOC, (…) gave his blessing that I could function in the chef de mission role given this assignment."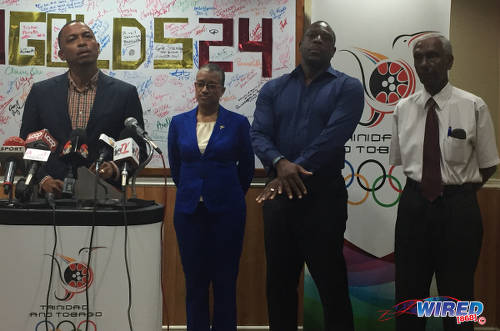 So when the post-mortems are over and, as is the wont, all is said but little done, perhaps we shall hear that that view too was nothing but "an aspiration." In the meantime, we perhaps have something more concrete to cling to.
In his message of congratulation to Walcott, the media have told us, PM Rowley affirmed that, "In four years' time, we will shine in Tokyo 2020."
I say "perhaps" because here is the last sentence of Kim Boodram's Page Four story in Tuesday's  Express, headlined "Rio was bad for everyone," ended: "He (Lewis) said the (Trinidad and Tobago Olympic) committee was already looking at training for the Tokyo 2020 Olympics and conceded that different results could be expected by "doing the same things over the next four years"."
Wanna bet that is NOT what the TTOC president said?
So not me and the conventional media, mih dear! They just keep right on mediaing. To quote my favourite i95.5 line which comes from the Mr Nixon advertisement for his "Deh go kill we" segment, "They will kill us!"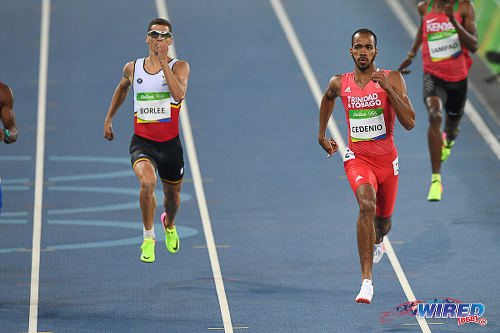 Editor's note: Earl Best highly recommends, to all sections of the press, Dr Roydon Salick's new Getting it Right text, which identifies no fewer than 29 uses of the comma.