Well, if we are being honest, Marisa Dick's Rio 2016 Olympic berth looked pretty slippery, even before she got up on the uneven bars today.
Dick's Olympic tryst, which was history in the making for Trinidad and Tobago gymnastics, was short and bittersweet.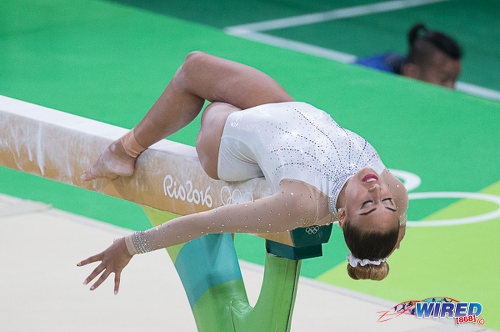 She executed the "Dick mount" en route to 13.066 points on the beam while there was a solid showing on the vault, as she got flipping 13.900—bear in mind that 13 to 16 are considered good scores.
But Dick managed just 12.533 on the floor and slipped off the bars before producing a sloppy finish for 11.333.
Her total score of 50.832 was less than Jamaica debutante Toni-Ann Williams' 50.966. And Dick and her compatriot, Thema Williams, beat Toni convincingly at the Glasgow 2015 World Gymnastics event.
Of course, Trinidad and Tobago sport fans were generally unhappy that Dick was in Rio in the first place, after the Canada-born teenager and her mother Hannifer classlessly petitioned the Trinidad and Tobago Gymnastics Federation (TTGF) to send her to the Olympics at the expense of the properly qualified Thema, who they claimed was injured.
As if a dodgy tendering process is not quintessentially Trini!
Still, Mr Live Wire must admit to having mixed emotions today. It was sort of like seeing that annoying work colleague tumble and fall comically in the office… Only to realise that the numbnuts knocked over your lunch while they were at it!
There was one oddity from Dick's scores today that stood out for not quite standing out though.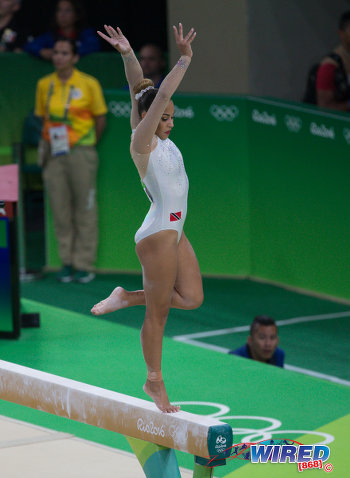 A peruse of Dick's major international appearances showed that she managed 49.232 points at the 2013 World Championships, 51.499 at the 2016 World Championships—supposedly with a bruised rib—51.365 at the April 2016 Rio Test Event (with jet lag) and then 50.966 at the August 2016 Olympic finals when there was no excuse left.
So exactly when has Dick demonstrated the tremendous form that TTGF president David Marquez felt justified getting her to the Olympics at any cost?
Isn't it ironic that Dick's best score at a major competition so far apparently came when she was carrying an injury? Or that Jamaica's Toni-Ann beat her with a sore knee that was heavily bandaged?
Fellow Trinidad and Tobago athlete and former Olympic bronze medalist, George Bovell III, went, as the kids say, "balls in" on Twitter:
"Robbing others of the fruits if their honest work makes you a cheater, not just failing a drug test. You will have to live with yourself!"

"It's laughable when cheaters who escape detection by covering up their dirty deeds actually think that they are good athletes."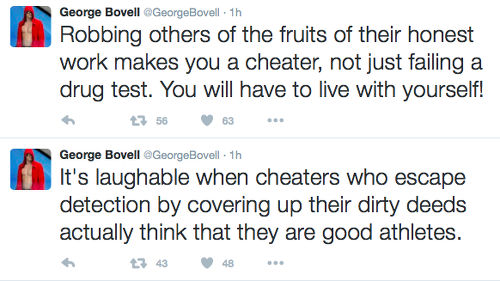 Bovell the Third subsequently suggested that his tweet was in reference to a dodgy swimmer but it almost certainly fell in more than one athlete's garden in Rio yesterday evening.
Thema also made a rare show of emotion as she tweeted "Poetic Justice" soon after Dick's performance but quickly deleted the post from her social media account.
In truth, Thema only had to post her score of 52.466 at Glasgow. Because her rival has never gotten close to that performance at a major tournament.
But, exhale, that's out of the way and Trinidad and Tobago can put juvenile puns aside and really drape itself in the Olympic spirit now. And by that Live Wire does not mean you should catch Zika.
Felice Chow's Single Sculls Repechage event was postponed today, so she rows from 8.40 am tomorrow while Andrew Lewis competes in the Laser Men's sailing contest at just after 1 pm.
Chow-down and Laser Lewis! Let's go T&T!