Trinidad and Tobago's 4×100 metre relay quartet of Richard "Torpedo" Thompson, Keston Bledman, Marc Burns and Emmanuel Callender finally has the silver medals to match the performance at the London 2012 Olympic Games. But whether the sprinters have the 'right reward' to go with their silverware is another story, which continues to frustrate the track team.
"Receiving compensation fitting for the silver is an issue that we have not directly discussed with the Minister of Sport [Darryl Smith] as yet," Thompson told Wired868, after the ceremony on 29 June 2016. "I expect that in the near future, we will get together to see what can be done.
"I believe that it is only fair that our efforts to fly the flag with honour and integrity is something that should be shown respect."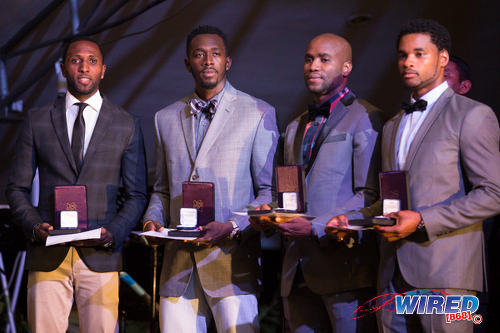 At the London Olympics, the team of Bledman, Burns, Callender and Thompson was fourth across the finish line in the 4×100 final on 11 August 2012. However, a disqualification for lane violation by Canada sprinter Jared Connaughton saw Trinidad and Tobago elevated to third place and the quartet returned home with bronze medals.
The Trinidad and Tobago Government rewarded them with TT$300,000 each for their achievement.
It subsequently emerged that United States sprinter Tyson Gay tested positive for performance enhancing drugs at the event and, three years later, the US team was also disqualified.
On 29 June 2016, the International Olympic Committee (IOC) sent four silver medals to Port of Spain for the Trinidad and Tobago speedsters. And Bledman, Burns, Callender and Thompson were officially recognised—in a conference attended by President Anthony Carmona and Sport Minister Darryl Smith, no less—as the second fastest team at the London Olympics.
But what the quartet wants to know is: Shouldn't a second place finish merit a second place reward?
After the Beijing Olympics, the Trinidad and Tobago 4×100 team finished second and received TT$750,000 each for their troubles from the then government—they claimed that there was a financial promise before the 2009 World Championship too, although they never received any returns on their silver at the Berlin event.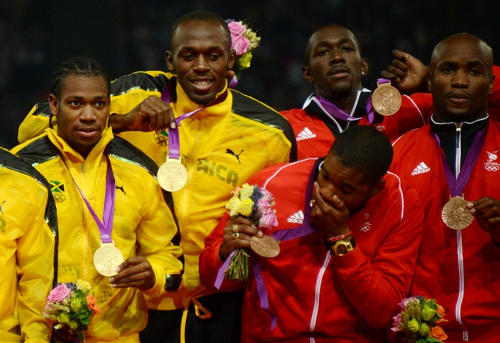 Callender, who pointed to the flow of taxpayers' money through the Sports Company of Trinidad and Tobago to criminal elements during the controversial Life Sport programme, said their protests are largely about respect for local athletes.
"I think we are all taken for granted in what we have accomplished and we [are] downplayed, disrespected and swept under the rug, two weeks after any accomplishment we have attained. Then it's on to the next thing.

"Then when we ask for funding, they say we are not elites because we are not ranked in the top 40 in the world. But yet we have one of the three medals in the world everyone is fighting and doping to get."
Burns agreed. The former El Dorado Senior Comprehensive student was 18 years when he competed in his first major senior global track final at the Edmonton 2001 World Championships and snared silver in a 4×100 metre relay team that included track icon Ato Boldon, Jaycey Harper and Darrel Brown.
Fifteen years later, Burns is, arguably, Trinidad and Tobago's hardiest sprinter of all time. Certainly nobody else competed at the very top for so long—there were 12 years between Boldon's first and last major senior international tournaments.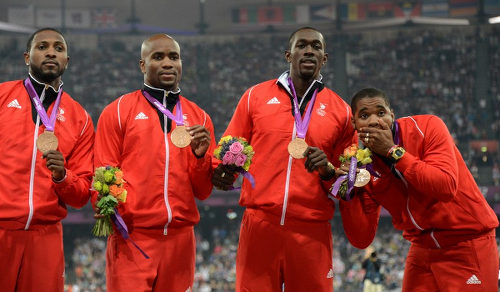 Burns added four more coveted silver medals, two at the 2008 and 2012 Olympics and two at the 2005 and 2009 World Championships, to go with silver at the 2003 Pan American Games and two bronze medals at the 2006 and 2014 Commonwealth Games.
From Burns' haul of eight senior medals, only one, bronze at the Melbourne 2006 Commonwealth Games, was won in an individual event.
His inability to grab the spotlight for himself meant that he—like Callender—has had to survive in the fast lane without the same financial support that his more illustrious colleagues enjoyed.
"To get your full TT$250,000 [subvention from the Ministry of Sport under the Elite Athlete Assistance Programme], you have to be [ranked] in the top ten," said Burns. "And even then, you get that just before a championships when it is supposed to be for preparations."
Retired sprinter Aaron Armstrong, who was a member of Trinidad and Tobago's 4×100 metre team in Beijing, said the Elite Athlete Assistance Programme (EAAP) was riddled with problems and, possibly, corruption.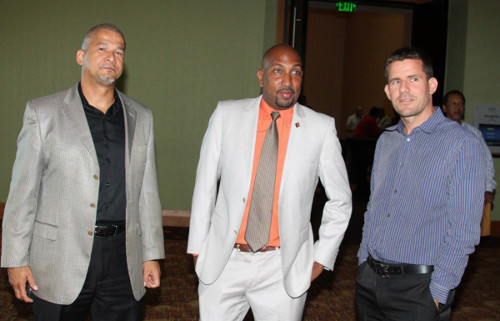 He claimed that Trinidad and Tobago athletes often received much less than the money allocated to them. But they stayed silent for fear of being blacklisted.
"Through the years, we all struggled with finances and other adversities [and] the funding that we received came so late that we all were in debt," Armstrong told Wired868. "We had coaches that charge US$10,000 (TT$66,500) and […] some top athletes didn't even receive money although the ministry said they did…
"So when we ask about monetary gifts, it's not that we are being ungrateful. It's what is owed to us."
Callender sang from the same hymn sheet.
"Sometimes you get funding so late and you have to pay back all who you owe and borrowed from just to represent your country with pride," he said. "If the truth be told with what happens and why most of the athletes drop off and how much they put on the line for the people of the country, and, when they speak out, they are blacklisted for speaking the truth. If people knew the truth, they would cry.
"Years now, we have been asking for shelter over our heads and, up to this day, nothing prevailed. But yet they say the country owes you nothing."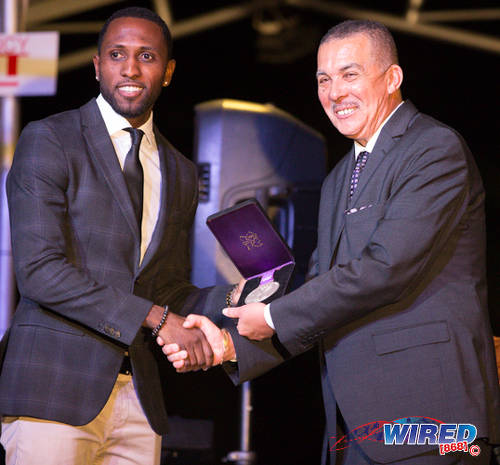 In fact, the government did offer HDC houses to the sprinters. But they would have to make their downpayment and pay mortgages like everyone else. Burns and Callender baulked at the idea.
"How are we to pay for it when our job is to train and prepare for the Olympics and whatever championships there is?" asked Callender. "We, the athletes, are representing a nation, correct? We go out and fight for country and the people of Trinidad and Tobago and we are proud to do that as I said before.
"But how is it that all the perks go the people who, if you check their resumes, you will see corruption in capital?"
But what about the athletes' own earnings through appearance fees at lucrative track meets?
Again, Callender explained the financial disparity between the world's elite sprinters and those who, despite being among the faster runners in the world, are just a fraction of a second slower.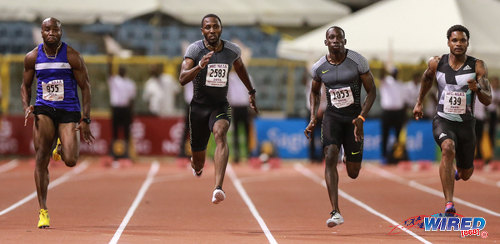 "On the track circuit or Diamond League, an appearance fee is paid to athletes who have hardware," he said, "but not everyone can get in.
"As you can see, there are only eight lanes."
The 4×100 metre quartet faces an uphill task in persuading the government to better their financial reward in the same manner that the IOC upgraded their bronze medals. For one thing, the government has never designed a set figure for rewarding sporting success and such a scale is bound to be controversial.
Late Prime Minister Patrick Manning gave TT$1 million each to the 23 Soca Warriors players and head coach Leo Beenhakker and TT$250,000 to the rest of the technical staff for qualifying for the Germany 2006 World Cup, although they were eliminated in the first round. Nobody would expect a similar pay out for being the eighth fastest sprinter in the world while local cricketers compete globally under the West Indies banner.
And, just as important, Trinidad and Tobago is operating with a deficit budget at present due to low oil and gas prices.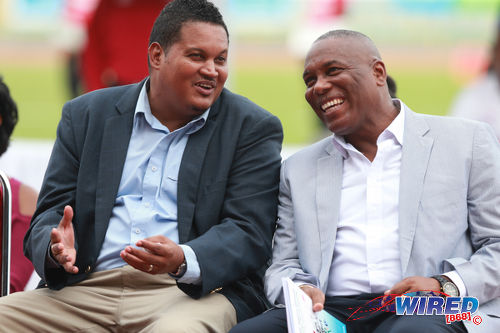 In 2015, even before the country's financial woes became obvious, NAAA president Ephraim Serrette felt the sprinters were on shaky ground. Although Serrette supported the call for a clear government policy on rewarding athletes, he said the local athletic body would not petition on their behalf for a larger pay off.
"It is up the whims and fancies of the government of the day," Serrette told Wired868, in a previous interview. "There is nothing we can do… We don't approach the government on that. This is the first time that any athlete has written concerning anything about rewards…
"There is definitely a need for a policy to be put in place so we will avoid this kind of thing… Whether they have a case, I would yes and no. Because of the lack of a written policy it will always be difficult."
Trinidad and Tobago Olympic Committee (TTOC) president Brian Lewis introduced a prize structure under the local sporting body last year which will pay:
Individual gold medal winners US$10,000 (TT$66,400), followed by US$8,000 (TT$53,000) and US$5,000 (TT$33,000) for silver and bronze medals respectively;
Teams will split US$20,000 (TT$132,700) for gold; US$15,000 (TT$99,500) for silver and US$10,000 (TT$66,400) for bronze.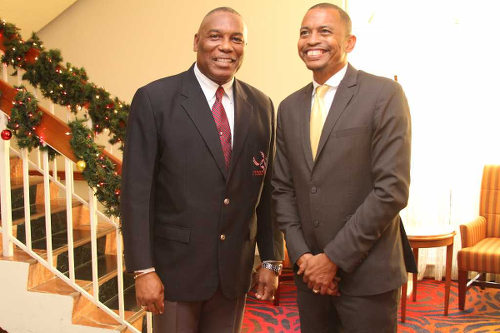 "The introduction of medal bonuses is an essential component of the ten or more Olympic Gold medals athlete welfare and preparation programme," stated Lewis.
But Trinidad and Tobago's athletes are being offered far greater riches by a new United States-based body called the Olympians Athletic Union, which is headed by disgraced former sprinter Alvin Harrison.
Harrison has a chequered history. He was a member of the US 4×400 metre gold medal team at the Atlanta 1996 Olympics and got an individual silver medal at the Sydney 2000 Games. But in 2004, Harrison admitted to steroid use and the IAAF gave him a four year ban.
At one time, Harrison lived on the streets of San Diego after the recession hit in 2008 while, in 2011, he served four months in jail after pleading guilty to felony drunk driving charges—he later claimed his twin brother, Calvin Harrison, was behind the wheel.
Now, Harrison hopes to recreate himself as a union boss.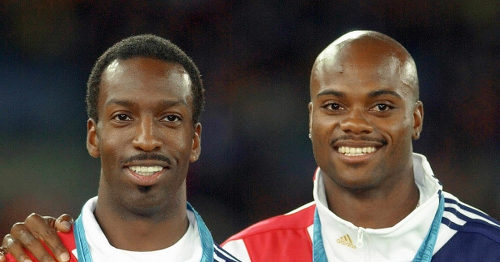 The Olympians Athletic Union claims, supposedly based on tax filings, the IOC pocketed over US$5 billion in gross revenue for the London 2012 Olympics while its athletes did not receive a cent from the lucrative broadcast rights and ticket sales.
Harrison suggested a payment scheme that would see finalists in all 26 track and field events earn between US$100,000 (TT$660,000) and US$5 million (TT$33.2 million) for individual events and US$500,000 (TT$3.3 million) and US$5 million (TT$33.2 million) for relay teams of between four to six members—irrespective of event or gender.
In return, he wants athletes to make the union their "exclusive bargaining representative in negotiations for Olympic Prize money restructuring and compensation." And, of course, he warned that they must be prepared to warm up for an Olympic final but then refuse to compete.
"You will see the amount [of] power you have," stated Harrison. "Standing together, we can get you what is rightfully yours, what you have rightfully earned and what you rightfully deserve!!!"
It is uncertain whether the Olympians Athletic Union has made any headway among the world's athletes. But, in the current scenario, it is not unfeasible that the IOC will have to grapple with a union in the foreseeable future.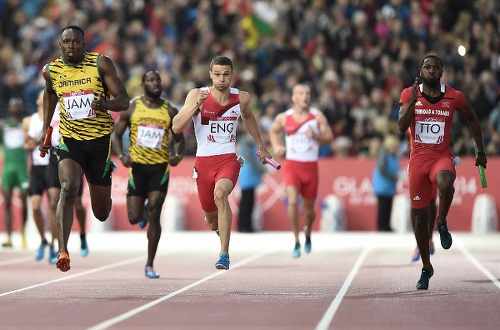 Armstrong thinks Trinidad and Tobago athletes, who rise to be among the best on the planet in their field, should not have to compete with so much uncertainty around their financial wellbeing.
"What I think the guys should get is something meaningful," said Armstrong. "Something they can retire with and have to show their accomplishments: [like] a house, retirement money, some kind of endorsement, diplomatic passports. Something great."
For now, Bledman, Burns, Callender and Thompson, who all hope to compete in Rio, are allowing themselves a pat on the back for their efforts in London, four years ago.
"I feel great cause I earned it the right way, whatever anyone else thinks," said Callender. "My God is awesome and we all have put in a lot of work to attain it clean, thanks to God. We would have preferred [to get] it in 2012 but a win is a win, so still thanking papa God."
Thompson pointed out, though, that Gay's cheating might have hit Trinidad and Tobago's 4×100 team in the pocket.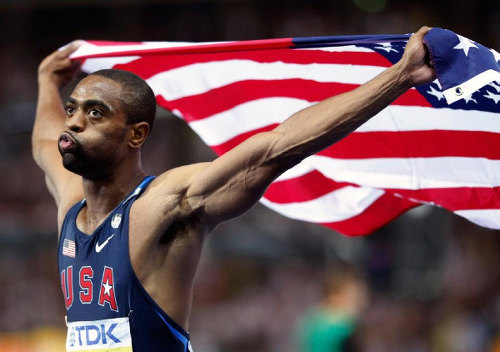 "There's no doubt that being awarded an Olympic medal is a moment to be proud of. But at the same time, crossing the line second and standing at the second position on the podium would have been far more gratifying than a retroactive reward ceremony…

"It's that moment of glory that people cherish for the rest of their lives, far more than an upgraded medal being handed to you eight years later. The flag being raised, hearing our anthem, coming back home to the fan fare, monetary rewards and endorsement opportunities… All lost."
At last week's ceremony, President Anthony Carmona lauded the four sprinters and urged them to continue to do their country proud.
"Victory without sportsmanship and fair play is a pirate victory," said Carmona. "So as our sporting ambassadors to the world, always always always play fair, compete fair, and win fair!"
Thompson, Bledman, Callender and Burns believe that the government has a duty to be fair to them too.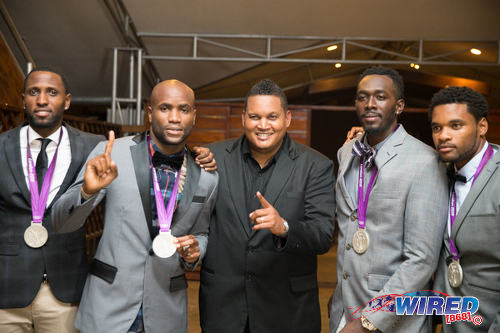 "Having the government reward the team for its clean and honest efforts to make the country proud," said Thompson, "would be a prime example of what is expected from the next generation of Trinidad and Tobago."