Campaigners for permitting policemen to take home their firearms would have pointed in glee at the newspapers this morning, as a would-be bandit was shot dead while trying to rob a group of gamblers in La Horquetta.
Persons against arming off-duty policemen would feel just as justified by the same story.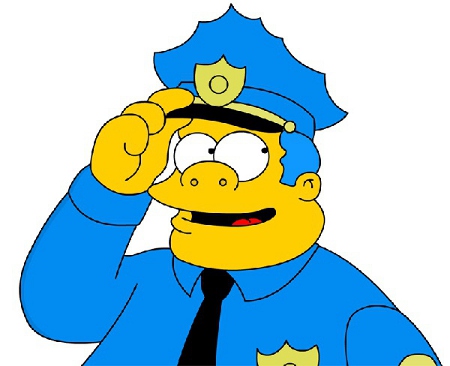 According to media reports, 19-year-old Kayode Edwards and two accomplices stormed a gambling room at a private residence in La Horquetta, which was outfitted with a roulette table, and tried to rob patrons.
Edwards was shot dead by an off-duty policeman, attached to the Maraval Police Station, who was on the scene. There is no suggestion—and little chance—that the armed off-duty policeman was at a licensed "casino."
Is there any national good being served by arming policemen—at taxpayers' expense—to protect illegal establishments?
Should the headline really read: Hero cop foils robbery on night off?
Or: Rogue cop slays teen while defending illegal gambling den in Gov't housing scheme?
The devil, goes the cliche, is in the details.
Since national security issues are prominent these days—well, when are they not?—Mr Live Wire looked for some more news to re-caption.
A Police Public Affairs Unit release, issued on 11 September 2014, advised the media that: "with respect to the shooting involving the Police at St Barbs, we would like to the inform that the diseases name is not Michelle Duncan (as) previously stated…"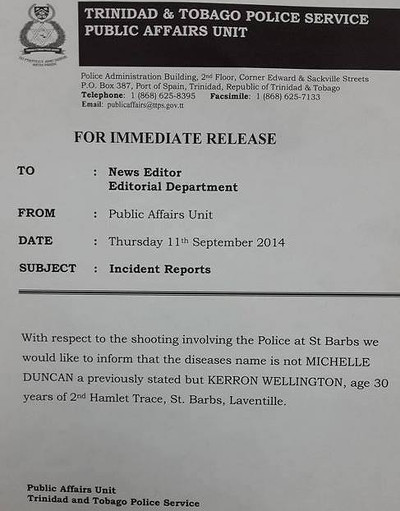 We would go with: "Police grammar infected by mystery disease."
The Police Service pounced on unsuspecting football fans on Tuesday evening and subjected them to a potentially dangerous march into the Hasely Crawford Stadium to see the "Soca Warriors" play the United States.
Live Wire: "Police terrorise T&T fans before ISIS gets the chance."
But then sometimes we are perfectly capable of terrorising ourselves without the help of police, bandits or religious nutters.
In the wake of terrorist attacks on Paris, some have taken to intruding on the walls of sympathisers to explain that they refuse to care about French victims until an unspecified amount of concern is shown to other terrorist victims and France is more generous to its former colonies.
Headline: "Facebook activists mock slaughtered Frenchmen to encourage global love."
Happy weekend, everyone!