Beaten 1-0 by Bethel United on the weekend, WASA FC bounced back to trounce another Tobago outfit 3-0 yesterday in Match Day 10 action of the CNG National Super League's Premier Division.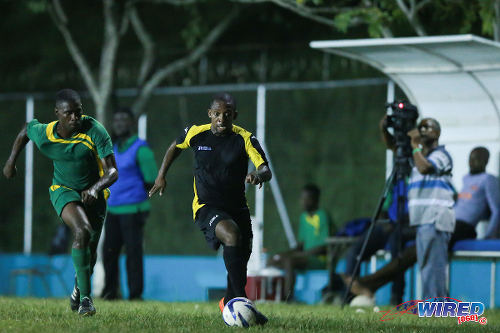 Perhaps more comfortable on their home compound in St Joseph than in Tobago, WASA thoroughly outplayed their cellar-placed visitors but were maybe a little lucky to end up with three unanswered goals.
The St Joseph-based side enjoy some "Soca Warriors" influence in the form of head coach Shurland David as well as attackers Gary Glasgow and Hayden Tinto. The quality and experience of the latter duo showed through throughout the contest and they were involved in all of the more prosperous WASA moves.
Along with fellow midfield schemer Kevon Henry, Tinto controlled the flow of the game while Glasgow terrorized the opposing wing-backs, helping himself to a goal and an assist in the process.
Although WASA eased to victory, they might have fallen behind within the first 60 seconds of the match were it not for an alert Anthony Alleyne between the uprights. The stocky custodian showed that his reflexes were razor sharp, reacting speedily to keep out an instinctive effort by Stokely Vale's Akim Baynes.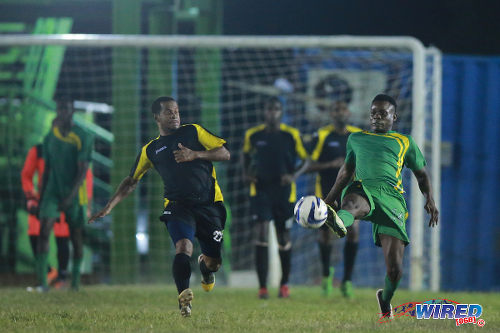 Unfortunately for the Vale, Ryan Stewart in their goal proved to be not quite so sharp early on, allowing a speculative right-sided cross to fall between him and centre-back Samuel Quamina. A predatory Jahhan Hernandez slipped in and tapped home, driving the visibly livid Stewart to launch a verbal attack on his defender, who had failed to respond to his "Away!" shout.
During the first half, the two WASA midfield 'generals' were faced with a very congested terrain around them. The result was that much of the team's play was directed to the right flank where Glasgow repeatedly teamed up cleverly with right-back Sheldon Nesbitt.
Streaming down that flank in attacking waves, however, the homesters still could not find that all-important killer goal. But the Glasgow menace increased steadily and in the 38th minute he produced some silky skills to leave the goalkeeper for dead. The move really deserved a far better finish than he was able to produce.
Despite WASA's domination of the first-half ball possession statistic, the scores would have been level at the break had their guests shown themselves to be rather more grateful.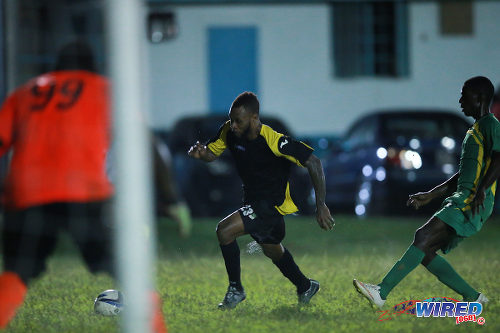 Offered a gift in the 27th minute in the form of an errant back pass from Cleveland Cambridge, one-on-one with Alleyne, midfielder Akeilon Murphy fluffed his lines. Moments later, the guests spurned another gift as Baynes turned an inviting Khrishawn Joseph cross wide from point blank range.
The second half mirrored the flow of the first as WASA dictated most of the possession and Stokely Vale settled to hit on the counter-attack. Joseph and winger Shannon Sandy wasted glorious chances and it cost their team.
In the 72nd minute, Glasgow, now operating as the main striker, was on the receiving end of a crunching interception by Cambridge before beating his marker and curling a fine right-footed shot goalwards. When Stewart managed only to parry it into the path of Hernandez, the winger obliged with another simple finish.
The contest had more than one moment of controversy as WASA substitute Dorian Daniel was accused of throwing an elbow in the dying moments. And Stokely Vale's Joseph, who had already received a yellow card for an apparent stamp on Nesbitt, even single-handedly took on the entire WASA backline after a hard tackle on his skipper, Travis Winchester.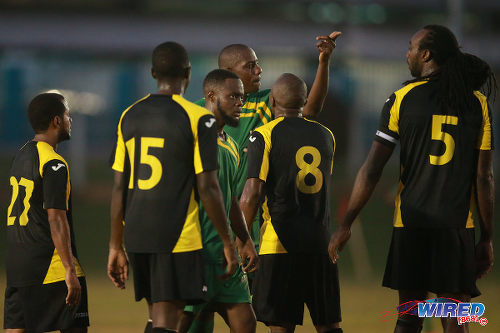 At the other end, Glasgow ignored the drama to hammer home a left-footed shot in the fifth minute of stoppage time.
That got his name on the scoresheet and pushed his side up to fourth on the table.
(Teams)
WASA (4-1-4-1): 34.Anthony Alleyne (GK); 24.Sheldon Nesbitt, 5.Akil Harley (captain), 22.Justin Garcia, 15.Cleveland Cambridge; 8.Kevon Henry; 23.Gary Glasgow, 9.Akil Guevara (111.Michael-Lee Celestine 46), 27.Hayden Tinto, 10.Jahhan Hernandez (18.Dorian Daniel 82); 19.Kirth Hutchinson (20.Dillon Peterson 46).
Unused Substitutes: 35.Waldo Diaz (GK), 16.Kylon Gay, 21.Dominic Hutchinson, 30.Mario Kissoon.
Coach: Shurland David
Stokely Vale (4-2-3-1): 99.Ryan Stewart (GK); 14.Kareem Phillips, 2.Jevon Williams, 28.Samuel Quamina, 24.Shaquille Gibson (64.Kevin Thomas 64); 7.Travis Winchester (captain), 26.Calvin Chapman; 19.Shannon Sandy, 10.Khrishawn Joseph, 16.Akeilon Murphy; 8.Akim Baynes.
Unused Substitute: 1.Brandon Roberts (GK).
Coach: James Campbell
Referee: Larry Lalchan
Man-of-the-Match: Gary Glasgow (WASA FC)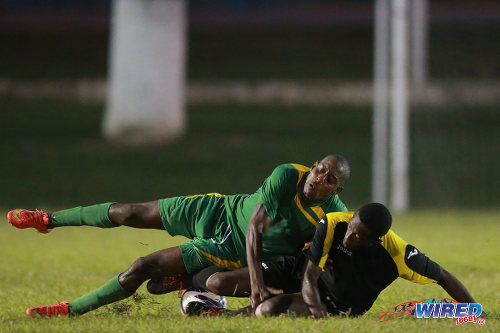 CNG NSL Premiership Division results
(Thursday September 3)
WASA FC 3 (Jahhan Hernandez 4, 72, Gary Glasgow 90+5), Stokely Vale FC 0, WASA grounds, St Joseph;
Real Maracas FC 1 (Ricardo Bennett 81), Bethel United 3 (Carron Williams 35, Dominique Roberts 74, 89), Maracas Recreation Ground;
NLCB La Horquetta SA 1 (Kern Roberts 73), 1976 FC Phoenix 2 (Steffano Wright 49, Shelton Williams 90), Larry Gomes Stadium;
Club Sando Moruga 2 (Shaquille Holder 35, 89), Petrotrin Palo Seco 2 (Sylvester Teesdale 58, 65), Grand Chemin Recreation Ground;
Guaya United 3 (Ryan Stewart 4, 68, Kheelon Mitchell 90), Police FC 2 (OG 60, Dwight Elliot 87), Guaya Recreation Ground;
Defence Force FC 2 (Michael Edwards 7, Josimar Belgrave 42), Marabella Family Crisis Centre 3 (Levi Garcia 2, Husani Thomas 32, Kevin Moodie 87), Ato Boldon Stadium;
FC Santa Rosa 2 (Rashad Griffith 48, Christian Young 86), Matura ReUnited 0, Marvin Lee Stadium.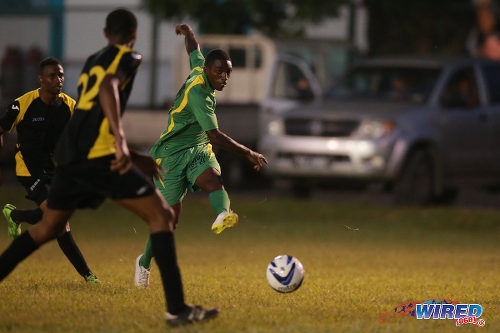 Upcoming fixtures
Championship Division
(Tuesday September 8)
Saddle Hill Hotspur v Malabar FC, Hasely Crawford Stadium training field, 4.15 pm;
Petit Valley United FC v Barrackpore United SC, Northern Recreation Ground, Diego Martin, 6 pm;
QPCC v Cunupia FC, Queen's Park Oval, 6 pm;
Xtra Foods Chaguanas FC v UTT, New Settlement Ground, Chaguanas, 7 pm;
Edinburgh 500 FC v Prisons FC, Edinburgh 500 Recreation Ground, 7 pm.