The inaugural Women's Premier League (WPL) is now in the books and Boom Champions Fuego was crowned champion after battling to a nail-biting 2-2 draw with CNGC Rush last night at the St James Barracks.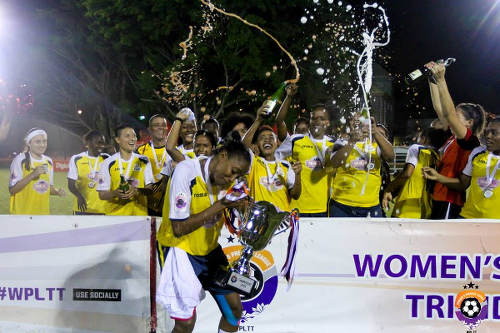 The Chancellor Angels, who were level with Fuego on points and goal difference at the start of the night needed to win their clash with the SCG Dragons or, at least, hope for Fuego to slip up against Rush to secure the WPL title. They got neither.
The Angels failed to subdue a gritty Dragons outfit and could only muster a 1-1 draw in their tense matchup. Costa Rican midfielder Jazmin Elizondo scored her third goal in only her second game for the Dragons before Vincentian winger Kandace Franklyn scored what looked like a momentum-shifting equalizer for the Angels.
In the end, the two teams wasted a host of second half chances which saw them both denied 'goals' due to the offside flag. The woodwork was even rapped a few times. But the onion bag wasn't; not legitimately anyway.
The stalemate between Angels and Dragons meant Fuego had destiny in their own hands at the start of the evening's second encounter.

"I told the girls our fate is in our hands," Fuego coach Richard Hood told Wired868. "If we want this title we have to go out there and die tonight."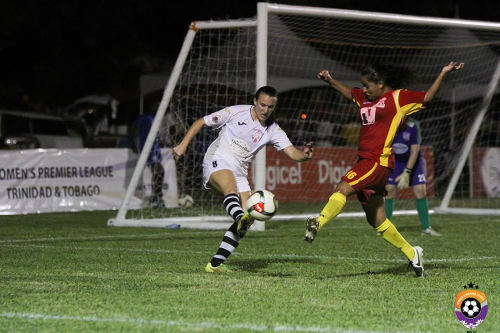 Hood, who is also coach of Pro League team Police FC, possibly mixed up his two teams during the pre-game pep talk—after all, he was on the Police compound—but his women certainly adhered to his cry.
Fuego skipper Tasha St Louis was the first player to put her hand up when duty called as she slammed a 25-yard shot into the crossbar inside 60 seconds. Poor Emily Marie Cota in the Rush goal probably hadn't finished her stretching routine yet.
Rush skipper Ahkeela Mollon was not to be outdone by her "Women Soca Warriors" counterpart as she had a crack at goal herself in the fifth minute. Her shot was straight at Letícia "Lele" Bussato in the Fuego goal though.
Mollon, who is known for her devious crosses and fancy feet, served up another beauty in the 17th minute but defender Rhea Belgrave was unable to direct her header on frame. A great battle was brewing between Mollon and left-back Tanesia Vassell down Rush's right-hand flank and Hood constantly belted out instructions to his defender.
Mollon looked intent on spoiling Fuego's party but the "Boom" girls had the appropriate response.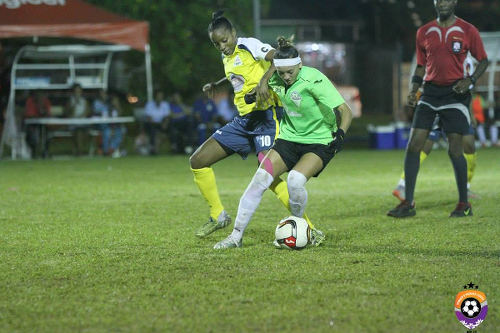 In the 23rd minute, the speedy Claudia Saucedo latched on to a long free quick and tricked her way beyond a defender before squaring for an unmarked Camila "Kamilinha" Demezio to tap home.
There was not much between the teams in the first half as Fuego's St Louis and Christina Murray and Rush's Janine Francois and Priscila "Pri" Selau locked horns in the midfield.
Rush opted for a more direct approach at the start of the second half and it paid immediate dividends. Crisbelis "Cris" Abraham equalised with her third goal of WPL play in the 49th minute as she collected a flick on and lobbed the oncoming Bussato.
Pri tried to emulate Cris in the 53rd minute but, this time, Bussato denied the lobbed effort before bravely smothering the rebound with her legs.
The raging midfield battle had spread to the other thirds of the field by then as tackles were flying all over the place.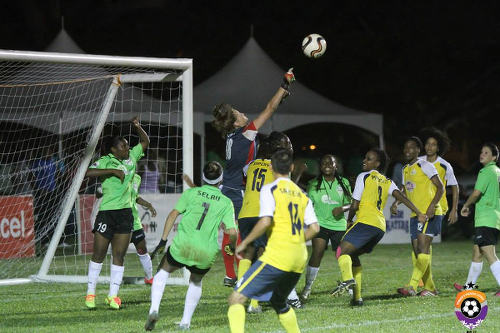 Saucedo almost restored Fuego's advantage in the 67th minute but her finessed effort from an acute angle went agonisingly wide. However, Rush's Nubyluz "Nuby" Rangel was able to locate the target, three minutes later, as she stabbed into the net after Belgrave cleverly headed a Mollon corner into her path.
Bussato could not keep this one out.
Would Fuego respond?
Cris should have quieted the "Boom Girls" for good in the 80th minute but failed to deliver after she was set up nicely by strike partner Mariah Shade.
It was a miss that surely made Angels coach Anthony Creece turn blue as Fuego got the decisive equaliser, just two minutes later, with the best move of the night.
A patient build-up saw midfield powerhouse Shanelle Warrick thread an incisive pass to Murray, who then turned the ball swiftly into the path of Saucedo. And Saucedo did not let the opportunity pass her by as she clinically applied the finishing touch.
Even a few Fuego substitutes ran screaming out on to the pitch to celebrate with the goal scorer.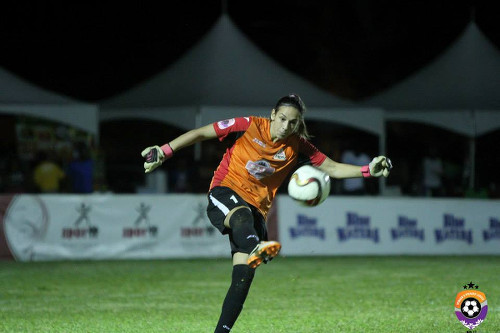 Hood promptly opted for fresher legs in the midfield and inserted Jamila Matlin to help break up Rush's flow. And the weary Rush team failed to conjure up any significant attack thereafter.
Hood got the effort he requested of his charges in the end.
"I think this was a tremendous achievement especially given the fact that we played last night and had to come and play again less than 24 hours later," Hood told Wired868. "I asked the girls for everything tonight and they worked their butts off and I must say hats off to them."
Both Hood and Creece shared positive sentiments about the inaugural WPL and said that, once managed correctly, the WPL could have long-term benefits for women's football in Trinidad and Tobago.
(Teams)
Rush (4-3-3): 18.Emily Marie Cota (GK); 16.Sharice Arthur, 4.Rhea Belgrave, 20.Nadia James, 5.Annalis Cummings; 11.Janine Francois, 7.Priscila "Pri" Selau, 17.Nuniluz Rangel; 12.Ahkeela Mollon (captain), 10.Mariah Shade, 9.Crisbelis "Cris" Abraham.
Unused Substitutes: 3.Adeka Spence, 6.Tamika Isaac, 13.Afeisha Mohammed, 15.Joyce Mattos.
Coach: Marlon Charles
Fuego (4-2-1-3): 1. Letícia "Lele" Bussato (GK); 15.Patrice Superville, 4.Ermelinda "Linda" Pantaleao, 3.Anastasia Prescott, 16.Tanesia Vassell; 10.Tasha St Louis (captain), 11.Christina Murray (83.Jamila Matlin83); 9.Shanelle Warrick; 14.Claudia Saucedo, 12.Jo Marie Lewis, 8. Camila "Kamilinha" Demezio (18.Denisha Thomas 75).
Unused Substitutes: 21.Priscilla Tapia Castillo (GK), 2.Diamond Henderson, 6.Nickisha James, 7.Zaudita Kaza-Amlak.
Coach: Richard Hood
Referee: Kevin Smart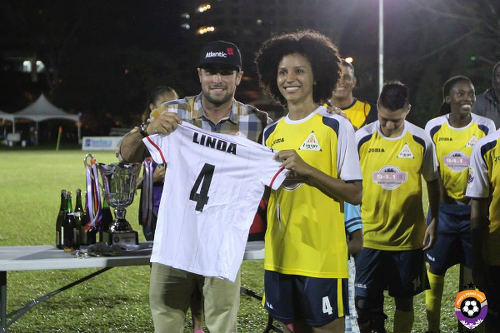 WPL results
(Thu July 30)
Dragons 1 (Jazmin Elizondo 6), Angels 1 (Kandace Franklyn 45+2) at St James;
Player of the Match: Jazmin Elizondo (Dragons)
Rush 2 (Cris 49, Nubyluz "Nuby" Rangel 70), Fuego 2 (Kamilinha 23, Saucedo 82) at St James;
Player of the Match: Letícia "Lele" Bussato (Fuego)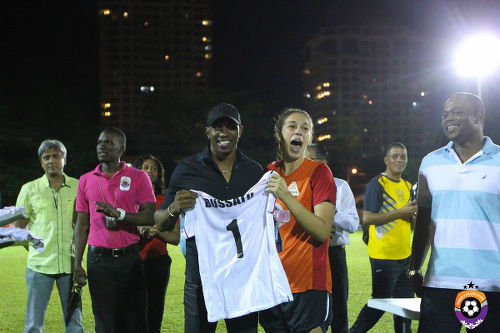 Golden Boot: Jazmin Elizondo (Dragons–3 goals in 2 games)
Golden Glove: Letícia "Lele" Bussato (Fuego)
MVP: Jodi-Ann McGregor (Angels)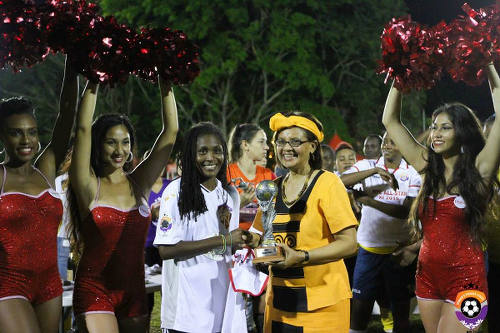 WPL All Star Team (Voted by Coaches)
Goalkeeper: Letícia "Lele" Bussato (Fuego);
Defenders: Karyn "Baby" Forbes (Oilers), Ermelinda "Linda" Pantaleao (Fuego), Jaclyn Poucel (Angels), Jodie Redgrave (Angels);
Midfielders: Joseane "Lulu" Azevedo (Wave), Christina Murray (Fuego), Tasha St Louis (Fuego), Jodi-Ann McGregor (Angels);
Forwards: Shakira Duncan (Wave), Kayla Taylor (Oilers).