The Panama football team has played four matches in the 2015 CONCACAF Gold Cup and is yet to win a single game, four ties in regulation time. Yet, it is "Los Canaleros" who will advance to the Gold Cup semifinal round on July 22.
And the "Soca Warriors" will head home after a heartbreaking 6-5 loss on penalties at the MetLife Stadium in East Rutherford, New Jersey.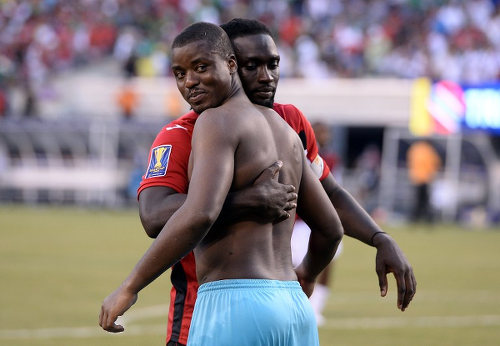 "I think at the end of the day the two days extra rest for Panama showed," Trinidad and Tobago head coach Stephen Hart told the TTFA Media. "We were completely exhausted. But I have to give credit to my players. They gave me everything. I extracted every drop of juice out of that orange.
"Penalties are a cruel way to decide a game but it's how the game ends."
Some people believe that Lady Luck decides the winner of penalty shoot outs. Hart's own view on the subject is uncertain. But it is surely a dilemma that he ought to grapple with.

The Trinidad and Tobago National Senior Team has faced three penalty shoot-outs during Hart's tenure. In every one, the Warriors kicked second. And, on every occasion, they lost.
It was 6-7 against the United Arab Emirates on 5 September 2013 at the OCM Cup in Saudi Arabia. Then 3-4 against Jamaica at the 2014 Caribbean Cup final on 18 November 2014 in Montego Bay.
And, this evening, Panama extended their miserable run from the spot. Three successive defeats via the same format is not misfortune. It is a shortcoming.
Yet, at the same time, one cannot overlook the significant transformation in the Warriors, who seemed to be afraid of their own shadows, just a month ago, but became the talk of the region once the business started.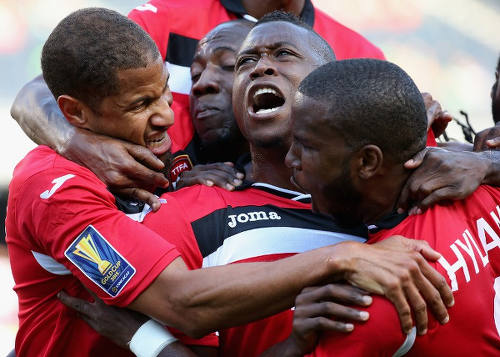 Hart begged for more live-in camps, international practice games and scientific training equipment so as to widen his player pool, improve his team's fitness, enhance their tactical grasp of the game and properly prepare them for the speed and intensity of top flight competition and tutor them on the art of physical recovery between assignments.
Even as fans despair at Trinidad and Tobago's inability to keep possession or Daneil Cyrus' woeful penalty kick, it is worth noting that, if successful teams could be created with a short pre-tournament camp and sporadic international games, then the likes of Real Madrid and Chelsea would not bother to have lengthy and arduous pre-seasons.
The Warriors could have beaten Panama today. Maybe they should have. But we are a long way from being able to expect such results.
You sow, the good book says, as you reap. It is alarming that this lesson appears not to have sunk in with the powers-that-be after so many close defeats by the male and female teams respectively.
Hart insisted before the fixture that ball possession would be vital to the quarterfinal fixture. But it is one thing to diagnose the problem and quite another to address it.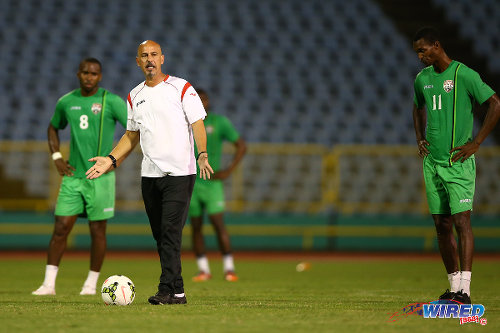 By the halfway mark, Panama had 58 percent of possession and completed 126 pass to 71 from the Warriors.
A decade or two ago, Trinidad and Tobago had maestros like David Nakhid, Russell Latapy, Dwight Yorke, Arnold Dwarika, Kerwin Jemmott and Aurtis Whitley, who had the talent and presence to dictate the tempo of a match.
These days, the Warriors are more one-dimensional, built for speed and combat. And a team's DNA cannot be changed with one lecture.
Kenwyne Jones does not just wear the armband. He is the reference point for the squad and the direct tempo suits him.
Panama, like Mexico, Cuba and Guatemala before them, quaked when balls flew towards the giant Cardiff City forward.
And Jones nearly put Trinidad and Tobago ahead in the 25th minute with a powerful header, off a Cyrus long throw, that was inches over the Panamanian bar.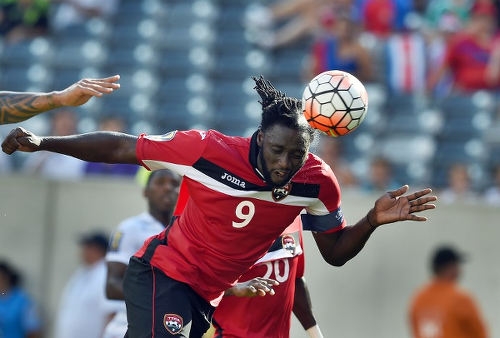 Panama struck first, though. Radanfah Abu Bakr failed to decisively deal with a diagonal cross in the 36th minute and his central defensive partner Sheldon Bateau's attempted clearance only made things worse.
The ball ricocheted off Panama striker Blas Perez, ricocheted off Bateau and fell to Luis Tejada inside the penalty area. And Tejada is not the sort to pass up such opportunities.
It was Tejada's 40th international goal from 86 matches. The entire Trinidad and Tobago starting team only had 30 international goals combined.
The Warriors nearly had their own slice of good fortune, seconds before the halftime interval.
Panama right back Gabriel Gomez was stretchered off the field with a shoulder injury. And, before coach Hernan Dario Gomez could get a replacement on the field, Cyrus delivered a brilliant cross to the back post where the Panama right back would have been stationed.
Keron Cummings and Joevin Jones were both charging towards the ball with the goal in their sights. But Jones (K) launched himself backwards to make contact and denied his teammates of a clear scoring chance.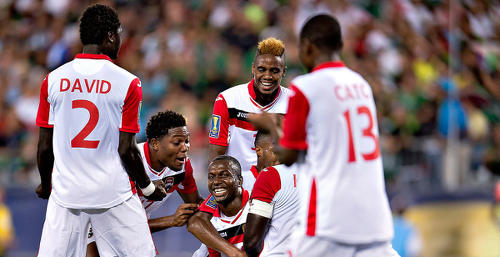 Maybe the captain did not hear them. Perhaps he was trying to take responsibility.
Either way, Jones (K) atoned, nine minutes into the second half, as he ran on to a deep Khaleem Hyland free kick and nodded a header past Panama custodian Jaime Penedo.
Panama defender Harold Cummings was trying to knock the muscular Warriors captain off his course during the set piece. But he had as much chance of success at that task as pint-sized MP Colm Imbert flooring retired boxer Kertson Manswell.
It was Jones' fourth all-time Gold Cup goal, which brought him level with Dwarika as Trinidad and Tobago's most prolific scorer in the confederation's showcase tournament.
It was also Trinidad and Tobago fifth goal off a set piece from four games at the 2015 competition.
Jones did not celebrate with a somersault. Maybe he was conserving energy. Or perhaps it was his way of saying that the job was not finished yet.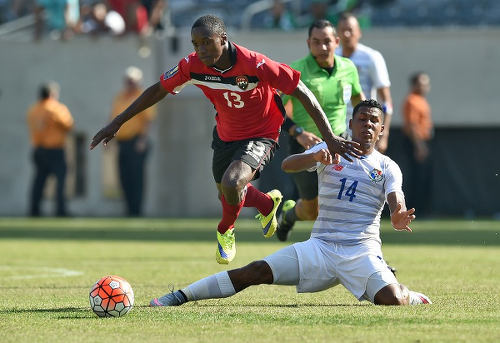 But the Warriors rarely saw the opposing penalty area again.
Keron Cummings had one sniff in the 69th minute, after a counter that involved Jones (K) and Lester Peltier, but his shot was charged down by Panama captain Roman Torres.
Otherwise, it is hard to remember Penedo having much reason for concern between the uprights for Panama.
Trinidad and Tobago defended deeper and deeper as the minutes went by while Peltier was generally not as successful at winning yards down the touchline as the man he replaced, Cordell Cato.
Panama should have won the match in the 90th minute but somehow Perez, another veteran goal poacher with 38 goals from 96 internationals, contrived to screw Alberto Quintero's cross wide from inside the six yard box.
Neither team seemed to enjoy extra time. For 30 minutes, it looked like 22 men running in quicksand, until Honduran referee Hector Rodriguez blew the whistle and invited the two nations to solve their dispute via kicks from the penalty mark.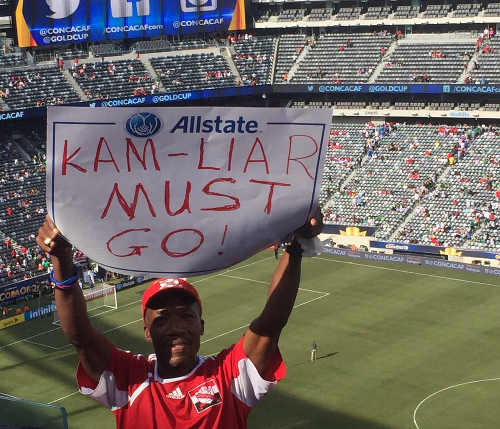 "I think fatigue was a big factor," said Hart. "We could not get up and down the field as a unit like we did against Mexico and as the game went further and further forward we just couldn't keep possession of the ball.
"We ran out of legs."
Jones (K) won the toss. For some unfathomable reason, he chose to kick second for the third successive time.
Yet, to be fair, it did not immediately seem an omen of doom.
Torres skied the first kick of the shootout over the bar and Trinidad and Tobago substitute Ataulla Guerra dispatched his effort to put the Warriors ahead.
The advantage did not last as Sheldon Bateau blasted Trinidad and Tobago's second kick too close to Penedo, who held on to it.
Phillip got Warriors supporters jumping as he pushed away the next attempt from Panama left back Erick Davis. But then Jones (J) hit to the heavens and the scores were tied again at 1-1.
Mekeil Williams, Jones (K) and Abu Bakr converted as the two teams were locked at 4-4 after six kicks each.
Then, Quintero walked up, spat—surely a sign of nerves—and was promptly denied by Phillip.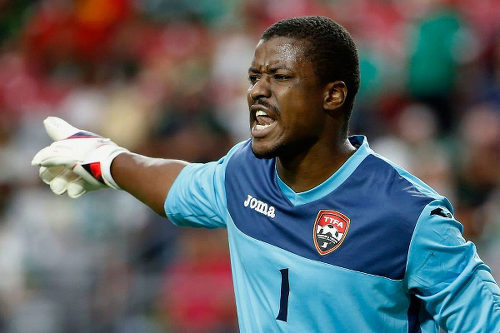 The thing about shoot-outs is that the first kicker always knows that his goalkeeper can cover for him if he misses. The pressure is always more intense for the team that kicks last.
Cyrus, who could have put the Warriors into the semis, choked and missed the entire frame of the goal.
Perez squeezed the next shot past Phillip before Andre Boucaud, who missed a penalty for T&T in Saudi Arabia, and Valentin Pimental both scored.
As Peltier strode forward, he was the fifth Trinidad and Tobago player who was kicking to pull his team level. And he could not get his attempt past Penedo, who tipped it on to the bar.
Game over.
"Yesterday nobody missed (in practice) and today we had three chances to take it and we missed," said Hart. "A lot of what we have to work on comes with experience and playing matches.
"A tournament like this would have done a lot for our young players and hopefully with the right preparation, we can continue to grow and improve as a team."
Maybe the Warriors' encouraging performances at the Gold Cup would inspire the football community and the public and private sector to provide them with the necessary tools—both in terms of financial resources and managerial expertise—to take a more measured approach to their next tournament.
Or maybe Trinidad and Tobago will continue to improvise on the fly and hope for the best.
What do you think?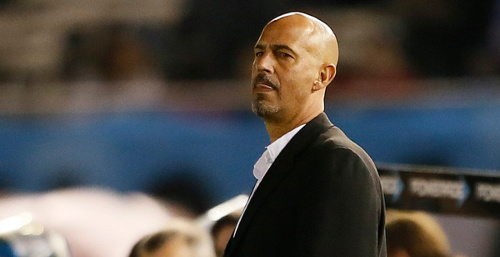 (Teams)
Trinidad and Tobago (4-2-3-1): 1.Marvin Phillip (GK), 5.Daneil Cyrus, 6.Radanfah Abu Bakr, 4.Sheldon Bateau, 17.Mekeil Williams; 8.Khaleem Hyland (11.Ataulla Guerra 91), 19.Kevan George; 13.Cordell Cato (23.Lester Peltier 65), 20.Keron Cummings (14.Andre Boucaud 80), 3.Joevin Jones; 9.Kenwyne Jones.
Unused substitutes: 22.Adrian Foncette (GK), 2.Aubrey David, 7.Jonathan Glenn, 10.Willis Plaza, 12.Kadeem Corbin, 15.Dwane James, 16.Rundell Winchester, 18.Yohance Marshall.
Injured: 21.Jan-Michael Williams (GK).
Coach: Stephen Hart
Panama (4-2-2-2): 1.Jaime Penedo (GK); 6.Gabriel Gomez (13.Adolfo Machado 45), 5.Roman Torres (captain), 3.Harold Cummings, 15.Erick Davis; 2.Valentin Pimentel, 14.Miguel Camargo (22.Abdiel Arroyo 90); 11.Armando Cooper, 19.Alberto Quintero; 7.Blas Perez, 10.Luis Tejada (8.Gabriel Torres 82).
Unused substitutes: 12.Luis Mejia (GK), 21.Jose Calderon (GK), 4.Alfredo Stephens, 9.Roberto Nurse, 16.Rolando Blackburn, 17.Luis Henriquez, 18.Darwin Pinzon, 23.Angel Patrick,
Suspended: 20.Anibal Godoy.
Coach: Hernan Dario Gomez
Referee: Hector Rodriguez (Honduras)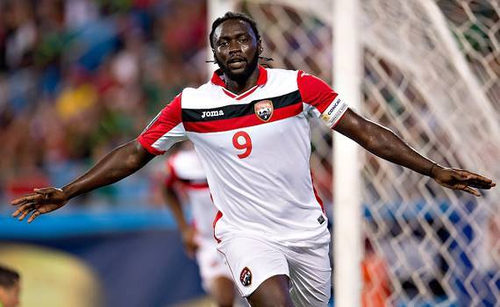 2015 CONCACAF Gold Cup quarterfinal result
(Sun July 19)
Panama 1 (Luis Tejada 36), Trinidad and Tobago 1 (Kenwyne Jones 54)
*—Panama won 6-5 on kicks from the penalty mark