Trinidad and Tobago National Women's Team football star Ahkeela "Lady Latapy" Mollon considered herself lucky to escape with her life last night after her Nissan Primera vehicle was caught in a cross outside her Longdenville home.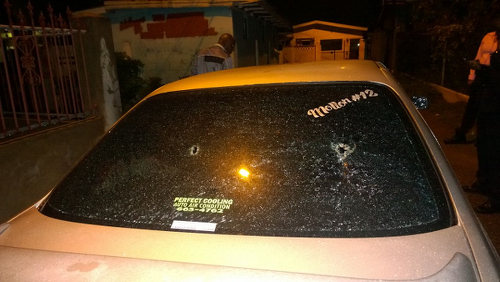 Mollon, who is due to make her Women's Premier League (WPL) debut tonight with CNGC Rush, returned home from training at about 9 pm and left her car's engine running as she got out to open the gate.
Mollon had just opened the gate when she heard what she quickly realised was gunshots.
"My car was idling as I was opening gate and I heard 'pax pax pax' come from somewhere," Mollon told Wired868. "I didn't know where the gunfire was coming from and I was going to get back in my car and reverse in the yard.
"But at the same time, my mother opened the door. So I dived inside instead."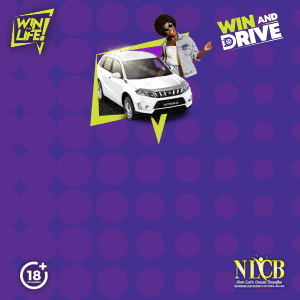 Mollon heard one group of men pursuing another gang and what she believed to be over two dozen shots fired. The men ran right past her car in the middle of the road.
When she finally got off the floor and went outside, her car was riddled with gunshots.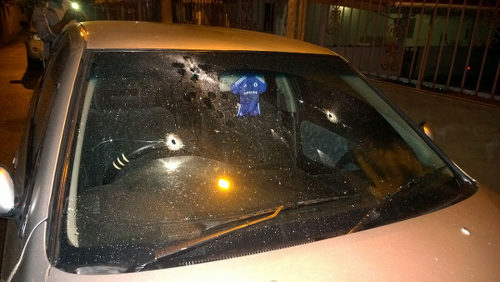 "People could have woken up this morning and heard that was my last (night)," said Mollon.
"All I know is if my mother didn't open the door, I might have tried to go back in the car. Because all the doors in the house were locked."
Mollon, who turned 30 in April, is Trinidad and Tobago's first female footballer to play professionally in Europe, after spending five seasons in Iceland and Sweden between 2009 and 2014.
She left Europe last year to help the "Women Soca Warriors" in their exciting but ultimately unsuccessful Canada 2015 Women's World Cup bid.
At present, Mollon, who has a Psychology degree from the University of South Carolina, is an employee at the Ministry of Sport.
Her WPL outfit, Rush, will play their opening game of the season from 8 pm tonight in the second game of a double header at the Police Barracks in St James.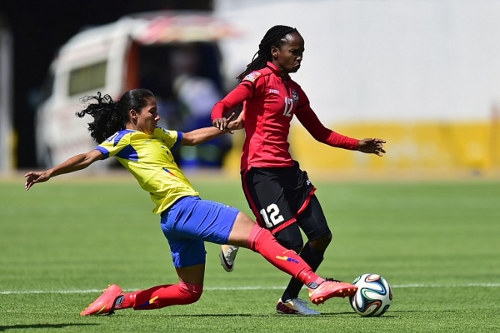 Rush faces Petrotrin Oilers from 8 pm while QPCC and St Ann's Rangers square off in a WOLF contest at 6 pm.
Mollon admitted that she is still shaken up by the shooting incident but wants to play tonight. Her car is at the Longdenville Police Station for forensic examination.
"I am going to try my best to play but I am still shaken up," she said. "It is really, really sad what is happening to this country…"
If the Warrior does head to the Barracks for WPL action tonight, she will take a lift from her best friend and international teammate, Khadidra Debesette.
Debesette, incidentally, will line up for the Oilers. But their friendly battle will be nothing like the scrap she so closely avoided last night in Longdenville.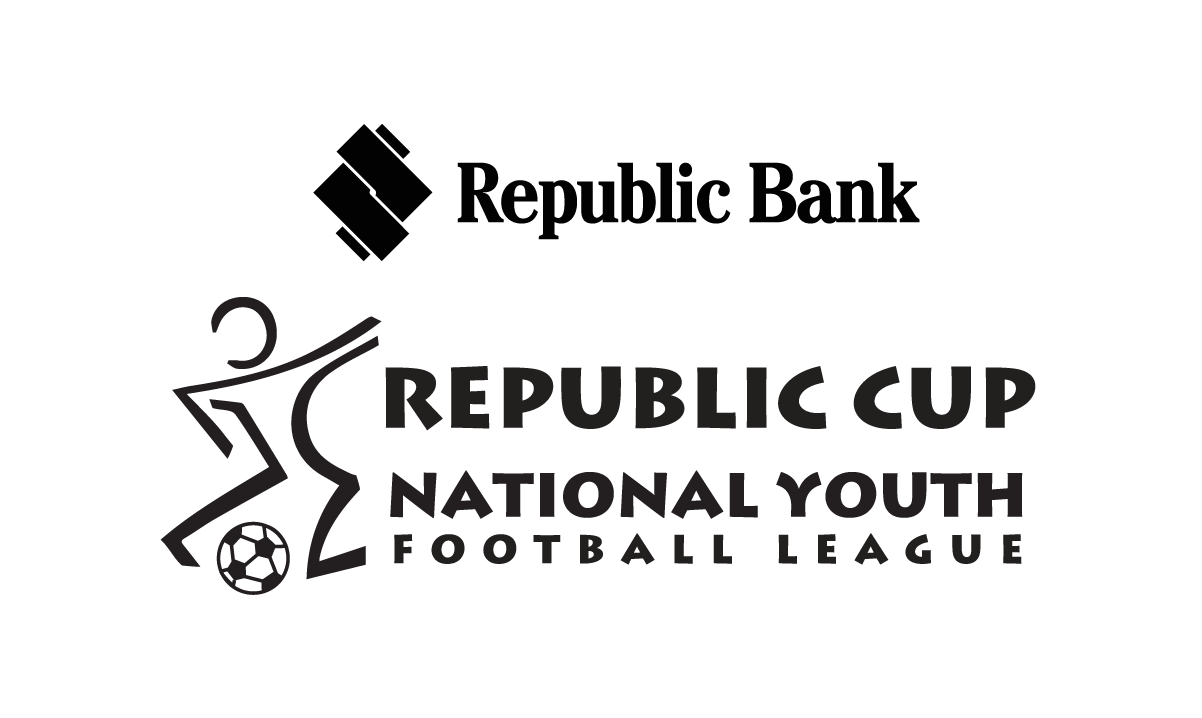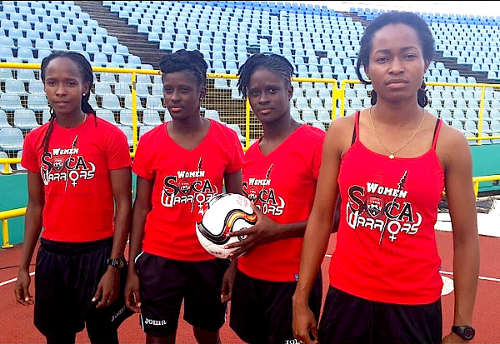 Tonight's fixtures
QPCC v St Ann's Rangers, 6 pm, WOLF, St James Barracks;
Petrotrin Oilers v CNGC Rush, 8 pm, WPL, St James Barracks.
(WPL teams with squad numbers)
CNGC Rush: 12.Ahkeela Mollon, 4.Rhea Belgrave, 11.Janine Francois, 10.Mariah Shade, 5.Annalis Cummings, 13.Afeisha Mohammed, 6.Tamika Isaac, 14.Janelle McGee, 16.Nadia James, 21.Nicole Mitchell, 3.Adeka Spence (all Trinidad and Tobago), 2.Bruna Marchionatti, 7.Priscilla "Pri" Selau, 15.Joyce "Joyce" Mattos (all Brazil), 1.Emily Marie Cota (US Virgin Islands), 8.Nubiluz Rangel, 9.Chrisbelis Abraham,
Head coach: Marlon Charles (T&T), Assistant coach: Ademir Braz  De Oliveira (Brazil).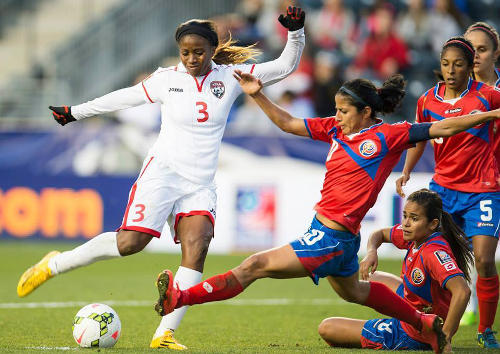 Petrotrin Oilers: 1.Shalette Alexander (GK), 2.Tamara Johnson, 4.Tisha Belfon, 5.Karyn Forbes, 6.Khadisha Debesette, 7.Denecia Prince, 8.Victoria Swift, 9.Stephanie Bonilla, 10.Naomie Guerra, 11.Khadidra Debeette, 12.Kayla Taylor, 13.Shenelle Henry, 14.Chevonne John, 15.Shenelle Arjoon, 18.Rinelle Findley, 19.Ray-Ann Montano, 20.Shanice Haynes, 21.Keri Meyers (GK), 23.Collette Morgan.
Head coach: Arnold Murray (T&T), Assistant coach: Rajesh Latchoo (T&T)
Women's Premier League results
(Thu Jun 18)
Fuego 5 (Tasha St Louis 9, 29 pen, Saucedo 52, Jo-Marie Lewis 60, 62), Dragons 3 (Isabella Hayes 1, Lauryn Hutchinson 57 pen, Jessica Adams 70) at St James;
Player of the Match: Tasha St Louis (Fuego);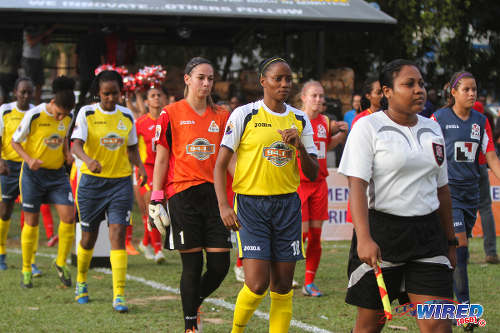 Angels 3 (Maylee Attin-Johnson 31, 40, Rafaela De Vargas 61), Wave 0 at St James;
Player of the Match: Maylee Attin-Johnson (Angels).