For the second time this week, a trip to the Hasely Crawford Stadium ended in despair for the majority of the patrons at the Port of Spain venue.
This was arguably small beer as opposed to the 2015 Women's World Cup that slipped away from the "Women Soca Warriors" on Tuesday night. But try telling that to the players involved in the 2014 Coca Cola National Intercol final.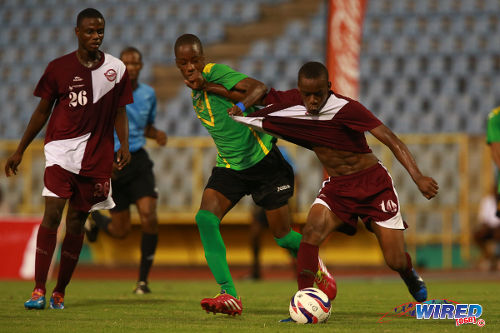 Mucurapo East Secondary, like the Ecuador women, struck late and decisively to edge St Benedict's College 1-0 courtesy a Tekay Hoyce item. And such was the exaggerated sense of the occasion that one Mucurapo player even draped himself in the Trinidad and Tobago flag for the final whistle.
In a sense where the North Zone team was relegated from the Secondary Schools Football (SSFL) Premier Division, the young men in maroon kit could probably be excused some extra delight.
The SSFL standings said Mucurapo was not good enough to play among Trinidad and Tobago's top schools. True; but who is holding the massive National Intercol trophy now?

Earlier, in the girls' Intercol final, St Augustine set the tone for a miserable evening for the southern travellers as they whipped Point Fortin East Secondary 4-2 to retain the trophy.
With two of the four finalists representing the South Zone and only one North Zone team involved, the Point Fortin and St Benedict's players might feel aggrieved that the finals were not played at the Mannie Ramjohn Stadium in Marabella.
The SSFL executive might counter that it is never a bad idea to play a national final in the country's premier national stadium.
Either way, there could be no excuse for either beaten finalist on the day.
Point Fortin East probably had the best player on the field in skilful, mobile attacker Kayla Prince; but St Augustine had more strength in depth and was the deserved winner.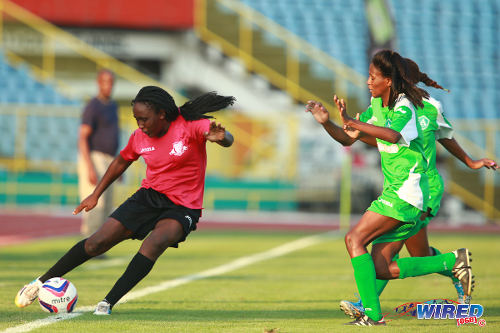 Ke'die Johnson, a tall, composed left winger, ghosted inside from off to flank to score a hattrick for the "Green Machine" while bustling striker Laurelle Theodore got the other item with a speculative effort from just outside the penalty area, which snaked through the legs of Point Fortin goalkeeper Kherdine Cuffy.
Credit due as well to St Augustine captain and central midfielder Celeste Thomas, whose skilful footwork and measured passing was behind most of her school's best moves, and right winger Adanya Phillip who was a constant menace down the flank.
Prince did cause some panic though. She nullified Johnson's opener with an emphatic penalty in the 15th minute, after drawing the foul in the first place. Then in the 34th minute, Prince pounced on a loose ball, midway in the St Augustine half, to put her school ahead with an accurate finish into the far corner after a burst through the centre of the opposing defence.
Johnson and Theodore had the last laugh though as St Augustine regained its poise to clinch the girls' Intercol crown.
The boys' final was, predictably, a tenser affair. Neither team had even come close to a national trophy in this season thus far, while Mucurapo suffered the humiliation of relegation. So, this evening's contest bore special incentive.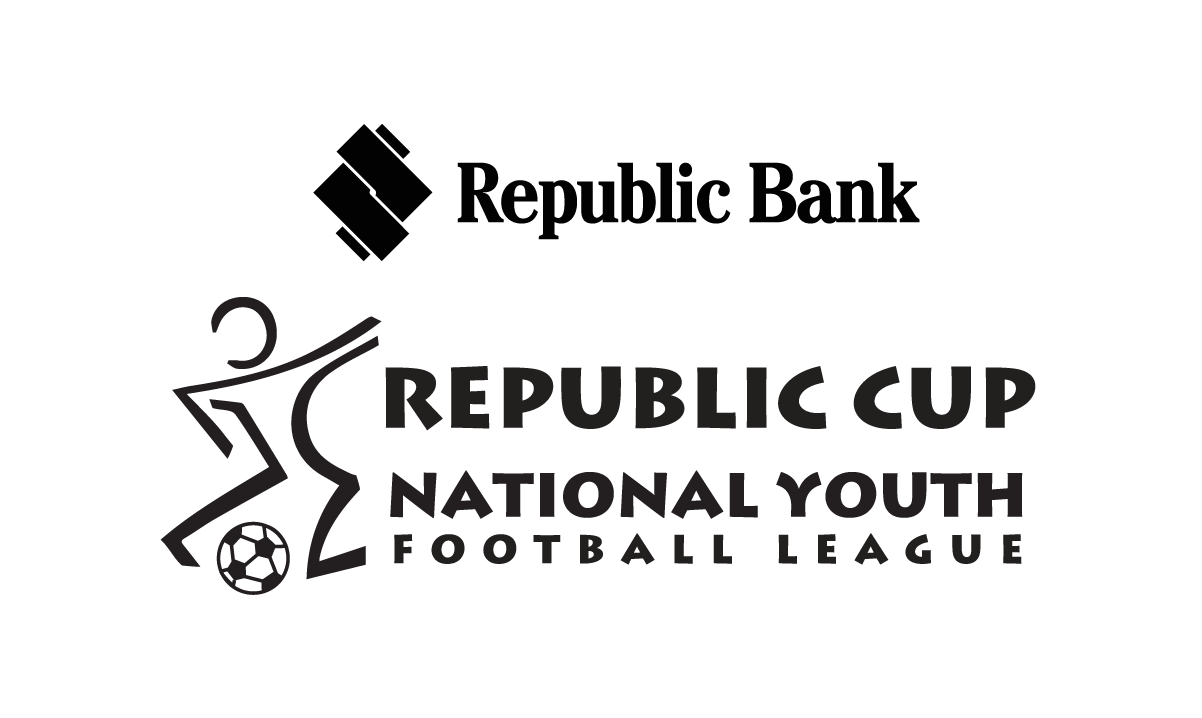 Although the Mucurapo school is just a stone's throw from the stadium, the North Zone was easily outnumbered by the southern visitors who made up the majority of the 2,000 spectators present.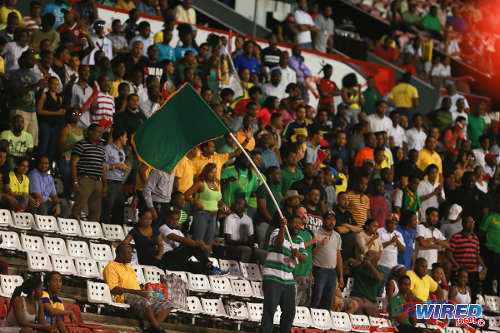 And the Benedict's brigade should have been celebrating after just four minutes as a weak back pass from Mucurapo captain and defender Adofa Perpignac left opposing winger Shakille Williams with only the goalkeeper to beat. But Williams' effort hit the bar while Benedict's striker Meriba Des Cartes could not get the necessary power on the rebound.
Des Cartes was culpable in the 15th minute as Benedict's tore through the opposing defence with a flowing move. Williams released Shemar Ravello down the right flank with a long, diagonal pass and Ravello's cross found Des Cartes well placed on top of the Mucurapo six yard box.
But the striker's attempted volley hit only air.
Referee Rodphin Harris' halftime whistle came with Mucurapo on the ropes and Benedict's coach Dexter Cyrus was hopping mad that the official blew for the interval in the middle of an attacking free kick by the southerners.
On the way back to the dressing room, Mucurapo players intervened to drag winger Kazim Donald away from his teammate and left back Malique Quow as frustrations looked like bubbling over for the boys in maroon, who have had their problems with indiscipline this season.
Mucurapo focused on threatening opposition players instead for the second half. In the 49th minute, striker Glenroy Pierre drove overbar following a Donald cross while, in the 58th minute, Pierre thought he had given his team the lead only to be whistled for a handled ball.
Then, one minute later, came the opportunity of the match. Mucurapo goalkeeper Aaron Enil charged out of his area to intercept a cross outside of his penalty area and missed.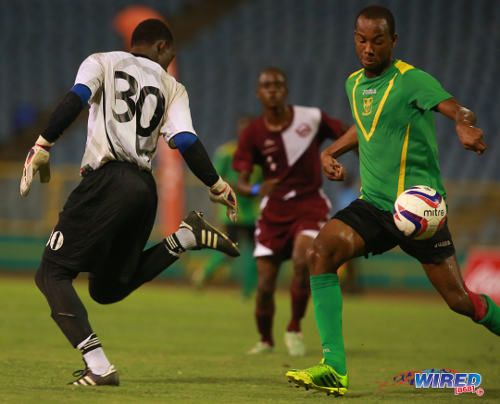 Des Cartes had time and space; but he appeared not to know it. He tried to hit a dipping finish, first time, over the retreating defender. And it bounced harmlessly wide.
Benedict's still looked like the more likely winner from the two teams though.
"Heat in the place! Heat in the place!" sang the Benedict's brigade.
The lively Williams tried to break the deadlock in the 77th minute with an impressive dribble past three players only for Enil to make a flying save to his right.
"Ram a goal in dey a**hole! Ram a goal!" they sang.
But, when the goal did come in the 86th minute, it was the supporters in green and gold who were silenced.
Benedict's failed to clear a lofted free kick inside its penalty area and Mucurapo midfielder Micah Lansiquot, a tidy and composed schemer, teed up Hoyce, a second half substitute, who finished with a high, powerful strike that flew past goalkeeper Jamari Warrick.
Taryll Coutou, the St Benedict's captain and defender, tried to drag his team back into the match with a shot from distance that Enil took on the second attempt while Coutou released Williams with a perceptive, threaded pass only for the dreadlocked attacker to drive into the side netting.
At the final whistle, Hoyce, the team's former captain who started on the bench due to his supposed indifference to training, led the celebrations as the Premier Division castoffs gave a truer indication of their worth.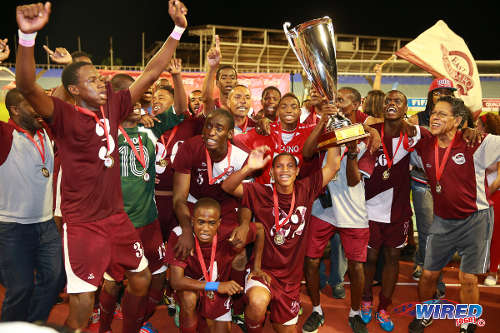 The massive Intercol trophy should be motivation enough for the respectable football school as coach Selris Figaro plots their way back to the top flight next season.
(Teams)
Boys' National Intercol final
Mucurapo East Secondary (4-4-2): 30.Aaron Enil (GK); 6.Akquinde Marslin, 5.Adofa Perpignac (captain), 4.Keshawn Mark, 7.Malique Quow; 11.Kathon St Hillaire, 13.Micah Lansiquot, 21.Sherlon Roberts, 10.Kazim Donald; 26.Nkosi McQueen (3.Tekay Hoyce 70), 20.Glenroy Pierre (22.Ishaq Abdullah 79).
Unused substitutes: 25.Okera Cox, 14.Keshawn Hutchinson, 16.Christian Grillet.
Coach: Selris Figaro
St Benedict's College (4-2-3-1): 25.Jamari Warrick (GK); 9.Anthony Herbert, 2.Levi Crawford, 3.Taryll Coutou (captain), 6.Matthew Joseph; 8.Kadeem Gittens, 19.J'deem Parris; 10.Shemar Ravello, 5.Judah St Louis (11.Ruel Tyson 65), 7.Shakille Williams; 20.Meriba Des Cartes.
Unused substitutes: 1.Jabari Gray (GK), 16.Vishal Gunness, 18.Stephen Ashby, 21.Rodande Charles, 22.Caleb Gaspar, 24.Jevaughn Humphrey.
Coach: Dexter Cyrus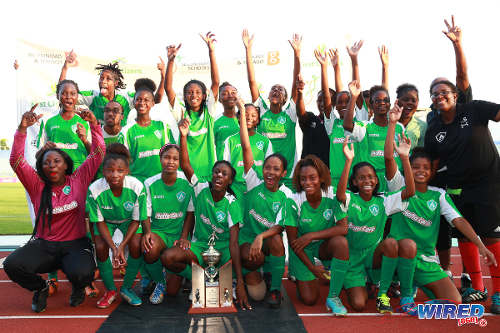 Girls' National Intercol final
St Augustine Secondary (1-3-4-2): 1.Portious Warren (GK); 13.Naketa John; 11.Salisha King, 10.Shadelle Fortune, 12.Kareema Mitchell; 8.Adanya Phillip, 9.Celeste Thomas (captain), 18.Niaomee Guerra, 14.Ke'die Johnson; 3.Ana Williams, 17.Laurelle Theodore.
Unused substitutes: 4.Jelisa Cooper, 7.Ayana Narine, 15.Alissa Gonzales, 2.Aaliyah Lynch, 5.Ebony Danclair,
Coach: Desiree Ann Sarjeant
Point Fortin East Secondary (4-4-2): 0.Kherdine Cuffy (GK); 15.Daniella Seepersad, 7.Kerdell Rojas (16.Kelly-Ann Stanley 86), 2.Tamara Johnson (captain), 11.Kimberly Goolie; 5.Precious Paul (17.Terese Salick 21), 3.Reymone Philbert, 6.Abishai Guy, 4.Shenelle Jordan; 10.Kayla Prince, 14.Tennisha Griffith (8.Latvia Morris 50).
Unused substitutes: 13.Chuntel Pacheco 14.Marissa Williams.
Coach: Chris Bailey
Coca Cola Girls' National Intercol final
(Fri Dec 5)
St Augustine Secondary 4 (Ke'die Johnson 13, 49, 75, Laurelle Theodore 64), Point Fortin East Secondary 2 (Kayla Prince 15 pen, 34) at Hasely Crawford Stadium;
Coca Cola Boys' National Intercol final
(Fri Dec 5)
Mucurapo East Secondary 1 (Tekay Hoyce 86), St Benedict's College 0 at Hasely Crawford Stadium.