Trinidad and Tobago national under-17 defender Tekay Hoyce came off the bench this evening to give Mucurapo East Secondary its third National Intercol title with a 1-0 win over St Benedict's College in the 2014 final at the Hasely Crawford Stadium in Port of Spain.
It was Mucurapo's first title since 2008 when the school team featured the likes of "Soca Warriors" duo Kevin Molino and Joevin Jones.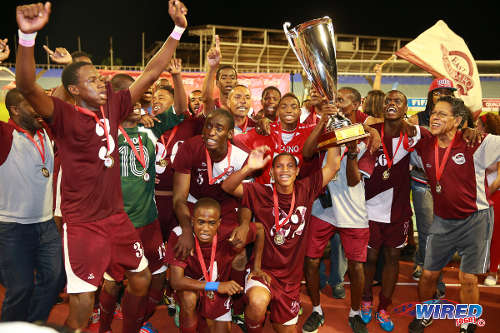 Hoyce was thrilled with his role in Mucurapo's success as his assured 86th minute finish separated the two schools.
"I felt great coming off the bench and scoring the winner because my team needed the goal to win the game," Hoyce told Wired868. "I am accustomed to winning."
Hoyce was ejected during Mucurapo's qualifying win against Speyside Secondary and missed his school's semifinal triumph over San Juan North Secondary through suspension. Coach Selris Figaro, a former national stand-out, said Hoyce's response to his suspension fell below the expected standards for a player. And it meant the talented defender started the Intercol final on the bench.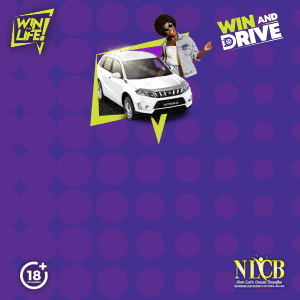 "He seems to be having a slight discipline problem," said Figaro. "He missed some training after the red card in Tobago. It comes like you drop yourself (with that sort of behavior). We can't move like that."
While Hoyce enjoyed his return to favour, St Benedict's College striker Meriba Des Cartes rued his missed chances today and held himself accountable for his team's defeat.
"I had the chances and I did not capitalize on it," said Des Cartes. "I apologize to the fans. It was my mistake."
Des Cartes should have put his name on the score sheet in the fifth minute but was unable to generate enough power on his goalward header after his teammate Shakille Williams hit the crossbar with a lobbed attempt.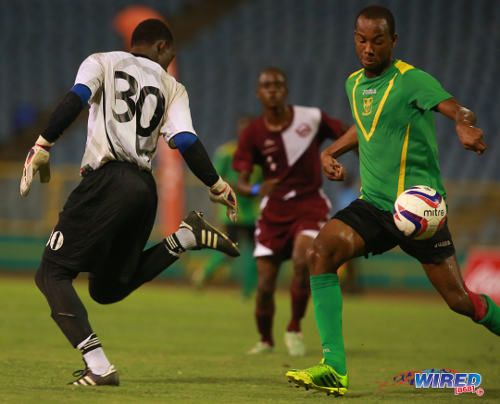 Then, in the 60th minute, Des Cartes got an even better opportunity when Mucurapo goalkeeper Aaron Enil charged outside of his penalty area but failed to control the ball. The St Benedict's striker's lobbed attempt stray wide of the goal.
Des Cartes was not all doom and gloom, though, as he vowed to take his team to glory next year.
"We making a clean sweep next season," he said.
Figaro and his captain Adofa Perpignac are looking forward to next season too. Mucurapo was relegated from the Premier Division last month but hopes to return to the top flight as soon as possible.
"From being demoted this year the guys realized what was happening and decided to put everything together for the Intercol and this is the story," said Figaro.
Perpignac, a solid centre-half, cut a relaxed figure after the game and said that his team wanted to bounce back after the disappointment of being relegated. He was happy that Mucurapo delivered in an "even match" for the season finale.
It ensured that a roller-coaster season for Mucurapo ended with the prestigious National Intercol title.