Performance poet Roger Bonair-Agard who, as a teenager in the 1980's, took football to be life, "saw" the November 19 match through a haze sitting in a Flatbush bar and recently sat down in a New York apartment to recreate the entire event for Wired868 in the first installment of our "Remember 19/11" series in honour of the "Strike Squad":
By the time Fall arrived in 1989, the Strike Squad had played itself into position for certain World Cup qualification—almost! The country was humming with anticipation but I, busy adjusting to my new life in New York City, barely knew it.  As we turned toward November, I became aware that we were close, really close; we needed only a draw with the United States at home to advance.
We were going to Italy.
I was aware that the US football profile, boosted by money, networking, organization and FIFA's thirst for the next big market, had made the US football team more formidable.  What I knew and remembered, though, was that to be black and Trinidadian meant that one was magical, that we were rhythm and song when we shimmied with the ball, that one slipped past the defense to the faint sound of soca at one's back.
We were going to Italy for sure.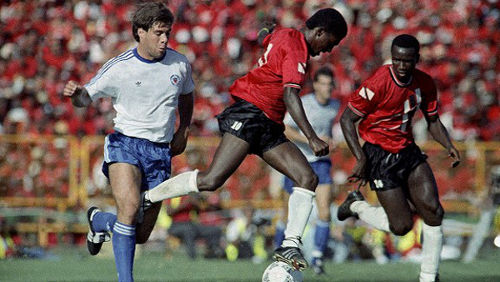 A draw was nothing. We were going to put three past the Americans; almost two decades of living in T&T, full 50 percent of that time spent living for football and cricket, had made a believer of me.
FOR CYRIL
 In the back of the classroom – lunchtime in the empty space on the old half-rotted floorboards back of what used to be the library, boy & ball – ball & boy, we pushedback & forth outside of foot, in – outside of foot, in our sneakers making tiny whipping sounds, like quick dry brooms – first left foot then right, left then right, sweat punctuating the ritual – we had seen Ian Clauzell do this first maybe – or our own Sandy, or seen Gip perfect it late one evening before we decided to take the beating we knew we'd get for staying in the courtyards to play, past dusk, or had maybe sat, like me, with an uncle many years before, to see the Brazilian, Rivelino, who laid claim to its invention, while my uncle, my cousin really, my cousin's boyfriend really, Keston, a legendary philanderer who later I'd see bend a free-kick around a wall past a keeper who stood frozen – drank a tall beer with ice in the glass, and insisted I watch – even though just six years old  this man with the thick mustache and curly hair –Rivelino & Keston – put the elastico, the spanner on hapless tacklers – 1974, and the Brazilians – defending champions, without Pele, Jairzinho or Garrincha for the first time in twelve years, and we – eight years later, back of the class-room, black & hollering at perfection for the first time cussed when it didn't work, but went right back at it – nothing to do with our lessons was ever practiced this diligently – no chore ever performed with such attention to detail – stopping in moments to tie our shoelaces, to laugh at another boy's attempts – to draw our breaths in sharply when one of us got the ball to move so swift, it seemed a ghost – here one second; next smoke – when our bodies were too, like that – haintlike in our quickness and building a magic, a ritual – now you see us, now; 
shadow – that might deliver us from evils, we had only just begun to name.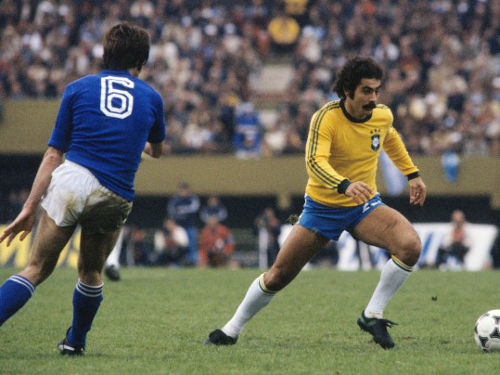 When I was in Third Form at QRC, our classroom was in what used to be—and would become again—the library.  It was a big room and there was a lot of empty space behind the chairs. When I say that football consumed us, I want you to understand that "For Cyril" is less symbol and metaphor than it is straight narrative. Whenever we had a moment, we meticulously practised dribbling in the back.
It was a lab of sorts, an experiment with ways to make the ball dance, to do things never imagined when the marauding English first thought the sport up.  The most revered players among us slipped ghost-like past defenders or were elaborate Copperfields who had the ball here and, in the next second, through some ineffable elaboration, there.
There was little else we thought about in those days and, in those brain-addled puberty years, we were more than willing to stay in school late enough playing to risk beatings when we got home.  Even games in the College's intra-mural competition were places you had to look good, venues for reputation building.  Part of the persona I had constructed for myself as a teenager was as someone whose body was very conversant with the language of sport.  I had headed to America with this certainty in my bones.
AUGUST 1987– EAST NEW YORK, BROOKLYN The broken bottles in the parking lot at the cornerof Stanley and Van Siclen are hot to the touch,

but in the air is the promise of another time

coming – a breeze that is almost a heckling

along the hairs  at the back of your neck. You

lean up on the brick wall outside the corner

store like the other boys do in just a white

undershirt tank top over khakis.  You've

discovered only a week ago that beer comes

sometimes in 40-ounce containers which

cost 99 cents and so, that's what you drink.

Your Sony Walkman plays Paid in Full,

headphones wrapped over your floppy

hat as you consider what moves you will

make to get yourself a job.  The money

you came here with is gonna be done

in two weeks.  Tomorrow you're going

to the Army Recruitment center on Nevins.

You're going to answer that ad in the paper

for seasonal work in Alaska.  Any option

that suggests hard work for money is as good

as another.  You'll rack up some cash

quick, you think, and get started on this

college business.  You drain the 40.  You head

back inside the bodega for another.  Rakim

chimes in Thinking of a master plan

Cuz ain't  nothing but sweat inside my hand…
And then… Life interrupted and I was swallowed whole.  Who was I?  What was Trinidad in and to this place? My cousin with whom I lived made sure he took me to enough places and introduced me to enough Trinidadians that I could conceivably stay in Brooklyn and never leave the comfort zone of the country from which I had indeed taken a five-hour flight.  But my body was a wanderer.  It was looking for new languages to speak in an America that was only very minimally concerned with football and not at all with cricket.  These two sports spoke to me, to us, about who we were as Africans and colonial subjects and had specific cultural connections to who and what we were.
There were other cultural mechanisms for this affirmation of self in America, a place in which I was Black at first sight and anything else later.  So the conversations that defined my young and changing brain also changed.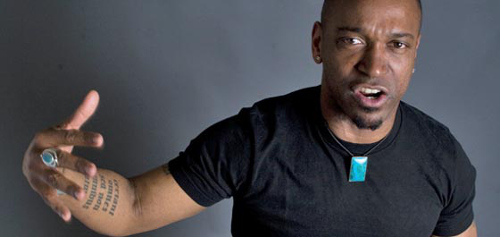 I had left T&T for New York City in 1987.  I was 19 and I landed in NYC with a splash—or, depending on whom you ask, a thud.  New York then was still the NYC of lore, a vibrant red light district, a city that seemed alive from its inside out, the concrete seeming to vibrate at a frequency designed to uplift the young. Or swallow them whole.  I consumed it and it consumed me.  Eric B and Rakim dropped "Paid in Full," and "A Tribe called Quest" was becoming part of the biggest posse cut of all time with the Leaders of the New School.
It was an exciting and dangerous time to be 19 and alone in New York.  Everything I had been in Trinidad became sublimated to a culture that would inhabit me as much as calypso, cricket and football had for the previous 19 years.  Trinidad and Tobago was beginning the qualifying campaign for the 1990 FIFA World Cup in Italy and by all accounts our chances were good.  As we rounded the corner into 1989, I was 20 and engaged to a woman named Temper.  By the time the last few lines in that campaign's script were being written, I was 21.  The promise of Temper's name was becoming evident.  My young life was unravelling fast. And violently.
I barely noticed the football.
…all the memories I knew I was leaving behind forever, though no articulation outside of my mammoth grief could have told me so.I was in love still, with my country – the rivers,the mountains' precipiced roads, the rum, the heartbeatof a Renegades engine-room, fat bottom black women,small-goal football wherever we could catch it, Arouca,Santa Cruz, Cascade,  Sangre Grande, the smell of bloodin a forgotten gayelle, I was in love with the whole
thing and hadn't figured out how to tell it before it cast
me off.  I was in the hold of a large sadness it would
take me more than twenty years to sing.  I was learning
to live with a hole in my heart…
The last live match I had seen in Trinidad and Tobago before I migrated to the United States took place at the National Stadium. It was an Under-19 Concacaf final between the US and T&T.  That, I believe, was in 1986. We expected to beat the Americans.  They were coming on in football but our talent pool was overflowing.  We were still the squad of Brazilophiles whose ball control and dribbling technique were unequalled elsewhere in the region. At home, the members of that side were household names.  Colin Rocke, Clint Marcelle, Ainsley Weekes, Carlos Lee and others constituted a terrifyingly slick squad.  They were (marshal)led by the Little Magician, Russell Latapy, whose ability to control the midfield was otherworldly; it appeared the game slowed down or sped up at Latas' dictates.  To see how he spread the ball and unlocked defenses was watching tapestry being woven.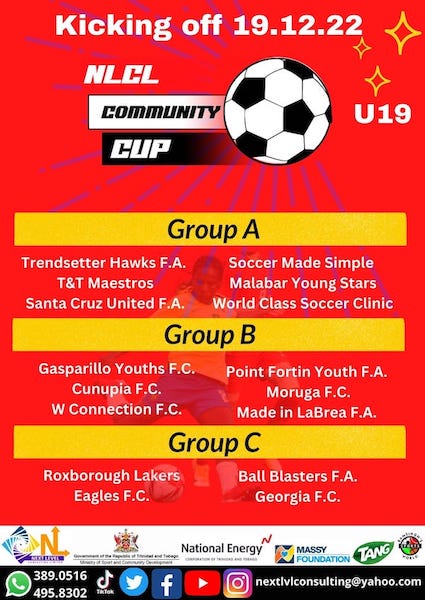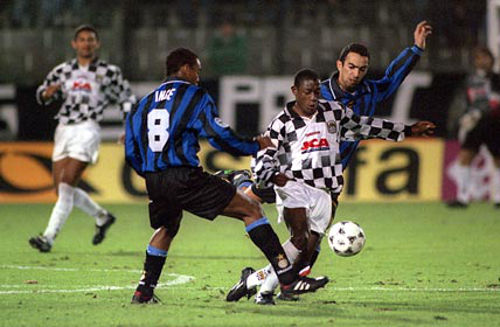 Latapy and his boys dominated the run of play. We dribbled and short-passed our way into the American six-yard box at will.  But we couldn't score.  Time and again, the stadium erupted at what we thought were surely-about-to-be-netted strikes, only to see them go wide. Or comically high. We were unconcerned.  We were playing the beautiful game and the US was chasing after technically superior players who we just knew would go on to dominate the region.
We were building towards the squad with the best opportunity to make it to the World Cup since the early 1970's squad of "Gally" Cummings et al had narrowly missed out in Haiti, cruelly denied by some creative refereeing.
I don't remember the 1989 match.  By kick-off, I was drunk.  I remember the hush in the bar when the soft shot dipped under Michael Maurice's lunge, his eyes briefly blinded, it appeared, by the sun to make it 1-0.  It was ominous but surely we were going at least to equalize.  Surely, surely the match wasn't going to end this way…
Verily, verily, I say unto you, it did.
We finally made it to the World Cup in Germany in 2006.  By then I'd been through the gauntlet that was NYC and found the thing that would sustain me, indeed, save my life.  I was a 38-year-old man who was mostly sure of himself and wrote poems to make sure he'd stay that way.  We played England tough in a group match and nervous English fans who outnumbered the five of us Trinidadians in the bar by 30 to 1 were getting nervous.
Moreover, they were getting annoyed by our endless-rhythm-and-song regardless of the run of play.  I sang louder, beat the bottle harder, daring a challenge.  The me who'd been baptized in a NYC fire in the late 80s wanted a fight, wanted to come to blows for the Red, White and Black, for the smallest country ever to qualify for the World Cup Finals.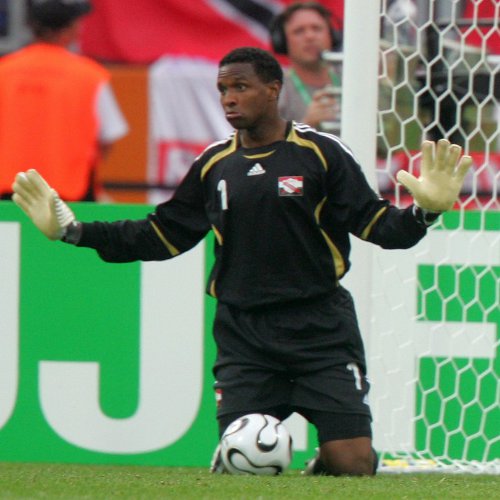 We had no illusions about how well we might do there; the silky smooth stars of that '83 Under-16 campaign were in their twilight years.  Indeed, Latapy was all that remained. Magical as ever but no defensive stamina left, he was a substitute whom we pined to see grace the World Cup pitch.  Even our brightest Premier League stars in Dwight Yorke and Shaka Hislop were now at the end of wonderful careers.  Long since re-defined by violent crime, we were a different kind of proud, a more cautious Trinidad & Tobago if we can ever be described as such.
The potential and promise of 1989 had been of a different age.  The following year, 1990, Abu Bakr's attempted coup became the latest thing to change and define us.  Briefly, though, the future looked horizonless.
Everything was red, like a Minshall River, like we were steeped in blood.
And soca and football were what would set us free.