After a week punctuated with contract wrangling, infighting, strike threats and Twitter tantrums, depending on whether your focus is the West Indies cricket team, the national under-20 boys and the senior women footballers, it was nice to have something to savour for a change.
At kick off, that mirth might have been directed at Trinidad and Tobago midfielder Kevin Molino and his unseasonal experiment with peroxide ins his hair. By the final whistle, the Ato Boldon Stadium in Couva was smiling with Molino, though, as his hattrick paced the "Soca Warriors" to a 6-1 demolition of the Dominican Republic in last night's Caribbean Cup qualifying group affair.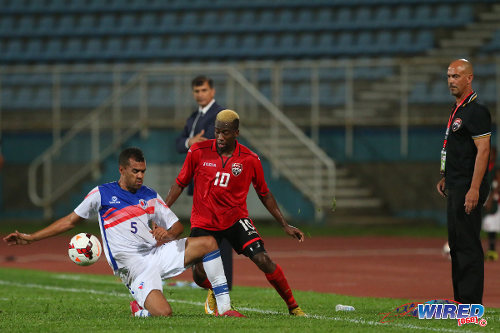 "I won't say I was worried," said Trinidad and Tobago national head team coach Stephen Hart, in the post-game press conference, "but I was interested in how the first 15 minutes would go."
Last night was Hart's first competitive match with the Warriors since the July 2013 Caribbean Cup, his first taste of action in the regional tournament and only his team's third game of the year.
In an abundance of caution—almost certain linked to the abysmal preparation of all of the Trinidad and Tobago Football Association's (TTFA) national teams—Hart selected 14 foreign-based players in his 20-man squad, which led to a bizarre bit of history when an overseas-based professional, Millwall right back Justin Hoyte, could not even find a place on the substitutes' bench.

All 10 of Trinidad and Tobago's outfield players in the starting line-up earn their living abroad.
There was a time when the Caribbean competition was used primarily to blood new talent. But this is a new era.
The recent success of the women's team and under-20 men has raised the level of expectation on this squad while there is also the tantalising first place prize for the Caribbean Cup champion of a berth in the 2016 Copa America, which could offer vital experience for T&T's 2018 World Cup drive.
"I've never been able to play in this Cup before," said national team captain Kenwyne Jones, "and I think the team we have now is good enough to get to the final and hopefully win. But we just want to focus on the next game."
And who can argue that picking your strongest team—give or take a few enforced absences—is the best way to go about winning trophies?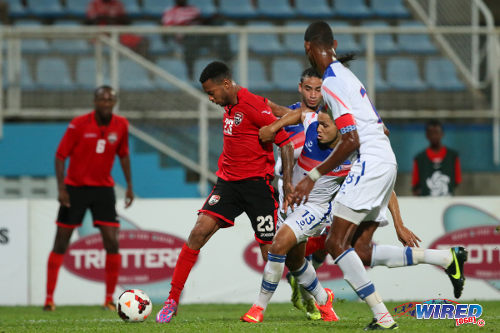 When the Warriors met the Dominican Republic at the 2012 Caribbean Cup, it took a late goal from Molino to eke out a vital 2-1 win. Yesterday, "Los Quisqueyanos", as Dominicans refer to their football team, did not know what hit them.
The scoreline suggests a Molino mauling. In truth, winger Lester Peltier was just as dangerous; and by the time Peltier hobbled off the field in the 37th minute, the Dominican Republic was in tatters.
In the third minute, Peltier flew past Dominican left back Edward Acvedo and drove a cross into the area that a defender deflected off his own bar. Molino was on spot to nod the loose ball across the goal line.
A minute later, Peltier produced an encore; only this time his cross flew directly to Molino who finished with a neat diving header.
"We started well and I think that did two things," said Hart. "One is that it put them under immediate pressure because I think they are a better team than what we saw tonight; and that allowed us to settle down a bit."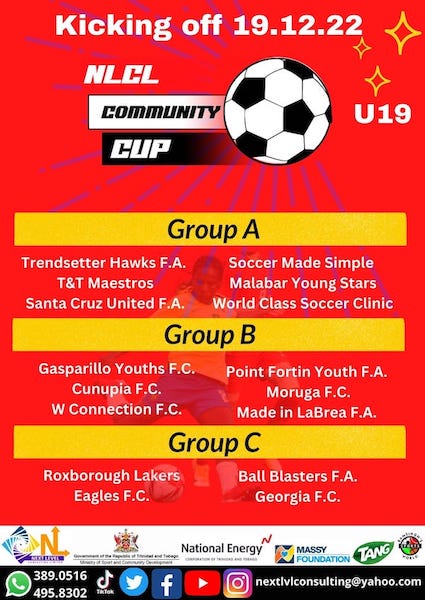 In the 25th minute, Peltier created Trinidad and Tobago's third as he spotted Molino's forward run and lofted a pass perfectly in his stride. And the Orlando City playmaker, who was the US second-tier league's MVP and is now MLS-bound, finished with a deft flick past ex-W Connection goalkeeper Miguel Lloyd.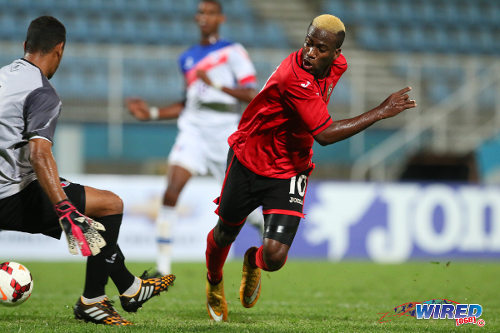 Two years ago, Peltier and Molino bemused staff by referring to themselves as "Yorke and Latapy" during the Caribbean tournament. It is blindingly obvious that they are not nearly as successful yet. But Molino is about to have Brazil star and former FIFA Player of the Year Kaka as a club teammate while Peltier just played 90 minutes against Italian outfit, Napoli, in the Europa League.
They are young men on a forward trajectory and the Warriors benefitted from their telepathic understanding last night.
Jones should have got in on the act in the 35th minute but failed to control his sidefooted volley from a Peltier cross with a vacant goal in front of him. However, the Cardiff City forward got his first item in the 40th minute, a simple finish after a Molino pass, before completing his double in the 55th minute after a brilliant outside of foot cross from Hughtun Hector.
It was Jones' eighth goal in 12 internationals under Hart and, although his tally shows 15 goals in 63 FIFA-recognised matches, the giant, dreadlocked forward played 15 times in orthodox midfield roles; so yesterday was his 48th game as an international striker
By the end of the Caribbean Cup, Jones might have the respectable goals per game ratio that he craves; and it is not as if record T&T goalscorer Stern John did not fill his boots in regional tournaments as well.
The crowd's response to Jones remains mixed though.
Trinidad and Tobago does not idolise the men who get the job done without theatrics. John was never loved by the local public, Dwight Yorke was only cherished after he dropped into midfield in the twilight of his career while older fans tend to reminisce about Leroy De Leon, Warren Archibald and Everald "Gally" Cummings but, rarely, about the free-scoring Steve David.
Jones, who, incidentally, is a three-time Trinidad and Tobago Player of the Year, will just have to live with that.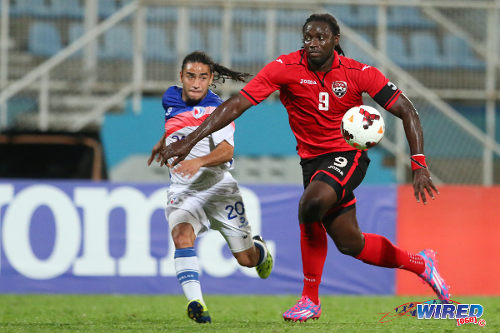 Hector engineered two more assists for either team later in the match. There was a measured pass for teammate and substitute Trevin Caesar to bang home his first senior international goal in the 76th minute; and a skewed one that Johnathan Fana capitalised on to grab the Dominican Republic's consolation item in the 86th minute.
Trinidad and Tobago goalkeeper Jan-Michael Williams would not have enjoyed losing his clean sheet in that fashion. But it is hard not to feel pleased for the clever and industrious Fana—a former fan favourite and teammate of Williams' at Connection.
For much of the 90 minutes, the Dominican Republic team chased shadows as Andre Boucaud and Khaleem Hyland commanded central midfield while Peltier and Hector moved menacingly on the flanks and Molino and Jones traded places intelligently.
The back four, a mish-mash with midfielder Joevin Jones and central defender Daneil Cyrus asked to play at left back and right back respectively, was more tentative. Hart's decision to use Cyrus at right back was especially curious since he already had two specialist right backs, Connection's Alvin Jones and Hoyte, in his squad.
Overall, the Warriors were an appreciable combination of physical strength, athleticism and sound decision making. And the crowd cheered often during the 90 minutes.
"We still have to work a bit more on keeping the ball longer," said the 25-year-old Hyland, a Racing Genk midfielder who sounds more like a coach each year. "But it is a long time we haven't come together and it is a great start for us…
"The team worked hard and defensively tried to keep a block when we didn't have a ball. The effort from us was great from the start."
The Warriors can be better; and they intend to be on Friday night in Couva. It is very worrying news for their next opponent, St Lucia.
(Teams)
Trinidad and Tobago (4-2-3-1): 21.Jan-Michael Williams (GK); 6.Daneil Cyrus, 4.Sheldon Bateau, 19.Carlyle Mitchell, 3.Joevin Jones, 14.Andre Boucaud, 8.Khaleem Hyland (11.Ataulla Guerra 53), 23.Lester Peltier (13.Cordell Cato 37), 7.Hughtun Hector, 10.Kevin Molino (20.Trevin Caesar 62), 9.Kenwyne Jones (captain),
Unused substitutes: 1.Marvin Phillip (GK), 5.Kevan George, 17.Leston Paul, 18.Yohance Marshall.
Standbys: 16.Alvin Jones, Justin Hoyte.
Coach: Stephen Hart
Dominican Republic (4-2-3-1): 1.Miguel Lloyd (GK); 2.Luis Diaz, 18.Hansley Martinez, 4.Jose Israel, 20.Edward Acvedo; 5.Heinz Barmettler,13.Rafael Leonardo; 9.Domingo Peralto (17.Rony Beard 57), 14.Jean Lopez, (16.Edipo Rodriguez 56), 7.Kerbi Rodriguez (19.Samuel Elias 86); 10.Johnathan Fana,
Unused substitutes: 12.Wellinton Agramonte, 6.Richard Dabas, 23.Luis Taveras, 8.Inoel Navarro,
Coach: Clemente Domingo
Referee: Kevin Morrison (Jamaica)
Caribbean Cup qualifying fixtures
(Wed Oct 8)
Antigua and Barbuda 2 (Keiran Murtagh, Joshua Parker), St Lucia 1 (Kurt Fredericks) at Couva;
Trinidad and Tobago 6 (Kevin Molino 3, 4, 25, Kenwyne Jones 40, 55, Trevin Caesar 76), Dominican Republic 1 (Johnathan Fana 86) at Couva;
Upcoming fixtures
(Fri Oct 10)
Dominican Rep v Antigua and Barbuda, 6 pm, Ato Boldon Stadium;
T&T v St Lucia, 8.15 pm, Ato Boldon Stadium;
(Sun Oct 12)
Dominican Republic v St Lucia, 4 pm, Ato Boldon Stadium;
T&T v Antigua and Barbuda, 6.15 pm, Ato Boldon Stadium.