In South Africa, a famous and wealthy Olympian athlete Oscar Pistorius was found not guilty of murdering his girlfriend, Reeva Steenkamp, after he said he did know she was behind a bathroom door that he fired four shots through last year.
This brings us to the first instalment of Mr Live Wire's new game show, "What would you do?"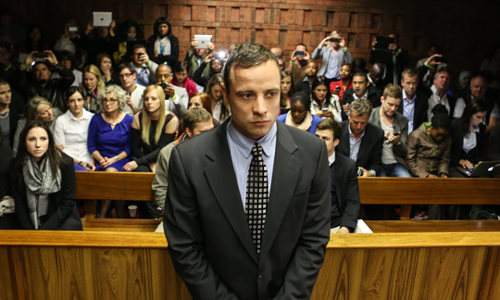 Here is your hypothetical scenario: You and your girlfriend live alone and you hear noise coming from behind a closed bathroom door. You are armed. Do you:
(a) Shout out that you are armed and demand the person identify him or herself;
(b) Make a tactical retreat to your bedroom where you believe your girlfriend is, lock the door and call the police while holding your firearm for security;
(c) Spray up your own bathroom with bullets and then make an overseas call to Chaguanas lawman Johnny Abraham to ask what his head count was that night;
(d) Fire a solitary warning shot and shout at the would-be robber that you mean business;
(e) Demand your girlfriend flushes;
(f) Wish your girlfriend "Happy Valentine's Day!"
Your answer might qualify you to be a South Africa High Court Judge.