Twenty-three year old James Rodriguez became the most expensive Colombian footballer of all time yesterday when the former Monaco attacker was unveiled as Real Madrid's latest Galactico.
Rodriguez marked his coming out ceremony at the Estadio Bernabeu by kicking footballs into the crowd and saving one exuberant spectator from being battered by club security.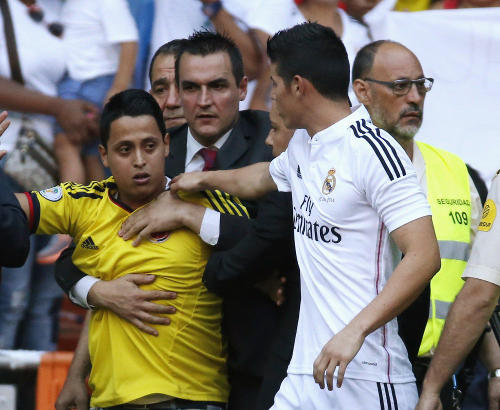 Mr Live Wire cannot confirm that the pitch invader was Barcelona and Argentina hardman Javier Mascherano trying to land an early tackle.
Rodriguez, who joins German Toni Kroos at Madrid, cost £60 million, which would raise eyebrows once the conversation does not turn to his compatriot and pop star, Shakira. She could probably raise that money in half hour if she asks her Facebook followers for TT$6 each.
Shakira, of course, has dated Spain and Barcelona defender Gerard Piqué for the past four years. But Barcelona's recent captures have been nowhere near as glamorous or reassuring.

This season, Barcelona splashed out £75 million for Uruguay striker Luis Suarez who the club could not even present to its fans as he is serving a FIFA-imposed three month restraining order from all football grounds after nibbling on Italian defender Giorgio Chiellini during the 2014 World Cup.
It was the third time that Suarez tried to snack on an opponent and, presumably, someone at Barcelona is trying to explain to him the difference between a buffet and stadium.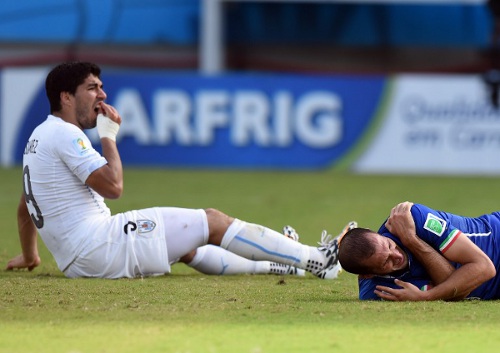 Mr Live Wire is pretty sure there will be no pitch invasions when Barcelona finally unveils the hungry Uruguayan.
At the other end, Barcelona tried to shore up its leaky back four by signing French defender Jérémy Mathieu for £14 million; to which even French football fans might have asked: "Qui?"
At 30, Mathieu has made all of two appearances for the France national team and none were in competitive matches while he was not in France's 2014 World Cup squad. Barcelona gave him a four-year contract.
Suddenly, Suarez's signing does not seem so bizarre anymore.
But the Brazilian Football Confederation (CBF) was a clear frontrunner in a week of dodgy decision making after opting to replace Luis Scolari, the coach who led the Selecao to a humiliating 2014 World Cup semifinal exit with Carlos Dunga, the coach who led the Selecao to an uninspiring 2010 World Cup quarterfinal exit.
Give them time; the CBF will work their way down to Dave Moyes eventually.