Chapter 3: Havelange's Golden Briefcase: Why is it so heavy when he leaves Zurich?
ZURICH AIRPORT, anytime, 1974-1998. The easy thing for Rudi the chauffeur was meeting and greeting the FIFA President when his plane arrived from Paris. Havelange loved to stay a day or more in Paris on his way from Rio. Rudi packed his boss's luggage into the executive limousine, putting the small aluminium briefcase to one side. It was easy to carry. It would be different on the return journey. It would need both hands to swing it up into the car trunk.
When the President opens his case in FIFA's old offices at Sonnenberg out tumbles maybe 20 green, vacuum-sealed packs of powdered coffee, gifts for the staff.
'It tasted horrible,' recalls one FIFA official. 'It wasn't what you expected from Brazil.'
Once the case was empty Havelange set off with Rudi to one of Zurich's best-known gold dealers. He was known there as 'a very good client' because every trip from Rio to Zurich involved a trip with Rudi to fill the case with gold ingots.
'On average Havelange would spend up to $30,000 a time,' remembers a clerk.
Where did the money come from? Nobody knew for sure – but Havelange was never short of big bundles of cash to hand over at the precious metal dealers. Was he buying the gold on behalf of his gangster friends in Rio? Or was he laundering the kickbacks he extorted in Switzerland in return for handing lucrative World Cup contracts to his friends?
That little aluminium briefcase made at least five trips a year to Zurich with the FIFA President and returned home filled with ingots. How did Havelange smuggle several kilos of gold back into Brazil? Easy! He had a diplomatic passport and his luggage was never searched. His micro-managing subordinate, Sepp Blatter, saw everything, said nothing, as he learned the gangster ways.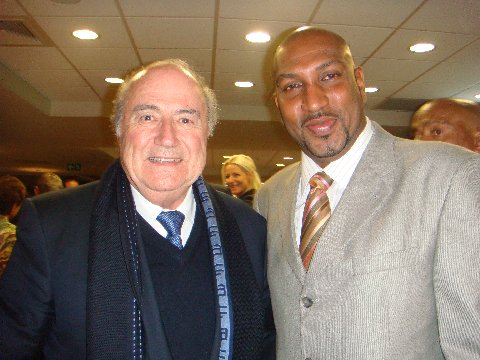 One of Havelange's great achievements was to conceal his criminal activities behind the aristocratic mask of a tough but benevolent gentleman. I discovered this at FIFA's congress in Seoul in 2002. By then Havelange was Honorary President, replaced by his ambitious bagcarrier Sepp Blatter, a shabby bureaucrat who could never emulate Havelange's class.
I was trying to get a good photograph of Havelange as he mounted the stage from the congress floor. He saw me, stopped halfway up the steps, adopted his paternal pose and gazed down, the very figure of a charismatic captain of industry, giving me time to run off a few shots.
Havelange's tame reporters in Brazil and Europe created a legend that his extraordinary business skills made FIFA rich. They got it totally wrong. He was lucky, arriving at the helm of international football as TV and sponsors were prepared to pay more and more money to officials like him who were happy to quietly privatise the people's game.
The hard truth is that an honest FIFA President could have driven harder bargains with commerce. Havelange's priorities were his bribes and contract kickbacks, self-enrichment rather than the enrichment of the game. How Dassler and his operatives at his International Sport and Leisure marketing company, midwives to global capital, must have laughed behind his back. Their clients would have paid more if Havelange was a true negotiator with a great product to sell. Instead, he gave it away for kickbacks.
EQUALLY DISHONEST was Havelange's public portrayal of himself as a good family man.
'I had the great fortune in 1946 to marry Anna Maria Hermanny-Havelange, and our marriage has lasted 52 years so far,' he announced in 1998. 'We had one daughter, Lucia, and she has blessed us with three grandchildren, Ricardo, Joana and Roberto, who are our joy and our hopes for the future.'
This makes a reader uneasy. He cared so little for his daughter Lucia that he married her to the slimy Teixeira who in his middle years, dumped her for the much younger Anna.
Havelange proved himself world class in the pool and encouraged admiration of his Olympic exploits at swimming and water polo in 1936 and again in 1952. He was determined to be equally successful between the sheets. Havelange always honoured his dear wife, Anna Maria, at FIFA functions but every official present knew the secrets of his bed hopping.
One of his most memorable mistresses at FIFA was a beautiful tall woman, let us call her Ms Gorgeous. She joined FIFA in 1975 as assistant to Sepp Blatter, then FIFA's technical Director. Ms Gorgeous travelled worldwide with Blatter and there was gossip that when not involved in football, their favourite game was horizontal jogging.
In time she caught the eye of the President on one of his visits from Rio and they started an affair that would run for five years. Towards the end of the 1970s she was promoted to head of FIFA Protocol and Promotion.
Ms Gorgeous was installed in a luxury apartment in Zürichberg, the most elegant suburb of Zurich, decorated with the most expensive furniture. She acquired a long black mink coat, beautiful scarves and expensive jewellery. She accompanied Havelange everywhere as his translator and personal assistant. She became the gatekeeper controlling all access to the President. Solid gold gifts were showered upon her.
Havelange did not spend a lot of time in Zurich and Ms Gorgeous, bored, began entertaining a middle ranking FIFA manager. They did little to hide their sporting activities and soon everybody in the building knew. Another of the President's functionaries became jealous and wrote an anonymous letter to the wife of the new lover of Ms Gorgeous. The decline into farce began.
In 1985 FIFA's top officials toured the Soviet Union, beginning in Moscow. Havelange took his old friend and ally from Rio, Elias Zaccour, and Abilio d'Almeida, a Brazilian member of FIFA's ruling Executive Committee — the 23-man ExCo — as guests. Briefed apparently by jealous Zurich officials, they told the President that he was not the only athlete presiding over Ms Gorgeous.
The tour took them to Azerbaijan and their hosts in Baku planned a spectacular night of food and entertainment. Havelange appeared depressed and after a few minutes he stood up, signalled to his Brazilian entourage to follow him and walked out. The evening was wrecked, the hosts were speechless and the show cancelled.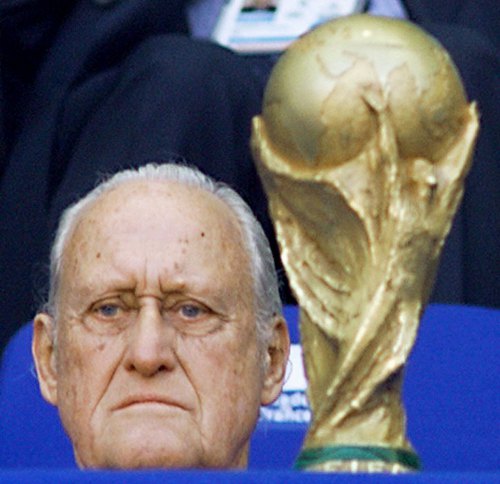 The FIFA staff soon learned that a day earlier in Minsk, Havelange had been tipped off that Ms Gorgeous was making the two-backed beast in her room with her other lover. Havelange phoned the man's room and asked if she was there. Instead of denying, he said to Havelange,
'Wait a moment, here she is.'
When the FIFA squad returned to Zurich Havelange refused to see Ms Gorgeous and Blatter gave her a cheque for 10,000 Swiss Francs and the ultimatum of 24 hours to clear her desk. Her lover was spared. He is now retired from FIFA, aged 65 in October 2007, but represents Blatter at functions, like IOC conventions, that bore the FIFA president. He visits Brazil frequently and will be at the FIFA Congress in São Paulo.
Ms Gorgeous left Switzerland and had a successful career elsewhere. To everyone's surprise she surfaced in Germany in 2006 working on World Cup protocol alongside Sonja Abold, Michaela Radmann and 'Funny' Fedor Radmann, close associate of Franz Beckenbauer, all of whom we will meet in Chapter Six.
WRENCHING the leadership of FIFA from the ageing Englishman Sir Stanley Rous cost a lot of money. By the time Havelange had toured the world, often with the seleção, there was a big hole in the finances of the Brazilian Federation for Sport. He had been milking it since 1958 and by the time he left in 1974 for FIFA, the hole was reportedly $6.6 million deep.
The Generals who had held power for a decade wanted to investigate Havelange for stealing the money from sport. Their dilemma was that from June 1974 he was a world figure, boss of the biggest sport. To accuse him of corruption could shame Brazil. He got away with it.
ANOTHER of Havelange's claims is that he has been an 'idealist and visionary.' He omits 'Merchant of Death' from his personal and financial history. Following the collapse of the fascist Salazar dictatorship in Portugal from 1968 there was massive capital flight to Brazil. In 1994, in an extended profile of Havelange in Playboy, Roberto Pereira de Souza investigated his involvement with Portuguese emigrés in shipping munitions to the brutal dictator Hugo Banzer in Bolivia. De Souza reported that the documentation had been destroyed on the order of former president Fernando Collor de Mello. In what was described as a 'shady' deal 80,000 grenades were sold at a vastly inflated price.
Havelange skipped swiftly from one neighbouring dictator to another. The next World Cup was in the military prison that Argentina had become. Uruguayan writer Eduardo Galeano summed up,
'To the strains of a military march, General Videla pinned a medal on Havelange during the opening ceremonies in Buenos Aires's Monumental Stadium.'
A few steps away, Argentina's Auschwitz, the torture and extermination camp at the Navy School of Mechanics, was operating at full speed. A few miles beyond that, prisoners were being thrown alive from airplanes into the sea.
'At last the world can see the true face of Argentina,' crowed the president of FIFA to the TV cameras.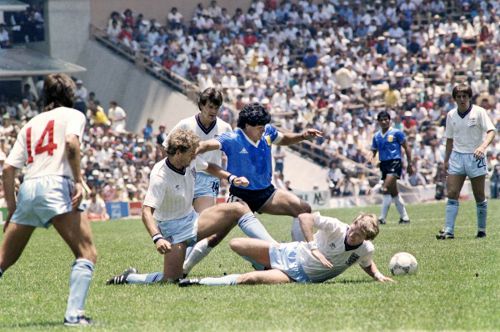 Embracing the foul murderers in Argentina yielded Havelange more than a medal. FIFA got a new vice-president who helped drag the organisation's reputation into the gutter a generation before the latest gang of thieves. Admiral Carlos Lacoste gained notoriety over the allegation that he ordered the assassination in 1976 of his respected colleague General Carlos Omar Actis, appointed to organise the World Cup. Actis infuriated Havelange because he would not spend money on a new stadium or upgrading Argentine TV to show the tournament in colour.
Eduardo Galeano saw through Lacoste. 'The Admiral, an illusionist skilled at making dollars evaporate and sudden fortunes appear, took the reins of the World Cup after the previous officer in charge was mysteriously assassinated. Lacoste managed immense sums of money without any oversight and it seems, because he wasn't paying close attention, he ended up keeping some of the change.
Lacoste passed all Havelange's tests and became a vice president of FIFA in 1979. Fortunately he did not last long. When Argentina returned to democracy in 1983 President Raul Alfonsin objected to Lacoste representing the country abroad. Despite Havelange's best efforts, Lacoste was forced to step down in 1984. Havelange felt that Julio Grondona, who had taken over football in Argentina in 1978, could have fought harder for Lacoste and relationships were chilly for the next few years. But Grondona had seen the main chance and if Lacoste could be dumped, he would be prime candidate to fill the vacancy at FIFA.
Archive photographs show Grondona sucking up to General Jorge Videla who led the military coup and was eventually convicted of every kind of vile human rights abuse and sentenced to life in jail. As well as arming dictator Banzer and helping dictator Videla win the World Cup, Havelange enjoyed his handshakes with a third Latin American mass-murderer, Chilean dictator Augusto Pinochet. The old men of FIFA, the CBF and Conmebol see no reason to apologise for how football has been manipulated and disgraced.
Grondona was promoted to head FIFA's finance committee; Jack Warner from Trinidad was appointed deputy – but his price for delivering votes to Havelange and Sepp Blatter was high. When Warner was steered to power at Concacaf in 1990 he made his pledge to Zurich.
'I shall always remain eternally grateful and permanently indebted to you and I do wish to give the assurance that in all our deliberations and actions loyalty to you, to our president Dr Havelange and to the organisation of FIFA itself, shall always be paramount.'
Grondona looked the other way as Warner looted football. (see chapter 8)
FIFA's limited financial reports conceal much of Havelange's exploitation of FIFA. Various big numbers have been suggested for his expenses and the high cost of his office in Rio. I managed to obtain his claim for  his last year in 1998. The cost of his Rio office was 1.8 million Swiss Francs. That's a lot of phone calls.
During his 24 years as FIFA president Havelange had an extraordinary, almost unbelievable privilege. He could sign checks without any additional signature from any other official. He had the sole authority to write cheques to his friends, to people he needed to bribe – and to himself. He handed this secret privilege to Blatter, later.
One special luxury Havelange indulged in was buying expensive watches to present to rich people, especially the rulers of the Gulf. Part of the gift culture of the billionaire sheikhs includes gold, platinum and heavily jewelled watches. The mantra at FIFA House in Zurich was
'You have to give to receive.'
FIFA paid for the gifts going to the Gulf – but the officials kept the gifts they collected on their visits. FIFA's favourite supplier was the Geneva branch of international jewellers Harry Winston's 'Rare Jewels of the World' boutique in Quai General-Guisan.
Even after he was replaced by Blatter, former President Havelange continued to spend FIFA's money with Harry Winston. I know because a friend in Switzerland gave me a copy of an order placed by Havelange's personal secretary. On June 11, 1999, on FIFA headed notepaper, she ordered five beautiful watches, one made of platinum. The total bill was for 97,000 Swiss Francs.
In retirement Havelange went on spending like a drunken billionaire. He had the right to check — with a guest — into any luxury hotel in the world. And he could spend up to 30,000 Swiss Francs anytime on his FIFA American Express card. When Honorary President Havelange paid 600 Euros for a bottle of wine in a Paris restaurant, there was muffled rage in the FIFA finance department.
Ricardo Teixeira shared his former father in law's expensive tastes – when FIFA was paying. Like every other member of the FIFA ExCo, Ricardo had his own account at FIFA's office in Zurich. It is where they hide money from the tax inspectors back home. They can charge outrageous expenses for travel and hotels because FIFA doesn't ask them to provide receipts, tickets, restaurant bills, evidence of spending. Blatter is happy to keep them happy so they are never asked to justify their claims. It is not his money they are stealing!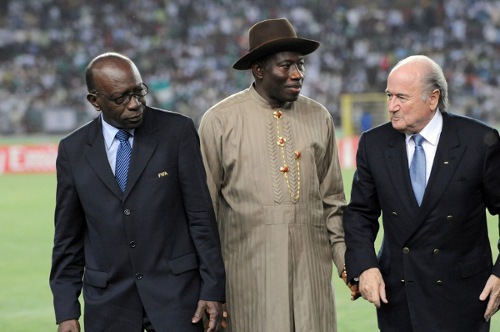 The money is stashed in their FIFA accounts. If they are doing illicit rackets with World Cup tickets they can bank the profits safely here. They were also allowed to claim $200 a day in per diems for every day away from their home country and that goes into their Zurich account. President Blatter (Account Number 469) soon lifted the daily allowances to $500 a day and created a new allowance of $200 a day for partners.
Problem: How to get the money, in the currency of your choice but usually US dollars, back home? The clerks in the FIFA finance department hand over bundles of cash. On the way to the airport, stuff them down the front of your trousers and up under your armpits. It can help to have a girlfriend with very big knickers.
I have some of the secret documents from Ricardo's FIFA account in Zurich, number 1663. From 1994 when he was elevated to the ExCo until 2012 when he was forced out, this was his private goldmine, beyond the reach and knowledge of any Brazilian tax inspector. Here's one small example of how FIFA could be looted.
In the early summer of 1998 Ricardo had to return the World Cup trophy, won in 1994, to FIFA's office in Paris, ready for the upcoming World Cup.  According to his expenses claim, it took 10 days to find somebody, anybody, to accept the trophy. He claimed $7,700 just for being there. There was another $11,550 in air fares. Did he also charge the CBF for his airfare?
Editor's Note: Click HERE to read Chapter One of Omertà: Sepp Blatter's FIFA Organised Crime Family. 
Wired868 has been authorised to publish excerpts from Omertà for readers. We urge you to purchase an online version of the book for just £8 at http://www.transparencybooks.com/