Forever the fashionista, Cristiano Ronaldo was fashionably late to the Brazil 2014 World Cup with a gorgeous assist to teammate Silvestre Varela as Portugal scored in the closing seconds of extra time today to hold the United States 2-2 at the Arena Amazonia.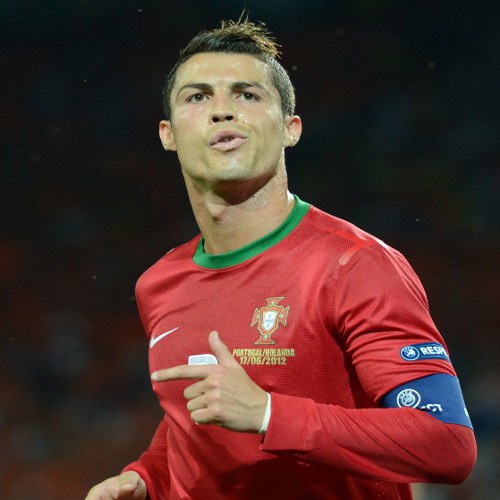 The result gave Portugal and Ghana a slim chance of advancing to the knockout stage of the competition on the final day of group competition; so long as Germany and the United States do not play to a draw.
Incidentally, US coach Jürgen Klinsmann is a former World Cup winner with Germany and the current German coach Joachim Löw was his assistant during the 2006 tournament. Germany veteran Philipp Lahm once also declared his eternal gratitude to Klinsmann for making him the national team captain while two of the US' best players, Jermaine Jones and Fabian Johnson, were born in Germany.
So, there is no chance of collusion right? Perhaps PNM leader Keith Rowley should keep an eye on his mailbox just in case some interesting phone records from Brazil are dumped there soon.
Elsewhere in Group H, Belgium booked its place in the Round of 16 with a 1-0 win against Russia, which was its second successive triumph by a solitary goal. While Algeria took a big step towards joining Belgium with a shock 4-2 rout of the Korea Republic.

Thus far, Algeria's most treasured World Cup memories arguably came in a France shirt when Zinedine Zidane, the son of Algerian immigrants, ruled the world. But the North African country made Korea's defence look as handy as a convenience store today with three goals in 12 minutes to deflate the latter nation.
At present, all four Asian representatives look set for first round elimination from the World Cup. In contrast, Costa Rica is already through for CONCACAF with Mexico and the US likely to also advance.
Even Honduras still has a mathematical chance of getting to the knockout stage, which might mark the first time that a Confederation other than South America saw all of its representatives progress to the final stages.
A brilliant assist from Ronaldo dampened the United States' delight somewhat.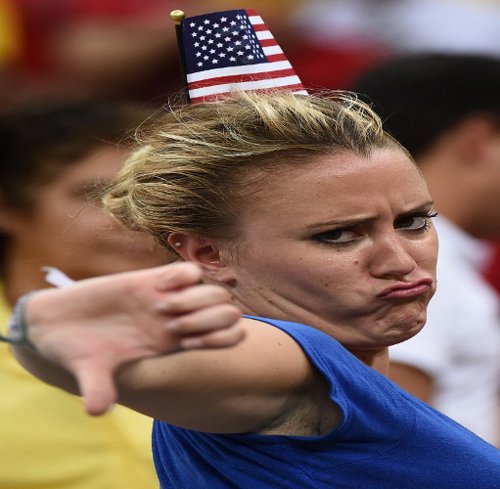 But it cannot detract from a wonderful campaign so far from the land that prefers to refer to the world's most famous game as "soccer."
US captain Clint Dempsey, the wanna-be rapper who does not sing his country's anthem, was again on-song while the midfield pairing of rastaman Jones and the bald-headed Michael Bradley was as delightful a combination as sweet and sour chicken.
The FIFA 2013 World Player of the Year, Ronaldo, barely got a sniff. And, for that, the Yanks can call the damn game whatever they like.
Today's World Cup action
Group H
Belgium 1 (Divock Origi 88), Russia 0
Algeria 4 (Islan Slimani 26, Rafik Halliche 28, Abdelmoumene Djabou 38, Yacine Brahimi 62), Korea Republic 2 (Son Heung Min 50, Koo Ja-Cheol 72)
Group G
United States 2 (Jermaine Jones 64, Clint Dempsey 81), Portugal 2 (Nani 5, Silvestre Varela 95),
Star of the Day
United States attacker Clint Dempsey, the surly, tattooed ex-trailer park kid, is probably what Eminem might look like if Jürgen Klinsmann was his mentor rather than Dr Dre. He has never played as an out-and-out striker at any significant level before today; but, as always, the real Clint Dempsey stood up.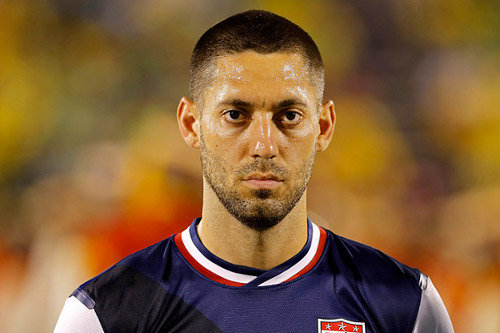 Villain of the Day
Forward Alexander Kokorin could have put Russia ahead in the 73rd minute but headed wide of an open goal after a brilliant cross from teammate Aleksandr Samedov. His goal might have guaranteed his team's progress to the second round; instead, Russia is on the verge of elimination.
He can only hope that Russian president Vladimir Putin was horseback riding today.
World Cup Round of 16 (as it looks tonight)
Four South American nations could face each other in the Round of 16 while the Brazil versus Argentina final is still a possibility… But so is Germany versus Netherlands:
Brazil versus Chile; Colombia versus Italy;
France versus Nigeria; Germany versus Algeria;
Netherlands versus Mexico; Costa Rica versus Côte d'Ivoire;
Argentina versus Ecuador; Belgium versus USA.