There were punching bags that fought back more bravely; and babies who held on to their candy longer.
Even when Spain was a genuine global superpower and its conquistadores colonised most of South America, the Spaniards never managed to get Brazil under their thumb. So what chance did they have with a touring party who, whenever things got rough, pinned their hopes on Fernando Torres?
The bullish Chile outfit finished off the Spanish matadors today with a 2-0 win at the Maracana Stadium in Rio de Janeiro to mark the first time that a World Cup holder has been eliminated after just two matches.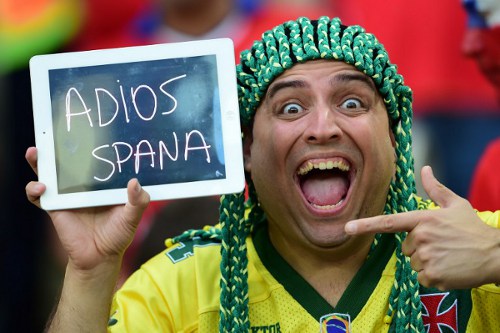 For context, even the "Soca Warriors" were still alive for their final group match in Germany 2006.
Spain had company in the departure lounge today as Australia bowed out 3-2 to the Netherlands and Cameroon fell 4-0 to Croatia.

It means the Netherlands team, paced by another goal each from lively frontmen Arjen Robben and Robin Van Persie, is the first to qualify for the knockout stage where a clash with either Brazil, Mexico or Croatia awaits.
The "Aussies" pushed the Dutchmen all the way, though, as frontman and serial corner flag abuser Tim Cahill spanked home one of the goals of the tournament with a brilliant left footed volley.
Cameroon did not provide any such high point; but there was plenty misplaced aggression as midfielder Alex Song tried to clobber Croatian striker Mario Mandzukic for running across his path and left back Benoit Assou-Ekotto for trying to butt teammate Benjamin Moukandjo after the latter's petulant response to a sharp word.
It was more fight than the entire Spanish team put up over 180 minutes.
Spain captain and goalkeeper Iker Casillas' weak clearance in the 43rd minute, which barely cleared his six yard box and led to Chile's second goal, was symptomatic of the defending champions' passion. Even the "Brahmin Boy" would have delivered a stronger punch.
Coach Vicente Del Bosque had already dropped Xavi and Gerald Pique and, at halftime, withdrew Xabi Alonso. But it was like rearranging deck chairs on the Titanic. And when Sergio Busquets missed a gaping goal from four yards, it was clear that the defending champions had lost their nerve.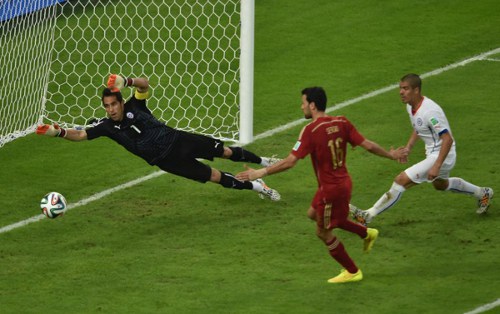 Del Bosque responded by sending on Torres, which could arguably be interpreted as a customised resignation letter.
RIP, tiki taka talibans: gone and already forgotten.
Today's 2014 World Cup summary
Group B
Netherlands 3 (Arjen Robben 20, Robin Van Persie 58, Mephis Depay 68), Australia 2 (Tim Cahill 21, Mile Jedinak 54 pen)
Chile 2 (Eduardo Vargas 19, Charles Aranguiz 43), Spain 0
Group A
Croatia 4 (Ivica Olic 11, Ivan Perisic 48, Mario Mandzukic 61, 73), Cameroon 0
*–Red Card: Alex Song (Cameroon)
Star of the Day
Australia striker Tim Cahill played his last World Cup game today; and what an exit! His stunning left foot volley cannoned in off the underside of the crossbar and will probably be replayed for years to come.
Villain of the Day
It is hard to choose between Spain captain Iker Casillas' weak punch, midfielder Sergio Busquets appalling miss and Cameroon left back Benoit Assou-Ekotto's bizarre attempt at team bonding.
Busquets gets the nod though. El rondo champion and master of the sure first touch couldn't even get his foot on a simple cross and allowed Spain's best chance to deflect off his shins.