Earl Best completes the transcript of his conversations with Frank Hernandez, a 68-year-old Santa Cruz native who keeps cricket's "Bible" at his bedside and who knew Brian Lara when he was just a boy in short pants.
Today is the 10th anniversary of Lara's world record 400 runs against England, which eclipsed Australian Matthew Hayden's 380 versus Zimbabwe that had itself surpassed Lara's 375 against England in 1994.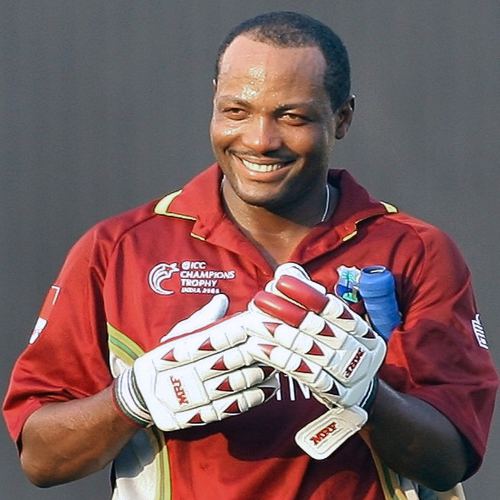 Unquestionably the greatest batsman in the game, arguably the greatest cricketer ever, and one of the finest sportsmen of all time, Don Bradman was so far ahead of the competition as to render comparisons meaningless and to transcend the game he graced.  (Cricinfo's "In a nutshell" profile of Donald George Bradman)
No-one since Bradman has built massive scores as often and as fast as Lara in his pomp.  (Cricinfo's profile of Brian Charles Lara)
Perhaps the most complete batsman and the most worshipped cricketer in the world, Tendulkar holds just about every batting record worth owning in the game, including those for most runs and hundreds in Tests and ODIs, and most international runs.  (Cricinfo's "In a nutshell" profile of Sachin Ramesh Tendulkar)
Satisfied, Uncle Frank settles back into his chair. He has finished making the presentation on behalf of the Prince and, watching him, you can tell that he feels he has painted the jury into a corner; no verdict is now possible, his expression seems to say, other than the one he wants to hear.
However, maybe not the rules of procedure but the rules of natural justice at least demand that he make the case for Tendulkar; he will. But he will do it as prosecutor, not as the Mumbai Master's attorney.
Licking the tips of his fingers, he flips rapidly through a few pages of the Wisden. He stops, stares at what is in front of him for a moment, then looks up to study my face for a long moment more.
I focus on the open Wisden; the section that stares back at me is headed "Most runs in a series."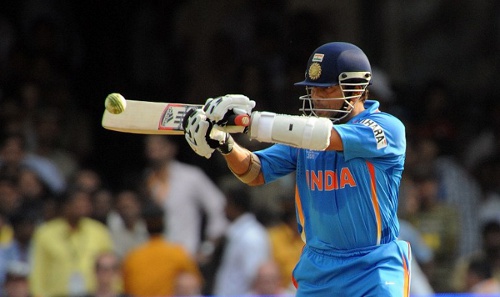 "Tendulkar has made 51 Test centuries," he eventually restarts, his volume much lower, his tone controlled, "with a highest Test score of 248 not out."
I think I know what is coming.
"Against whom?" I ask, deliberately chooking fire.
Once again, I get the look of studied disdain.
"Who yuh tink?" he snarls. "Bangladesh!"
He studies his notes.
"Batsmen made 500 runs or more in a Test series over 200 times; 220 times, I think! Tendulkar never did it, not once! Lara and Bradman did it seven times, the world record. It has happened 35 times in four-Tests series and 24 times in three-Tests series."
He holds up the open Wisden for my scrutiny.
"Tendulkar never made 500 in a first-class match, he never made 400 in a first class-match, he never made 300 in a first-class match, he never made 400 or 300 in a Test match, he never made even 250 in a Test match, he never made 25 runs in a single Test match over, he never made a double and a century in the same match. People made two centuries in the same match 70 times; Tendulkar is not among them. But he try hard: he didn't make, couldn't make a century in his last 40 innings, yes, four zero! Forty!… Yuh want more?"
"Lara never made 200 not out in an ODI," says the devil's advocate.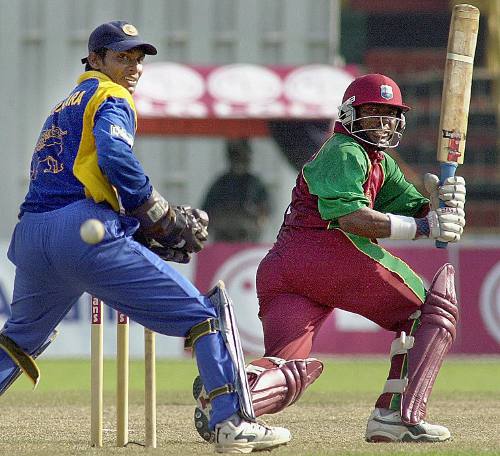 "ODI?" comes the instantaneous, contempt-coated retort. "Lara played 299 ODIs in his career but he was never really interested in ODIs. Tendulkar played more than 450!"
"Come on!" his open, upturned palms say to me, "Be reasonable!"
"Something had to happen for him at least once in 460-plus!"
He's unsettled, nettled; I should be taking the Prince of Port of Spain's side, not supporting the man from Mumbai against him.
"When Lara stopped playing," he starts again, "I mean, when they stop Lara from playing Test cricket, he had played 131 Tests and scored 11,953 runs, averaging 53.17."
He digresses to explain that, because he once played for the ICC World XI in an officially recognised match and did not do very well, Lara has two Test averages.
"It take Tendulkar 15 innings more than Lara to reach that total," he picks up the thread again. "Fifteen!"
"Tendulkar played 200 Tests, 97 innings more than Lara, and he made nearly 16,000 runs at an average of 53.78. Well, if Lara did play 200 matches, he woulda make more than 17,000 runs; if Sobers did play 200 Tests, he would have made over 17,000 runs, if Bradman did play 200 Tests, he mighta make maybe 40,000 runs and over a hundred centuries…"
"I know, I know," he extends an open palm to kill the 'but' on my lips.  "But ah just telling yuh."
"Listen, eh," he's calm again.  "The amount ah tings Lara do in cricket, first-class cricket, is the amount ah tings Tendulkar ent do."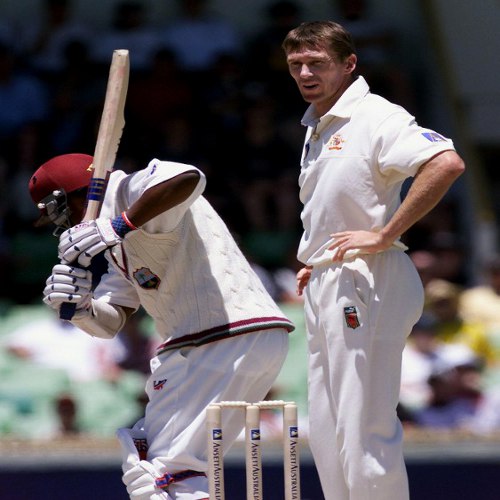 "He make plenty runs, ah give him that; he make one great double century against Australia in Sydney in 2004, ah give him that too.  But he never dominate a whole series.  Never!"
He's in full flow now; I dare not interrupt.
"Hear me: Tendulkar made 493 in a four-match series against Australia in 2007. That's real good, right? Wrong! Wally Hammond make 563 runs in only two matches against New Zealand in 1933 and (Sanath) Jayasuriya make 571 for Sri Lanka in only two matches against India in 1997. Younus Khan, Matthew Hayden and Ricky Pointing (sic) make over 500 runs in a three-match series twice; and Graham Gooch make a world-record 752 runs in a three-match series against India in 1990.  By my count, it have nearly twenty-five 500-plus aggregate in two- or three-match series in Test cricket; Tendulkar best series total is 493… in a four-Test series!  But Wisden say he better than Lara!"
You have to be impressed by the thoroughness of the research as well as the level of detail; you find yourself wondering if this attorney is simply on Lara retainer or if he has been given a full-time job by the Prince of Port-of-Spain.
"Lara and (Bill) Ponsford made 400 and over twice in first-class cricket. Bradman never do that, Tendulkar never do that; in fact, nobody else ever do that! Lara made over 350 runs in a innings three times in first-class cricket; Bradman do that but not Tendulkar, he never do that! Never! Not once!"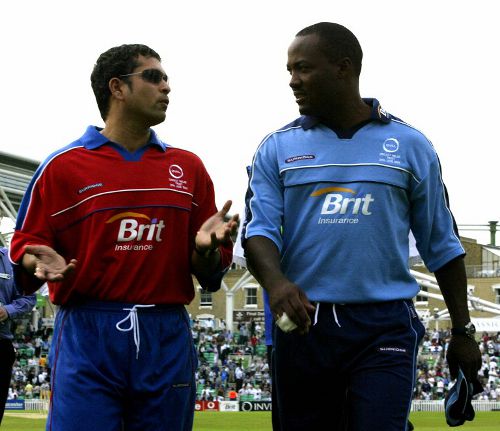 I know what they say about lies, damn lies and statistics. This is statistical stuff, it is true. But this is solid, incontrovertible stuff you can't argue with, stuff to make the walls of Jericho come tumbling down.
"Brian Lara made 688 runs in a three-match series against Muttiah Muralitharan, the most successful bowler in cricket history.  And all by himself he nearly win a series everybody expecting West Indies to lose – with a team that nobody could reasonably expect any captain to beat any half-decent side with. Don't forget that the Australian side was Number One in the world in 1999.  Lara make 213, 153 and 100 in a three-match stretch against that Steve Waugh side; the next best West Indies batsman had a average of 28 point something."
He takes a sip from his glass, as much to give me time to contemplate the enormousness of the achievement as to extinguish the anger razing his insides.
"How the hell yuh cud pick a World XI, a Best Ever side," he makes every word a gunshot, "and put Bradman at three, Tendulkar at four…and leave out Brian Charles Lara?"
The last six words are fired from a cannon.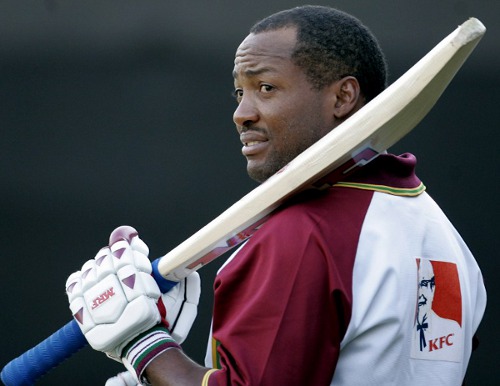 "Well," I offer lamely, sounding foolish to my own ears but acutely aware that I have to say something, "he misbehave plenty, yuh know…"
The withering, wordless look he gives me is an expletive raised to the nth power. It shut me up.
"Let me tell you something," he goes on, "the problem is not misbehaviour, is jealousy.  (Geoffrey) Boycott say people in the West Indies envy Lara.  I think he didn't want to say 'hate.'  And is true. What he doing now? He serving West Indies cricket, right? Yeah, right… The best batsman in the world and he cyah get a lil end on the Trinidad Cricket Board. He cyah even get a school side to coach!
"Listen, eh. Lara is number one, number ten and number 16 on the list of the highest individual scores in cricket. When he retired he had scored more Test runs than any other player in history, he break the world record in 1994, lost it to (Matthew) Hayden and break it again in 2004.
"He is still the only man in cricket history to score 100, 200, 300 and 400 in Test cricket and 500 in first-class cricket on top ah that.
"Yuh know how the West Indies reward him?"  He laughs, a rasping, caustic laugh. "We take away the captaincy and retire him when he was 37 years old.  Thirty-seven, with two or three good years still in his bat!"
He's getting very emotional now. I feel I need to distract him, to say something to lighten the mood.  I rack my brain.  Too late!
He's off again.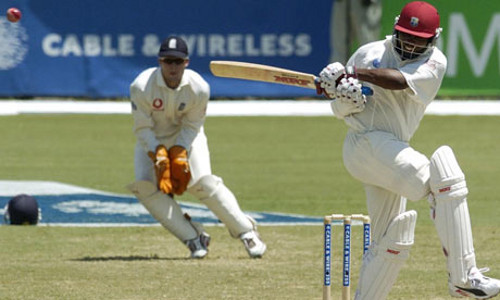 "We do it to Sobers, we do it to Richards, we do it to Lara.  That is the reason why last year when Ravi Shastri ask him the question, he say Tendulkar is the best batsman the world see, the Muhammad Ali of cricket.
"Let the Board take dat in deh rukungkutungkung. 'If he is a god in India and allyuh could treat me so, he have to be better than me.'"
"But there are many people," I say, "– and not just in Trinidad! – who love Lara."
"Yes. Two or three maybe," he concedes. "But it ent have none on the Board! Or in Wisden!
"But you know and I know that the world never see – and will never see – a better batsman than Brian Charles Lara."
Editor's Note: The above story is reconstructed from several conversations between the writer and Mr Hernandez and does not purport to be an accurate reflection of any single exchange.
Click HERE to read Part One of the interview with Frank Hernandez.