Earl Best gets an answer, impassioned, predictable and as unbiased as it can be from a 68-year-old Santa Cruz native who keeps cricket's "Bible" at his bedside but who knew Brian Lara when he was just a boy in short pants.
Unquestionably the greatest batsman in the game, arguably the greatest cricketer ever, and one of the finest sportsmen of all time, Don Bradman was so far ahead of the competition as to render comparisons meaningless and to transcend the game he graced. (Cricinfo's "In a nutshell" profile of Donald George Bradman)
No-one since Bradman has built massive scores as often and as fast as Lara in his pomp.  (Cricinfo profile of Brian Charles Lara)
Perhaps the most complete batsman and the most worshipped cricketer in the world, Tendulkar holds just about every batting record worth owning in the game, including those for most runs and hundreds in Tests and ODIs, and most international runs.  (Cricinfo's "In a nutshell" profile of Sachin Ramesh Tendulkar)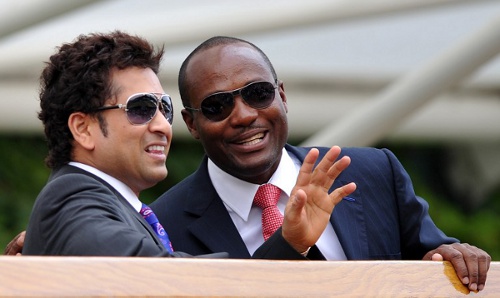 No world record is to be sneezed at; that is the simple truth.  And in batting, all world records are equal. But, asserts amateur statistician Franklyn "Uncle Frank" Hernandez, some world records are less equal than others.  And when the records are as impressive as Don Bradman's, cricket's 99.94-average man, or as Sachin Tendulkar's, the game's 200-Test 100-centuries man, they inevitably give pause.
Pause, however, in this case yields surprising, unexpected results.  With it comes the realization that all of the Don's 6996 runs and his 29 centuries were scored on just two continents.
And that, with the sole exception of the unbeaten double century he scored in an ODI against South Africa in 2010, the Mumbai Master has never walked to the wicket and claimed an individual batting record which is not the result of having remained active in the Test arena longer than anyone else.  Accumulation, concludes Uncle Frank, is the name of his game, longevity the true root of his fame.
Extraordinary talent, the argument continues, not longevity, is what sets Brian Charles Lara above the rest.
Ordinary players with a little talent are capable of extraordinary achievements.  Take, for example, the list of players who, in the history of West Indies cricket, have scored a century in each innings of the same Test.  There are no surprises among the first eight names: George Headley, Everton Weekes, Clyde Walcott, Gary Sobers, Rohan Kanhai, Lawrence Rowe, Gordon Greenidge and, of course, Lara.  Number nine, added to the list only in November 2012, is Kieran Powell, the then 22-year-old West Indian opener still with a mere 20 Tests under his belt.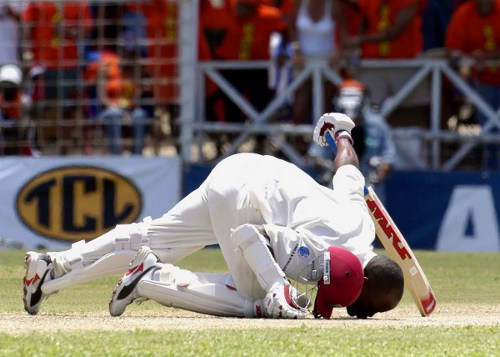 Only extraordinary talent, however, can amass the range of different records the Prince of Port of Spain held and still in part holds.
Lara's name appears more than a dozen times more in the individual batting records section of the latest edition of Wisden. Despite his truly impressive cricketing numbers – 200 Tests, 329 innings, 15,921 Test runs with 51 centuries at an average of 53.78 per innings, 463 ODI's yielding 18,426 runs with 49 centuries, including an unbeaten double century – Tendulkar's name is featured a mere four times.
Yet, Uncle Frank notes with unconcealed displeasure, many people maintain that the Indian is the best batsman the game has known.  And many of those who disagree give the title to Australia's Bradman… including Wisden.
But there is worse, says Uncle Frank, much worse.  In selecting their Best Ever XI late last year, Wisden chose Bradman to bat at three and Tendulkar to bat at four.  The three West Indians in the side do not include Lara.
There is, Uncle Frank insists, NO statistical justification for that "outrageous" omission.
"I can't understand it," he confesses, leaning over the table to stare incredulously at me.  "Wisden? What? They don't read their own book?"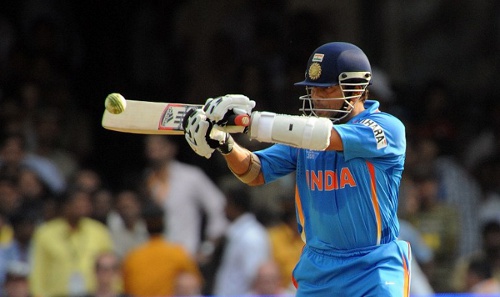 He leans back in his chair, takes the first swig at his still full glass.  He picks up the copy of the 2007 Wisden that is before him on the table but he does not open it.  He does not need to.
"Anybody who plays long enough," he continues eventually, perhaps irritated that I had not asked the obvious question, "will break Tendulkar's records.  You don't have to have exceptional talent, just consistency and longevity."
I am distracted by the condition of the Wisden; the first section of the book is all tattered, dog-eared and shop soiled, the rest of it looks almost untouched.
"Brian Lara won't always hold all of the batting records he now holds," he makes a slow sedate start.  "But what makes you know how great he is is that if anybody ever breaks his records, it will most likely be several different people.  In several different eras…"
He lets that soak in.
"Not by one man.  Yuh could put yuh head on a block fuh dat."
Hernandez picks up the Wisden once more but still does not open it.  He begins to enumerate Lara's records.  The first few are common knowledge: highest individual Test innings (400 not out); highest individual first-class innings (501); most runs in a single Test over (28 off South Africa's Robin Peterson in Johannesburg in 2003/04); at the time of his retirement, highest Test aggregate (11, 953).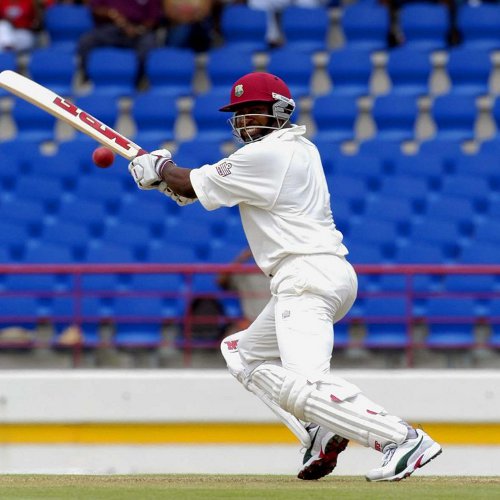 "Nobody else in cricket history ever make 1-2-3-4-5:" he says slowly, holding his palm towards me and adding a finger with each new figure, "100, 200, 300, 400 and 500.  Nobody!  He is the onliest human being ever do that in the history of cricket, which is a hundred and something years."
"He is the onliest cricketer in the world to make one, two, three and four in Test cricket."  More fingers. "Yuh agree with that?"
I nod assent.
"Nobody else ever make 400 runs in a single Test innings," he adds, the fingers game continuing.  "Nobody else ever break the world record twice, nobody even come close!  That alone make Lara the greatest batsman in the history of cricket."
"Don Bradman?" I ask, almost apologetically.  "An average point zero six short of 100 with 29 centuries in 80 innings?"
Any stage director would be over the moon if his Julius Caesar could get as much hurt into the famous "Et tu, Brute?" line as Uncle Frank got into the look he gave me, hurt tinged, I observe, with disdain.
He put the Wisden down on the table, picked up his glass again, took another swig.  I thought I could hear my heart beating in the thick, heavy silence.
"Bradman," he said at last, "never look down the wicket and see a face like mine or yours or Chanderpaul looking back at him from over the stumps.  And he made all his runs in England and in Australia. What so great about that?"
"Yuh know," he gave me no time to respond, "Lara make a century against every Test-playing country.  And he make most ah he big runs against the big countries, England and Australia.  And all over the world."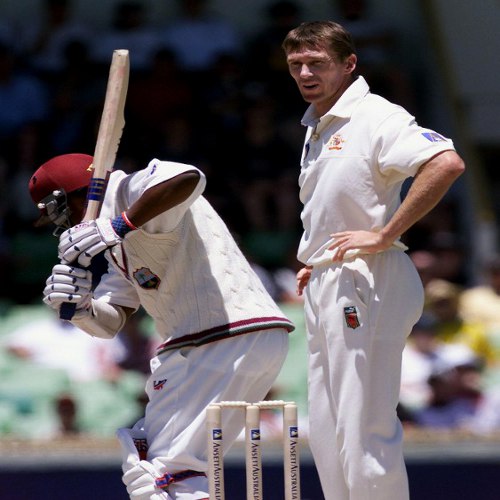 He leans over the table towards me again, stabbing an aggressive finger at my chest.
"Against Australia, Lara make nine centuries.  Yuh hear mih? Nine! With three doubles."
The fingers are in my face again in case I can't count. "Three!"
"Australia have 14 bowlers with more than 200 Test wickets."  He gives me the list.  From memory!
There is Dennis Lillee and there is Richie Benaud and there are also Jeff Thompson and Mitchell Johnson. "Lara play against seven ah dem."  Another list, this time complete with the number of scalps captured, including Shane Warne ("708") and Glenn McGrath ("563").
"Against Zimbabwe, he only make one token century," – an eloquent index finger is in my face, –"and one," – I get the finger again, – "against Bangladesh."
"Why?" he continues.  I know the question is not a real question, not for me to answer at any rate.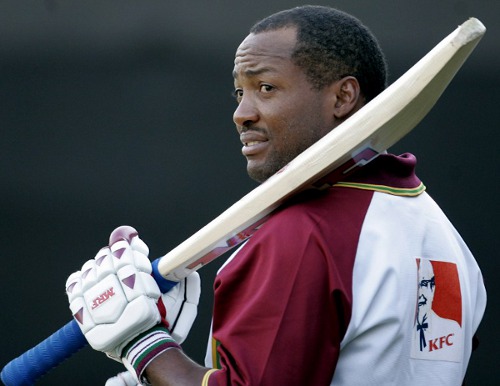 "He not interested in advantaging people; Zimbabwe and Bangladesh doh have bowling to challenge the best batsman in the world!"
He adjusts his position in his chair, goes quiet for a moment; Act One, I sense, is over.
Editor's Note: Click HERE to read Part two of Cricket's Greatest Debate.