Twenty-seven year old attacking midfielder Josimar Belgrave partially lifted the gloom around the Defence Force football team yesterday with a beautiful curling effort as the defending Pro League champion eased to a 2-0 win over Caledonia AIA at the Ato Boldon Stadium in Couva.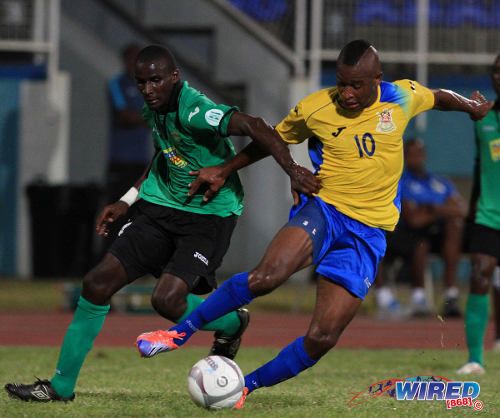 The army/coast guard combination remains seventh in the nine-team table with 20 points but has four games in hand with second place now a plausible nine points away.
North East Stars was also in action in Couva yesterday and the Sangre Grande-based club joined Central FC and Point Fortin Civic on 29 points after a 3-0 win over Police FC.
Trevin Caesar scored an opportunistic double for Stars while Police substitute Clevon McFee knocked into his own goal after a cross from Stars substitute Franz Husbands ricocheted off two teammates and went in off his shins.
The score summary did gloss over a match that was fast and open but lacked subtlety from either team. Police threatened too and striker Jameel Perry rapped the outside of the upright in the 60th minute with a lovely shot on the turn while McFee forced a fine reflex save from Stars custodian and captain, Cleon John, after an acrobatic, improvised volley in the 85th minute.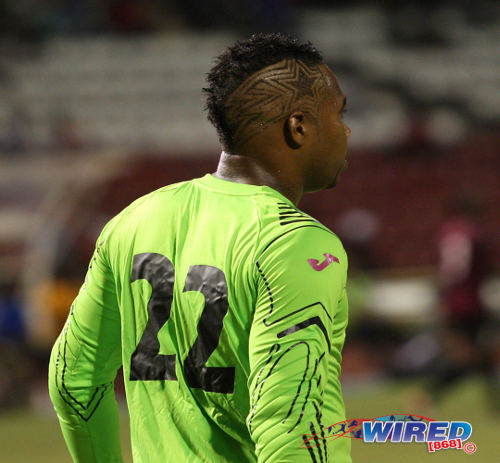 But in the end—and not for the first time—Caesar's lust for goals separated the two teams. The tiny terror now has ten league goals this term, which is exactly half of Stars' total tally and two shy of league leader and Point Fortin Civic attacker Marcus Joseph's 12 items.
In the second game of the double header, Defence Force coach Ross Russell finally had something to smile about as the "Teteron Boys" recorded their first win of the post-Kevon Carter era. They achieved it in some style too.
In the 12th minute, Defence Force striker Devorn Jorsling, a former Caledonia employee, played the ball forward towards Belgrave and ran into space for the return. Belgrave angled himself to execute the wall pass but then allowed the ball to run across his body instead and, in a fluent motion, beat opposing goalkeeper Shemel Louison with a sweet curling effort into the far corner.
Belgrave sprinted half the length of the field to celebrate with a jump into Russell's arms.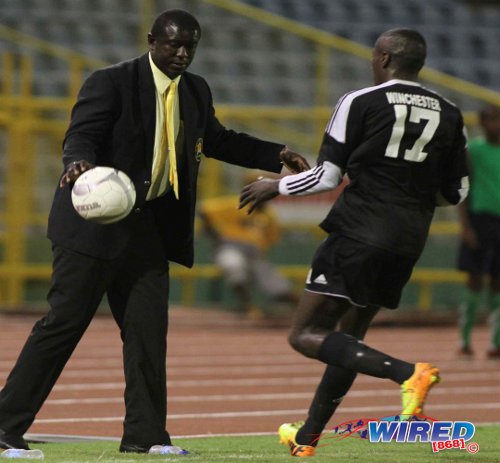 Belgrave almost got a second in the 20th minute with a left foot blast from 15 yards, after a Kerry Joseph cross, but veteran Caledonia right back Kareem "Tiny" Joseph bravely blocked the effort with his body on the goalline.
Louison kept out another Defence Force effort with a flying save to thwart Jerwyn Balthazar, midway through the second half, before substitute Jemel Sebro finally gave Russell an insurance item with a neat header following a left side Sean Narcis cross.
Caledonia, in response, mustered just one attempt on goal for the entire 90 minutes and never looked like forcing themselves back into the match. But then offence has been a constant problem for the "Eastern Stallions" this season.
Caledonia's highest scorer this calendar year has been former 2006 World Cup midfielder Densill Theobald who scored four goals since January and five times overall in the current Pro League season. It is almost certainly the generally goal-shy playmaker's most prolific return as a professional and, as commendable as that is, there is a suggestion he has been forced into this role by Caledonia's failings upfront.
None of Caledonia's regular strikers have scored since Jamal Gay's double against Point Fortin on 3 January 2014.  Keyon Edwards, who played for 90 minutes upfront last night, has not found the back of the net in almost five months since his hattrick against table proppers, St Ann's Rangers, on 1 November 2013.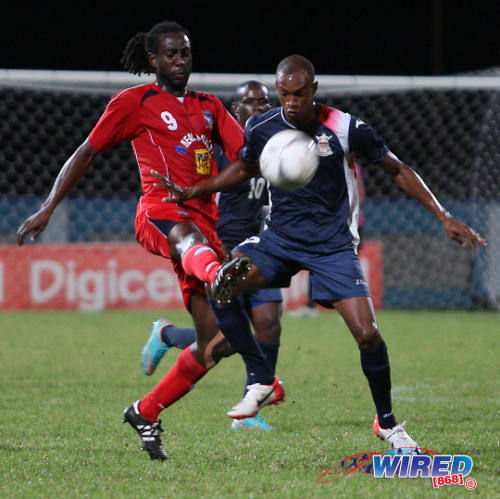 Caledonia is fifth at present and could easily slip to seventh if Police and Defence Force win their games in hand. It is not the best mood for coach Jamaal Shabazz to contemplate CONCACAF Champions League qualifiers in Haiti this month.
At least Russell can look forward with a little less trepidation now.
(Teams)
Caledonia AIA (4-2-3-1): 1.Shemel Louison (GK); 12.Kareem Joseph, 7.Stephen David (captain), 3.Nuru Muhammad, 15.Aaron Lester; 8.Keron Bethelmy, 21.Densill Theobald; 27.Nathan Lewis (24.Conrod Smith 79), 16.Tyrone Charles (10.Ralph Lundy Jr 62), 22.Jameel Neptune (20.Noel Williams 62); 9.Keyon Edwards.
Unused substitutes: 34.Kevin Graham (GK), 13.Julian Wade, 19.Nical Stephens, 29.Kyle Bartholomew.
Coach: Jamaal Shabazz
Defence Force (4-2-3-1): 1.Kevin Graham (GK); 13.Marvin Jones, 2.Glynn Franklyn, 3.Keston Williams (vice-captain), 21.Aklie Edwards (captain) (12.Jemel Sebro 55); 4.Dave Long (18.Sean Narcis 72), 15.Jerwyn Balthazar; 23.Kerry Joseph (8.Curtis Gonzales 66), 10.Josimar Belgrave, 17.Ross Russell; 9.Devorn Jorsling.
Unused substitutes: 25.Sheldon Clarke (GK), 5.Devin Jordan, 7.Balondemu Julius.
Referee: Neal Brizan
Pro League results
(Tue Mar 11)
North East Stars 3 (Trevin Caesar 27, 52, Clevon McFee OG 89), Police FC 0 at Couva
Defence Force 2 (Josimar Belgrave 12, Jemel Sebro 80), Caledonia AIA 0 at Couva
Upcoming Fixture
(Thu Mar 13)
St Ann's Rangers vs Defence Force, 6 pm, Marvin Lee Stadium.
[standings league_id=2 template=extend logo=true]