The Trinidad and Tobago national under-20 women's team became the first female representatives from the two island republic to get past the group stage of a CONCACAF competition last night when the "Soca Princesses" trounced host nation, the Cayman Islands, 4-0 in George Town.
The result assured Trinidad and Tobago of a spot in the semifinals alongside fellow Group B team, Mexico.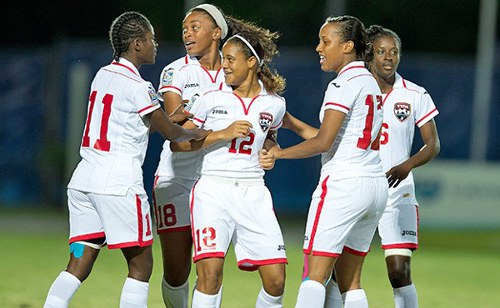 Mexico, who routed Honduras 10-1 yesterday evening and whipped the Cayman Islands 6-0 on Friday, only needs a draw to top the group when the North American nation squares off against the Princesses on Tuesday evening. If Trinidad and Tobago finishes as runner-up in Group B, the Caribbean nation will face the world's number one women's team, the United States, in the semifinal.
The US, to put it mildly, is not a desirable opponent in a knock out fixture.
Still, the three best CONCACAF nations will advance to the Canada 2014 Under-20 World Cup, which kicks off in August. So, in theory, the Princesses could lose to Mexico in the group stage and the United States in the semifinal round yet still book a ticket to Canada courtesy of a play-off win against either Jamaica or Costa Rica.

For now, though, the Trinidad and Tobago ladies might prefer to focus on an unprecedented milestone in George Town.
"I think the girls played hard and the inclusion of the foreign base players was a plus for us as their contributions were significant," Trinidad and Tobago coach Izler Browne told the TTFA Media. "They fitted in well and combined really good with the home-base players."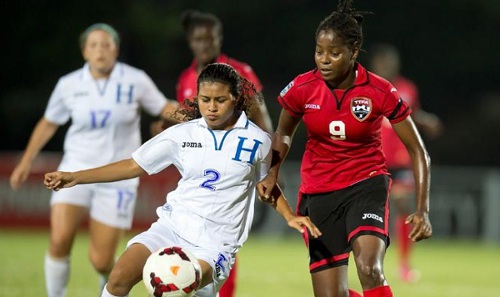 Even with home support, the Cayman Islands were never expected to worry the Princesses and so it proved. After just two minutes, the visitors were celebrating the opener as midfielder Shanisa Camejo met a left side Patrice Campbell cross with a firm side footed effort to the right of opposing goalkeeper Kristina Seymour.
Up until that point, Campbell had created the final pass for all three Trinidad and Tobago goals in this tournament. But she was not needed for the second, which came in bizarre circumstances in the 18th minute.
Shenelle Henry crossed from the right flank and an attempted clearance from Cayman defender Amanda Nelson ricocheted off teammate Jetena Bodden and spun into the air and past Seymour at her near post.
Campbell was back to her usual tricks in the 40th minute as her right side corner kick was met with a fierce header by Khadidra Debesette that Seymour got a hand to but could not keep out.
And, seconds after the restart, captain Anique Walker capped a fine evening's performance with a composed close range finish after collecting a Brianna Ryce cross for Trinidad and Tobago's fourth goal.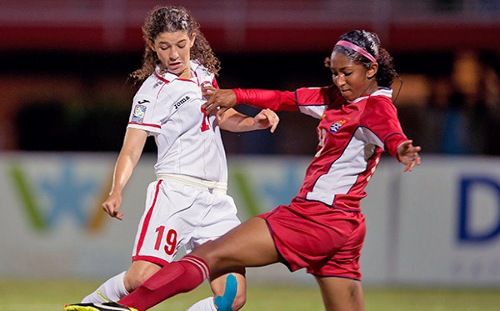 Campbell almost scored the fifth herself as she pounced on a defensive error but blasted off the outside of the post in the 49th minute. And the match referee controversially struck out a Jonelle Warrick penalty kick, which comprehensively beat Seymour in the 59th minute, after presumably being unimpressed with Warrick's unnerving pause before her shot.
It was not enough to dampen the mood of the Princesses last night.
Six of Browne's starters played at the 2010 Under-17 World Cup in which Trinidad and Tobago participated as the host nation. Now, Walker and her teammates have the chance to earn their World Cup place the hard way.
"The team is taking it one game at a time," said Browne. "We will refocus now on our next task which will be finishing the group stage on a position note against Mexico and then look ahead to the semi-finals."
(Team)
Trinidad and Tobago: 20.Tenesha Palmer (GK); 6.Khadisha Debesette (14.Otisha David 77), 8.Daniella Findley, 17.Jonelle Warrick, 18.Liana Hinds; 11.Khadidra Debesette, 4.Brianna Ryce (15.Donika Murray 66), 12.Shanisa Camejo, 9.Patrice Campbell; 19.Anique Walker (captain), 13.Shenelle Henry (10.Tsaianne Leander 66).
Unused substitutes: 1.Keri Myers, 2.Tkeyah Phillips, 3.Emma Abdul, 5.Adeka Spence, 7.Akilah Sparks, 15.Donika Murray, 16.Summer Arjoon.
Coach: Izler Browne
CONCACAF Under-20 Women's Results
Group B
(Sunday January 12)
Mexico 10 (Cynthia Pineda 3, Jazmine Aguas Orozco 19, 45, 75, Amanda Perez 27, Briana Campos 68, 87, Tanya Samarzich 52, 64, 76), Honduras 1 (Seidy Zapata 80) at the Truman Bodden Sports Complex;
Trinidad and Tobago 4 (Shanisa Camejo 2, Jetena Bodden 18 OG, Khadidra Debesette 41, Anique Walker 46), Cayman Islands 0 at the Truman Bodden Sports Complex;
(Friday January 10)
Trinidad and Tobago 2 (Anique Walker 39, Brianna Ryce 49), Honduras 0 at the Truman Bodden Sports Complex;
Mexico 6 (Tanya Samarzich 6, 9, 35, Paloma Zermeno 24, 57, Amanda Perez 83), Cayman Islands 0 at the Truman Bodden Sports Complex.