A Kevin Jagdeosingh double of contrasting style, one off his head and the other punched in with his right hand, brought the Toyota Classic first round to an end with another upset as Super League outfit, Guaya United, downed Pro League team North East Stars 2-0 in an east coast derby at Guayaguayare yesterday.
Guaya's "Green Army" will now line up alongside fellow Super League teams Club Sando and Malabar FC in next weekend's Classic quarterfinals.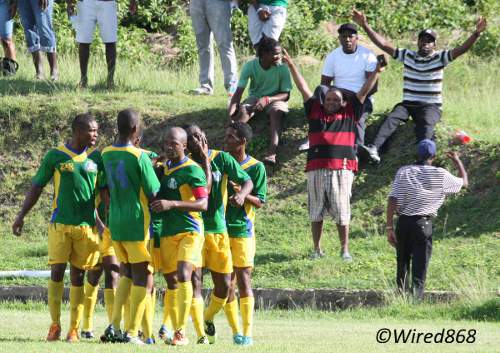 Guaya will face Point Fortin Civic while Sando tackles Caledonia AIA, Malabar takes on DIRECTV W Connection and Defence Force and Central FC square off.
The Green Army will not be short of confidence.
"Come Guaya; let North East Stars go back Grande crying!" shouted one supporter, soon after kick off yesterday.
There were no tears at the final whistle but then resignation from the visitors had set in some time before. If there was any consolation for Stars coach Angus Eve, it is that not many teams could have resisted Guaya in those conditions.
The Guayaguayare school ground yesterday looked like a scene from a dark thriller: overcast skies, persistent drizzle, mud everywhere and a partisan sharp-tongued home crowd.
It did not help either that match referee Gordon Maloney failed to get his two biggest decisions right.
Still, Guaya, steered by former Joe Public and Ma Pau coach Ron La Forest, deserved its win.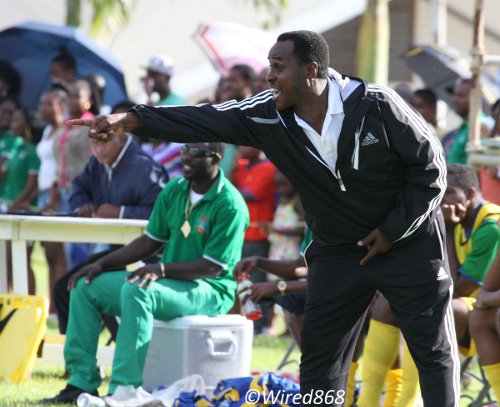 Buoyed by the impressive central midfield partnership of captain Ryan Stewart and two-time former Trinidad and Tobago World Youth captain Leston Paul, Guaya stayed compact, pressured everything in its own half and almost always avoided the puddles as they moved the ball around menacingly on the heavy, sloppy ground.
From back to front, the Green Army was a united front of perspiration and resilience.
And yet Stars was unlucky to fall behind.
The Sangre Grande/Manzanilla team was on the front foot when Guaya countered successfully through striker Carlon Hughes in the 22nd minute. Hughes, under pressure from defender Aquil Selby, managed to get in an awkward left side cross, which flew between Stars custodian and captain Cleon John and his own goal.
John clawed the ball away from his goalmouth but only steered it into Jagdeosingh's path; and the right winger easily nodded home for the opening item.
Stars' best opportunity came in the 41st minute as right back Kennedy Hinkson, who was excellent throughout, found teammate and Manzanilla resident Anthony Wolfe inside the penalty box. But the latter's progress was stopped by makeshift Guaya defender, Beville Joseph, who chopped him down from behind and the momentum carried the pair sliding across the area in the mud.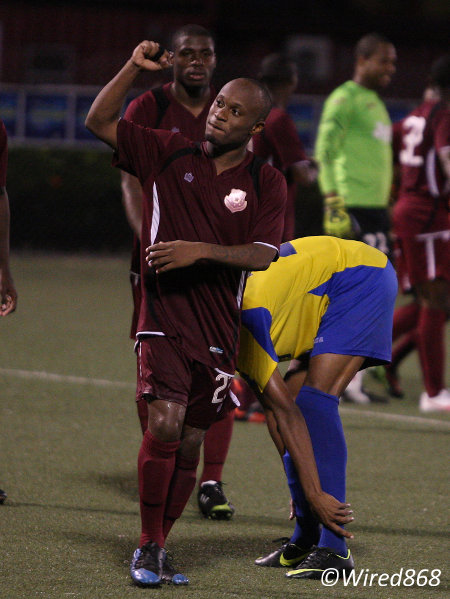 Remarkably, Maloney signalled for a corner kick.
But the visitors' bemusement at that decision turned visitors turned to fury in the 59th minute as Jagdeosingh, a former Stars player and the elder brother of Thailand-based "Soca Warrior" Kendall Jagdeosingh, doubled Guaya's advantage.
A left side cross fizzed into the area and Jagdeosingh had again sprinted in from the right flank to meet it. He appeared to have miscalculated the trajectory of the ball though. And, as Jagdeosingh strained his neck to connect with the cross, it was his right fist that made contact.
Somehow, Maloney and his assistant, Marvin Pierre, failed to spot the handled ball and a goal was given.
There was another talking point in the 70th minute as Joseph headed an attempted clearance off his own bar after a Wolfe header had finally beaten the grasp of in-form Guaya goalkeeper Kevon Saunders. The Stars players insisted the ball had crossed the line although that appeal seemed hopeful at best.
Eve introduced Kareem Moses and Elijah Manners off the bench and pushed Hinkson further upfield. But his choice to replace Kaashif Thomas, one of Stars' best players on the day, always seemed a gamble and Manners was very poor.
Of course, it is not easy for a player to come on in a match of that intensity and in such treacherous conditions.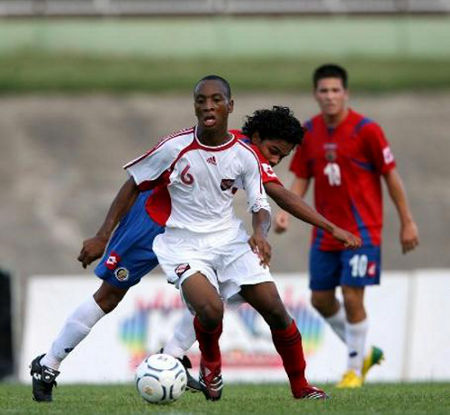 The Guaya back four looked like an uncomplicated bunch from a bygone era. If it moves, they kick it; if it lies still, they walk on it.
In central midfield, Stewart and Paul mixed physical strength with clever footwork and sound decision making while, upfront, Hughes and strike partner Earlon Thomas ran on to each other's passes like a long-married couple.
The Grande team could have played for another 90 minutes and it probably still would not have breached the Green Army in those conditions once it had fallen behind.
Stars striker Trevin Caesar, as spritely and ambitious as ever, took out his frustration with a late tackle on Guaya right back Leroy Jones, which went unpunished by Maloney. But Caesar might have preferred a yellow card to the retribution that followed.
He spent the closing minutes of the game glancing nervously towards a section of crown that hurled incessant and violent abuse in his direction.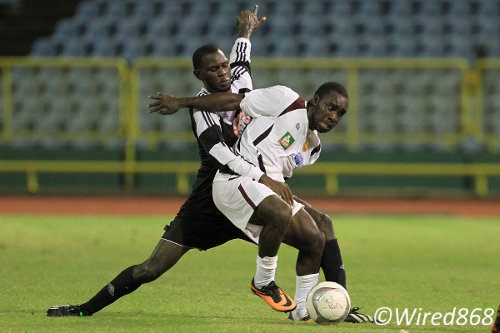 "Boy, you don't want to go home or what?!" yelled a supporter. "Not in Guaya boy… You mad?!"
Unsurprisingly, Caesar was soon having a plaster applied to his chin as either Jones or a teammate made sure revenge was swift.
Civic will have its work cut out against this bunch next week.
(Teams)
Guaya United (4-4-1-1): 1.Kevon Saunders (GK), 77. Leroy Jones, 19. Beville Joseph, 14.Sherlon Campbell, 5.John Stewart; 4.Kevin Jagdeosingh, 17.Ryan Stewart (captain), 18.Leston Paul, 7.Jody Allsop (70.Kheelon Ferrier 81); 9.Earlon Thomas; 10. Carlon Hughes.
Unused substitutes: 80. Marius Des-Cartes (GK), 2.Marcus Ramkhelawan, 3.Akeil Alvarez, 6.Zavion Navarro, 8.Kerdell Alfred, 27.Kheelon Mitchell.
Coach: Ron La Forest
North East Stars (4-2-2-2): 22.Cleon John (GK) (captain); 23.Kennedy Hinkson, 5.Aquil Selby, 19.Glenton Wolfe, 25.Keryn Navarro (3.Kevon Villaroel 81); 6.Jeromie Williams, 12.Jayson Joseph; 18.Kaashif Thomas (2.Kareem Moses 62), 9.Akiel Guevara (7.Elijah Manners 62); 11.Anthony Wolfe, 20. Trevin Caesar.
Unused substitutes: 1.Stefan Berkeley (GK), 4.Keithy Simpson, 16.Neil Mitchell, 47.Andrew Smith.
Coach: Angus Eve
Referee: Gordon Maloney
Toyota Classic results
(Sun Nov 10)
Guaya United 2 (Kevin Jagdeosingh 22, 59), North East Stars 0 at Guaya
(Sat Nov 9)
Central FC 3 (Dwight Pope 5, Dwight Quintero 63, Rundell Winchester 67), Joe Public 0 at Macoya
Malabar FC 4 (Nyron Jones OG 33, Gorian Highley 52, 61, 85), San Juan Jabloteh 3 (Kerry Baptiste 9, Rennie Britto 21, 35) at Macoya
Point Fortin 11 (Weslie John 24, Marcus Joseph 36, 40, 44, André Toussaint 43, Kelvin Modeste 45, Matthew Bartholomew 50, 57, André Alexis 63, 82, Andrei Pacheco 70), Stokely Vale 0 at Mahaica Oval
(Fri Nov 8)
W Connection 2 (Hashim Arcia 23, Yhon Reyes 51), Real Maracas 0 at Couva
Club Sando 3 (Teba McKnight 38, 58, Nigel Daniel 76), Police 1 (Todd Ryan 24 pen) at Couva
Defence Force 3 (Jemel Sebro 29, Richard Roy 54, 64), 1976 Phoenix 0 at Macoya
Caledonia AIA 3 (Noel Williams 4, Marcus Ambrose 72, Kithson Bain 79), St Ann's Rangers 0 at Macoya