Past and present Men's National Senior Team players Keron 'Ballpest' Cummings, Curtis 'Boyo' Gonzales, Sean De Silva, Yohance Marshall, Trevin Caesar and John-Paul Rochford were among a host of familiar names included on a list of 40 invited trainees for the Men's National Futsal Team, as Trinidad and Tobago resumes preparation for the 2021 Concacaf Futsal Championship.
The Trinidad and Tobago team will be guided by American Constantine Konstin who was 're-appointed' as head coach by the Fifa-appointed normalisation committee, according to a release by the TTFA Media.
The Concacaf Championship will be staged in Guatemala from 30 April to 9 May and serves as the qualifying competition for the Fifa Futsal World Cup, which should kick off in Lithuania this September.
Rochford, a former National Under-17 Team captain, was one of several players who were part of coach Terry Fenwick's recent training squad but missed out on selection for today's international friendly against the United States in Orlando.
Other Futsal invitees who are part of the current pool of outdoor international players include: Point Fortin Civic midfielder Justin Sadoo and the Defence Force due of winger Reon Moore and goalkeeper Aaron Enil.

Team manager and Futsal Association vice-president Nigel Roberts said there has been communication with Fenwick regarding their use of outdoor players and, while they try to use guys outside of the current frame, they are happy to relinquish players to the Qatar 2022 World Cup campaign if necessary.
"We intend to have that communication to ensure a harmonious relationship between the National Futsal Team and the [outdoor] National Senior Team and youth teams regarding the use of players," Roberts told Wired868.
Three such players who were not included among the call-ups, due to National Senior Team commitments in Orlando, are attackers Brent Sam and Sean Bonval and defender Justin Garcia.
Roberts explained that they also still have to formally apply for clearance for their Defence Force call-ups. 
There were invitations to a host of Terminix La Horquetta Rangers players too, such as Aikim Andrews, Tyrone Charles, Jamal Creighton, Ross Russell Jr, Kadeem Corbin and Cummings. Kontin would hope for better luck than Fenwick did with getting the Pro League outfit to release its players.
National Futsal Team assistant coach Paul Decle said Konstin challenged his staff to get the best available players on the twin island republic, so as to mount a serious challenge for a World Cup place.
Some of the players caught the eye during screening sessions that were held nationwide—including in Tobago—while others were scouted at Pro League games.
Futsal is played with four players and a goalkeeper. The DNA of a futsal team, according to Decle, is physically strong, two-footed central players complemented by quick, tricky wingers. All players are expected to be technically sound with good movement off the ball.
The current training squad still includes a few members of former coach Clayton 'JB' Morris' team which finished third in the 2016 Caribbean Futsal Tournament and competed in the subsequent Concacaf play-offs, such as Cyrano Glen, Kareem Perry, Keston Guy, Jameel Neptune and Noel Williams.
National Beach Soccer players Kevon 'Showtime' Woodley and Omri Baird were also asked to try out for the National Futsal Team. Woodley is also a Pro League striker with Cunupia United while Baird is a former Presentation College (San Fernando) attacker.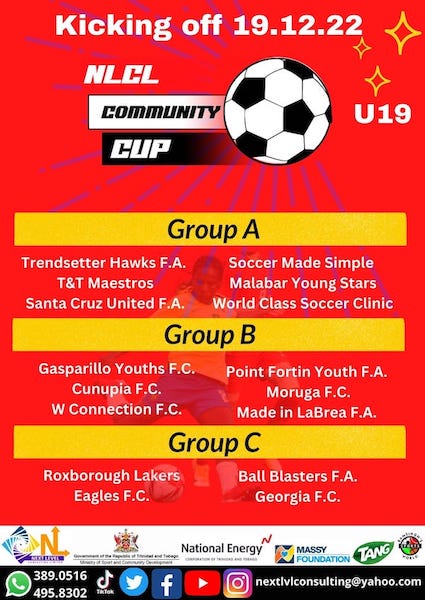 The National Futsal Team will have its first training session from 6.30pm on Tuesday 2nd February at the Ato Boldon Stadium in Couva, at the paved area at the entrance, next to the Beach Soccer pitch). Players are required to be present by 6pm and to have a red jersey and a white jersey.
(Invited Players)
Aaron Enil, Jabari St Hillaire, Kelvin Henry, Andre Marchan, Jokiah Leacock, Yohance Marshall, Justin Sadoo, Russell Alfred, Keston Guy, Devaughn Humphrey, Rhondel Gibson, Darnell Hospedales, Anthony Charles, Dwayne Edwards, Aikim Andrews, Kadeem Corbin, Ross Russell Jr, Jameel Neptune, Noel Williams, Denrick Eve, Kareem Perry, Kwesi Peterson, Shane Hospedales, Nicholas Alfred, Sean De Silva, Daniel Diaz, Adrian Welch, Curtis Gonzales, Jelani Felix, Reon Moore, Aaron Lester, John-Paul Rochford, Keron Cummings, Trevin Caesar, Tyrone Charles, Dylon King, Omri Baird, Cyrano Glen, Kevon Woodley, Jamal Creighton.
(Futsal Team Staff)
Constantine Konstin (head coach), Paul Decle (assistant coach), Dunstan Williams (goalkeeper coach), Nigel Roberts (manager), Stephen Bernard (equipment manager).
Editor's note: The National Futsal Team is still to announce a physiotherapist/trainer to work the squad.