Twenty-two year old former Trinidad and Tobago defender Akeem Adams is said to be improving slowly but surely at the Varosmajori Heart Clinic in Budapest, Hungary although the ex-Presentation College (San Fernando) student remains in ICU.
A source close to the family informed Wired868 that Adams' condition is stabilising. The former two-time World Youth Cup player is in urgent need of a heart transplant after suffering a massive heart attack last month, hours after training with his top flight Hungarian football team, Ferencvarosi.
However, Adams still is not strong enough for the urgent operation.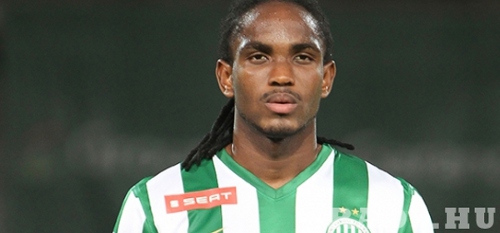 His circulation is said to be better, though, and the Varosmajori Clinic's medical staff is hopeful that he will continue to improve.
"He is stabilising and getting stronger and stronger," said the source. "The doctors are hoping that the progress will continue. Since the (amputation) the blood is flowing better and he is getting stronger…
"After something like what he went through, you don't just go from zero to hundred. But maybe he is 20 percent better in the last month or so in terms of his vital signs and so on."
Adams' left leg was amputated on October 8 after circulatory problems prompted an emergency operation.
His mother, Ancilla, and brother, Akini, are both at his side in Budapest as he fights for his life. Ancilla has taken leave from her job as a domestic worker to comfort her son while Akini is a goalkeeper with local Pro League team, Point Fortin Civic.
At present, Akini is training with Ferencvarosi to maintain his match fitness.
Presentation College principal Dexter Mitchell offered Ancilla an unspecified financial donation before she left Trinidad, which has helped offset bills like groceries and toiletries.
Football fans' website, Soca Warriors Online (SWO), has also collected just over $12,000, which should be presented to Adams' agent, Dion Sosa, this week.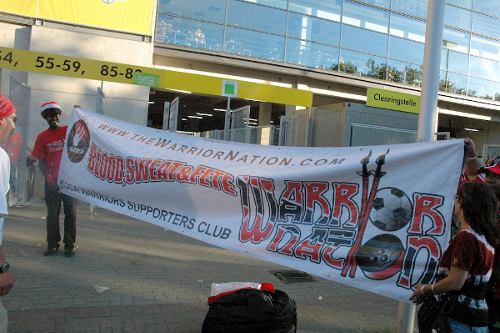 The SWO contributors, according to site leader Inshan "Flex" Mohammed, are: Robert Engelmann, Varga Varga, Attila Plesko, Ryan Lalsingh, Peter DeCoteau, Linly Prince, Ernesto Waines, Marlon Mejias, Richard Wilson, Patricia Smart, Marlon Smith, Inshan "Flex" Mohammed, Susan Brown, Nick Fuller, VB, Omar, Nigel Scott, Denzil Streete, Lester Alexander, Peter Khan, Daryl Brereton, Christian Khabay, Sigmund Williams, Roland Gabriel, Emilie Vernon Backström, Anthony Valley and Nigel Myers.
Local football club DIRECTV W Connection also instructed the Pro League executive to give its $10,000 Digicel Charity Shield winnings to Adams, almost two weeks ago, although the money has still not changed hands.
A Pro League source admitted that the Digicel Charity Shield money was there and Connection had instructed the governing body to make the payment. However, the Pro League does not yet have the necessary details to make the transfer although it expects to complete the transaction shortly.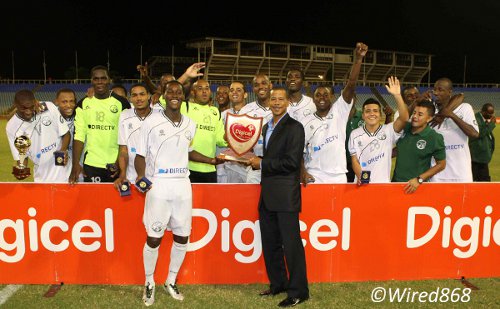 The family has not received any word yet from the Trinidad and Tobago Football Association (TTFA) about proceeds from its international friendly against New Zealand at the Hasely Crawford Stadium on Tuesday October 15.
TTFA president Raymond Tim Kee and general secretary Sheldon Phillips created an "Akeem Adams section" for the game and $50 from each $125 ticket sold was supposed to go to the ailing footballer's family along with the full earnings from "Support Akeem Adams" tee-shirts sold by Native Spirits.
The source explained that Tim Kee and Phillips had promised to meet with Adams' family and representatives on October 18 but this was postponed as both administrators had to attend a CONCACAF congress in the Cayman Islands. There has supposedly been no update since.
The TTFA has not yet revealed an official attendance for the New Zealand game, the number of tickets sold for the Akeem Adams section or the money raised from the sale of Native Spirit tee-shirts.
TTFA press officer Shaun Fuentes said that the CONCACAF engagements of its top executives had slowed down the process and that more information should be available this week.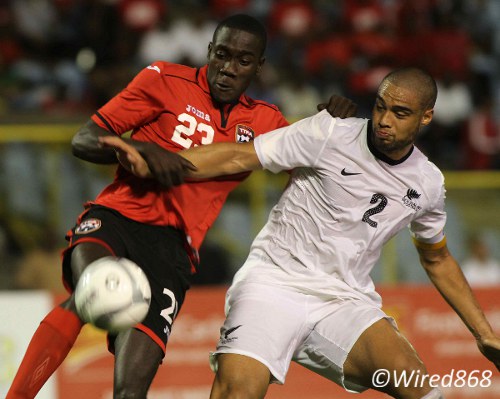 "We are hoping to finalise details this week as Phillips and Tim Kee were out of the country until last weekend," Fuentes told Wired868. "We are still waiting for a figure on shirt sales from Native Spirit as well as other contributions before we can present a final figure… We might be able to give some more information after lunch today."
Fuentes also addressed complaints by supporters who bought tickets for the Akeem Adams section but had problems accessing the area while bathrooms in the Hasely Crawford Stadium's uncovered stands were locked.
"The bathrooms were the responsibility of the stadium management but we will still ensure these matters are ironed out for the next event," said Fuentes. "Initially the Adams section was not properly roped off and that presented a challenge as most of the early patrons (in the uncovered stands) were able to access that central point…
"We heard of the few complaints but, while there were patrons who were hoping to be in a separate section to the rest of the uncovered section, the majority appeared pleased to have made their contribution towards the fund."
Meanwhile, the players' family is receiving legal assistance to set up an Akeem Adams Trust Fund, which is meant to bring order to the spate of charitable efforts set up in recent weeks to raise money for the player.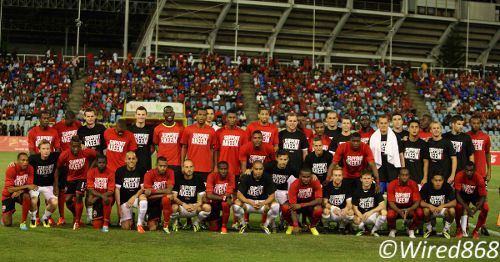 "We want to bring coordination and transparency to all the various charitable events behind held," said Sosa. "The public would want know that they can trust that the monies raised are going where they are supposed to go and the family wants to authorise the things being done in Akeem's name.
"So we are looking to set up a board of trustees which will include his mom and brother and uncle and an independent party. That way when corporate T&T and anyone else donate, there will be transparency and documentation with regards to what comes in and goes out."
At present, well-wishers can donate money directly to the family at any RBC branch by making a deposit for Ancilla Dick-Adams at account number #100085172658914.